Astros wives and girlfriends help tornado victims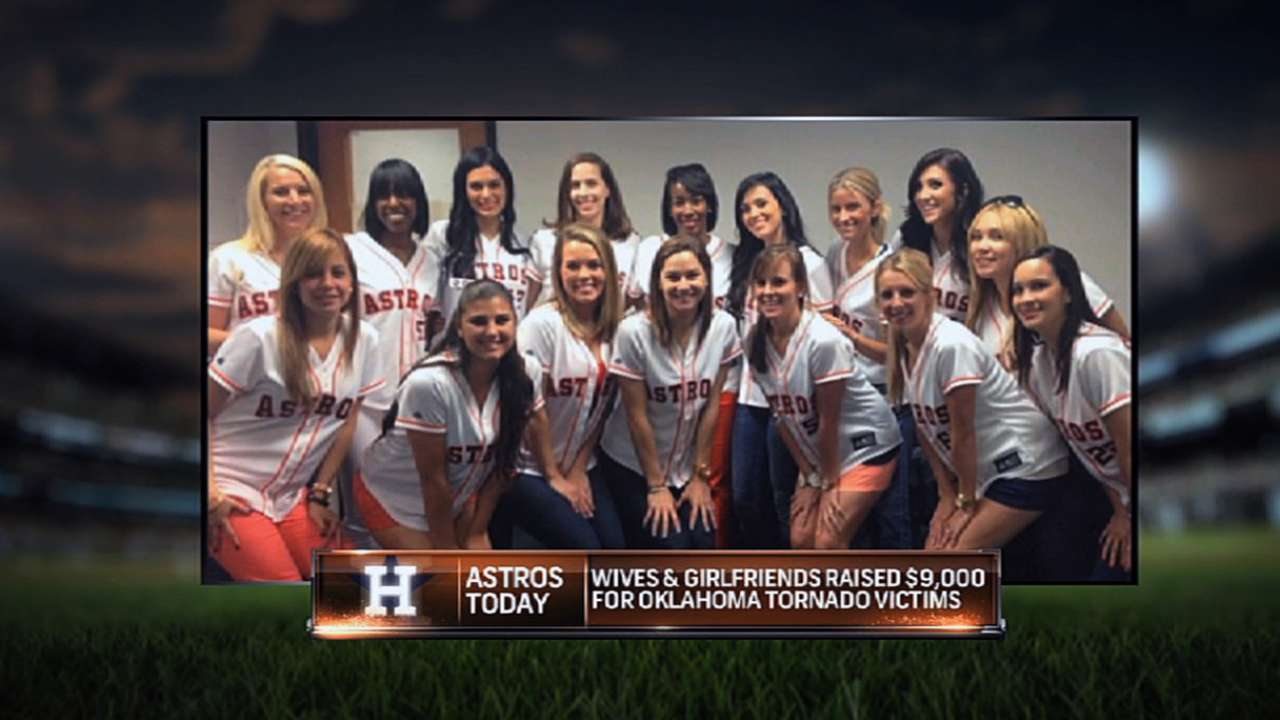 HOUSTON -- More than a dozen wives and girlfriends of Astros players raised $9,000 dollars at Minute Maid Park on Sunday afternoon by selling mystery bags containing autographed baseballs. One-hundred percent of the money collected will go to the Red Cross to help with Oklahoma tornado relief.
Last week's tornado that ripped through Moore, Okla., hit close to home for the Astros, whose Triple-A team is in Oklahoma City. Many of the players on the team and their wives have spent considerable time in Oklahoma City in recent years.
"It's great to support the community," said Maris Castro, wife of Astros catcher Jason Castro. "We have our Triple-A team in Oklahoma City, so it's great to be able to help a community that's related to the Astros. When you see people lose their homes and everything that they own and hold dear to themselves and see people lose their lives, you do whatever you can to help people."
Among the wives selling bags at five different gates on Sunday were Shawn Barnes, Stephanie Corporan, Loren Maxwell, Gina Luhnow, Sherell Wright, Marlee Clemens, Stephanie Ambriz, Noel Gonzalez, Pamela Pena, Gissele Veras, Stacey Porter and Nina Altuve. The girlfriends who helped raised money were Aubree Gerardi, Jenna Cecil and Brittany Stemwedel.
"It's been amazing," Pena said. "We got here and had people waiting for us. We sold 20 bags in five minutes, so it was awesome."
Castro said the players have been more than willing to help.
"They all want to do what they can," she said. "It's hard when you're working every day to really get involved, so this is what they can do to help out."
Meanwhile, the Astros Foundation is raising funds for the Red Cross during the current homestand with a "Jeresys Off Their Backs" silent auction. Game-worn jerseys are being auctioned on the main concourse along the third-base line.
Brian McTaggart is a reporter for MLB.com and writes an MLBlog, . Chris Abshire is an associate reporter for MLB.com. This story was not subject to the approval of Major League Baseball or its clubs.