Harrell's opinions elicit counsel from Porter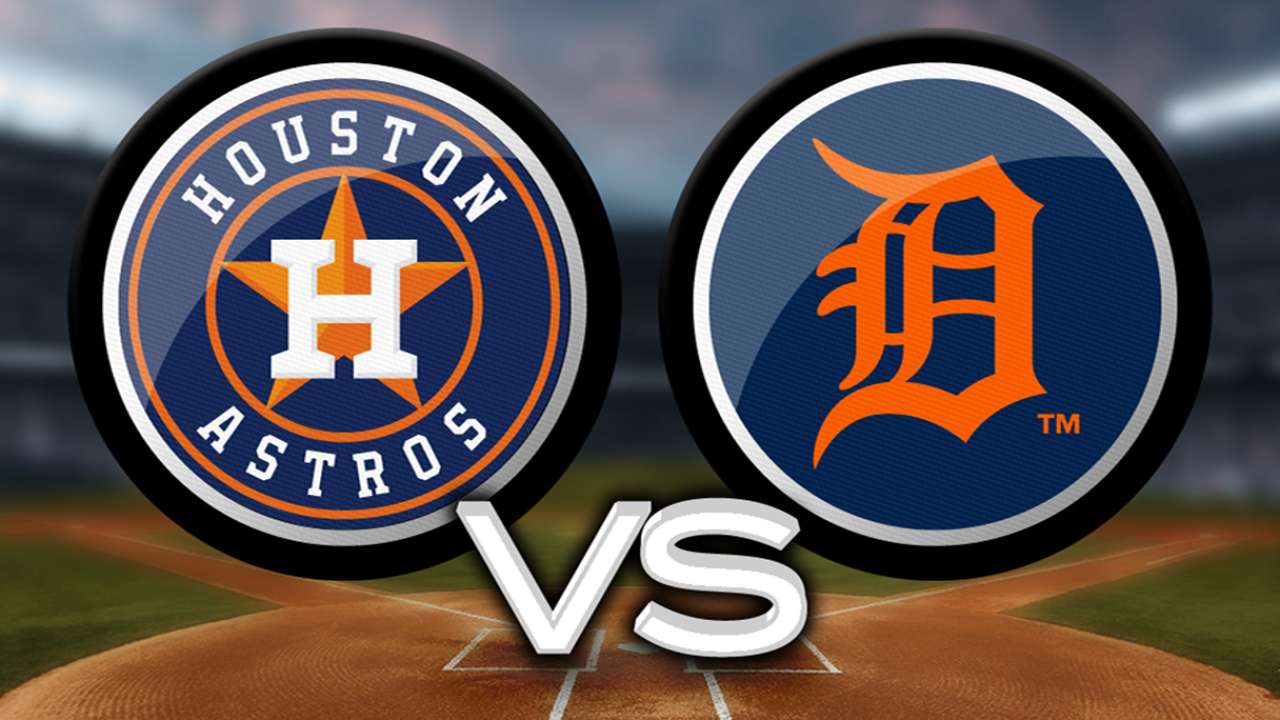 DETROIT -- Defensively, the Astros are constantly shifting their positioning in the field with each batter. To this point, it's carried them to the Major League lead in double plays turned (53). It's also, at times, cost them.
Houston pitcher Lucas Harrell felt Tuesday night's 6-2 loss to Detroit, in which he cruised through 4 2/3 innings while yielding one hit and two walks, was one of those times. A three-run fifth inning, which abruptly turned a two-run Astros' lead to a deficit, left Harrell believing a few of the four straight hits allowed were playable without a shift -- specifically a double to left by No. 9 hitter Ramon Santiago.
"I felt like I was good all game," he said Tuesday. "I felt like the pitch to Santiago -- and those guys hit -- I felt like those were balls that, I don't want to say should've been caught, but I felt like that could've been close to being caught. It's not [left fielder] J.D. [Martinez's] fault, but it's just kind of how things worked out."
Prior to Wednesday's series finale in Detroit, manager Bo Porter addressed Harrell's comments. The skipper said he hadn't heard what Harrell said until arriving at the ballpark, and while Porter doesn't take issue with any player expressing his opinion, he didn't believe Harrell used the proper forum in doing so.
"I took the opportunity to talk to Lucas this morning, and I explained to him pretty much my thought process on his comments," Porter said. "I said to him, 'Listen, if you have something to say and you want to voice your opinion, I have a complete open-door policy and we all know that. Come in here, say what's on your mind, you will never get a problem out of me.'
"I will say this. You look at the shift defense and how we're defending teams, I think we're up at the top of the league in double plays turned. I know for sure that if we're just playing traditional defense where everybody believes defenders should play, we wouldn't be at the top … you have to be able to take the good that comes with it and sometimes the bad."
Porter referenced a play by third baseman Matt Dominguez in the first inning. Dominguez had been lined up almost as the shortstop, with the result being an inning-ending double play.
"If Matt Dominguez's playing where a third baseman should be at, that's a base hit to left field," Porter said. "Instead of a base hit, it's a ground-ball double play. Lucas Harrell smiles coming off the field, 'Great job.' How can that be a great job, but then something else that don't get fielded is a bad job. You can't get the best of both worlds."
Anthony Odoardi is a contributor to MLB.com. This story was not subject to the approval of Major League Baseball or its clubs.