Altuve placed on bereavement list; Elmore recalled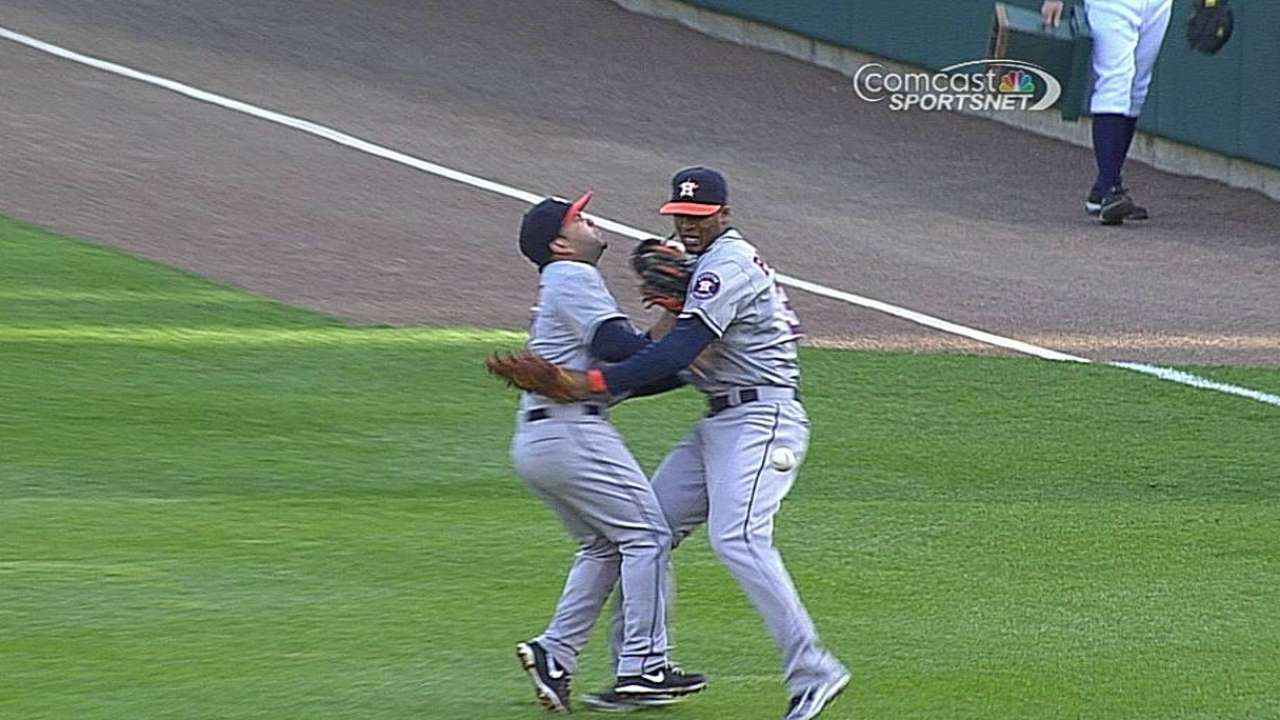 DETROIT -- Jose Altuve had already been questionable for Tuesday's game against the Tigers with a partially dislocated right jaw suffered Monday. But now it's certain the Astros' second baseman won't play for the rest of the series, as he was placed on the bereavement list.
The move was announced Tuesday morning before the Astros faced the Tigers in the second game of a three-game set at Comerica Park. The team recalled infielder Jake Elmore from Triple-A Oklahoma City to take his place.
The news came one night after Altuve crashed into Jimmy Paredes trying to field a shallow fly ball in the second inning. Altuve, however, said after the game he would return to the lineup and finish out the series.
"We'll see tomorrow if I'm going to play," said Altuve following Monday's 7-2 loss. "But I have a feeling I'm going to feel really good tomorrow."
The death of Altuve's grandmother, however, prevented him from making it back. Manager Bo Porter said Altuve flew out to Houston on Tuesday and will return home to Venezuela to be with his family.
Players must stay on the bereavement list for a minimum of three days. They are allotted a maximum of seven days away from the team, but Porter said he expects Altuve to be back by Saturday -- the second game of a weekend series in Pittsburgh.
"It's tough any time you lose a loved one, and especially someone as near and dear to you as his grandmother was to him," Porter said. "So our thoughts and prayers go out to Jose and the rest of his family.
"We'll get him there [to Venezuela] early [Wednesday] morning and he'll be with his family until Friday, and he'll be back in the lineup on Saturday."
In the meantime, Porter said Elmore will get all the reps at second. The 25-year-old was batting .300 for the RedHawks in 36 games. He played mostly second base, but he can also play shortstop and third. He hit .191 in 30 games with the D-backs last season.
Elmore made his Astros debut Tuesday, playing second and batting in the two-hole.
"When you come to the ballpark, you always want to play, so yeah, it's exciting and it shows some confidence they have in me," Elmore said. "So I'm looking forward to proving them right.
"I'll do my best while I'm here, try to open some eyes, and when Altuve gets back we'll go from there."
Anthony Odoardi is a contributor to MLB.com. This story was not subject to the approval of Major League Baseball or its clubs.