Astros reach out to former teammate Happ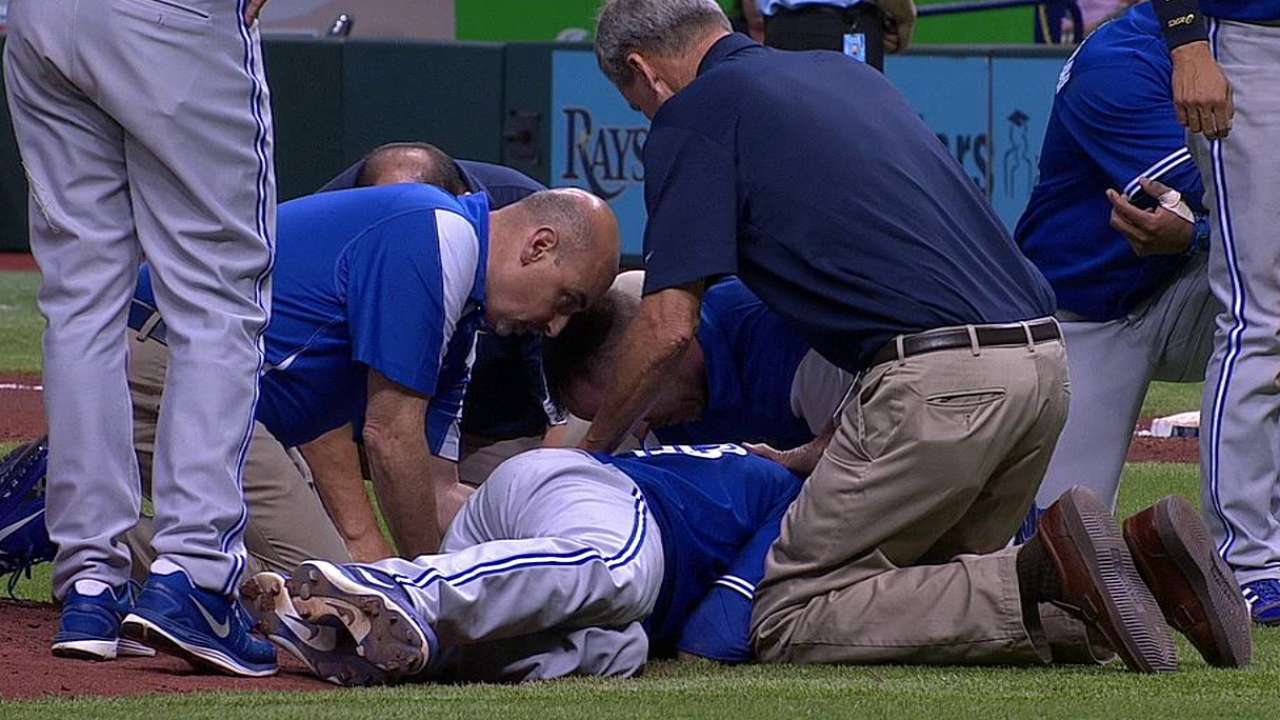 HOUSTON -- Several Astros players have reached out to Blue Jays pitcher J.A. Happ, who was struck in the head by a line drive and taken to a hospital on Tuesday night. Happ, who pitched two years in Houston before being traded in July, was released from the hospital on Wednesday.
Catcher Jason Castro sent Happ a text message following Houston's game on Tuesday and received a response from Happ on Wednesday. Happ attended Castro's wedding last year.
"He texted me back this morning and said he's feeling better," Castro said. "I saw a little clip of him on TV leaving the hospital. I haven't heard much from him, but he said he's feeling better. It's scary to see that, but hopefully he can have a quick recovery and be back up here."
Astros starter Lucas Harrell, whose locker was next to Happ's, also sent a get-well text message to Happ.
"I just said, 'Hey, I've been praying for you and hopefully you're all right,'" Harrell said. "I saw a thing on TV where he said he was feeling better. Hopefully he's OK and he texts me back in a day or so and I can find out exactly how he's doing. He's a really good guy and was a good teammate."
Happ's injury has resurfaced the conversation of pitchers possibly wearing some sort of protective cap while they're on the mound.
"I don't think necessarily we need to have a helmet," Harrell said. "I think that is part of the game and I think you see it maybe once or twice a year where it's a significant injury."
Astros relief pitcher Wesley Wright said he would be in favor of a padded cap.
"If it's functional and not too big a difference from what we wear now, I think it's worth giving it a shot," he said. "But growing up, you know it's part of the possibility of being a pitcher as well as a hitter. Things happen, and I try to put more emphasis on how I finish and try to put myself in a better fielding position.
"At the same time you're trying to throw as hard to making the pitches nasty, you put yourself in a bad fielding position and make yourself more vulnerable. I try to make sure I end up in a good fielding position where I can defend myself."
Brian McTaggart is a reporter for MLB.com and writes an MLBlog, Tag's Lines. Follow @brianmctaggart on Twitter. This story was not subject to the approval of Major League Baseball or its clubs.