Porter leaning on Wright to lead young group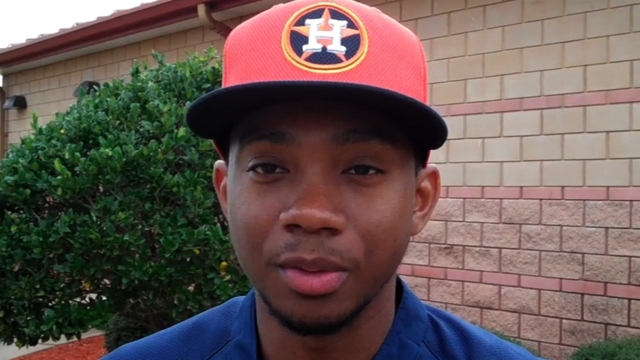 HOUSTON -- First-year manager Bo Porter is looking for leaders in his clubhouse.
Rick Ankiel, 33, who broke into the Majors as a pitcher with the Cardinals in 1999, obviously possesses the criteria.
Porter is also counting on Wesley Wright to be a leader in the bullpen. Wright, although only 28, is the longest-tenured player on the roster, first joining Houston in 2008 after being picked from the Dodgers in the Rule 5 Draft.
With the exception of four starts in 2010, the left-handed Wright has pitched strictly in relief.
"We all like to be looked upon as leaders," Wright said. "Some of us are not vocal. You lead by your actions. I go about my business and try to do it in a way where guys respect what I do. To do the right thing.
"If I see somebody doing something [wrong], I'll pull him to the side. I'm not much of a meeting guy or stand-up-in-front-of-the-team type of person. I'm more of an individual conversation type. I like to be someone this team can count on to help go where we want to go."
The Astros, who start their first year in the American League West this season, are not expected to contend.
"You start looking at standings and what your record is, that kind of gets in the way of what you're trying to do," Wright said. "Be the best you can be on that day and if you take that course, you have a better chance of being successful throughout the course of the season."
Listed generously at 5-feet-11-inches, Wright is one of the game's shortest pitchers and could probably still pass as 20 years old.
"Baseball life flies by," Wright said. "You think you're going to play forever. Then you're getting older and getting older and before you know it, the years have passed and there's a new wave of guys coming in. That's good, a lot of new energy.
"In '08, we were a couple of games out of making the playoffs and last year not even close. I've seen both sides of it. I've seen what a really good team looks like and what it looks like when you're not."
Gene Duffey is a contributor to MLB.com. This story was not subject to the approval of Major League Baseball or its clubs.