Astros add nine to Opening Day roster
Club still has one move to make to reach 25-man limit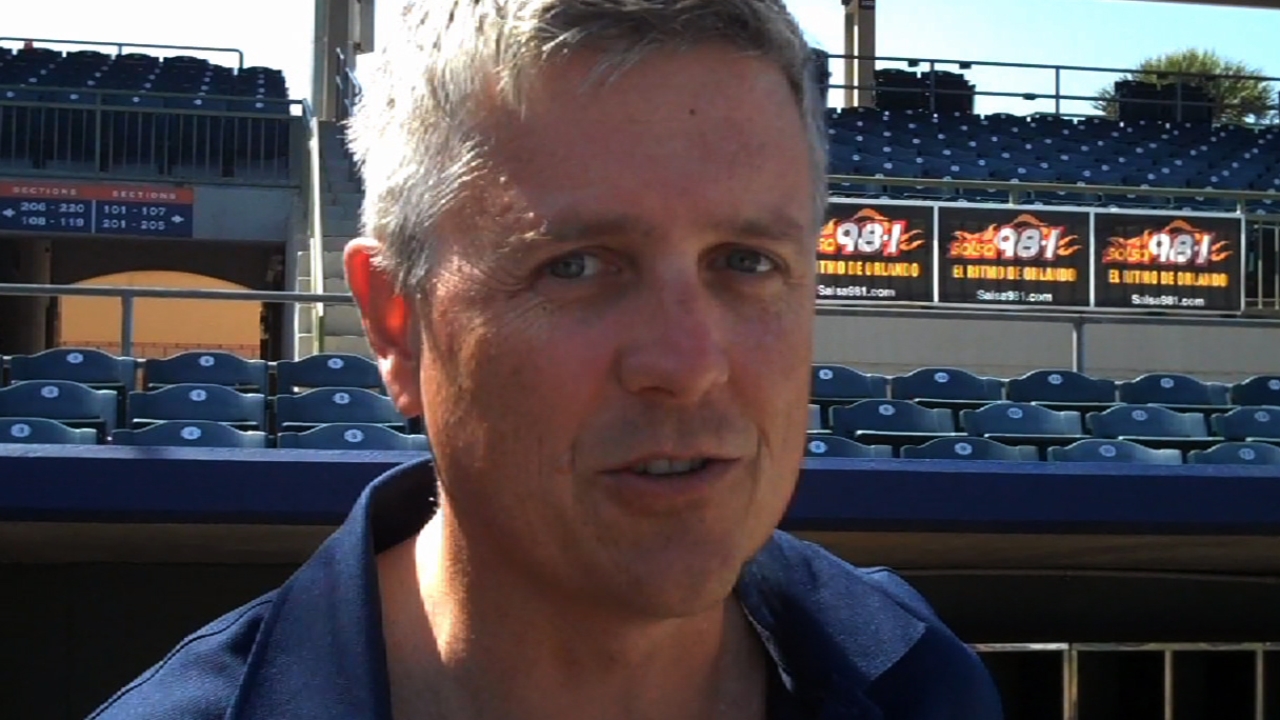 KISSIMMEE, Fla. -- The Astros nearly finalized their Opening Day roster on Monday afternoon, informing nine players they had made the team and seven others that they had not. The moves leave the Astros with 26 players ahead of Sunday's season opener against the Rangers.
Astros manager Bo Porter, general manager Jeff Luhnow and assistant general manager David Stearns brought nine players into an upstairs conference room inside the team's clubhouse at Osceola County Stadium and informed them that they were making an Opening Day roster for the first time.
Among the players who were on the fence that were given the good news were right-handers Brad Peacock and Alex White, left-hander Xavier Cedeno and outfielder Brandon Barnes. Third baseman Matt Dominguez, catcher Carlos Corporan and outfielders Justin Maxwell, Chris Carter and Fernando Martinez made the 25-man roster as well.
The Astros also informed a handful of non-roster players that they wouldn't make the club, including right-hander Jose Valdez, left-hander Kevin Chapman, outfielder Trevor Crowe, infielders Jose Martinez and Brandon Laird and catcher Rene Garcia. They will, however, travel with the team to Houston for this weekend's exhibition games against the Cubs at Minute Maid Park.
Pitcher Chia-Jen Lo was optioned to the Minor Leagues and is expected to be the closer at Double-A Corpus Christi.
"We had a pretty large, significant group of players who had never been on an Opening Day roster before, and to be able to bring them all in a room at this time of year -- when people are nervous about getting called into a room -- and notify them that not only are they making an Opening Day roster for the first time, but they're part of history, [is fun]," Luhnow said.
The Astros' position players are set. They will carry five outfielders, six infielders and two catchers, but they'll have to trim one more pitcher. Non-roster pitcher Erik Bedard will take the No. 5 spot in the rotation, and the No. 4 spot will be either Peacock or White, with one going to the bullpen.
The club must still make a decision regarding relief pitcher Josh Fields, a Rule 5 selection.
"We're still discussing, debating the final spot in the bullpen, and Fields is very much still in consideration for that," Luhnow said.
Barnes, an outfielder who can run and play strong defense, beat out Laird and Crowe for the final spot among position players.
"He gives you a lot of critical factors of things he can do to help the ballclub," Porter said. "He can pinch-run late, he can go in the game for defense, he's a superior defender. He can play all three outfield positions. He can steal a base and score from first on a double and second on a single. You look at all the things he's able to do on the ballclub."
Peacock was smiling ear-to-ear Monday afternoon after being informed that he had made the club. He will be on an Opening Day roster for the first time in his career after spending all of last season at Triple-A Sacramento in the Oakland organization. He made his Major League debut with Washington late in the 2011 season and was 2-0 with a .75 ERA in three games.
"I'm excited, and hopefully I can take advantage of his opportunity," Peacock said. "What I went through last year -- I came into camp not even knowing if I had a chance. I proved myself, and hopefully I can keep it going."
Laird didn't make the club despite a terrific spring in which he hit five homers and had 12 RBIs. He fell victim to a numbers game in the infield and the fact that the Astros wanted to carry five outfielders.
"I felt like I did everything I could in spring to make the team, and it's their decision," he said. "I have to go to Triple-A and continue to play, and I'll be up there shortly. They basically said it was between me and Barnes, and they wanted someone who could come in late in the game and play defense in the outfield. So, I'll continue to go down and work and be back up shortly."
Laird couldn't crack an infield that includes Dominguez, Brett Wallace, Ronny Cedeno, Marwin Gonzalez, Jose Altuve and Carlos Pena.
"I'm a straight-shooter, and I think our players really appreciate that," Porter said. "I don't know any other way. Like I told Laird, it came down to numbers. 'You didn't do anything performance-wise to warrant not being on the club. You performed well enough to be on the club. It's the nature of roster construction.'"
Rick Ankiel, who's yet to be placed on 25-man roster, is the club's likely starter at right field after sitting out the second half of last year when the Washington Nationals cut him loose. He's been one of the Astros' most impressive players this spring and brings veteran leadership.
"It's what I prepared for and trained for all offseason," Ankiel said. "It's always good when you get the gratification of all the hard work you've put in and it pays off. It's obviously a good feeling. Now it's just day one -- here we go. There's a long way to go, but right where I'm at right now, I'm happy about it."
Brian McTaggart is a reporter for MLB.com and writes an MLBlog, Tag's Lines. Follow @brianmctaggart on Twitter. This story was not subject to the approval of Major League Baseball or its clubs.