Newly named No. 2 hitter Wallace has pinched nerve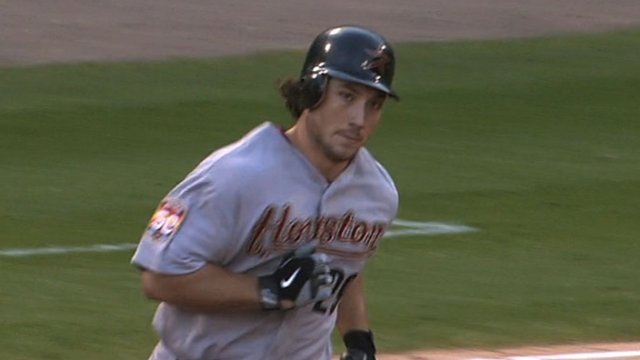 LAKELAND, Fla. -- On Thursday, manager Bo Porter said the No. 2 spot in the lineup will be occupied by first baseman Brett Wallace, who left Thursday's game with a pinched nerve in his left trapezius after diving back into first base in the first inning.
Wallace could have stayed in the game but was removed as a precaution.
"When I dove back, I jammed my shoulder in the bag and jammed my neck a little bit and had a little spasm in my trap," Wallace said. "I feel pretty good, though, I think. It was more precautionary to come out and get some treatment and ice it up."
Wallace has never dealt with an injury to that area of his body but doesn't expect it to be a lingering issue.
"It was sore when it happened, but it's kind of gone away now," he said. "I told Bo if it was in-season, honestly, I could have stayed in. I felt fine. Being spring, we wanted to make sure I got in and got treatment and stuff. I feel good, and I think I'll be good tomorrow."
Brandon Laird took over for Wallace and homered in his first at-bat.
As for Wallace batting second, it will be primarily when the Astros are facing righties. Wallace, a left-handed hitter, actually hit higher against lefties last year (.273) than right-handers (.247), but for his career he's a better hitter against right-handers (.252) than lefties (.241). He's expected to split time at first with Carlos Pena and perhaps Nate Freiman if he makes the club.
"We want to try to maximize our ability to get guys on base at the top of the lineup so the guys we have in the middle of the lineup are hitting with men on base more often," Porter said. "We have guys in the middle of the lineup who can change the game in one swing."
Against a left-hander, the No. 2 spot could be occupied by several players, including Marwin Gonzalez and Tyler Greene, both of whom are battling for the shortstop job.
"When you look at the lineup and how it stacks up, we'll probably have those guys in the middle of the lineup that can drive the ball out of the ballpark and have the guys that can handle the bat more so down in the eight, nine area," Porter said.
Brian McTaggart is reporter for MLB.com and writes an MLBlog, Tag's Lines. Follow @brianmctaggart on Twitter. This story was not subject to the approval of Major League Baseball or its clubs.