Porter among fans of Interleague Play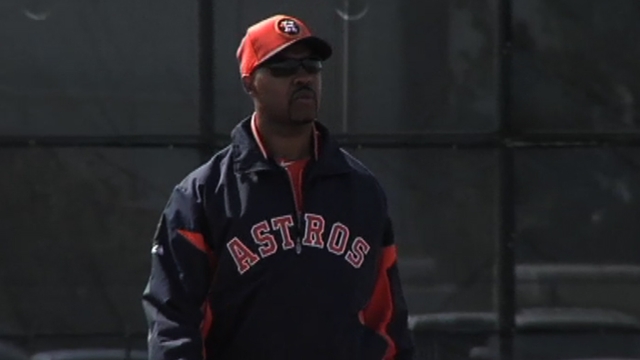 DUNEDIN, Fla. -- This year marks the 40th anniversary of the designated hitter in the American League, and Astros manager Bo Porter -- whose team will make its AL debut March 31 -- is a fan of having a different set of rules in both leagues.
"I think it's good for baseball," Porter said. "It kind of gives baseball a little different brand. If I were a fan, I would live for Interleague."
When it comes to the DH, Porter says AL teams can be at a disadvantage when they play in National League parks because the DH, which is often the team's best offensive player, is forced to play the field, which is not always ideal.
That is why Porter says it is vital to have a DH who can also play the field adequately. The Astros have that in Carlos Pena, who has a good glove at first base.
"I think it puts you in a position where, if that guy can't go play a position, you're stuck with him just being your DH, and you can never give one of your other regulars just a day where they don't have to play the field," Porter said. "Let's say Jose Altuve goes 4-for-4 with two triples and two stolen bases and scores five runs and he runs all over the place. I don't want to take his bat out of the lineup, but I'll say, 'I'm going to get you at DH [the following game],' and whatever position your DH plays, you put him in the field. You still have the DH in the lineup."
Brian McTaggart is a reporter for MLB.com and writes an MLBlog, Tag's Lines. Follow @brianmctaggart on Twitter. This story was not subject to the approval of Major League Baseball or its clubs.