Peacock uses all four pitches in five-inning outing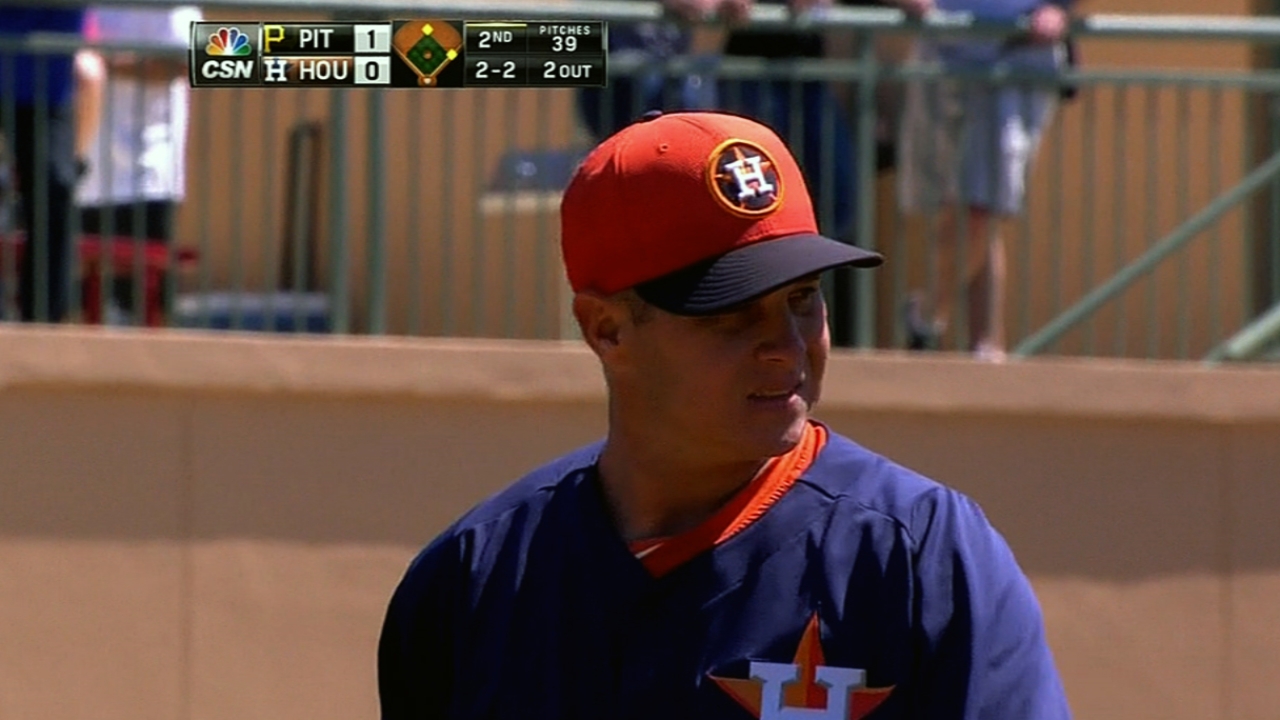 KISSIMMEE, Fla. -- Brad Peacock took the mound Friday afternoon against the Pirates with the typical Spring Training goals: build up his endurance and get a handle on all his pitches. Neither plan got off to a great start, but the end result couldn't have been much better.
Peacock gave up a run on three second-inning hits, but got nine outs against the final nine Pirates he faced at Osceola County Stadium. He used all four of his pitches, got a feel for his curveball and lasted a full five innings.
Peacock allowed just one run on four hits and a walk, striking out four on 84 pitches, including 50 strikes.
"Peacock was outstanding," Astros manager Bo Porter said after his club's 3-2 loss. "Attacked the strike zone, broke out his breaking ball more today and used it more efficiently to get back into counts, threw some really good changeups and pounded the strike zone, which was good to see."
Peacock said he couldn't find his signature curveball in the early going, spiking it into the dirt or leaving it too high in the zone. But he clearly found it by the end of the third, when he struck out Pirates catcher Russell Martin on a nasty curve.
He went out on an encouraging note as well, punching out Michael McKenry with another solid curveball. Peacock attributed some of that improvement to a conversation with right-hander Bud Norris.
"Bud, in the dugout, kind of told me a few things, a couple pointers, and it worked out there in the fourth and fifth," Peacock said. "It's usually my best pitch. It's taking me a while to get it right now. I'll work with [pitching coach Doug] Brocail in the next bullpen and we'll figure it out."
Adam Berry is a reporter for MLB.com. Follow him on Twitter at @adamdberry. This story was not subject to the approval of Major League Baseball or its clubs.