Wallace's refined swing produces early results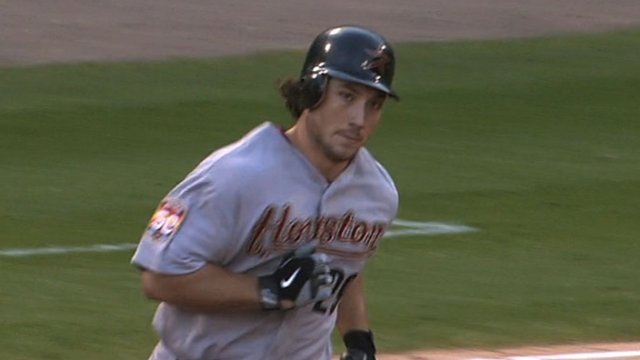 VIERA, Fla. -- Armed with a new approach at the plate and under a new regime in Houston, Brett Wallace is looking to break out in 2013.
Wallace appeared in 66 games last season, with a slash line of .253/.323/.424, and played primarily first base, appearing in eight games at third.
This year, he's been working with hitting coach John Mallee to refine his swing, and his numbers have already improved, with nine RBIs and a .321 average through 11 Grapefruit League games entering Thursday.
"My timing and everything is a lot easier now," Wallace said. "Before, it was almost like I was fighting myself, like my body was pulling me back, so to try to get going forward and try to get through the baseballs, I could feel that tug in my own body pulling me away. Now I'm in the box and I feel like everything's working in the right direction."
Wallace is one of a handful of players -- Chris Carter and Carlos Pena included -- who could see time at first base or designated hitter.
"He gives us a lot of flexibility with his ability to not only play first base, but also play third base and also be able to DH as well," manager Bo Porter said. "We are excited about the spring that Brett is having and we expect him to be a huge part of our ballclub this year."
Wallace said the biggest difference in his swing has been getting his lower half in a position where he can be consistent and stay through the baseball easier. Mallee watched a lot of video of Wallace's swings and saw an angle in the swing that had Wallace almost going backwards.
"So we just really worked on correcting that, getting my body driving forward, and from there, everything else kind of plays a little bit better," Wallace said. "I can stay through the baseball easier and more consistently."
Joey Nowak is a reporter for MLB.com. Follow him on Twitter at @joeynowak.& This story was not subject to the approval of Major League Baseball or its clubs.