Hinch finishes 3rd in AL MOY Award vote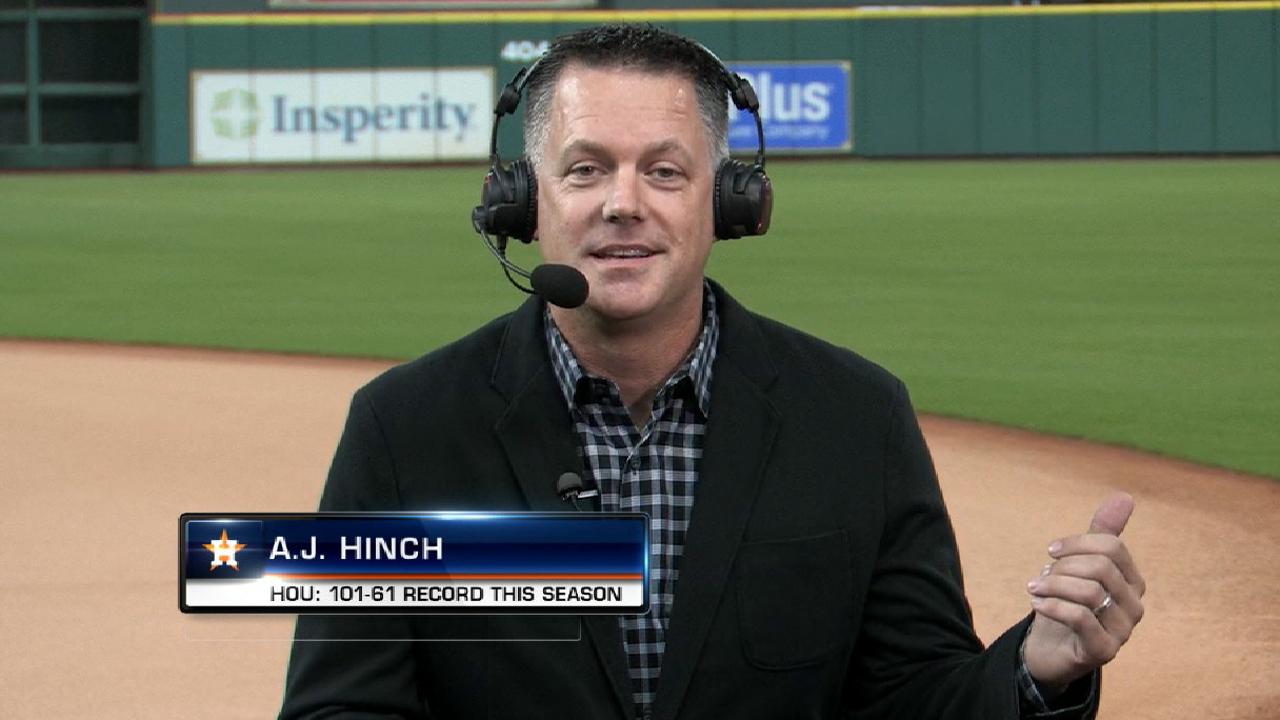 HOUSTON -- Astros manager A.J. Hinch finished third in American League Manager of the Year Award voting following a regular season in which he led the Astros to 101 wins and the AL West title while overcoming a rash of injuries -- and guiding his team through the aftereffects of a devastating hurricane
Paul Molitor, who guided the Twins to the postseason one year after losing 103 games, won the award with 18 first-place votes and 112 points in balloting by the Baseball Writers' Association of America released Tuesday. Terry Francona of the Indians was second with 90 points, and Hinch was third with 56 points. He received one first-place vote, 13 second-place votes and 12 third-place votes.
"Obviously, I think Mollie did a great job and Tito did a great job, and other managers that didn't even get recognition did a great job," Hinch said. "It's a thrill to be included and caps a very memorable season."
Hinch finished third in the AL Manager of the Year Award voting in 2015, his first year in Houston.
AL Manager of the Year voting
| | | | | |
| --- | --- | --- | --- | --- |
| Paul Molitor, MIN | 18 | 6 | 4 | 112 |
| Terry Francona, CLE | 11 | 9 | 8 | 90 |
| A.J. Hinch, HOU | 1 | 13 | 12 | 56 |
| Joe Girardi, NYY | | 2 | 6 | 12 |
| Name, team | 1st | 2nd | 3rd | Pts |
The AL Manager of the Year Award takes only regular-season performance into account, and therefore did not include Hinch's role in guiding the Astros their first World Series championship earlier this month.
Now that the BBWAA has announced its choice, make your voice heard by voting for Best Manager in the Esurance MLB Awards, where baseball legends, media, front-office personnel and fans come together to pick the winners, with postseason accomplishments factored in. Then tune in Friday at 7 p.m. CT on MLB Network and MLB.com as this year's best stars and moments are revealed.
The Astros finished one-game behind the Indians for the best record in the AL, but led the league for much of the season before a rash of injuries caught up to them.
Four starting pitchers missed significant time on the disabled list, including Collin McHugh for the first 3 1/2 months with an arm injury. Charlie Morton missed two months with a strained lat, Dallas Keuchel was out eight weeks with neck discomfort and Lance McCullers Jr. was on the DL twice with back and shoulder issues. Starter Joe Musgrove also took a turn on the DL with shoulder discomfort.
• AL Manager of the Year Award history
The Astros were also without All-Star shortstop Carlos Correa, who tore a thumb ligament in early July and missed two months. There were also injuries to outfielder George Springer, as well as both catchers -- Brian McCann and Evan Gattis -- going on the shelf at the same time.
The Astros took off and were 42-16 in early June when injuries mounted. Morton had gone on the DL on May 27 and would remain until late July. Keuchel, who was pitching at a Cy Young Award level, went down on June 5. McCullers went down four days later. Correa was lost in mid-July and didn't come back until September. All were key players, but Hinch managed to piece together the lineup and keep the Astros moving forward.
That changed in August. After not making an impact deal before the July 31 non-waiver Trade Deadline -- and having Keuchel say publicly he was disappointed -- the Astros sputtered in August, going 11-17. The division title wasn't in question, but there was a malaise around the team that could have spelled deep trouble for the Astros down the stretch.
Then came Hurricane Harvey, which devastated the city and forced the Astros to move a home series against the Rangers to the Tampa Bay Rays' home, Tropicana Field in St. Petersburg. When the team finally returned home a few days later, Hinch led a group of players to a shelter to volunteer. The next day, he took the microphone at Minute Maid Park and praised the city for its resilience.
A few days later, Hinch helped convince Justin Verlander to waive his no-trade clause and join the Astros for the final month of the season. The trade put wind in Houston's sails, and Verlander was untouchable. Correa and Keuchel got healthy, and the Astros took off. The manager who never lost faith, who never wavered in his belief in his team, led the Astros to their first division title in 16 years.
Brian McTaggart has covered the Astros since 2004, and for MLB.com since 2009. Follow @brianmctaggart on Twitter. This story was not subject to the approval of Major League Baseball or its clubs.