#AwardWorthy: Support Altuve, Astros
First World Series title leads Houston to numerous MLB Award nominations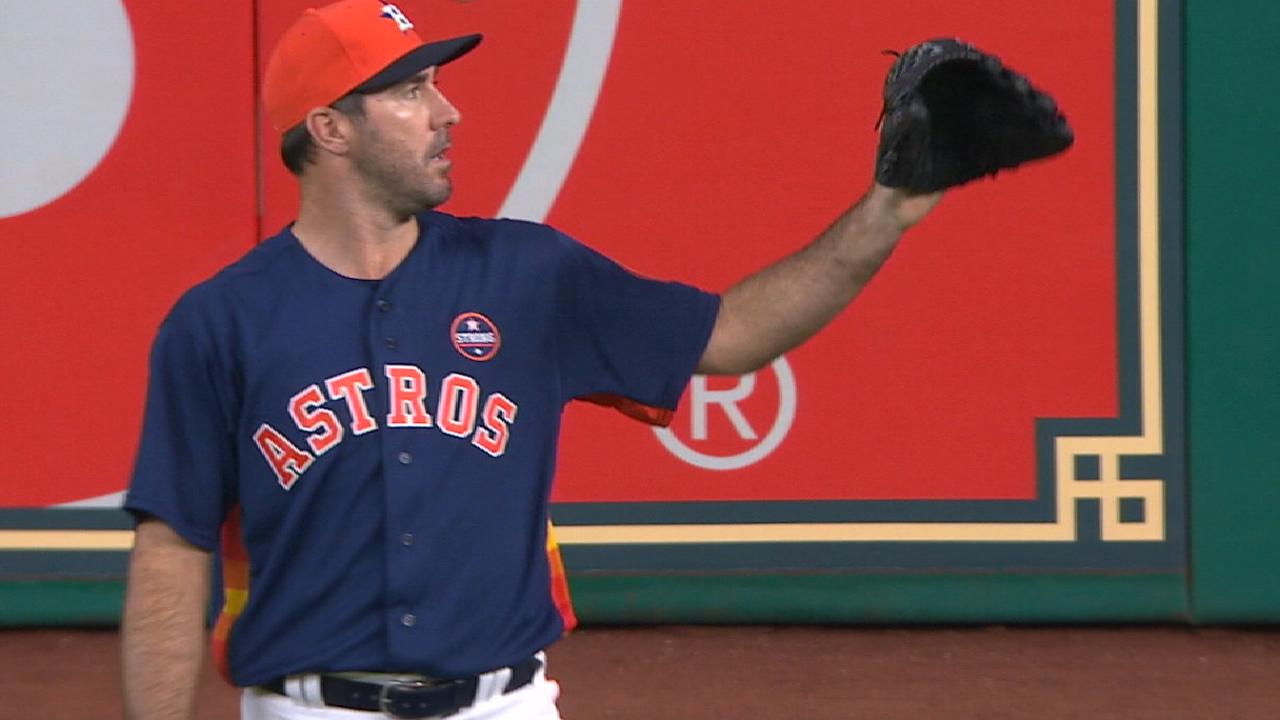 The Astros had an emotionally charged season, with the franchise's first World Series title capping off a season in which the City of Houston was faced with the challenge of recovering from Hurricane Harvey.
Fittingly, the team has 20 nominations in this year's Esurance MLB Awards, more than any other club. And leading the way is American League MVP Award winner Jose Altuve, who is up for Best Major Leaguer.
From its unforgettable playoff run, Houston has four players nominated for the Best Major Leaguer, Postseason category; four nominees for Best Postseason Moment; two nominees for Best Call, TV/Radio; a nominee for Best Manager; and a nominee for Best Fan Catch.
• VOTE NOW: Esurance MLB Awards
In addition, Joe Musgrove is up for Best Player-Fan Interaction; Marwin Gonzalez and George Springer are both up for Best Play, Offense; Alex Bregman and Brian McCann teamed up for a Best Play, Defense nomination; general manager Jeff Luhnow nabbed a Best Executive nomination; Yuli Gurriel is up for Best Rookie; and newly acquired ace Justin Verlander is nominated for Best Pitcher.
All in all, it was a solid season for Houston.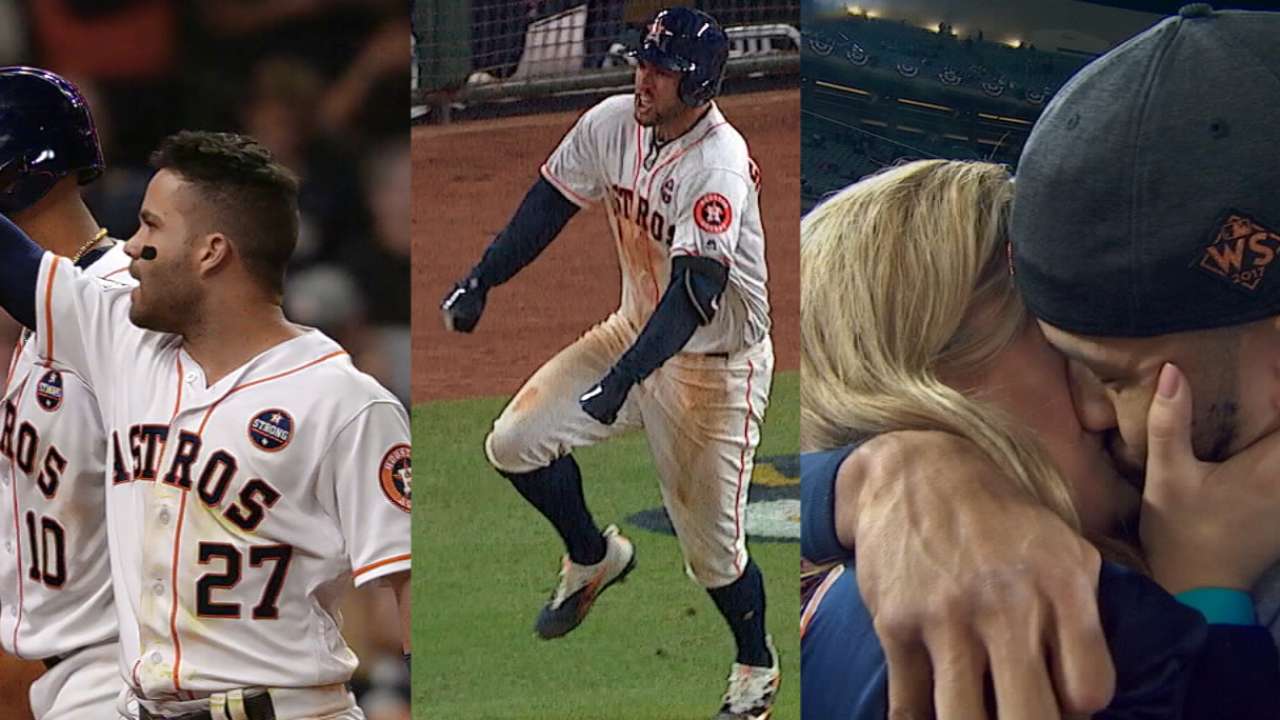 The Esurance MLB Awards annually honor MLB's greatest achievements as part of an industry-wide balloting process that includes five groups, each of which accounts for 20 percent of the overall vote: media, front-office personnel, retired MLB players, fans at MLB.com and Society for American Baseball Research (SABR) members.
The MLB Awards are an all-inclusive program, encompassing the top players and performances from both leagues from Opening Day through the end of the postseason.
Voting led off with seven categories on Sept. 18 at mlb.com/awards, serving as the grand entrance of a program that unveiled nominees for Best Call, TV/Radio; Best Major Leaguer, Postseason; and Best Postseason Moment following the Fall Classic's final out. The ninth inning of voting began around BBWAA Awards week, which opened when the Jackie Robinson Rookie of the Year Award winners were unveiled Monday, Nov. 13. Voting in the Best Executive, Best Rookie, Best Manager and Best Pitcher categories went live earlier this week, preceding balloting in the Best Major Leaguer category.
MLB Awards season will culminate on Friday, when winners are announced live on MLB Network and MLB.com starting at 7 p.m. CT.
Altuve was outstanding all season, winning his second straight AL batting title, logging an AL-best 204 hits and matching a career high with 24 home runs. Altuve also set career highs in on-base percentage (.410), slugging percentage (.547) and runs (112).
Altuve's continued to tear up the ball into October and November as he led postseason hitters with 22 hits and 7 home runs. The latter mark is one short of the all-time single postseason record. He also tied for the 2017 posteason lead in RBIs (14) and stolen bases (2).
Altuve, Carlos Correa, Springer and Verlander are all nominated for Best Major Leaguer, Postseason. Springer won the World Series MVP Award after hitting a record-tying five home runs in the Fall Classic, while Verlander was named the AL Championship Series MVP after his two dominating starts vs. the Yankees. Altuve and his All-Star double-play partner Correa both continued their incredible seasons into October and November.
Gurriel's fantastic year at the dish netted him a spot in the running for the league's Best Rookie, as he led all first-year players in doubles, with 43. The 33-year-old racked up 158 hits en route to a .299 batting average; both the hits and average ranked second among all rookies.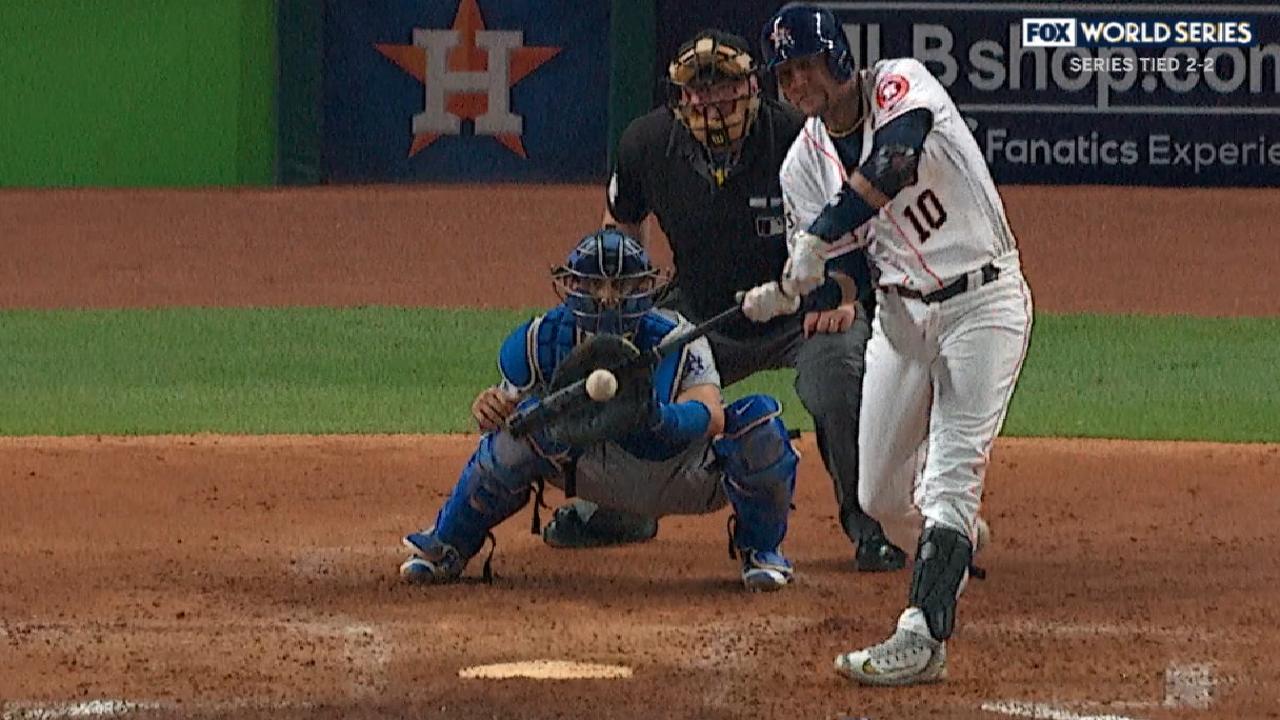 Verlander earned his Best Pitcher nomination after posting a 3.36 ERA with 219 strikeouts over 206 innings. He was especially effective after the Astros acquired him in a last-minute trade on Aug. 31, holding a 1.06 ERA with 43 strikeouts in 34 innings.
The veteran right-hander continued his dominance into the postseason, where he earned the AL Championship Series MVP after holding the Yankees to one total run over 16 innings with 21 strikeouts. Overall, he went 4-1 with a 2.21 ERA in the postseason with 38 strikeouts in 36 2/3 innings.
Each of the Astros' postseason walk-offs made the cut for Best Postseason Moment: Correa's ALCS Game 2 double and Bregman's World Series Game 5 single. Also earning nominations were Springer's record-tying World Series Game 7 home run and Correa's emotional proposal after the final out of the season.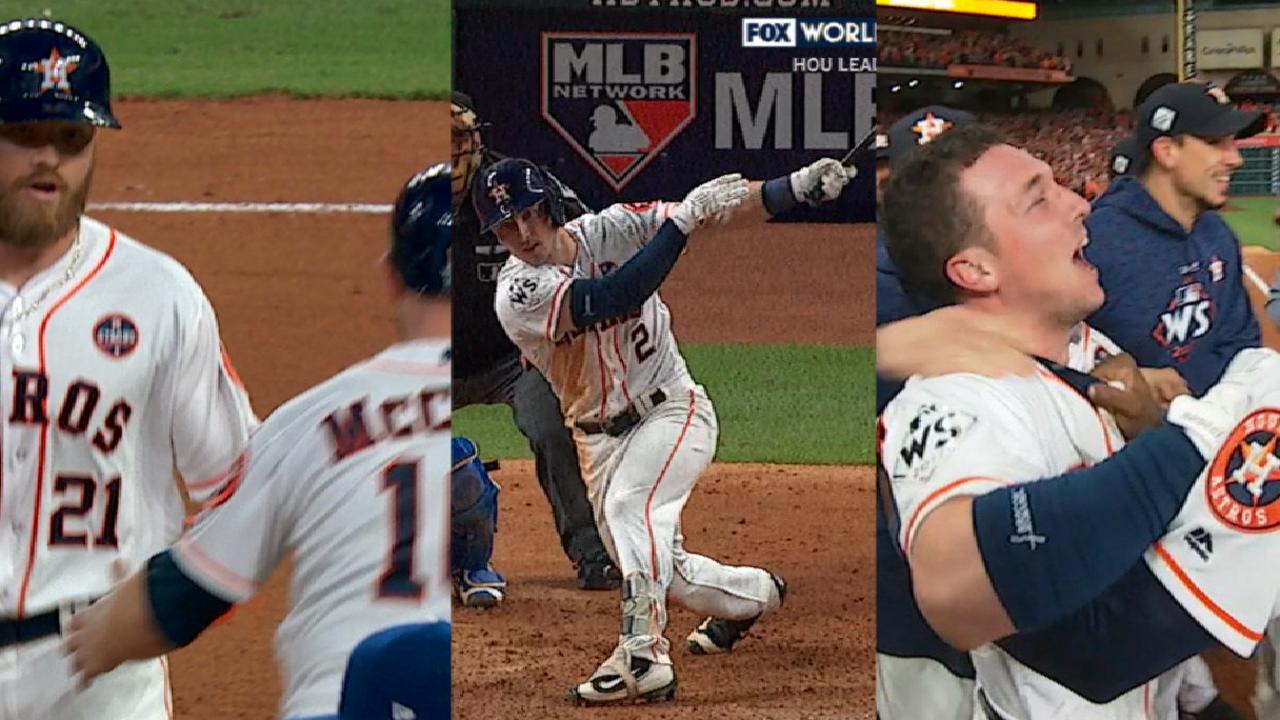 Game 5 of the World Series brought three more nominations, including two for Best Call, TV/Radio. FOX's Joe Buck earned a nomination for his "Unbelievable!" call on Altuve's fifth-inning, game-tying home run, while Astros broadcasters Robert Ford and Steve Sparks' call of Bregman's walk-off single got its own nod. Meanwhile, the fan who took Yasiel Puig's home run ball away from his sister-in-law and threw it back onto the field earned a nomination for Best Fan Catch.
• Here's the story behind fan who threw back Puig's home run ball
The man that led the Astros all the way through October, third-year manager A.J. Hinch, is nominated for the top managerial award. Hinch led Houston to a 101-61 regular-season record. Then in October, many of his managerial moves proved shrewd.
Musgrove had a touching moment when he brought a pair of white cleats to the George R. Brown Convention Center on the day before the Astros' first home game after Hurricane Harvey. He had 50 people sign and draw on the cleats and earned a win in the second game of a doubleheader the next day, throwing 2 1/3 innings and escaping a bases-loaded jam in the cleats.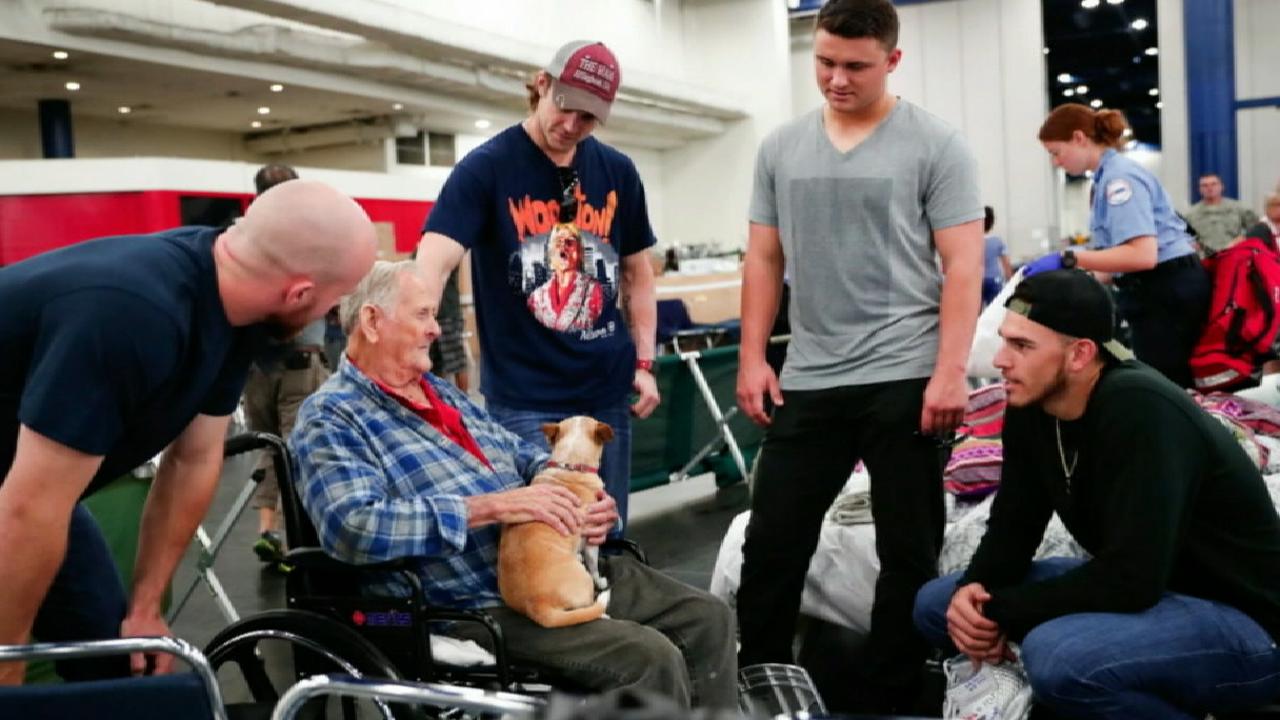 "I thought it was a perfect opportunity to take them over there when we were seeing all the kids and give them something to get excited about and let them design them and color them and draw them however they wanted," Musgrove said. "I told them I was going to wear them, and I said, 'Watch the game tomorrow, and you might see your name on TV and see shoes and know you're a part of it.' That was really special."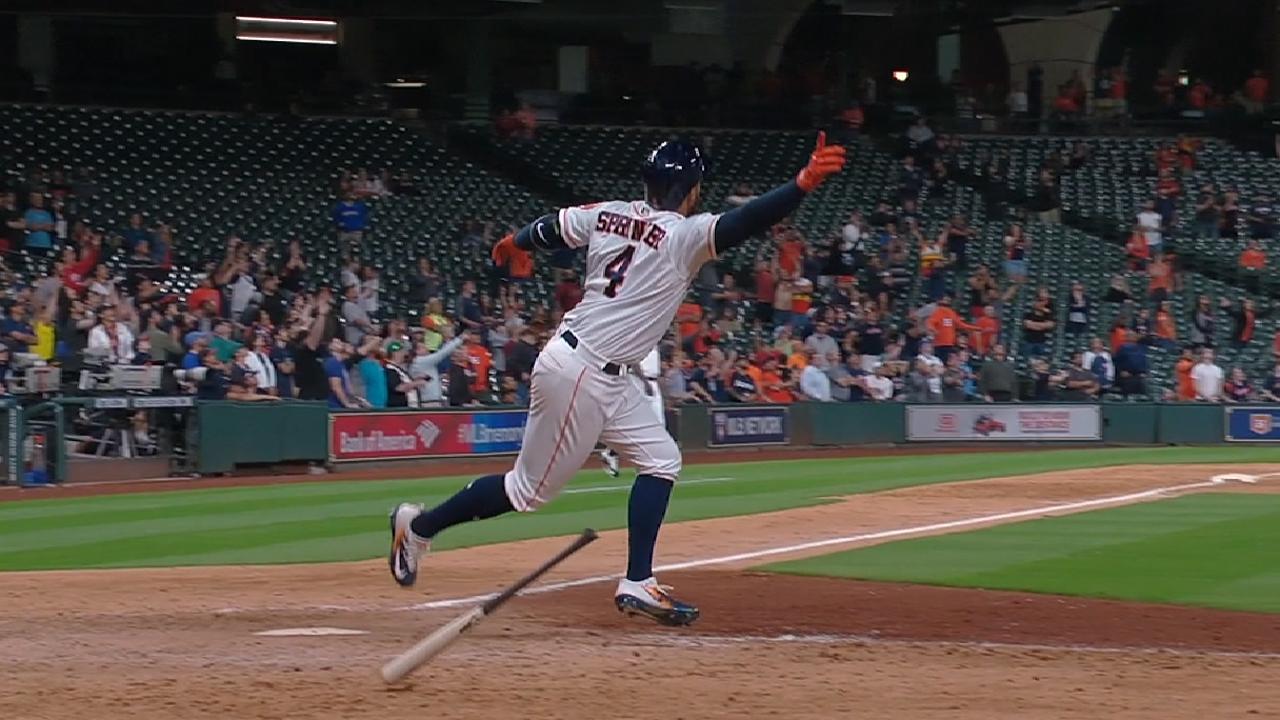 Gonzalez earned a nomination for Best Play, Offense, for his game-tying home run in Game 2 of the World Series off Kenley Jansen that prevented the Astros from falling to a 2-0 Series deficit. Meanwhile, Springer's nomination came from the third game of the season against the Mariners, when he tied the game in the seventh inning with a two-run double and then rose to the occasion once again with a three-run walk-off homer in the bottom of the 13th after Seattle had scored in the top of the frame.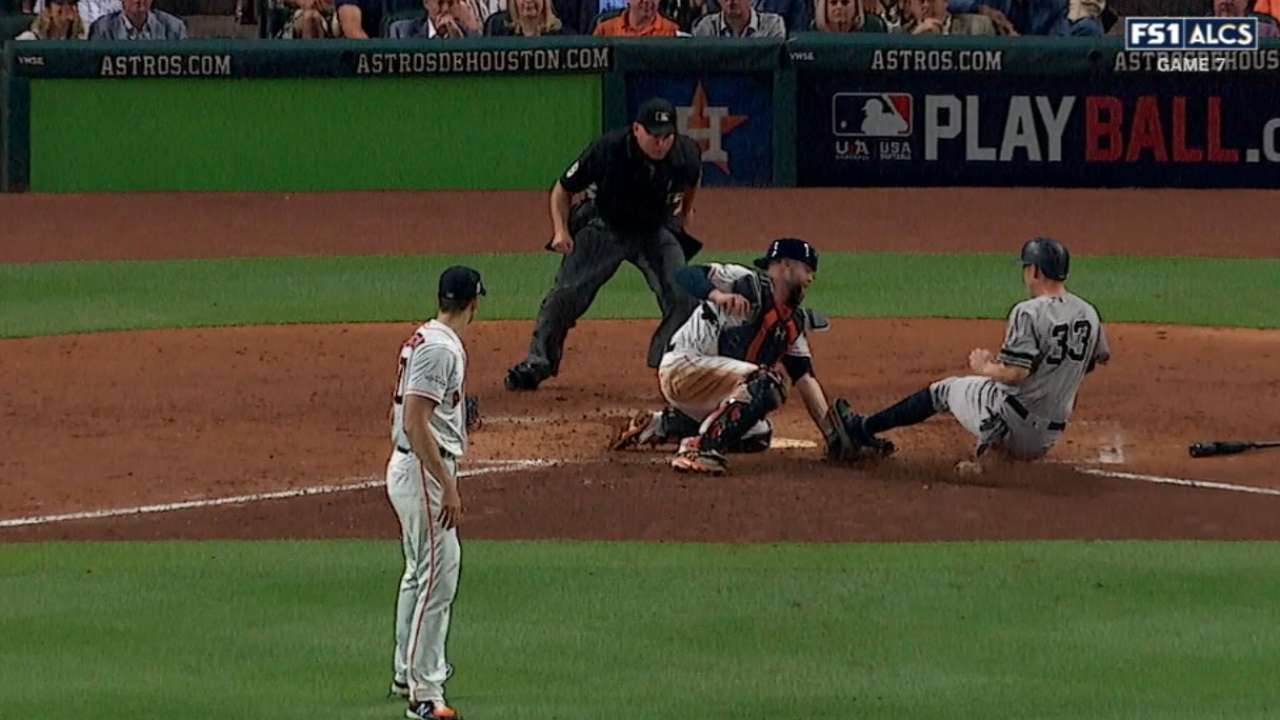 Houston's last nomination on the field came in the winner-take-all Game 7 of the ALCS, when Bregman threw home on a tough ground ball to nail Greg Bird at the plate to protect a 1-0 lead. McCann put on a great tag at home plate, and the play helped propel the Astros to their second World Series appearance.
Finally, it's natural that the man who put together a World Series-winning roster be nominated as the game's top executive. Luhnow took over as the Astros' general manager in 2011 and executed an extreme rebuilding plan. Responsible for bringing in young players like Correa and Bregman through the Draft, he also acquired veterans McCann and Verlander through trades to round out a championship team.
Ben Weinrib is a reporter for MLB.com based in Cleveland. Follow him on Twitter at @benweinrib. This story was not subject to the approval of Major League Baseball or its clubs.