5 Statcast facts for ALCS: Yankees vs. Astros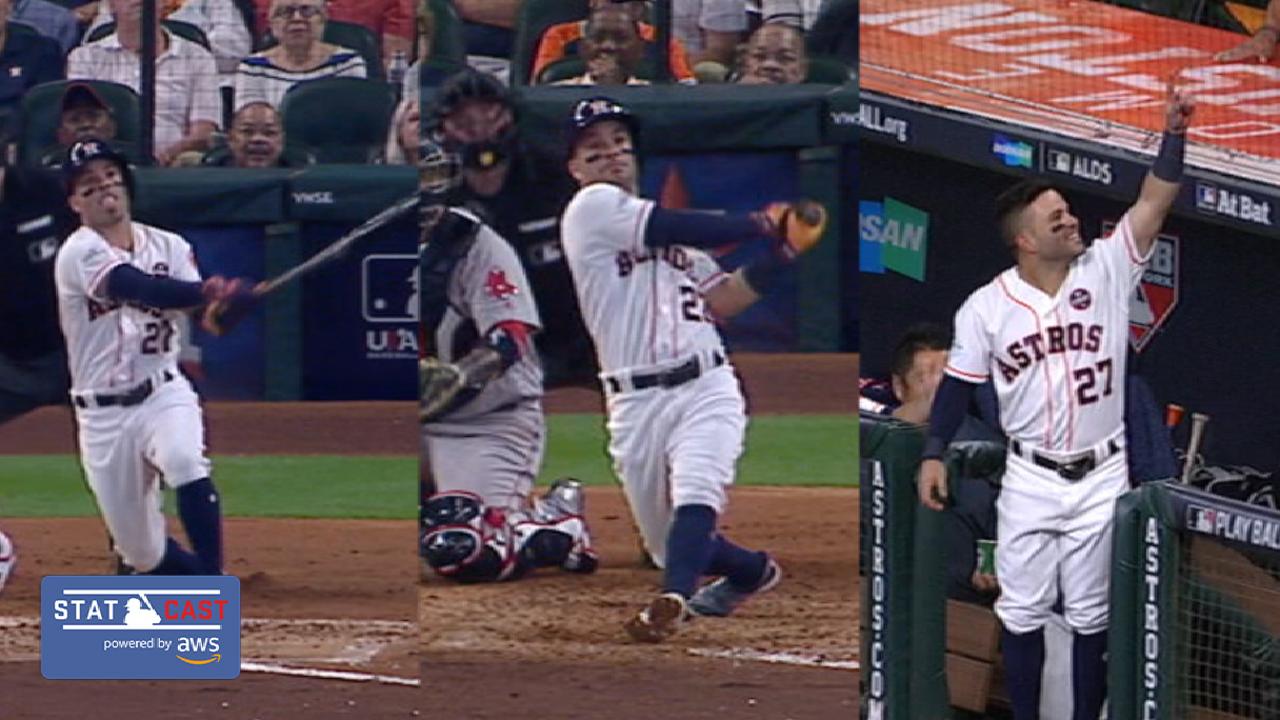 One franchise is looking for its 28th World Series championship. The other is searching for its first. Only one can continue that quest in the Fall Classic.
The Yankees and Astros enter the American League Championship Series presented by Camping World, which begins Friday at Minute Maid Park (8 p.m. ET, FS1), coming off wildly different experiences in the AL Division Series presented by Doosan. Houston soared past Boston in four games after building an 0-2 deficit, while New York rallied past a favored Cleveland squad, becoming the eighth team to overcome a 2-0 deficit in a best-of-five series.
Statcast™ has been following both clubs' exploits, from Opening Day through the ALDS, tracking strengths and weaknesses. With that in mind, here are five things to watch in the ALCS.
1. Both lineups can mash
In the regular season, the Astros and Yankees ranked first and second in the Majors in runs scored, first and third in OPS, and second and first in home runs, respectively. They also both finished in the top five in Statcast™'s expected weighted on-base average (wOBA) metric, which strips out things such as luck and park effects by looking only at the quality of a hitter's contact, plus his actual strikeouts and walks.
Both teams brought their bats with them to the postseason, with the Astros blitzing the Red Sox's pitching staff over four games and the Yanks overcoming an Indians team that put up some all-time great regular-season numbers. So far in the playoffs, Houston and New York are tied for first with 10 barrels -- batted balls with an ideal combination of exit velocity and launch angle -- and rank first and tied for second in rate of barrels hit per batted ball.
• Dress for ALCS: Get postseason gear: Yankees | Astros
Highest xwOBA in the 2017 regular season
1. (tie) Tigers: .332
1. (tie) Indians: .332
3. Astros: .330
4. Dodgers: .329
5. Yankees: .328
MLB average: .314
Highest barrel rate in the 2017 postseason *
1. Astros: 8.6 percent
2. (tie) Yankees: 7.1 percent
2. (tie) D-backs: 7.1 percent
4. Indians: 5.7 percent
5. Nationals: 5.7 percent
* Clubs that made Division Series
2. Aaron Judge is struggling with soft stuff
Following a strong performance in the AL Wild Card Game against the Twins, Judge went 1-for-20 with four walks and 16 strikeouts in the ALDS, including one game with three strikeouts and three games with four. But it wasn't just that Judge slumped. Cleveland also seemed to execute its plan perfectly.
In the regular season, 51.5 percent of pitches to Judge were fastballs (including four-seamers and two-seamers/sinkers). In the postseason, that has plummeted to 31.7 percent -- second lowest of 54 hitters who have seen at least 50 pitches. Against the Indians, Judge went 0-for-15 with 13 strikeouts against non-fastballs.
With that said, the Tribe had MLB's lowest fastball usage this season, and in the ALDS, Judge mostly saw pitchers with devastating offspeed stuff, such as Corey Kluber, Carlos Carrasco and Trevor Bauer. Houston's Game 1-2 starters, Dallas Keuchel and Justin Verlander, lean more heavily on heaters.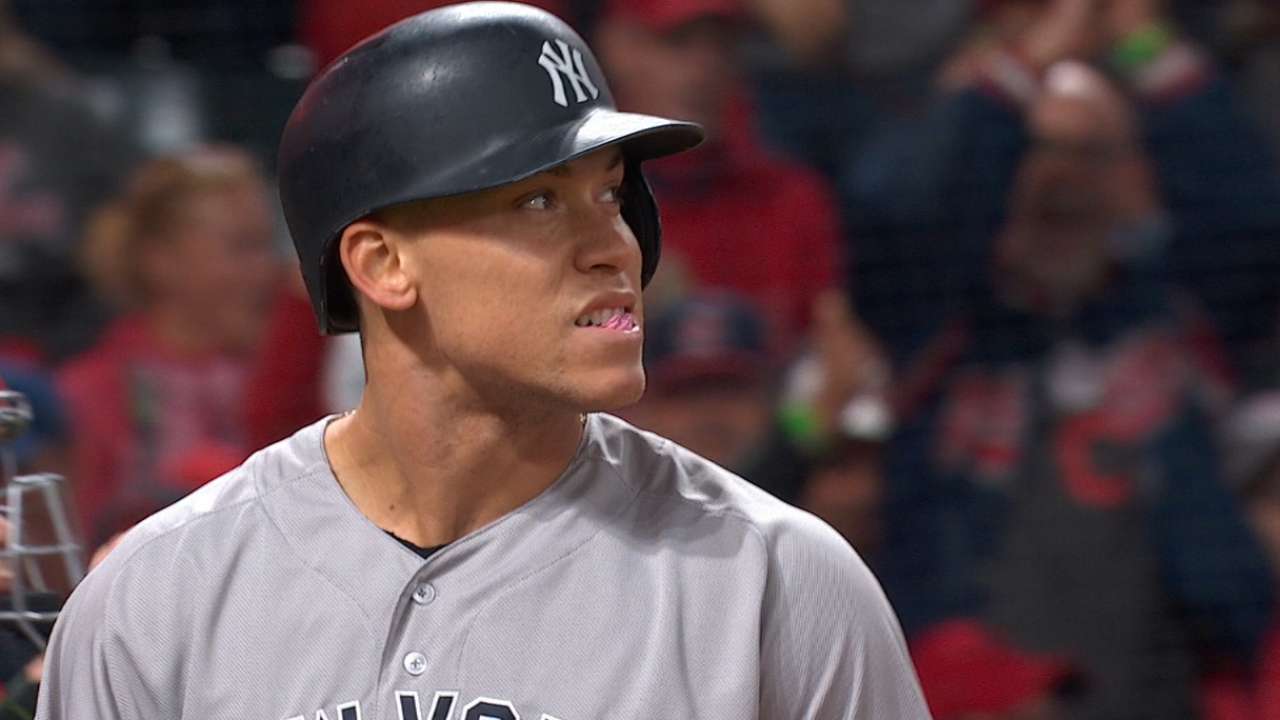 Lowest rate of fastballs* seen in the 2017 postseason
Minimum 50 pitches seen
1. Ketel Marte: 28.1 percent
2. Aaron Judge: 31.7 percent
3. Kris Bryant: 36.3 percent
4. Aaron Hicks: 37.8 percent
5. Greg Bird: 38.9 percent
* 4-seamers/2-seamers/sinkers
3. Jose Altuve and Yuli Gurriel are on the attack
The Astros scored 24 runs and posted a .974 team OPS in four ALDS games against the Red Sox, and these two infielders were a major reason for that success, both batting over .500. They also excelled in terms of expected wOBA. Altuve (.605) and Gurriel (.431) both rank in the top six among hitters who have come to the plate at least 10 times this postseason.
Both hitters have excelled in part by being aggressive, combining for 11 ALDS hits in the first two pitches of an at-bat. Altuve, in particular, has shown he is ready to go, swinging at 10 of 15 (67 percent) early-count pitches in the strike zone, compared to 57 percent in the regular season.
Highest xwOBA in the 2017 postseason
Minimum 10 plate appearances
1. Jose Altuve: .605
2. Michael A. Taylor: .496
3. Justin Turner: .475
4. Corey Seager: .437
5. Daniel Murphy: .434
6. Yuli Gurriel: .431
Most early-count* base hits in the 2017 postseason
1. Jose Altuve: 6
2. (tie) Yuli Gurriel: 5
2. (tie) Mitch Moreland: 5
4. (tie) Jay Bruce: 4
4. (tie) Hanley Ramirez: 4
* 0-0, 0-1 or 1-0 count
4. When the Yankees go to their bullpen, the radar gun lights up
It was true in the regular season, and it's even more true in the postseason, with the Yanks' emphasis on using the best arms the most. Manager Joe Girardi's relief corps lives in the upper 90s -- and above.
Thanks to the likes of Dellin Betances, Chad Green, Tommy Kahnle and especially closer Aroldis Chapman, New York's relievers averaged 95.4 mph on four-seamers and two-seamers/sinkers in the regular season. That was the top fastball velocity for any bullpen. In the playoffs, it has increased even more, by upwards of two mph.
Highest average fastball* velocity by a team bullpen in the 2017 postseason **
1. Yankees: 97.6 mph
2. Dodgers: 96.4 mph
3. Red Sox: 95.8 mph
4. (tie) Nationals: 94.9 mph
4. (tie) D-backs: 94.9 mph
6. Astros: 94.6 mph
7. Cubs: 93.8 mph
8. Indians: 93.6 mph
*4-seamers/2-seamers/sinkers
** Clubs that made Division Series
Most pitches thrown 97+ mph by a team bullpen in the 2017 postseason
1. Yankees: 154
2. Red Sox: 66
3. D-backs: 33
4. Astros: 28
5. Dodgers: 25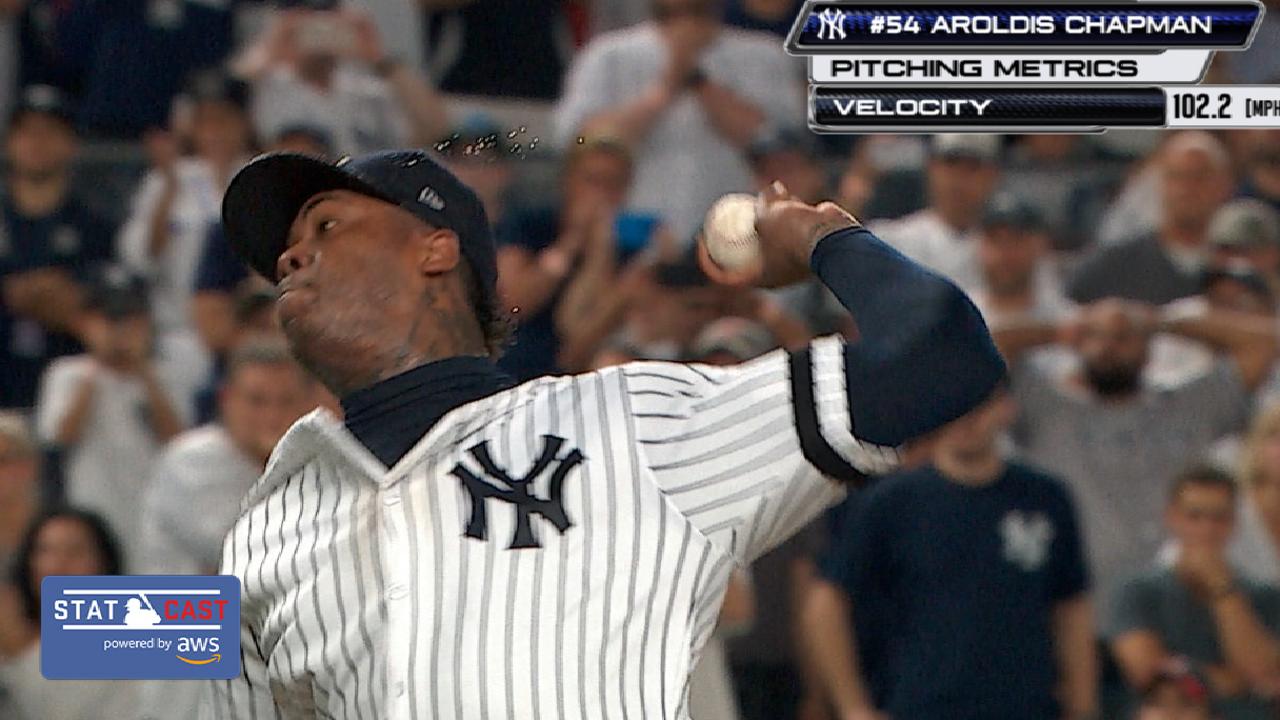 5. Game 1 starters Keuchel and Masahiro Tanaka keep it down
Look for a lot of low pitches early in Game 1 with these two on the mound. More than 100 pitchers threw at least 2,000 pitches during the regular season, and Keuchel and Tanaka both ranked in the top three by throwing more than 42 percent of those pitches to the lower third of Statcast™'s detailed strike zone or below.
However, their methods and results on those differ considerably. More than 80 percent of Tanaka's low offerings are splitters and sliders, helping him post MLB's third highest swinging-strike rate this year (15.9 percent), among those with 2,000 total pitches. More than 53 percent of Keuchel's are two-seam fastballs, helping him post MLB's highest ground-ball rate (67 percent).

Highest rate of pitches at lower edge of zone or below in 2017
Minimum 2,000 pitches
1. Dallas Keuchel: 45.5 percent
2. Wade Miley: 44.7 percent
3. Masahiro Tanaka: 42.5 percent
4. Zack Greinke: 41.2 percent
5. Zack Godley: 40.6 percent
Andrew Simon is a research analyst for MLB.com. Follow him on Twitter @AndrewSimonMLB. This story was not subject to the approval of Major League Baseball or its clubs.