MLB.com Columnist
Richard Justice
Opposites Judge, Altuve epitomize greatness
AL MVP Award candidates heading in opposite directions going into ALCS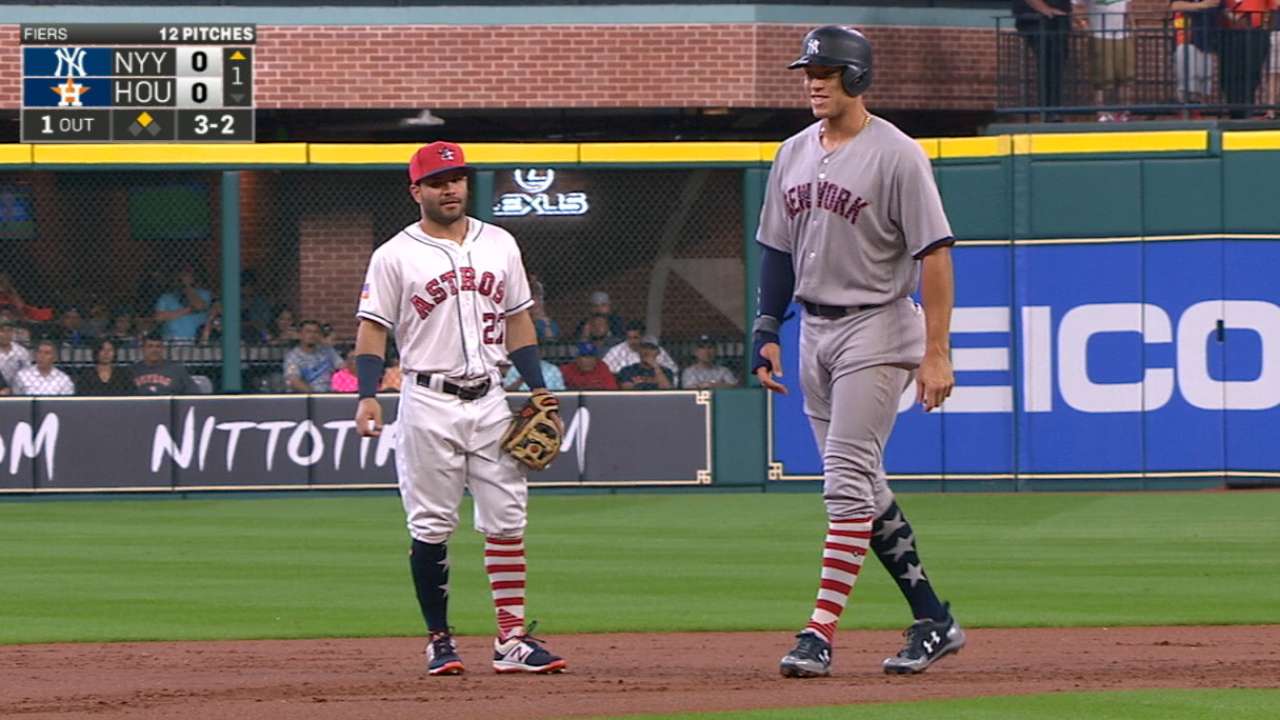 HOUSTON -- Yankees right fielder Aaron Judge defines greatness one way, Astros second baseman Jose Altuve another. That's the beauty of this sport.
One of these players seems certain to win the American League Most Valuable Player Award. Regardless of who wins -- and it'll probably be close -- plenty of people will feel the wrong guy won.
While voting for the AL MVP Award was done prior to the start of postseason, Judge, Altuve and their teams have landed in the AL Championship Series presented by Camping World.
Judge is 6-foot-7 and coming off a rookie season in which he led the AL with 52 home runs. He does what big men are expected to do. Judge had the longest home run in the Majors this season (495 feet) and also the hardest-hit homer (121.1 mph). He led the AL in both walks (127) and strikeouts (208). Judge produced a 1.049 OPS, second only to Mike Trout (1.071) in the AL. Altuve was third with .957.
As for the 5-foot-6 Altuve, he won his third batting title with a .346 average and led the AL in hits (204) for the fourth consecutive season. He hit .485 in July and slipped below .300 for only one month. As teammate Dallas Keuchel said, "He's got one of the quickest set of hands in baseball. He's just got such good hand-eye coordination."
• Dress for ALCS: Get postseason gear: Yankees | Astros
Judge and Altuve arrive at this ALCS off to different starts in the postseason. Altuve has seldom been better than he was in hitting .533 in four games against the Red Sox in the AL Division Series presented by Doosan.
"He's so good that you run out of superlatives at some point," Astros manager A.J. Hinch said.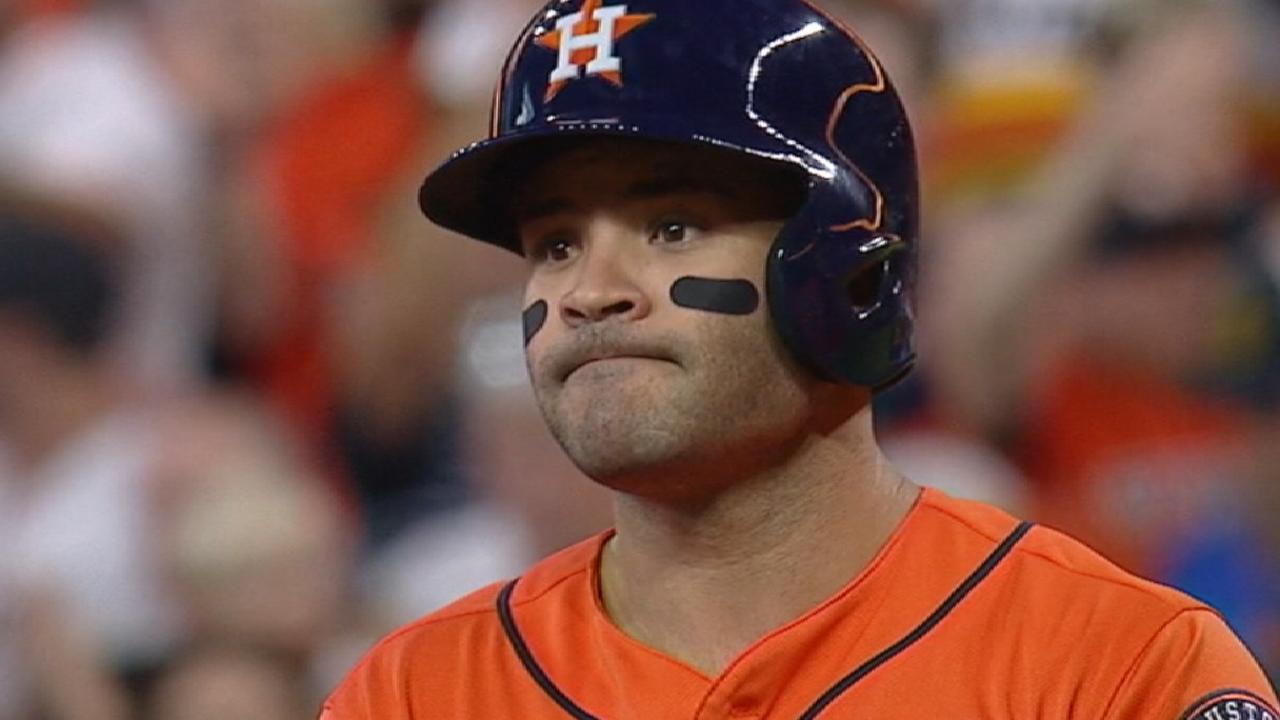 Judge homered in the AL Wild Card Game, but he went 1-for-20 with a single-series postseason record 16 strikeouts in five ALDS games against the Indians. The ALCS is a chance to start anew.
"Just missing the mistakes," Judge said. "That's been the biggest thing. They're making a lot of pitches on the edge. When they make a mistake in the middle of the plate, I'm not capitalizing on it. That's the biggest thing I'm seeing right now.
"It's something everybody goes through. It's part of it. They're making a lot of quality pitches. You tip your cap to them. You can't give up. You've got to keep fighting. That's all you can really do."
To say the Indians pitched Judge carefully is an understatement. According to Statcast™'s detailed zone metric, the Tribe threw Judge 62 borderline pitches, most of anyone this postseason.
That's also an indication that the Indians weren't just being careful. They were also doing a nice job throwing the ball where they wanted to throw it.
Judge swung and missed at 27.4 percent of those pitches, the second-highest percentage among hitters who've seen at least 25 such pitches this postseason. He's also getting a steady diet of breaking pitches. Judge saw 52.5 percent fastballs in the regular season, 31.7 percent in the postseason.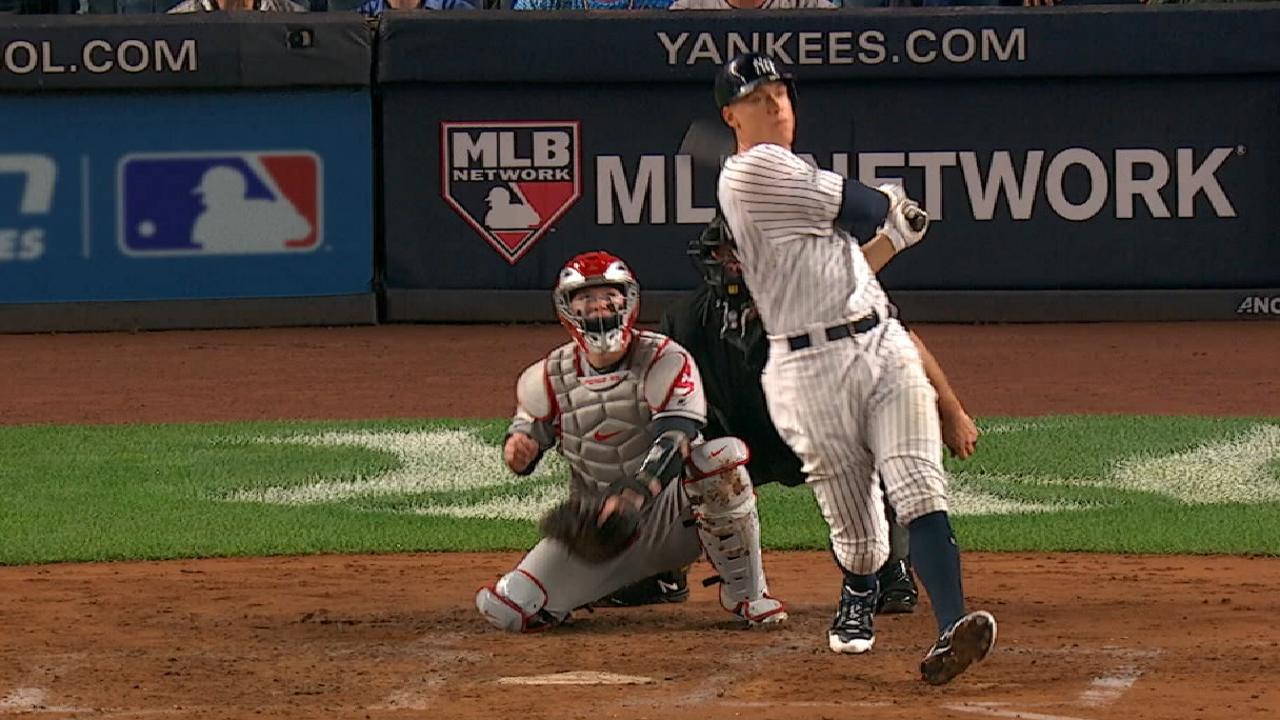 "We just faced a really good team when it comes to their pitching staff," Yankees manager Joe Girardi said. "I thought they just made a ton of good pitches on him. I think there were some borderline calls that didn't go his way that could have been walks and maybe it looks a little bit different."
Girardi points to Judge's one hit in the ALDS, a two-run double that helped the Yankees open up a 4-0 lead in Game 4.
"It was a pretty important hit," Girardi said. "So at any point, his hits can become really important, and I don't worry about it. When he struggled early on, he remained patient, and I thought he was very patient in that series. I didn't think that he was swinging recklessly or chasing a lot of pitches. They just made a lot of good pitches on him."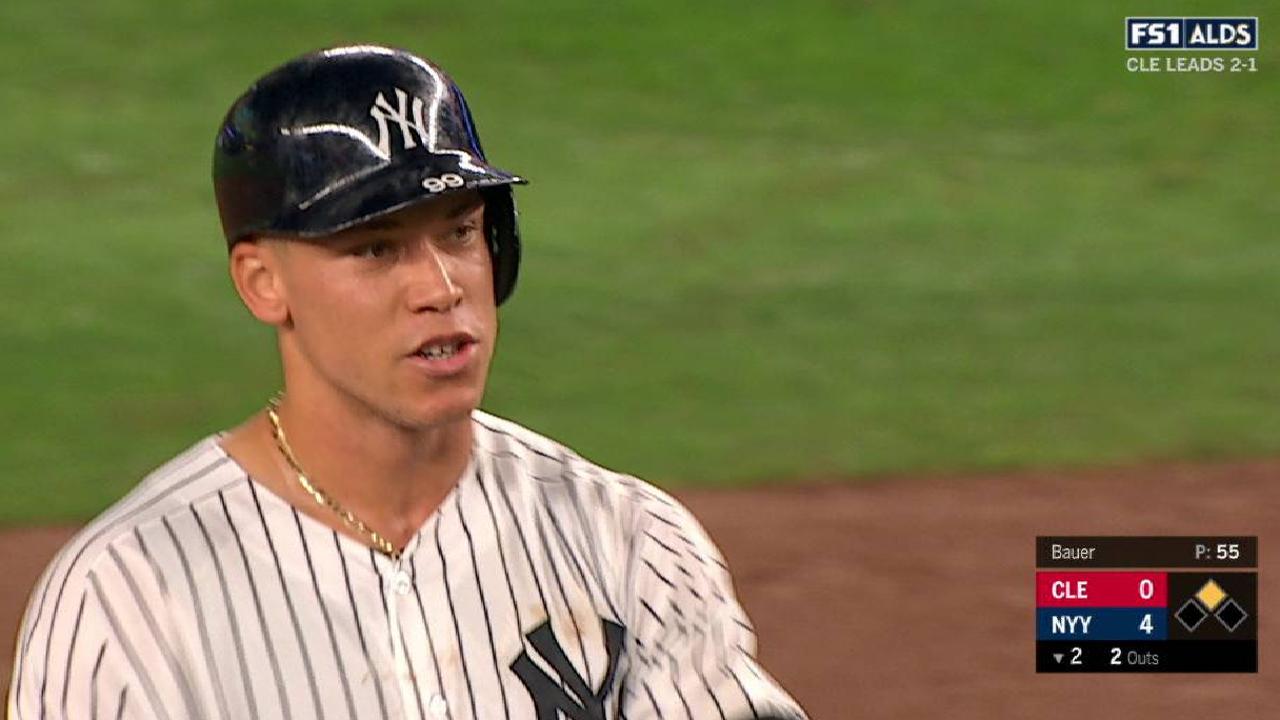 Altuve has taken an aggressive approach this postseason, with six of his eight hits coming on first or second pitches. He swung at 57 percent of early-count pitches in the regular season, 67 percent in the postseason.
Altuve's teammates are in awe of his bat speed and his ability to make consistently hard contact. As teammate Marwin Gonzalez said, "You can watch him, but very few of us can do the things he does."
Altuve and Judge have had a few conversations this season, and each is effusive in his praise of the other.
"It's Astros versus Yankees -- it's about the team right now," Judge said. "We played 'em earlier in the year, and it was fun playing against him then. It's going to be even better now playing in the ALCS.
"I talked to him a little bit. What a great guy. You see what he does on the baseball field. You know the type of person he is. You see the passion he has for the game."
Richard Justice has been a reporter for MLB.com since 2011. Read his columns and follow him on Twitter at @RichardJustice. This story was not subject to the approval of Major League Baseball or its clubs.