Altuve's Astros stack up vs. Judge's Yankees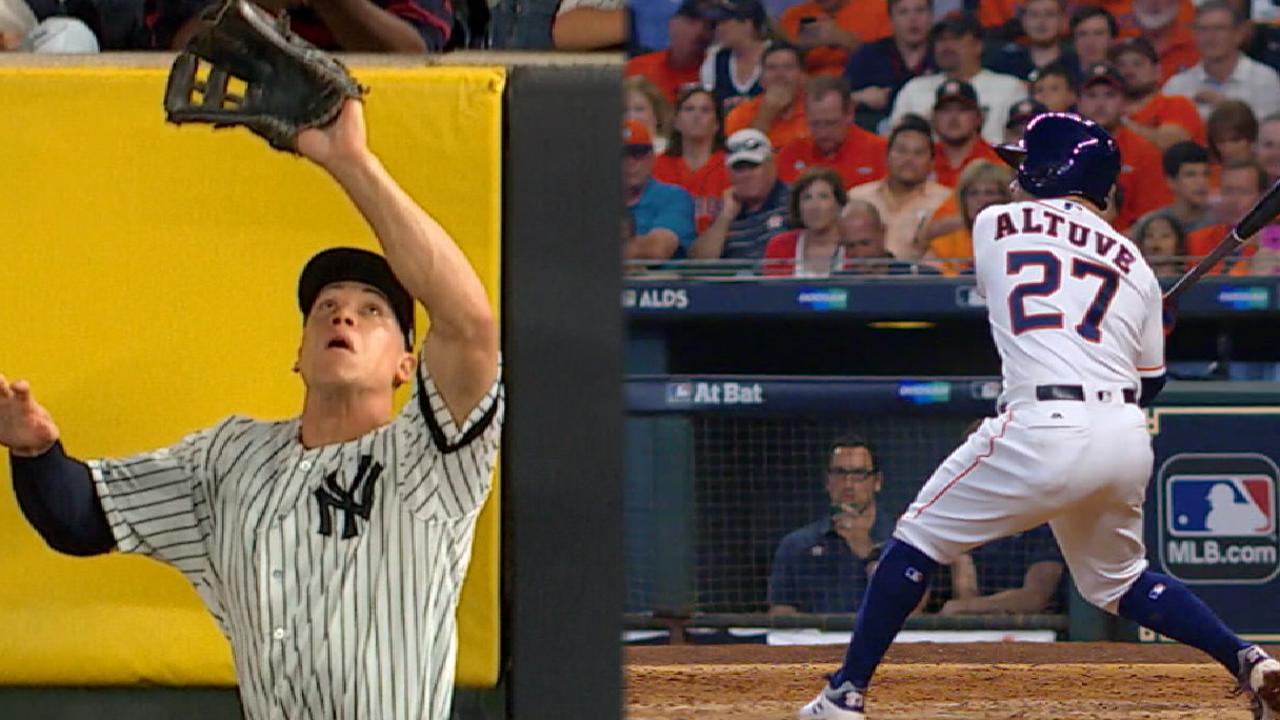 One of the great photos of the 2017 season featured the diminutive Jose Altuve and the gigantic Aaron Judge beside each other on the basepaths -- a shining example that baseball starpower comes in many shapes and sizes. But now, with the Astros and Yankees set to oppose each other in the American League Championship Series presented by Camping World, a new picture emerges. We already know who has the height advantage when these two AL MVP Award candidates stand side by side, but which of their teams will stand tall?
Those two premier players are the focal points -- but far from the only points -- in two of the sport's most high-powered offenses. Two years after they met in the AL Wild Card Game, the Astros and Yankees bring their big bats and big hopes to a best-of-seven set with significantly higher stakes. It begins Friday night at 8 p.m. ET at Minute Maid Park (live on FS1), where Houstonians hit hard by Hurricane Harvey are bound to create an epic environment, with Dallas Keuchel opposing Masahiro Tanaka.
"It's going to be fun," Judge said. "A new challenge. We're excited for it."
The Yankees got here with their 5-2 win over the Indians on Wednesday night in Game 5 of the AL Division Series presented by Doosan. At the start of the season, few external observers really expected this increasingly youth-oriented Yanks team to get to this point. What was supposed to be a bridge year instead has the Yankees approaching the World Series shore, with a historic rookie year from Judge and other strides from the likes of Luis Severino, Gary Sanchez and Greg Bird speeding up the so-called "rebuild" -- a process that, notably, included last year's trades of Carlos Beltran to the Rangers (before he signed with the Astros as a free agent) and Brian McCann to the Astros.
As much as trades such as those might have put a focus on the future, the 2017 season has proved the Yanks' future is now.
"I don't look at it as beating the odds," said New York manager Joe Girardi, who had a redemption arc evolve in the course of just a few days of the ALDS. "We believed. Not everyone believed in us, because I don't think people knew what you were going to get out of an Aaron Judge. I don't think people knew what you would get out of Gary Sanchez or Luis Severino. We believed in our players. They've made a difference."
For the Astros, the approach of building an AL power was more in the traditional vein of pain, then progress, then payout. Sports Illustrated famously picked them to win the 2017 World Series ... in '14. This team came as advertised this season by running away with the AL West and then dispatching of the Red Sox in four games. And with Cleveland ousted, Houston has the home-field edge.
"I love the fact that we're opening up at home," Houston manager A.J. Hinch said. "Other than the Indians in the American League, nobody had more wins. So it took a lot to get us to have this right. But to sleep in our own beds a couple times, to play in front of our home fans, we hope to get off to a hot start in a seven-game series."
Unlike Girardi, Hinch had time to set up for this series against a Yankees team his Astros beat five times in seven meetings this year. After Justin Verlander's first relief appearance in the ALDS clincher, he's turning to homegrown ace Keuchel in Game 1, with imported co-ace Verlander in Game 2 on Saturday afternoon. Keuchel might have been an easy call for the duty even if Verlander hadn't been thrust into bullpen action in Game 4 on Monday. Keuchel is 5-2 with a 1.24 ERA in seven career starts against the Yanks, including his terrific performance in that aforementioned 2015 AL Wild Card Game win at Yankee Stadium.
"We're one of only four teams left, so at this point, a lot of guys have had success pitching-wise on either the Indians or the Yankees," Keuchel said. "But it's not just because it's the Yankees. I think it's just been a culmination of command, location, maybe a little bit more confidence.
"And just because it's the Yankees, you kind of get a little bit more amped and a little more jittery because it is the pinstripes and such a storied organization."
Houston led the Majors this year in runs (896), batting average (.282), on-base percentage (.346), slugging percentage (.478) and was second in home runs (238) only to -- you guessed it -- New York (241), which ranked seventh in average (.262), third in OBP (.339) and fourth in slugging (.447).
The Astros are a terrific fastball-hitting team and were the hardest team in the Majors to strike out this season, so they can counter a Yankees team with the highest average velocity (94.5 mph) and a high K rate (9.69). But remember: The Yanks got here by beating the team with a pitching staff that led the AL in ERA, WHIP and strikeouts, and they became the first team in MLB history to average 10 strikeouts per 9 innings pitched.
"We have great momentum going," Yankees shortstop Didi Gregorius said. "Everybody that gets this far is a good team."
So let's see who stands tallest.
Anthony Castrovince has been a reporter for MLB.com since 2004. Read his columns and follow him on Twitter at @Castrovince. This story was not subject to the approval of Major League Baseball or its clubs.