DYK? Facts, figures from Monday's games
It was a busy day for playoff action with four games on the schedule Monday. Both the Astros and Dodgers punched their tickets to the League Championship Series by finishing off the Red Sox and D-backs, respectively.
The Cubs, meanwhile, gained a 2-1 edge over the Nationals with a come-from-behind win in Chicago, and the Yankees won in the Bronx to even their series against the defending American League champion Indians.
Here are five facts to know about each of Monday's playoff games:
Dodgers in fifth NLCS in 10 years
1. The Dodgers' 3-1 win advanced them to the National League Championship Series for the fifth time in the last 10 seasons and a second consecutive year. Los Angeles lost each of those series, however, and is now looking to reach the World Series for the first time since the franchise's last championship in 1988.
2. This is the Dodgers' third sweep in an NLDS, along with 2009 (Cardinals) and '08 (Cubs). Both years, the club lost to Philadelphia in the NLCS.
3. With his solo home run in the fifth, Cody Bellinger -- at the age of 22 years and 89 days old -- became the youngest Dodger to homer in a postseason game. That record was previously held by Bellinger's teammate Corey Seager, who homered in Game 1 of last year's NLDS against the Nationals at the age of 22 years and 163 days.
4. Making his first start of the playoffs, Yu Darvish tossed five innings for the Dodgers, holding Arizona to just one earned run on two hits while striking out seven batters. Darvish has now allowed just two earned runs across his last four starts, dating back to Sept. 13, for a 0.74 ERA. He has struck out 28 batters against just one walk in that span.
5. Justin Turner picked up two more hits on Monday, in five at-bats, and that actually dropped his career average in the Division Series from .455 to .449 (22-for-49). That remains the highest among all players with at least 40 plate appearances in Division Series history (1995-2017), just ahead of former Dodger Hanley Ramirez (.446). Turner has reached base safely in 18 of his past 19 postseason games.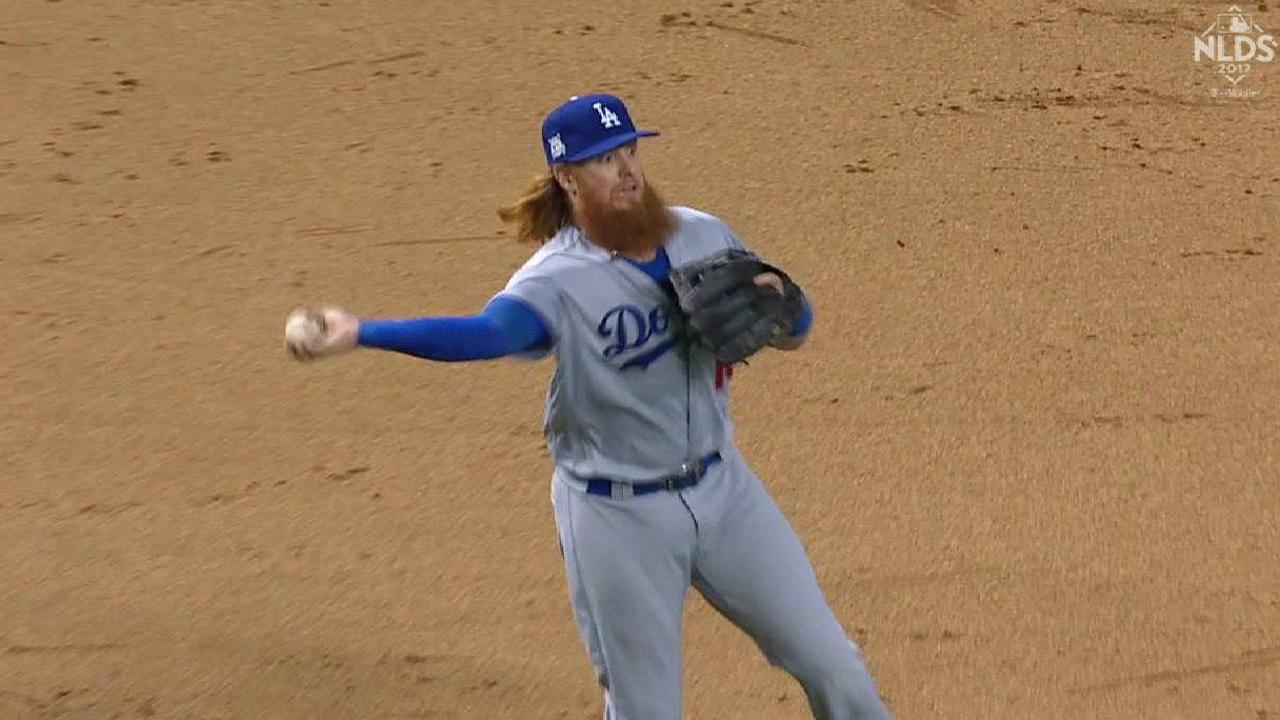 Yanks, Tribe heading back to Cleveland
1. Indians starter Trevor Bauer, who allowed just two hits over 6 2/3 scoreless innings in a 7-3 loss to the Yankees in Game 1, lasted just 1 2/3 innings in Monday's Game 4. With all four runs allowed by Bauer coming after an error by third baseman Giovanny Urshela, Bauer joined Jaime Garcia of the Cardinals (Game 2, 2015 NLDS), Don Larsen of the Yankees (Game 2, 1956 World Series) and Harry Taylor of the Dodgers (Game 4, 1947 World Series) as the only starters in postseason history not to complete two innings while also not allowing a single earned run. Bauer became the sixth pitcher to start at least two games in a postseason series and still sustain a loss while not allowing a single earned run throughout. The other instances -- recorded by Hall of Famers Joe McGinnity (1905) and Waite Hoyt ('21), plus Rube Benton ('17), Jon Matlack ('73) and Ron Darling ('86) -- all occurred in the World Series.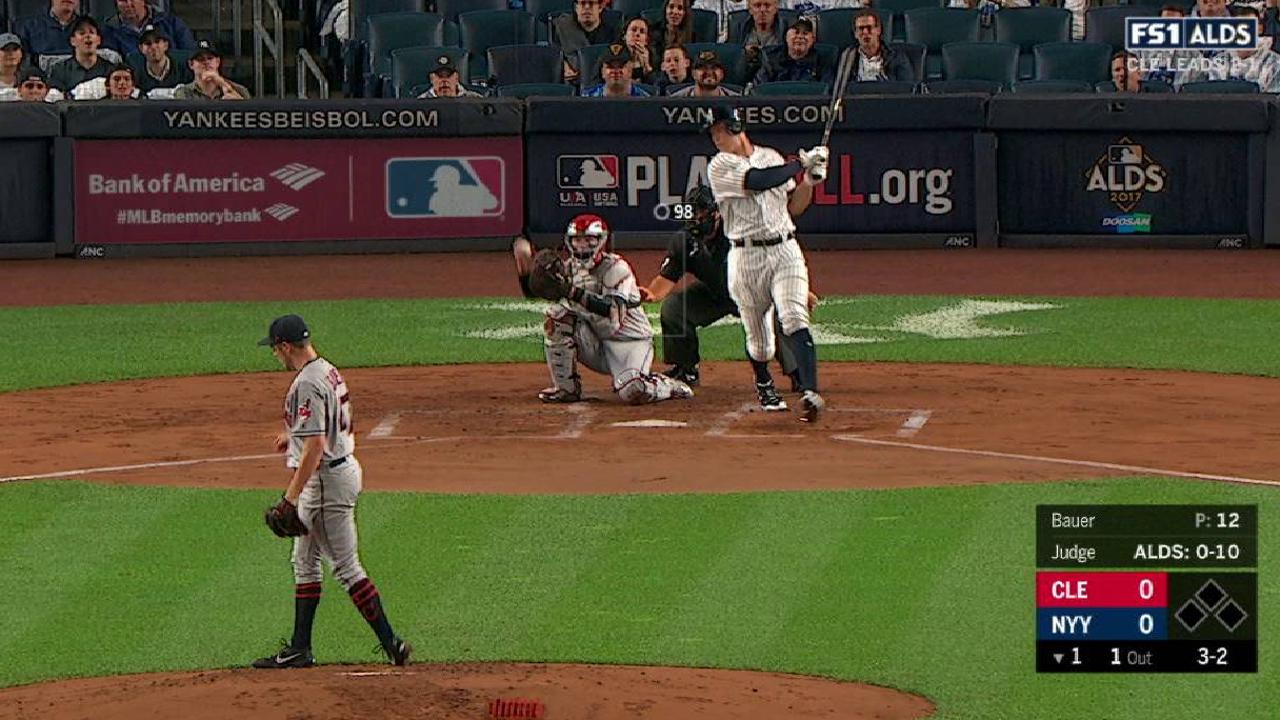 2. Aaron Judge was 0-for-11 with nine strikeouts -- including 0-for-4 with runners in scoring position -- in this ALDS before clubbing the two-run double that extended the Yankees' lead to 4-0 and chased Bauer from the game. Judge struck out four times in Game 1, which Bauer started.
3. With a solo home run in the fifth inning off Luis Severino, Indians catcher Roberto Perez has four career postseason home runs in 50 at-bats. That ties him with Roy Campanella, Gary Carter, Buster Posey, Ivan Rodriguez and Gene Tenace for seventh-most among catchers all-time. At a home run every 12.5 postseason at-bats, Perez -- who hit eight home runs in 217 at-bats during the regular season -- is second all-time among catchers for postseason home runs-per-at-bat ratio (minimum 40 at-bats). He is behind only Jim Leyritz, who hit a home run every 7.6 at-bats (eight home runs in 61 at-bats during the postseason).
4. Severino completely turned himself around after his disastrous AL Wild Card Game start against the Twins. The rising Yankees ace limited Cleveland's potent offense to three runs over seven innings and emptied the tank in his final frame. Severino topped out at 99.6 mph in the seventh, per Statcast™, which is the fastest pitch recorded from a starter in the seventh inning or later of any postseason game since 2015. Severino, who was just 23 years and 231 days of age Monday, became the youngest Yanks starter to win a postseason game since Dave Righetti (22 years, 314 days) in Game 2 of the 1981 ALDS against the Brewers.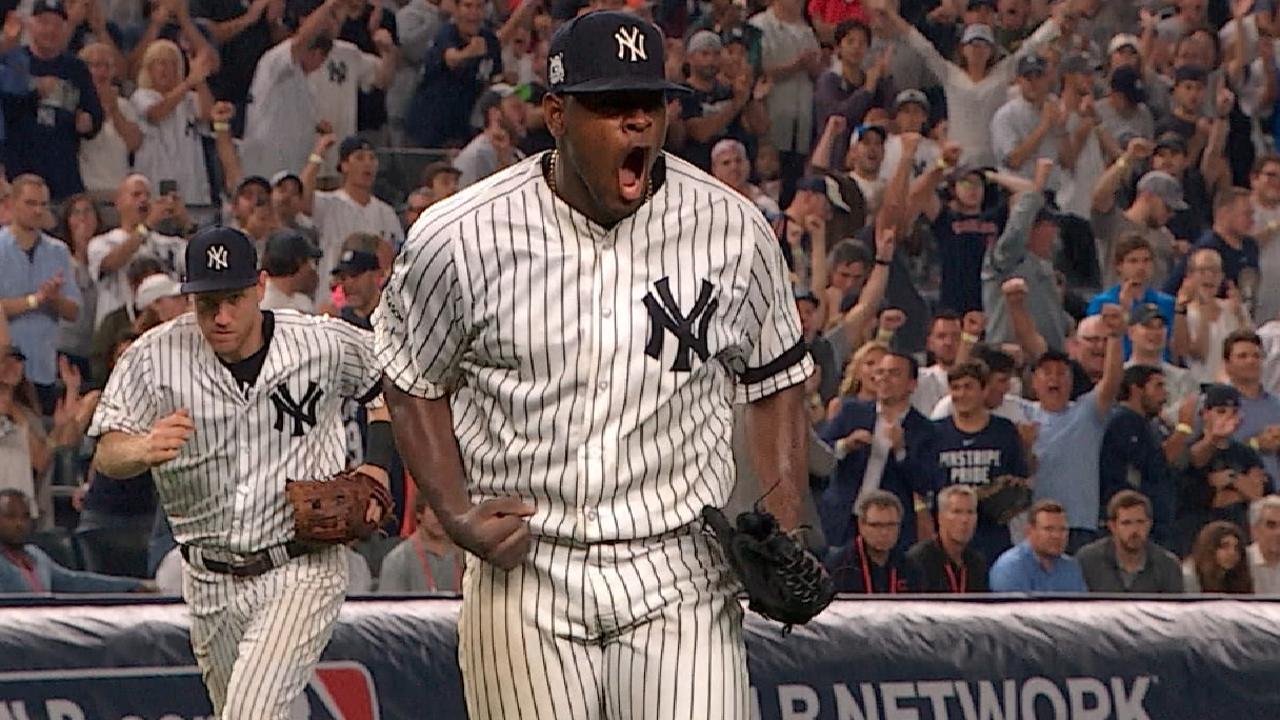 5. The Indians are now 3-16 in their past 19 opportunities to clinch a postseason series. That stretch dates back to the 1999 ALDS in which Cleveland lost three straight clinchers to the Red Sox, including a decisive Game 5 at home. The Tribe went 2-3 in such games last season, including three losses in the World Series vs. Chicago.
Cubs rally after being no-hit
1. Max Scherzer went 6 1/3 innings before giving up a hit in the 2-1 loss to the Cubs, the deepest he's taken a no-hitter into a postseason start in his career (12 career postseason starts entering NLDS Game 3 on Monday). Before his start at Wrigley Field, the longest he had ever gone with a no-hitter intact during a postseason start was 5 2/3 innings in Game 2 of the 2013 ALCS, while Scherzer was pitching for the Tigers against the Red Sox.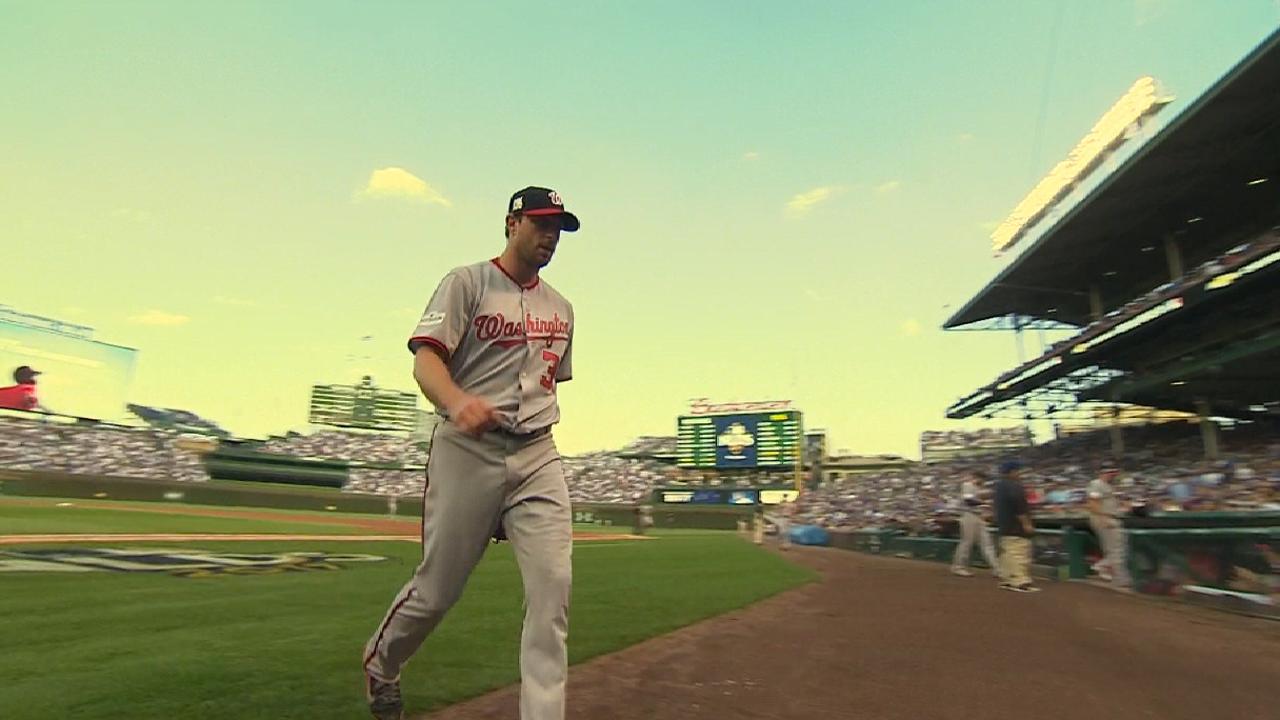 2. In this one series, the Nationals have now put together the two longest postseason no-hit bids against the Cubs in Chicago's franchise history -- Scherzer's 6 1/3 innings on Monday and Stephen Strasburg's 5 2/3 innings in Game 1. The Cubs rallied to win both games. Before this series, the previous longest no-hit bid against the Cubs was 5 1/3 innings by the Tigers' Bill Donovan… in the 1908 World Series. The Cubs won that game, too.
3. Wade Davis tossed another scoreless frame of relief to pick up his sixth career postseason save. He hasn't allowed an earned run since Game 3 of the '14 ALDS with the Royals, a span of 22 2/3 innings. And Davis lowered his postseason ERA to 0.78, which trails only Mariano Rivera's 0.70 for the all-time low (min. 30 postseason innings pitched).
4. Anthony Rizzo has now driven in five of the Cubs' eight runs in this series after his RBI bloop single fell between a host of Nationals fielders in the eighth. Rizzo finished second behind Addison Russell with 10 RBIs in the Cubs' run to the World Series title last October. Rizzo is now hitting .392 with 15 RBIs over his past 13 postseason games.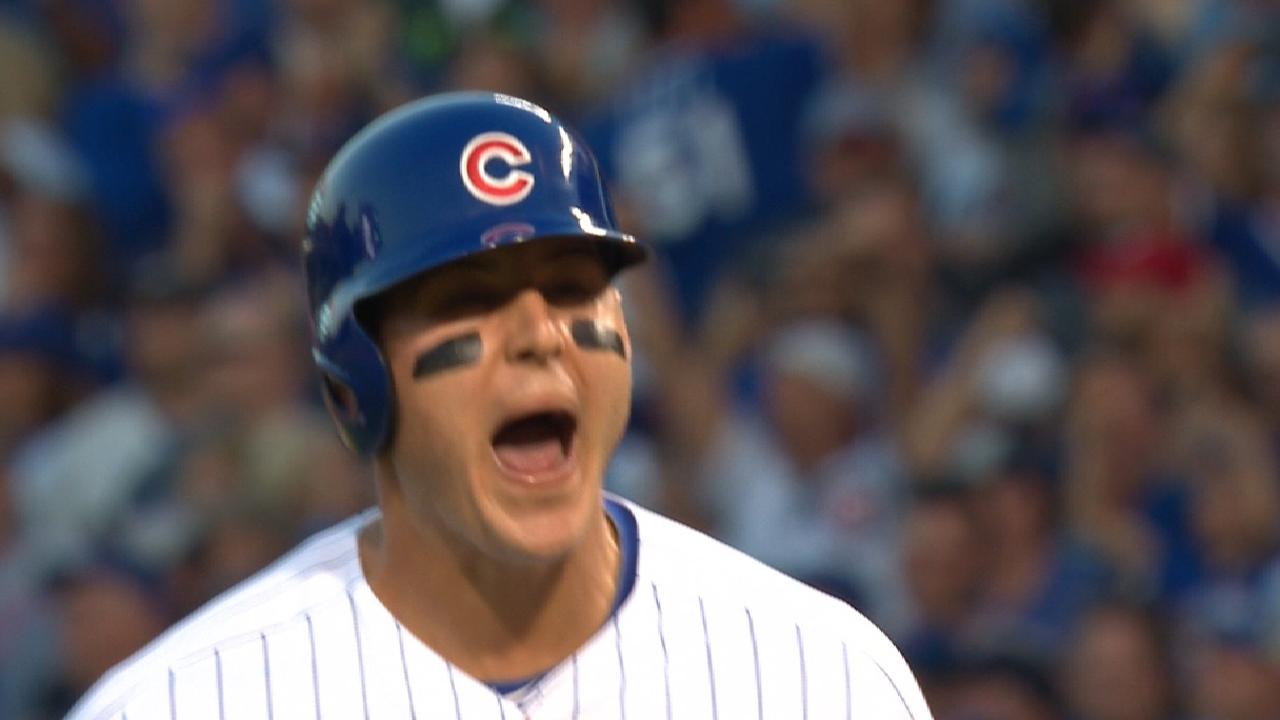 5. The Cubs' starters have been quietly incredible during the Nationals' multiple no-hit bids. Chicago's starters have allowed just one earned run in 18 2/3 innings over the first three games for a 0.48 ERA, along with the unearned run allowed by Jose Quintana on Monday. The Cubs have now won each of Quintana's past seven starts, dating back to the regular season, a stretch in which he's posted a 2.66 ERA.
Verlander in rare relief outing
1. In his 13th career season, after pitching in 402 games spanning the regular season and postseason, Justin Verlander made his first relief appearance in Houston's 5-4 win Monday. Among active players, only CC Sabathia (528) has pitched in as many career games as Verlander had entering Monday without a single relief appearance.
2. It took only five pitches from Verlander before Andrew Benintendi greeted him with a bang. Benintendi connected with a Verlander slider with an exit velocity of 90.4 mph and launch angle of 35 degrees, but still got enough on it to send it a projected 383 feet over the short wall in right. Benintendi's go-ahead, two-run home run is the softest-hit dinger that Statcast™ has tracked in the postseason since the technology launched in 2015.
3. Making his first relief appearance since 2012, Chris Sale entered in the fourth and held the Astros scoreless through the seventh. But leading off the eighth, Alex Bregman launched one just fair down the left-field line and over the Green Monster. It was Bregman's second homer off Sale in the series and the first by an Astros player to tie or take the lead that late in a postseason game since Game 4 of the 2005 NLDS against the Braves. In that one, Brad Ausmus evened the score with two outs in the bottom of the ninth, and Chris Burke ended the game with a walk-off shot in the 18th.
4. Josh Reddick delivered the deciding blow of the series for Houston, poking a two-out go-ahead single through the left side of the infield in the eighth off Red Sox closer Craig Kimbrel. Reddick's .346 batting average with runners in scoring position ranked 16th among all Major League hitters with at least 100 at-bats in those situations during the regular season. Still, that was the first go-ahead hit Kimbrel allowed over the entirety of his spectacular 2017 season.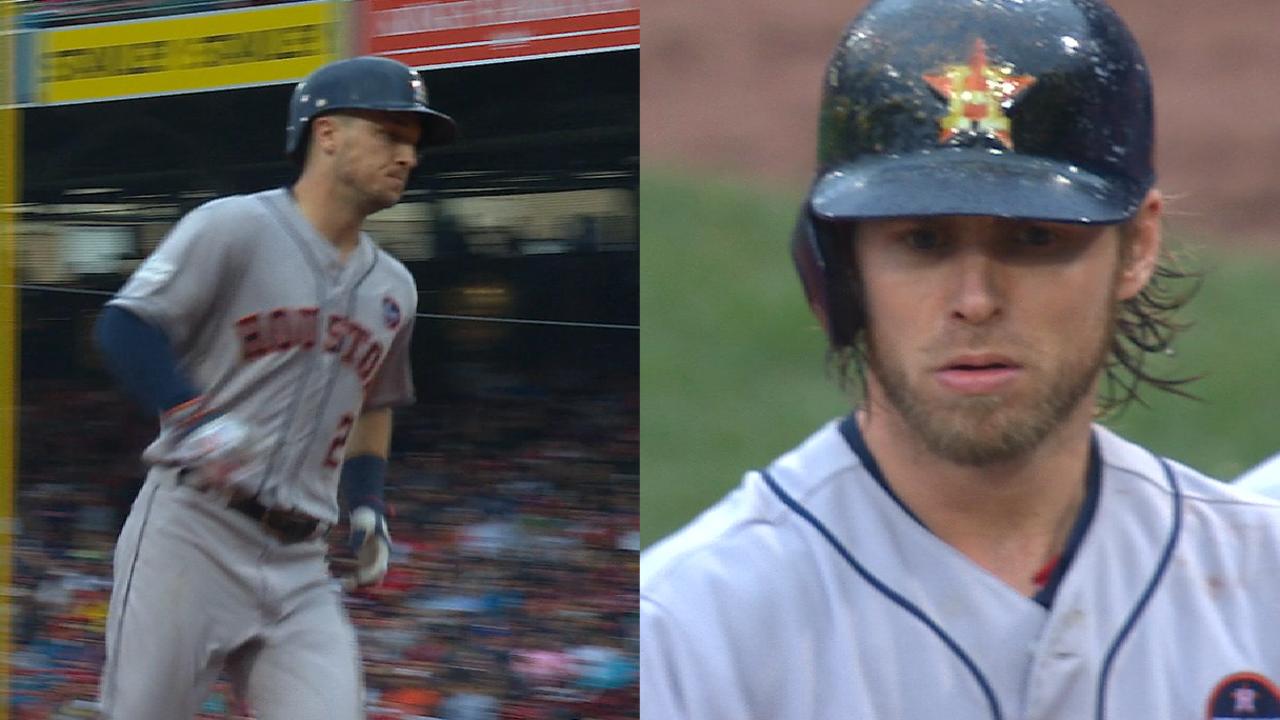 5. Boston simply refused to go down without a fight Monday. Rafael Devers, still 15 days shy of his 21st birthday, led off the bottom of the ninth with a drive that went off the glove of a leaping George Springer in center field. Devers rumbled around the bases for the Red Sox's first postseason inside-the-park home run since Larry Gardner hit one against the Brooklyn Dodgers at Ebbets Field in Game 4 of the 1916 World Series. Devers' play was the first inside-the-park homer recorded by any player in the ninth inning or later of a postseason game since Tommy Thevenow of the Cardinals hit one against the Yankees in Game 2 of the '26 Fall Classic.
But the Red Sox could not muster another run, and Ken Giles closed out the rest of the ninth to end the series.
Matt Kelly is a reporter for MLB.com based in New York. Follow him on Twitter at @mattkellyMLB. Daniel Kramer is a reporter for MLB.com based in Denver. Follow him on Twitter at @DKramer_. Manny Randhawa is a reporter for MLB.com based in Denver. Follow him on Twitter at @MannyOnMLB.. Joe Trezza is a reporter for MLB.com based in New York. Follow him on Twitter at @joetrezz. Andrew Simon is a reporter for MLB.com. Follow him on Twitter @AndrewSimonMLB. Chad Thornburg is a reporter for MLB.com based in Los Angeles. This story was not subject to the approval of Major League Baseball or its clubs.