Fenway clinch special for Springer, family
Astros outfielder, from Connecticut, watched MLB games in Boston as a kid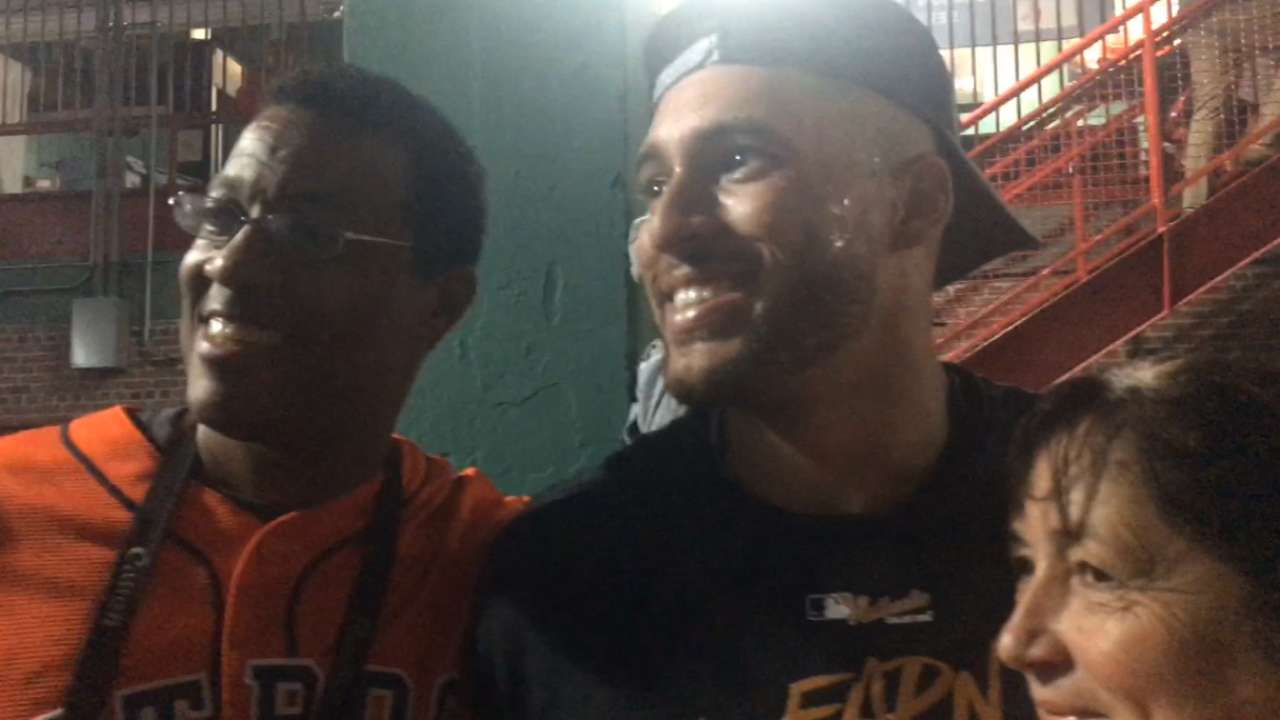 BOSTON -- Bursting through the visitors' clubhouse door at Fenway Park, George Springer III made his way through the maze of Astros family members in search of his own loved ones, anxious to include them in the celebration.
It didn't take long for him to find his dad, George Jr., mom, Laura, and fiancée, Charlise. They embraced, laughed, posed for pictures and took in the happy chaos that surrounded dozens of Astros family members in the confined space on the concourse at cozy Fenway.
"This is awesome," the elder George Springer said after the Astros beat the Red Sox, 5-4, in Game 4 of the American League Division Series presented by Doosan to advance to the AL Championship Series presented by Camping World. "Obviously, for me, it's the first time I've had any experience like this before. It's not just going to an ALDS championship game, a final game -- my son was playing in it, and played a great role today. He had a terrific game."
• Gear up for Astros' postseason
The Astros' ALDS clincher over the Red Sox at Fenway Park on Monday was a family affair for the Springers, and a personal one, too. For decades, Fenway Park was the "home field" for this family from New Britain, Conn., and although Springer's dad had always envisioned his son someday playing in the big leagues, he couldn't have imagined a more perfect script than the one that played out on Monday when the Astros clinched an ALCS berth in such familiar surroundings.
In that respect, celebrating at Fenway was extra sweet.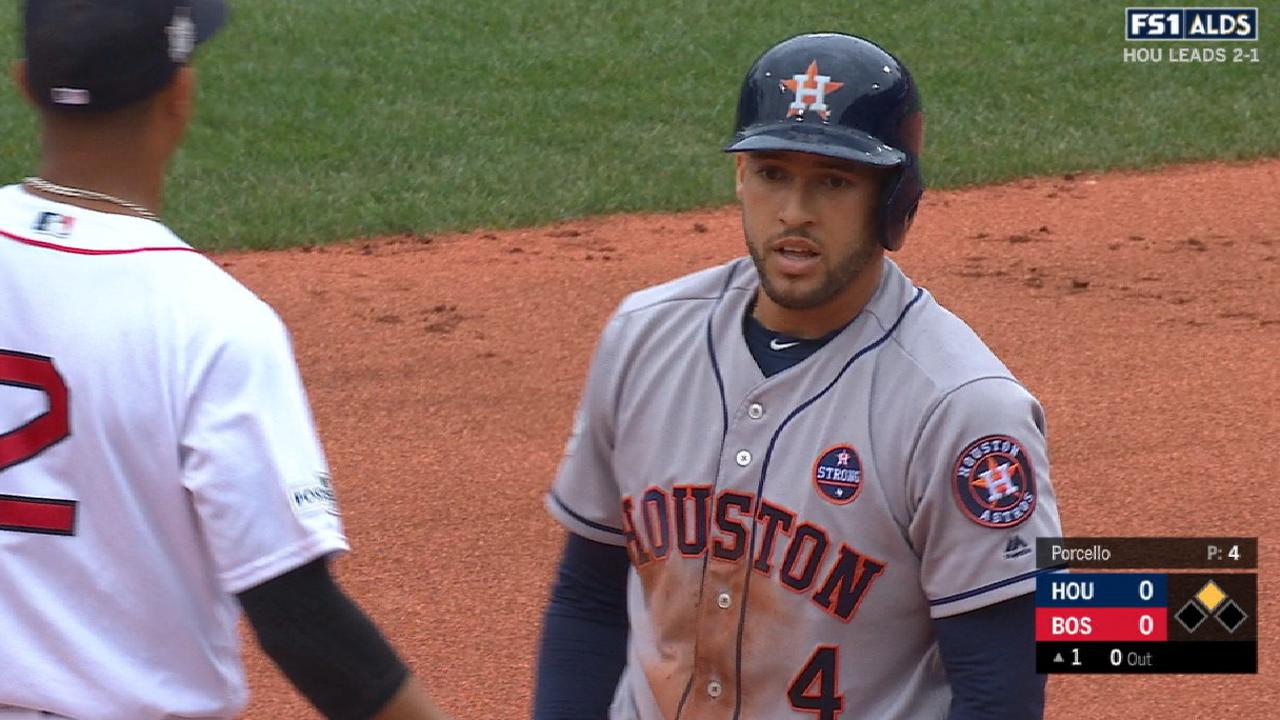 "It's amazing," Springer Jr. said. "All those years we used come here. ... The idea that we were going to be here someday standing on the field when my son was on a team that won the ALDS? Fantastic."
Fenway Park was about a 90-minute drive from the Springer's home in Connecticut and a regular stop during the summers when Springer and his sisters were growing up. It's safe to say the family's allegiances switched to the Astros as soon as they selected Springer in the first round of the 2011 Draft, but Fenway will always be special to them.
That it was the site of such a joyous moment for the Astros just enhanced the experience.
"It does not get old," Springer Jr. said of watching his son play. "There's a lot of special things he does on the ballfield, but it's a thrill as a parent just to see him run out in his uniform and take the field every day. It's very emotional and sometimes it gets overwhelming. The whole thing is special."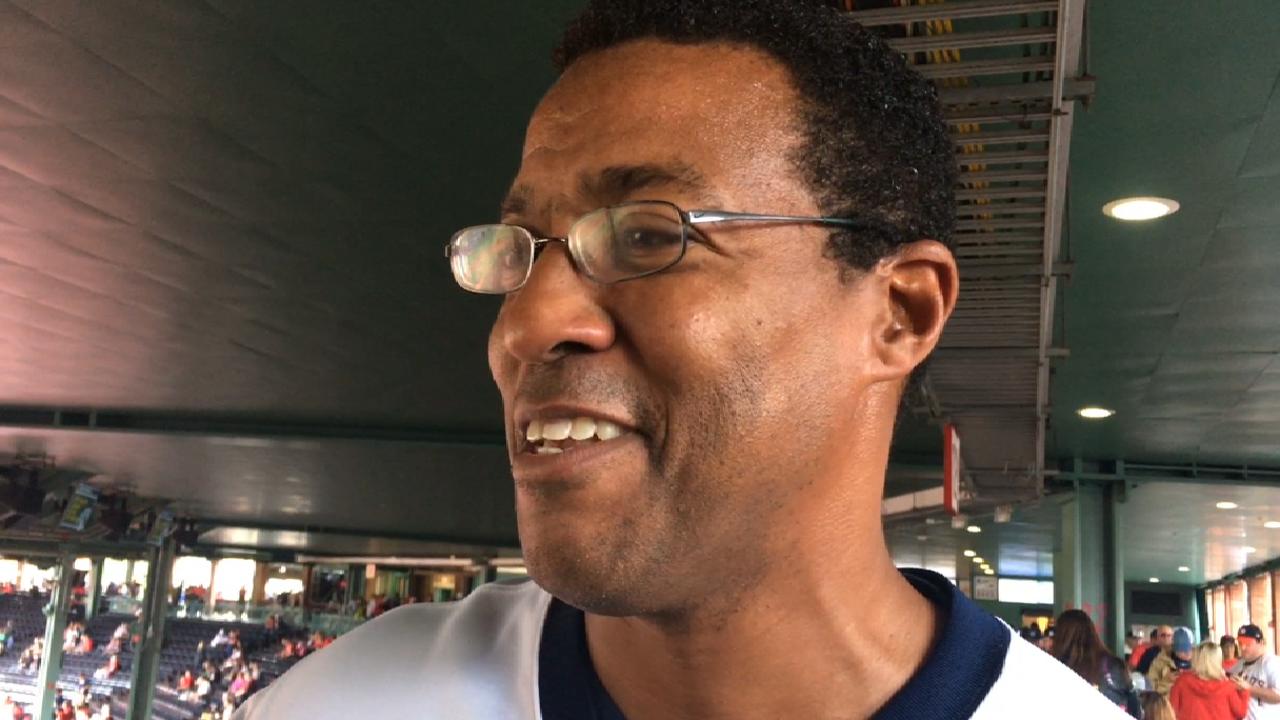 Springer played a significant role in the Astros' clinching win, going 3-for-4 with a double and an RBI in his usual spot at the top of the order. His final two plate appearances resulted in a base hit in the seventh, and a walk in the Astros' two-run eighth.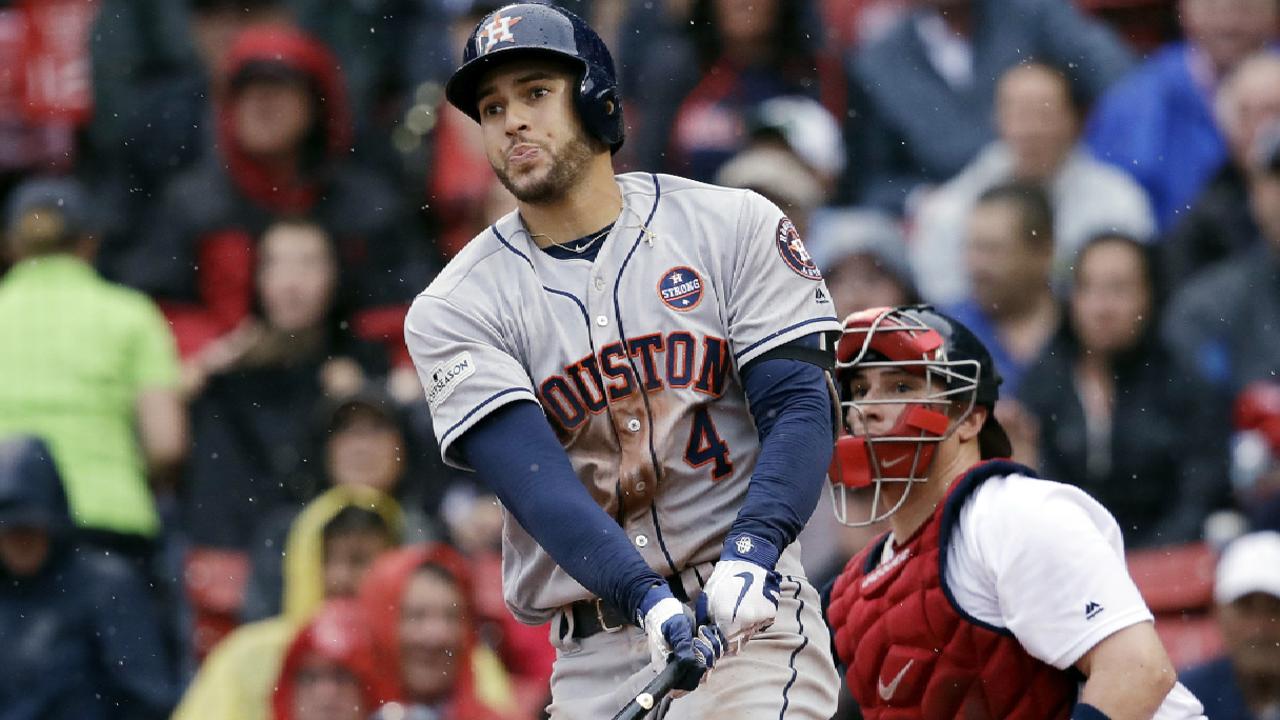 "Yeah, it's obviously cool, it's great," said the younger Springer about winning at Fenway. "I have my family is here, my fiance's family is here, so it's cool. But I don't care if it's here or somewhere else, I'm just happy to be going on."
Springer looked calm and collected throughout. His family? Maybe not so much.
"I was pacing a little bit, of course," Springer III said. "The Boston Red Sox are a great team, this was going to be a great challenge. This is the playoffs, right? You've got to earn this. Nobody's going to lie down. It was a fight until the end of the game. I'm just very excited the way it ended up."
The Astros will now face the Yankees in the ALCS, bringing an end, for now, to the Springer family's treks to Boston. But it's likely the recent games at Fenway will now outshine any prior memories the group has of the historic park.
"Words can't even begin to explain the joy and excitement I feel for George, but mostly for the Astros and the whole city of Houston," Laura Springer said. "This is just a whole team effort and dream come true for so many of these guys."
Alyson Footer is a national correspondent for MLB.com. Follow her on Twitter @alysonfooter. This story was not subject to the approval of Major League Baseball or its clubs.