On verge of ALDS victory, Astros tab Morton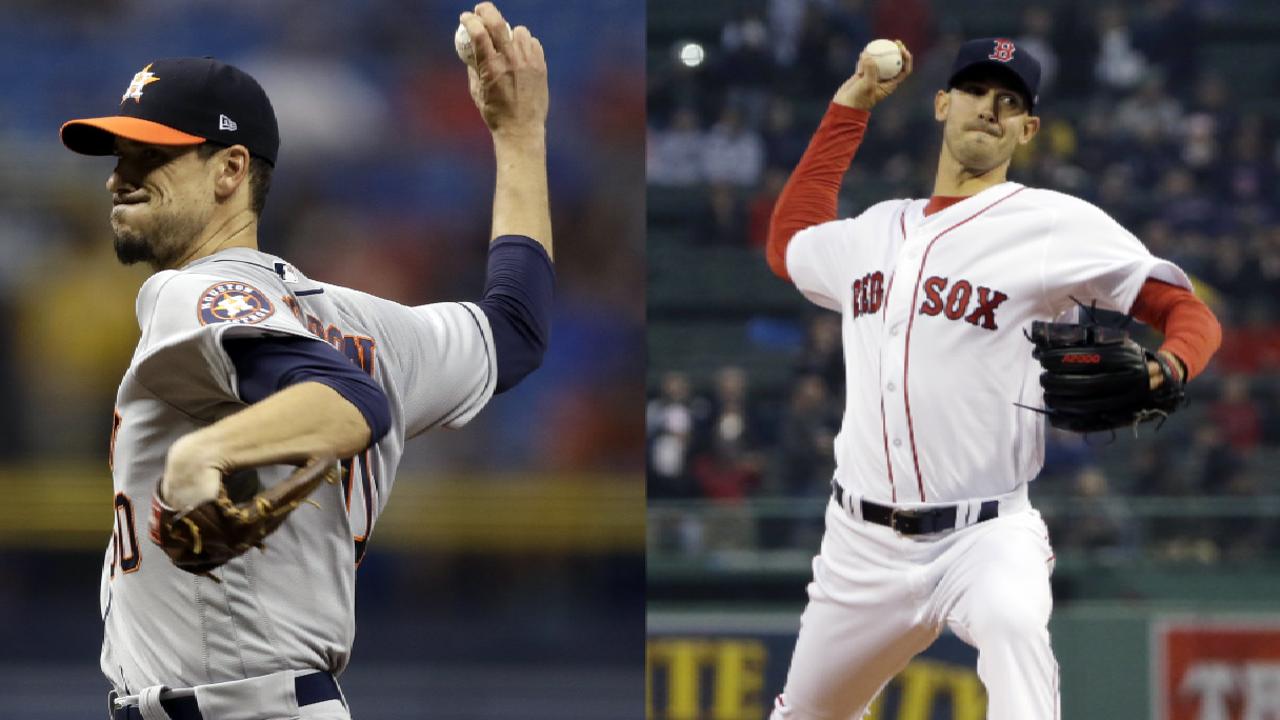 The Astros fell short of sweeping a postseason series for the first time in their franchise's history, but the Red Sox still have a rare feat in their sightlines -- becoming just the eighth team to erase an 0-2 deficit and win a best-of-five Division Series.
The American League Division Series presented by Doosan between the Astros and Red Sox will continue with Game 4 today, weather permitting. The game is set for 1 p.m. ET/noon CT.
The teams will meet at Fenway Park with separate goals in mind: Boston will be aiming to force a decisive Game 5, while Houston, up 2-1 in the series, will look to clinch and begin preparations for the next round.
"We've got to win tomorrow," Red Sox outfielder Jackie Bradley Jr. said. "I think we're just focused on one game and playing hard. Focus on winning one pitch at a time. Nothing more, nothing less. We don't want to relax. We've got to keep fighting. We've got to stay on them."
The first three games have featured blowouts. The first two went in the Astros' favor by identical scores of 8-2, and Game 3 was handily won by the Red Sox, 10-3.
"We came here to win today and get the sweep," Astros shortstop Carlos Correa said after Sunday's loss. "We didn't want to lose. But tomorrow's another day. We'll go out there and battle like we always do, and hopefully come out with a win."
There is rain in the forecast for much of today, which could potentially throw a wrinkle into the pitching plans. If the game is postponed, the teams would play on Tuesday, setting the stage for a possible Justin Verlander-Chris Sale rematch from Game 1. Assuming today's weather cooperates, Game 4 will feature Red Sox right-hander Rick Porcello against Houston righty Charlie Morton.
Porcello, who went 11-17 with a 4.65 ERA during the regular season and gave up an MLB-high 38 home runs, tossed a scoreless inning of relief in Game 1.
Morton, a 10-year veteran who set career bests in strikeouts (163), WHIP (1.19), opponents' batting average (.228), strikeouts per nine innings (10) and strikeout-to-walk ratio (3.26) in 2017, made a case to be included in the postseason rotation with a strong September. He threw 5 1/3 innings against the Red Sox at Fenway Park on Sept. 29, giving up just two earned runs and four hits.
Game 4 will be the eighth consecutive meeting between the Astros and Red Sox, who ended the regular season with a four-game set at Fenway Park. Though the Astros have gone 6-2 during that stretch, they're taking none of the remainder of the ALDS lightly.
"This is a good team," Astros pitcher Lance McCullers Jr. said. "We're playing the AL East champs. I don't understand why people just expected us to steamroll them every single game. They have a good team."
"We did a lot of things really well today," said veteran Red Sox second baseman Dustin Pedroia. "Our backs are against the wall. We're just playing for each other, and try to continue to play. That's it. That's what we're focused on."
Three things to know about this game
• Only seven times (in 56 tries) has a team come back from an 0-2 deficit in the LDS, and the Red Sox have accounted for two of those comebacks -- in 1999 against the Indians, and in 2003 against the A's. They went on to lose in the AL Championship Series both those years. Those two Red Sox teams are also the only two clubs to ever come back from an 0-2 deficit in the current 2-2-1 format when having to win Game 5 on the road. This Red Sox team is trying to become the third club to pull of the feat.
• Thirty of the 38 homers Porcello gave up were classified as barrels, which Statcast categorizes as the most optimum hits. Porcello finished the season with an MLB-high 52 barrels, and he surrendered them on eight percent of the total batted balls he gave up, the Majors' sixth-highest rate.
• Jose Altuve went 3-for-4 in Game 3, improving his ALDS average to .727, the highest mark for an Astros player in a single postseason series. Over nine career postseason games, Altuve is batting .324 with three homers and six RBIs.
Alyson Footer is a national correspondent for MLB.com. Follow her on Twitter @alysonfooter. Daniel Kramer is a reporter for MLB.com based in Denver. Follow him on Twitter at @DKramer_. This story was not subject to the approval of Major League Baseball or its clubs.