MLB.com Columnist
Alyson Footer
Peacock, Astros hope to oust Sox at Fenway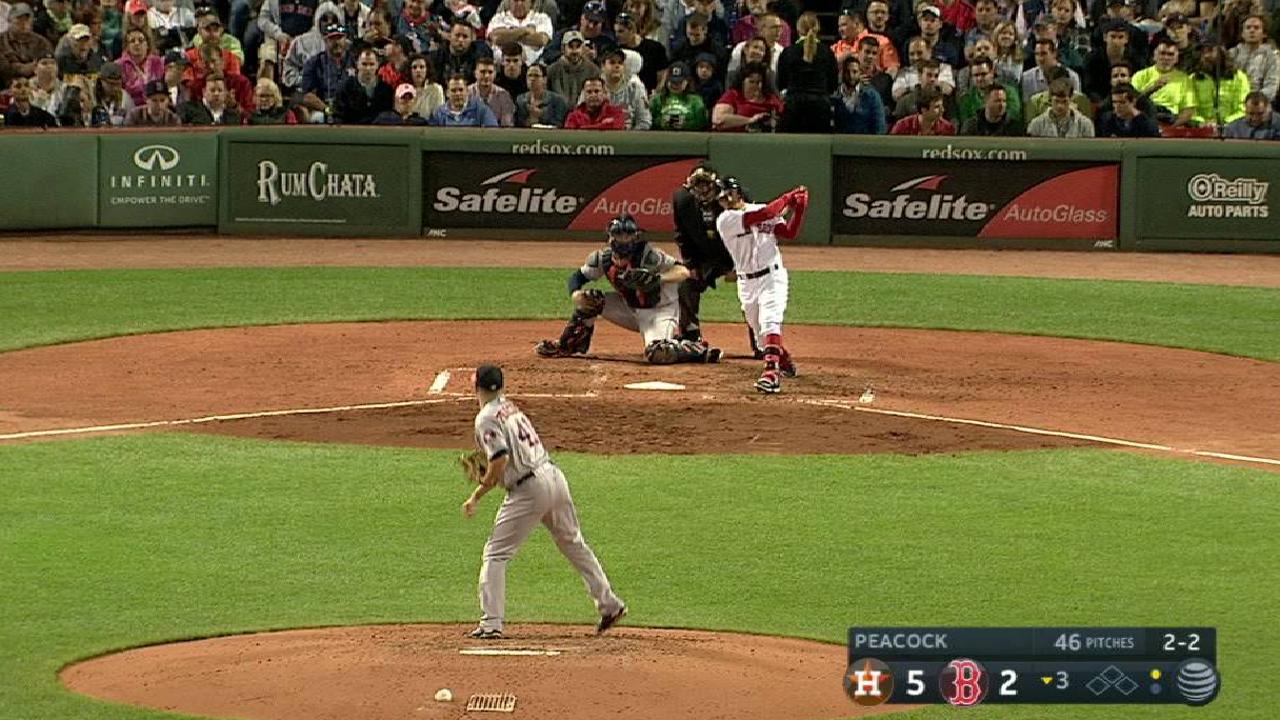 The Red Sox left Houston on Friday hoping for a return visit. That's the only way they can advance to the next round of the postseason -- by winning the next two game of the American League Division Series presented by Doosan, starting with Game 3 today at Fenway Park.
So far, the Red Sox have been outhit and outpitched by the Astros in the best-of-five series, which Houston leads, 2-0. The Astros won both games by scores of 8-2 behind solid outings by their starting pitchers and timely hitting up and down their vaunted lineup. The Red Sox open their home portion of the ALDS today hoping to see some of that from their side with starter Doug Fister on the hill.
"We've just got to go play well," Red Sox second baseman Dustin Pedroia said. "That's it. You can't try to do too much, you can't try to do anything, you've just got to focus one pitch at a time and try to win that pitch.
"They've played great. They've done everything right, and we haven't done anything right. Hopefully, getting back home and getting in front of our fans will give us a boost and get us back in this series."
Behind starter Brad Peacock, the Astros are the 76th team to take a 2-0 lead in the best-of-five series. Teams with 2-0 leads have won the series 66 times and lost nine, so history is on their side -- even if their skipper is opting to take the cautious route and not put too much stock into two wins.
"It hasn't gotten us anywhere yet other than in a good position moving into Game 3," manager A.J. Hinch said. "We won't take anything for granted. This is a team that's very, very laser-focused on winning the series. You don't win the series with two wins, you win it with three."
In that respect, the Red Sox have some catching up to do.
"We can only be ourselves," outfielder Mookie Betts said. "We can't go out there and bang like them. We can't do a whole lot of things that they can do, but we can do what we can do. What we do got us in the playoffs, and I'm pretty sure it can win us the World Series, too."
Red Sox manager John Farrell acknowledged on Saturday that there is a sense of urgency that may lead to unconventional decisions during Game 3. That could mean an appearance by ace lefty Chris Sale, who could be available in the bullpen if the need arises.
"It's possible, yes," Farrell said.
Farrell hopes to see the Red Sox set an early tone and build on the energy from the home crowd at Fenway.
"We know getting on the board first is the key to that, but we know that we have got to go out and execute," Farrell said. "When we didn't, they have made us pay."
Three things to watch for in Game 3
• Several Astros have good numbers against Fister. Josh Reddick has six hits in 23 at-bats against the right-hander, while Carlos Beltran is hitting .385 (5-for-13) against him in his career. Beltran could see his first postseason start in Game 3, though it may be a tough decision for Hinch, given how well Evan Gattis has been swinging the bat lately.
• Perhaps the Red Sox's search for offense can start with rookie third baseman Rafael Devers, who has hit well at Fenway Park. Devers, still looking for his first hit of the ALDS, is slashing .312/.358/.544 in Boston.
• If the first two games are any indication of how the rest of the postseason may unfold, Jose Altuve can expect to accumulate quite a few intentional walks. He drew two on Friday, becoming the sixth second baseman in MLB history to record two or more free passes in a postseason game. The others are Daniel Murphy (2016), Roberto Alomar (1997), Joe Morgan ('76), Jackie Robinson ('52) and Tony Lazzeri ('37). Altuve is hitting .714 (5-for-7) with three homers and four RBIs so far in the ALDS.
Alyson Footer is a national correspondent for MLB.com. Follow her on Twitter @alysonfooter. This story was not subject to the approval of Major League Baseball or its clubs.