MLB.com Columnist
Alyson Footer
Astros out to take commanding ALDS lead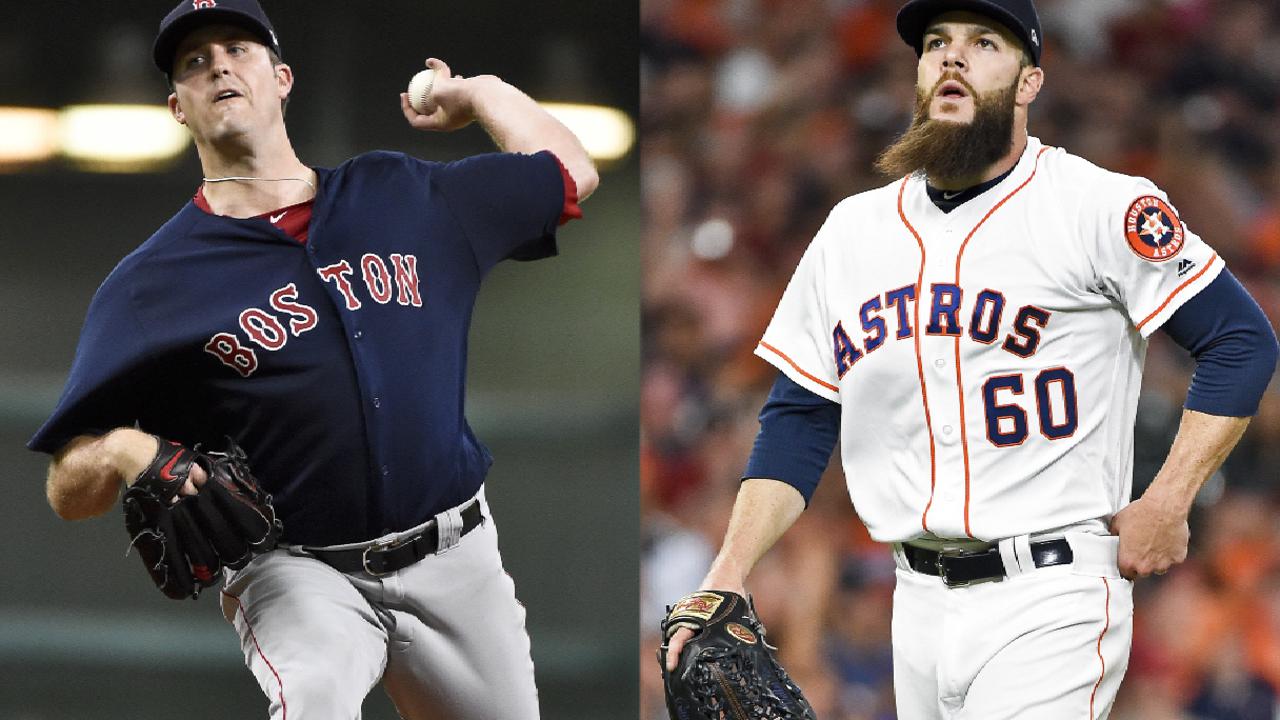 In any postseason series, every win is crucial. But in a short series, there really isn't room to stumble twice in as many days.
That's why it will be imperative for the Red Sox to have a better showing for Game 2 than they did against the Astros in the opener of the American League Division Series presented by Doosan. When the visting Sox take the Minute Maid Park field today at 2 p.m. ET/1 p.m. CT, they'll have to find a way to do what they couldn't do in Game 1 -- hold down the Astros' vaunted offense, which led Houston to an 8-2 win.
"They have the momentum right now," said Red Sox second baseman Dustin Pedroia. "It's a quick turnaround. We've got to come out tomorrow and try to turn it and find a way to get a win."
Including the final four games of the regular season, today's game will mark the sixth time in a row the two teams will face each other. The Astros, who lead the ALDS 1-0, also took three of four in Boston last weekend.
The Astros, while pleased with how they ended the regular season and began the playoffs, are approaching Game 2 as if they have no advantage. That includes Jose Altuve, who hit three home runs in the opener, including two off AL Cy Young Award candidate Chris Sale, to become the ninth player in Major League history to hit three homers in a postseason game.
"[Alex Bregman's] homer and my homers don't count for tomorrow," Altuve said after Thursday's win. "So we've got to go out there and try to win the game again. We are playing a really good team with a big history behind them ... and we have to do everything we can to keep playing good."
Each team will send a left-handed starter to the mound for Game 2. The Astros will start former AL Cy Young Award winner Dallas Keuchel, while the Red Sox will go with Drew Pomeranz, a 17-game winner in '17.
Both the Sox and Astros put up impressive numbers against left-handed pitchers this year. Collectively, the Astros hit .278 against southpaws -- the third-highest in the AL Their .348 on-base percentage was the second-highest in the AL, as was their .466 slugging percentage.
The Red Sox were fifth in the league vs. lefties with a .267 average, first with a .353 on-base percentage and 11th with a .406 slugging percentage.
Pomeranz was the winning pitcher in the Red Sox's AL East-clinching game against the Astros last Saturday. In that respect, his presence on the mound Friday may give his team a mental boost.
"We have all the faith in the world," Mookie Betts said. "Drew's been pitching great. He's going to go out there and do what he always does. Game 2 is obviously very important."
The Astros, who didn't have to tap heavily into their bullpen in Game 1 thanks to a strong six-inning outing by starter Justin Verlander, have the same confidence in Keuchel.
"We're expecting something good," Marwin Gonzalez said Thursday. "Everybody is, obviously the fans, too. He's one of the best pitchers in the league, too. He's been dominating all year, so I hope he has a good game tomorrow and we have the confidence that he's going to have."
Alyson Footer is a national correspondent for MLB.com. Follow her on Twitter @alysonfooter. This story was not subject to the approval of Major League Baseball or its clubs.