5 Statcast facts for ALDS: Astros vs. Red Sox
Houston hosts Game 1 today at 4 p.m. ET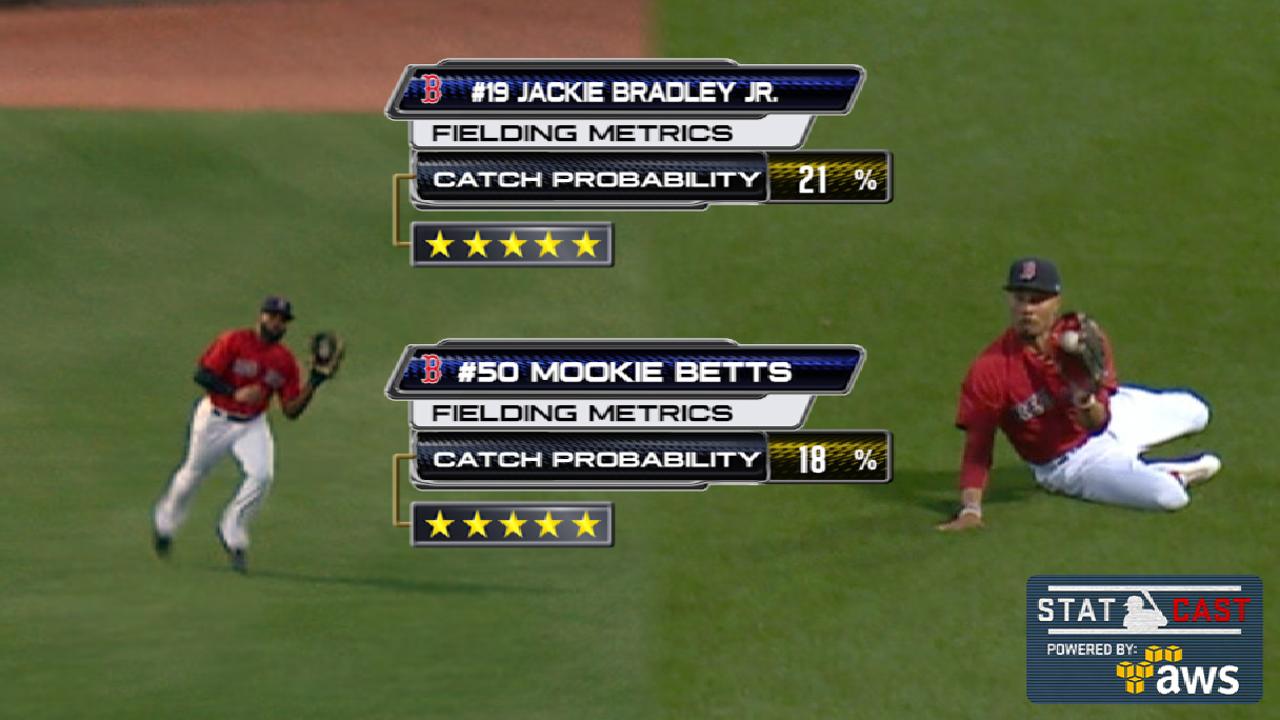 Fresh off a 101-win season and back in the postseason after missing out in 2016, the Astros are hungry to make a deep postseason run. The Red Sox stand in their way, and after an early exit in last year's playoffs, they'll be looking to prove they're here to stay this time around.
The American League Division Series presented by Doosan between the AL West and AL East champions begins today at Minute Maid Park at 4 p.m. ET on MLB Network. It will feature superstars on both sides -- the likes of Red Sox AL Cy Young Award candidate Chris Sale and Astros AL MVP Award candidate Jose Altuve. Game 1 is a matchup of aces: Sale against Justin Verlander, power pitcher against power pitcher.
Verlander and Sale are also both Statcast™ standouts. And it's not just them. All season long, as the Red Sox and Astros made their runs to the postseason, Statcast™ was following every aspect of their performance. Here are five key Statcast™ facts to know about this ALDS matchup:
1. Sale is as tough on batters as they come
Sale has dominated all season, by whatever metric you want to use. Start with Statcast™'s expected batting average -- which combines a pitcher's strikeouts with the quality of contact of the batted balls they've allowed to estimate what hitters' batting average should be against them. Sale's xBA for the season? .189. That was the second-lowest for any regular MLB starter in 2017, behind only Max Scherzer. After all, it's difficult to make contact against Sale at all. Sale's Major League-leading 308 strikeouts included 155 on fastballs and 134 on sliders, ranking first and second in K's on those pitch types, respectively.
Lowest xBA allowed by starting pitchers in 2017 (minimum 500 at-bats)
1. Max Scherzer: .175
2. Chris Sale: .189
3. Corey Kluber: .201
4. Stephen Strasburg: .202
5. Clayton Kershaw: .204
2. Verlander is a spin king
Verlander has lived up to his ace billing since arriving in Houston at the end of August. He went 5-0 with a 1.06 ERA and 43 strikeouts in his five starts in September. For Verlander, the key is his four-seamer, which has the highest spin rate of any regular starting pitcher in baseball: 2,541 rpm. High spin on a fastball creates a "rise" effect, generating more swings and misses, especially up in the zone. And that's exactly where Verlander likes to work his heater. Verlander got 151 swinging strikes on elevated fastballs this season -- those in the upper third of the strike zone or higher -- good for third-most in the Majors.
Highest average four-seamer spin rate for starting pitchers in 2017 (minimum 500 four-seamers thrown as starting pitcher)
1. Justin Verlander: 2,541 rpm
2. Max Scherzer: 2,503 rpm
3. Yu Darvish: 2,499 rpm
4. Sonny Gray: 2,494 rpm
5-T. Jeff Samardzija: 2,484 rpm
5-T. Dylan Bundy: 2,484 rpm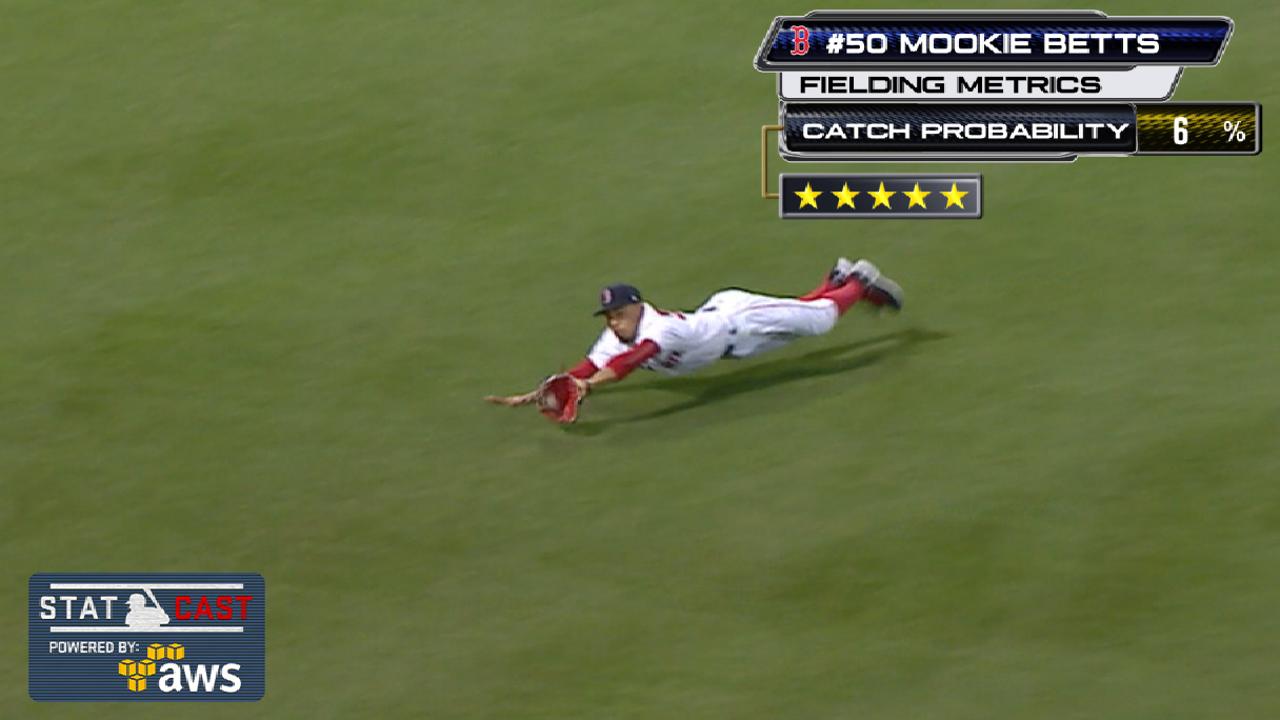 3. Boston's outfielders are always on patrol
The Red Sox have one of baseball's most dynamic outfield duos with Jackie Bradley Jr. in center field and Mookie Betts in right. The two made far more than their fair share of sensational plays this season, combining for 33 catches that Statcast™ ranked as 4-Star or 5-Star plays -- the two highest levels of difficulty. (5-Star plays have catch probabilities of 25 percent or less, and 4-Star plays have catch probabilities of 26-50 percent). Thanks to their ability to turn hits into outs, both Bradley and Betts rank among the Major League leaders in Outs Above Average, Statcast™'s newest metric for outfield defense.
Most Outs Above Average in 2017
1. Byron Buxton: 24
2. Ender Inciarte: 19
3-T. Mookie Betts: 15
3-T. Lorenzo Cain: 15
3-T. Adam Engel: 15
6-T. Jackie Bradley Jr.: 12
6-T. Kevin Kiermaier: 12
4. Altuve hits everything
Altuve has led the AL in hits in each of the past four seasons, recording at least 200 in all of them, and he just sewed up his third batting title in that span. Whatever you throw him, Altuve can hit. He ranked second in the Major Leagues in batting average against fastballs (.372) and also ranked second in batting average against breaking balls (.356). His average wasn't quite as high against changeups ("only" .281), but guess what? He slugged .667 against them, with six home runs -- a quarter of his career high-tying 24 this season.
Highest average vs. fastballs in 2017 (minimum 150 at-bats decided on four-seamers, two-seamers and sinkers)
1. Adrian Beltre: .372
2. Jose Altuve: .371
3. J.D. Martinez: .367
4. Bryce Harper: .366
5. Dustin Pedroia: .361
Highest average vs. breaking balls in 2017 (minimum 100 at-bats decided on breaking balls curveballs and sliders)
1. Buster Posey: .358
2. Jose Altuve: .356
3. DJ LeMahieu: .351
4. Eduardo Nunez: .325
5. Lorenzo Cain: .323
5. Dallas Keuchel is a master of command
The Astros have a pair of aces in Verlander and Keuchel, and the two hurlers' styles couldn't be more different. Verlander is a power pitcher who can blow his fastball by hitters. Keuchel uses pinpoint location to keep them off-balance and force ground ball after ground ball. A heavy sinkerballer, Keuchel had the highest ground-ball rate of any regular starting pitcher in the Majors this season at 68 percent. And he consistently stays out of the heart of the strike zone. Keuchel threw 42.7 percent of his pitches to the edges of the zone, according to Statcast™'s detailed zone profile, and 9.8 percent to one of the four corners. Those marks rank second and first among regular starters, respectively.
Highest percentage of pitches on the edges of the strike zone in 2017 (Minimum of 2,000 total pitches thrown)
1. Kyle Hendricks: 43.3 percent
2. Dallas Keuchel: 42.7 percent
3. Bartolo Colon: 41.9 percent
4. Jacob deGrom: 41.6 percent
5-T. Marco Estrada: 41.5 percent
5-T. Miguel Gonzalez: 41.5 percent
Highest percentage of pitches on the corners by starting pitchers in 2017 (Minimum of 2,000 total pitches thrown)
1. Dallas Keuchel: 9.8 percent
2-T. Zach Davies: 9.6 percent
2-T. Marco Estrada: 9.6 percent
2-T. Wade Miley: 9.6 percent
5. Kyle Hendricks: 9.5 percent
David Adler is a reporter for MLB.com based in New York. Follow him on Twitter at @_dadler. This story was not subject to the approval of Major League Baseball or its clubs.