MLB.com Columnist
Mike Petriello
Red Sox-Astros: ALDS position-by-position
Houston took four of seven meetings, including three last weekend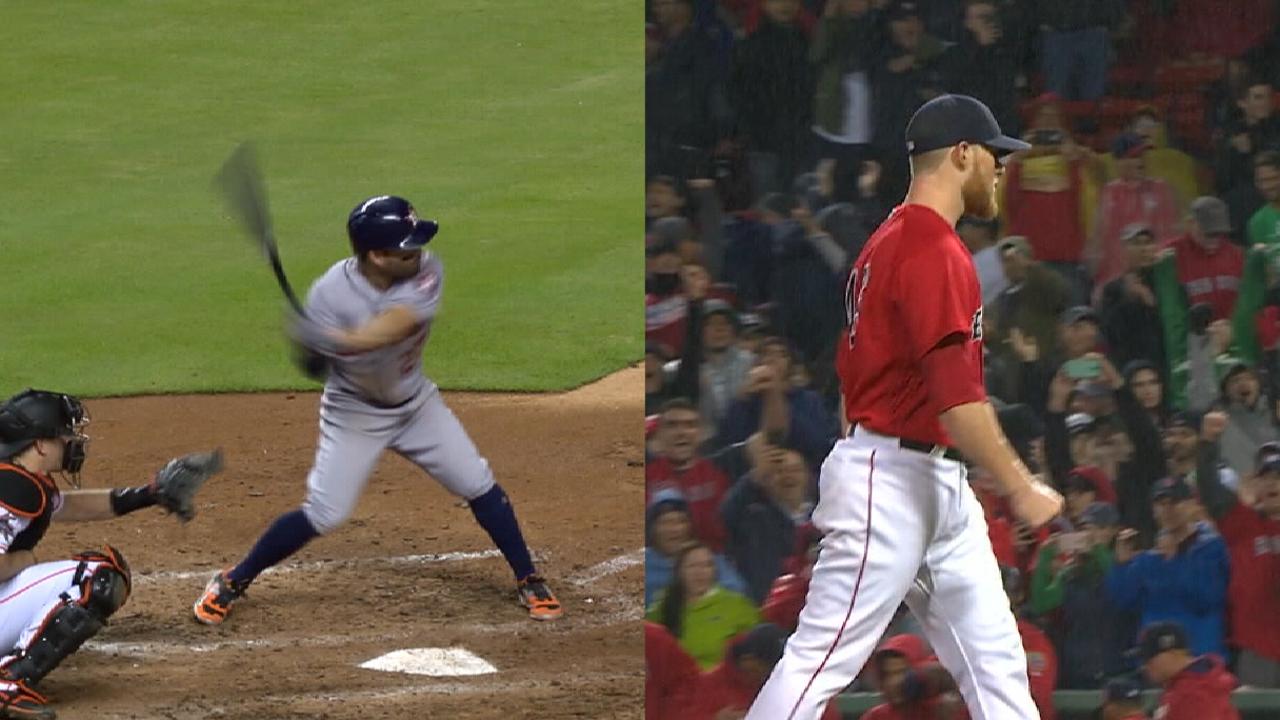 Today, the Red Sox and Astros will begin the American League Division Series presented by Doosan in Houston, and if that sounds familiar, it should -- just last weekend, these clubs finished the regular season with four games against one another in Boston.
While Houston finished with the AL's No. 2 seed thanks to Cleveland's unbelievable finish, in many ways, this may still be the most dangerous offense remaining. The Astros did, after all, finish first in runs scored, batting average, on-base percentage and slugging percentage, as well as finishing second only to the Yankees in homers.
And they did all of this while striking out less than any team in baseball. These Astros can mash.
That's not to undersell the Red Sox, of course, who have one of the most dominant relievers who ever lived fronting a strong bullpen and two of baseball's most elite outfield defenders chasing down fly balls. But which team really has the advantage? Let's break it down position by position. (Batting numbers are presented with traditional BA/OBP/SLG and Weighted Runs Created Plus, or wRC+, a park- and league-adjusted number where 100 is set as "league average" for easy comparison.)
Catcher
Sandy Leon and Christian Vazquez combined to catch all but 12 innings behind the plate for Boston, and they added considerable value behind it, as their +19 framing runs were best in the American League and third overall. But as a group, Red Sox catchers hit a mere .260/.313/.380 (81 wRC+), 19th-best, while Astros catchers Brian McCann and Evan Gattis combined to hit .251/.318/.445 (104 wRC+), which is a considerable power advantage. It's close, but Houston's pair of better bats gives the Astros the edge here.
Advantage: Astros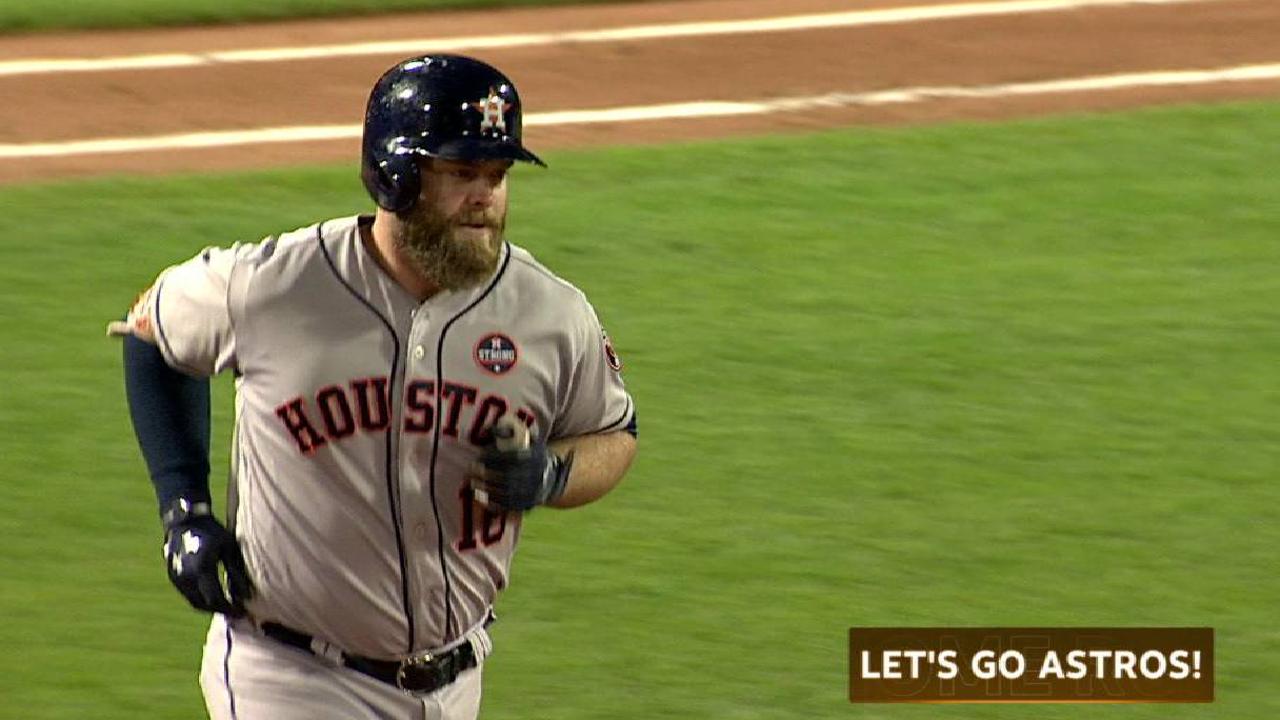 First Base
Yuli Gurriel's first full season as Houston's first baseman went reasonably well, with 18 homers and a .299/.332/.486 (118 wRC+) line, numbers that made him essentially league average for the position. That gives the Astros an edge over Mitch Moreland, who got off to a decent start, but faded in the second half (.231/.296/.440, 88 wRC+) while playing through a broken toe.
Advantage: Astros
Second Base
Given his long track record of stardom and the fact that he's dealing with a knee injury, it feels unfair to be too hard on the fact that Dustin Pedroia had one of his weakest seasons (.293/.369/.392, 102 wRC+), but it also doesn't matter in this matchup. Jose Altuve isn't just baseball's best second baseman, he may very well be the AL Most Valuable Player, so he'd top any competitor here. In addition to the fact that he (.346/.410/.547, 160 wRC+) posted his fourth straight 200-hit season and stole 20 or more bases for the sixth year in a row, his 24 homers are as many as any Red Sox hitter slammed.
Advantage: Astros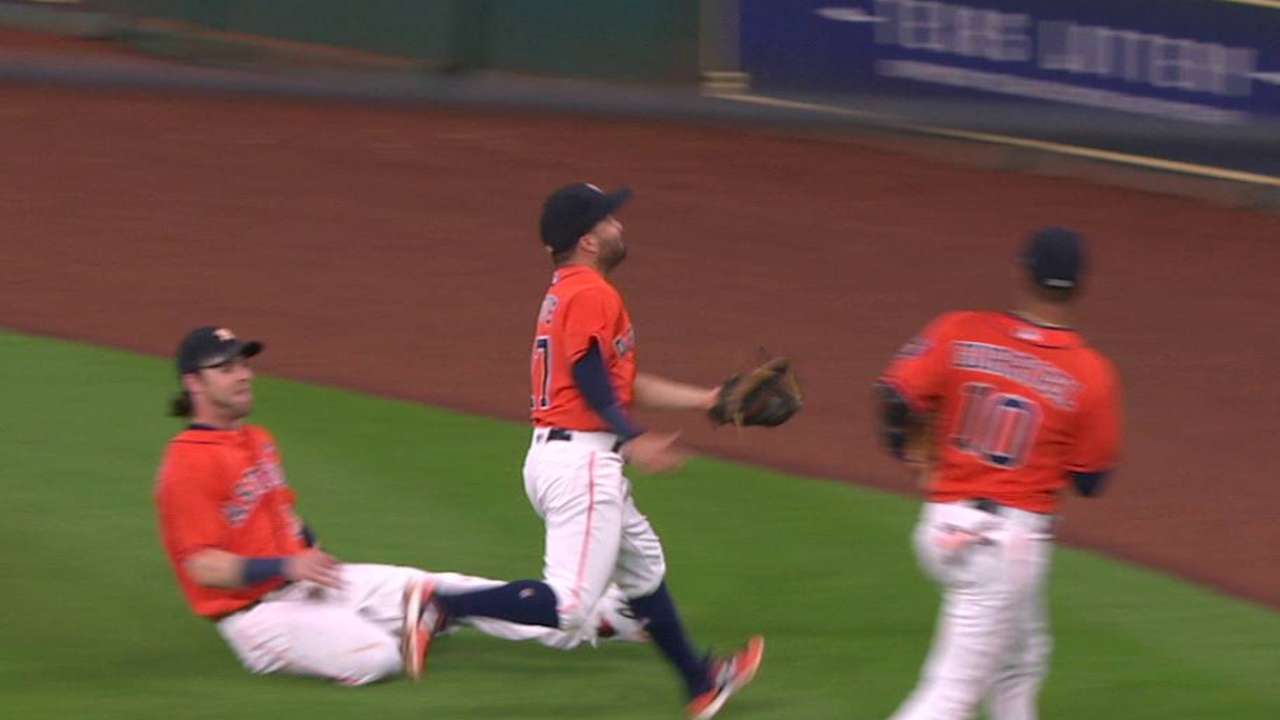 Shortstop
It's true that Xander Bogaerts took a step back, dropping from 21 homers to 10 and losing 43 points of slugging, but a .273/.343/.403 (96 wRC+) line along with surprisingly good baserunning value still made him a solid player. There's nothing wrong with that, but his Houston counterpart is a bona fide star. Despite missing time with a thumb injury, Carlos Correa slammed 24 homers and hit .315/.391/.550 (152 wRC+), all career highs, and ended the season with three long balls in four games.
Advantage: Astros
Third Base
How you perceive Alex Bregman depends greatly on what time frame you're looking at. Is he the young player who had a merely OK first half (.256/.338/.419, 105 wRC+), a smashing second half (.315/.367/.536, 141 wRC+), or a September that looked a lot like his first half did (.272/.316/.437, 100 wRC+)? You could say the same for 20-year-old Rafael Devers, who hit eight homers in his first 20 games, then two more in his next 38. That gave him a solid season line of .284/.338/.482 (111 wRC+), and that's why this one's a tie, because both sides have similarly exciting young players who are getting their first taste of postseason ball.
Advantage: Tie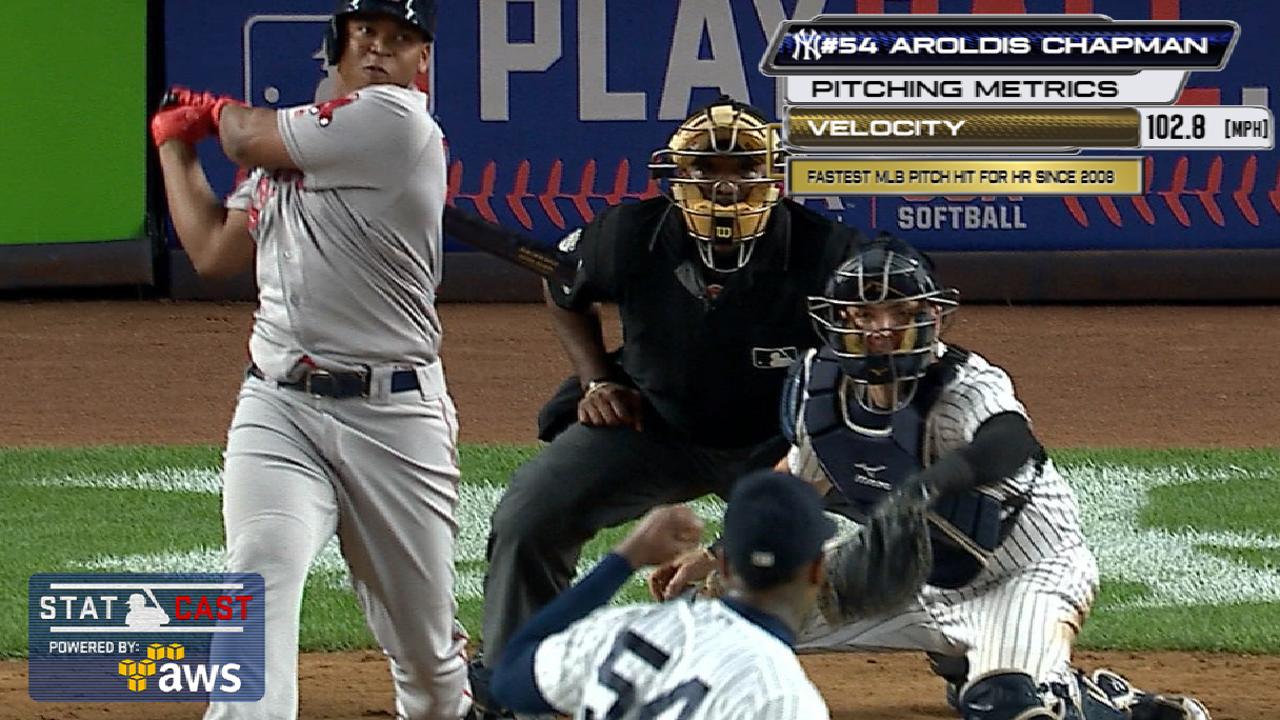 Left Field
This spot has been something of a revolving door for Houston; consider the fact that the player who started the most games in left field, Norichika Aoki, was traded to Toronto back in July. The assumption is that the versatile Marwin Gonzalez will see the most time, thanks to a breakout season that could garner down-ballot MVP support (.303/.377/.530, 144 wRC+), but Derek Fisher or Cameron Maybin could factor here for speed or defense, too. While Andrew Benintendi had a strong 20/20 rookie year (.271/.352/.424, 103 wRC+), Gonzalez was so good that it's hard not to give Houston the edge, especially since manager A.J. Hinch can mix and match here.
Slight Advantage: Astros
Center Field
Maybin may also spot here, but this is George Springer's job, and while we'll acknowledge the fielding advantage that Jackie Bradley Jr. provides, the huge difference in their bats push this one toward Houston, too. Springer doubled Bradley in homers (34 to 17), and his overall line of .283/.367/.522 (140 wRC+) is far stronger than Bradley's somewhat disappointing .245/.323/.402 (90 wRC+).
Advantage: Astros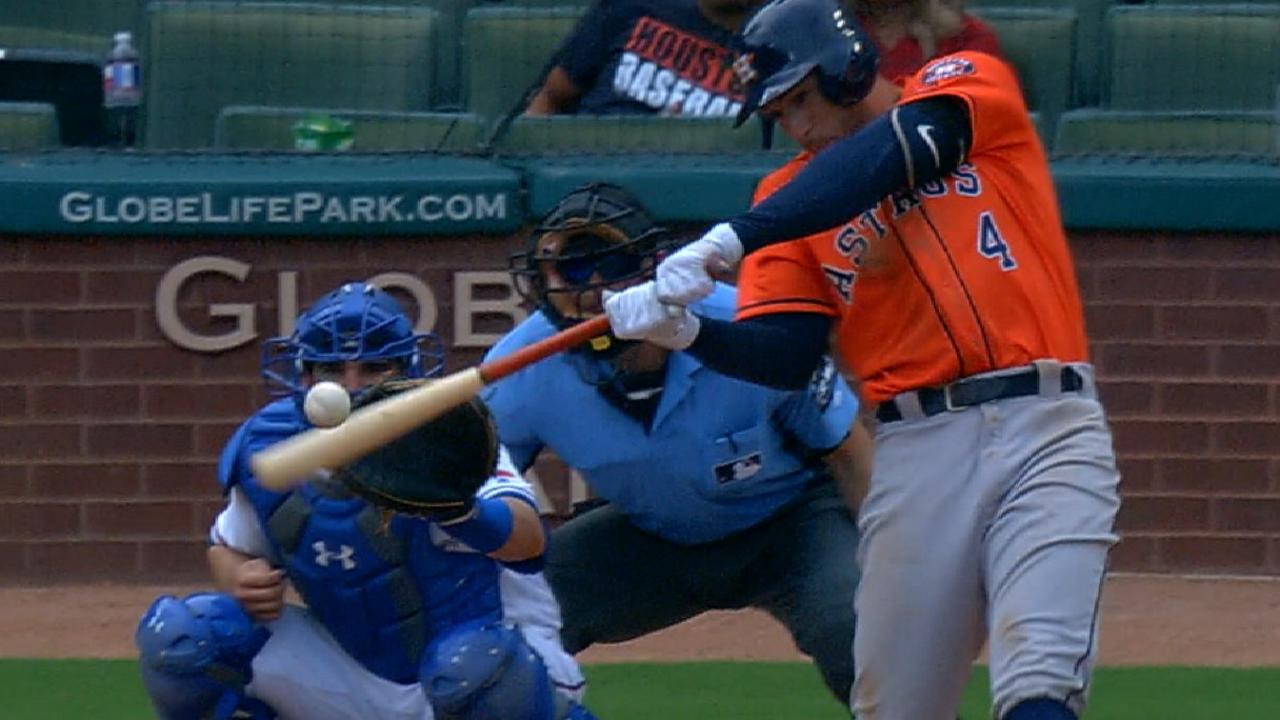 Right Field
We're expecting controversy here, because Josh Reddick's line of .314/.363/.484 (127 wRC+) was clearly stronger than Mookie Betts' .264/.344/.459 (108 wRC+). But we're talking about more than just offense, and Betts is one of the truly elite defensive outfielders in the game, putting up +15 Outs Above Average, tied for third-best in baseball. He was also successful on 26 of 29 steal attempts.
Advantage: Red Sox
Designated Hitter
A few years ago, Hanley Ramirez and Carlos Beltran would have been regarded as two of the better hitters in baseball, but it hasn't been a strong year for either one. Beltran, who turned 40 in April, hit only .231/.283/.383 (76 wRC+), his weakest season since he was a 23-year-old center fielder on the 2000 Royals, and he might cede some time to Gattis here, particularly with the Red Sox starting lefties Chris Sale and Drew Pomeranz in Games 1 and 2, respectively. It hasn't been Ramirez's best year either, hitting only .242/.320/.429 (93 wRC+) while dealing with shoulder and biceps problems for much of the season. If healthy, Eduardo Nunez -- who was very good for Boston after being acquired, hitting .321/.353/.539 (133 wRC+) -- could see time here, too, but like Pedroia, he's also dealing with knee troubles.
Advantage: Red Sox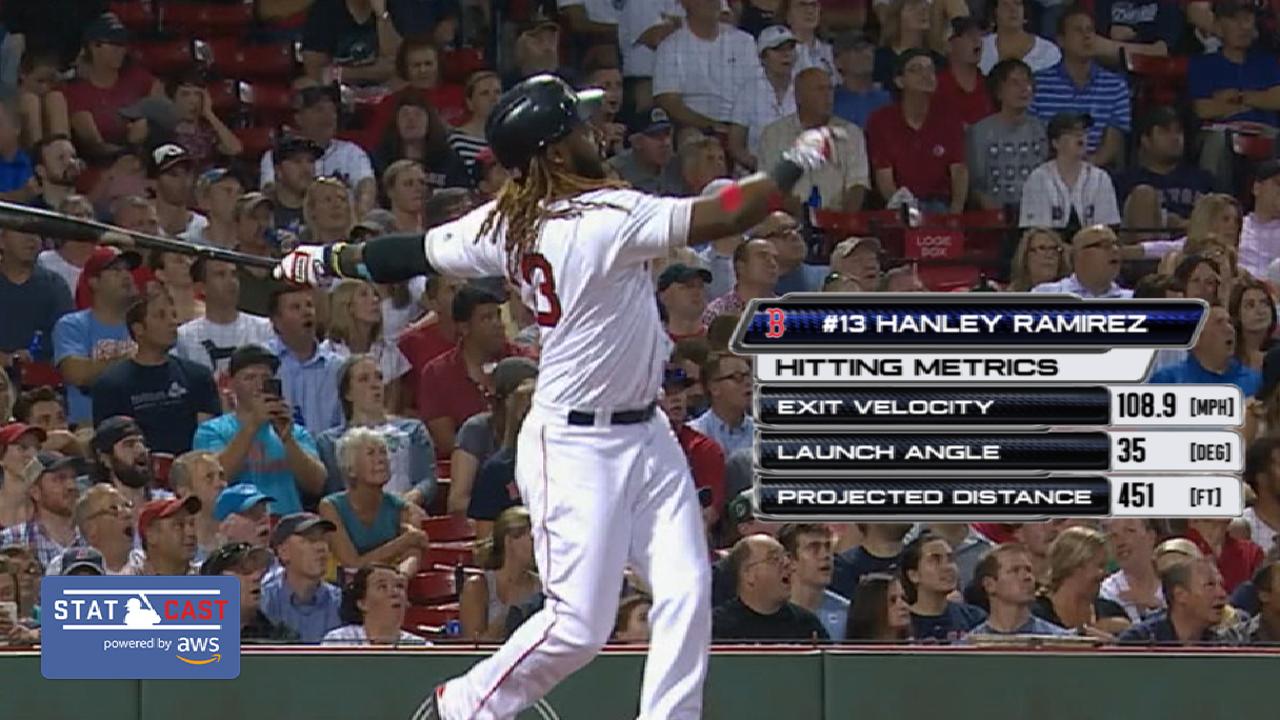 Starting Pitchers
One side has Justin Verlander and Dallas Keuchel. The other side has Sale, who's either going to win the AL Cy Young Award or finish a close second to Corey Kluber. The Astros had a 4.03 rotation ERA this year, while the Red Sox had a 4.06 mark. Looking at the four likely starters for each side, Verlander, Keuchel, Brad Peacock and Charlie Morton had a 3.41 FIP for Houston, while the four potential starters for Boston -- Sale, Pomeranz, Rick Porcello, and Doug Fister had a very similar 3.65 FIP, and that's the point. These are two talented and strong rotations.
Advantage: Tie
Relief Pitchers
Craig Kimbrel (1.43 ERA, 126 strikeouts and only 14 walks in 69 innings) is merely wrapping up one of the greatest relief seasons of all time, but this isn't just about him. The 2017 Red Sox bullpen was arguably the best in Boston history, and that was with far less than full seasons from David Price (8 2/3 scoreless innings in relief, 13 strikeouts), Addison Reed (28 strikeouts in 27 innings after joining the Red Sox), and Carson Smith, who looked very good after returning from Tommy John surgery in September. The Astros have quality names like Ken Giles, Joe Musgrove, Chris Devenski, and Will Harris, so they're hardly pushovers. But the Boston bullpen is, for once, a strength.
Slight Advantage: Red Sox
Mike Petriello is an analyst for MLB.com and the host of the Statcast podcast. This story was not subject to the approval of Major League Baseball or its clubs.