Reddick brings 'exceptional' play back to Bay
Outfielder homers among 3 hits vs. former team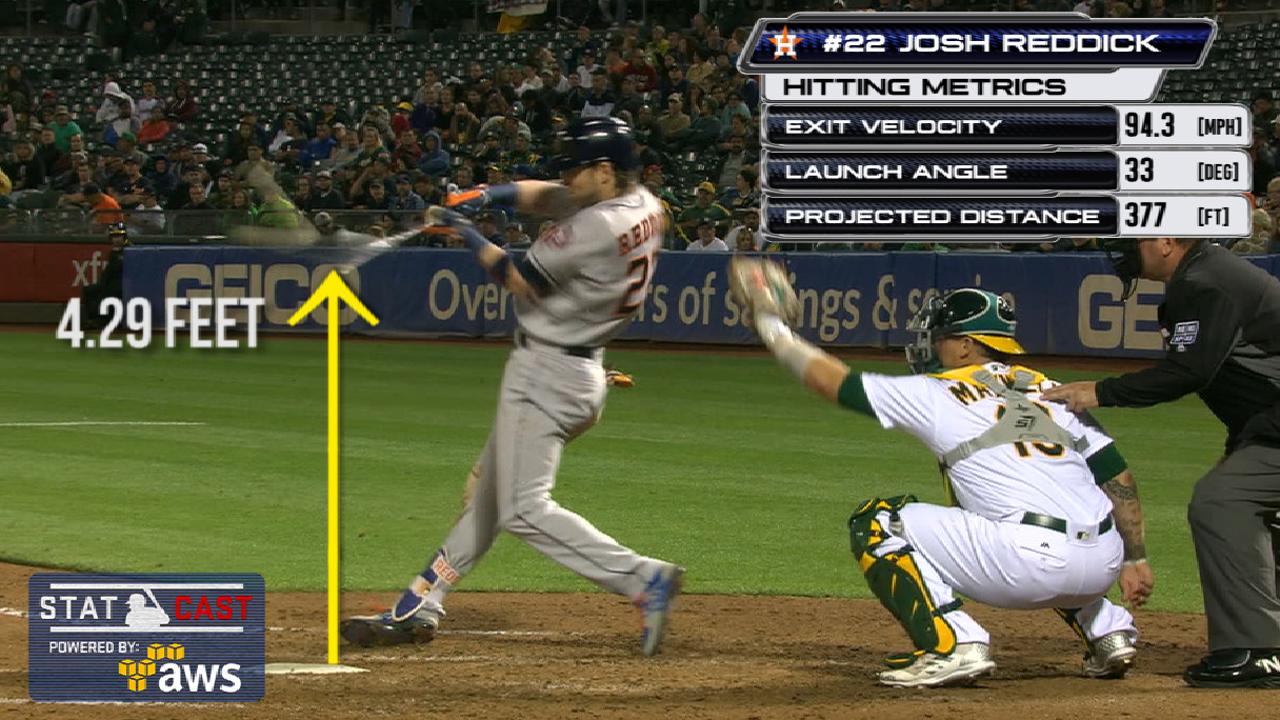 OAKLAND -- Even though the Astros' seven-game winning streak was snapped in a 9-8 loss Friday night, it was another big night for Josh Reddick.
The outfielder reached base all five times he came to the plate against his old team, highlighted by a homer on a pitch that was above the letters on his jersey.
"I don't know why I was swinging at that, but I got away with it," Reddick said. "I came into the dugout yelling, 'I have no idea how I hit it or how it even stayed fair.' It was just one of those freak things that you get away with it, luckily."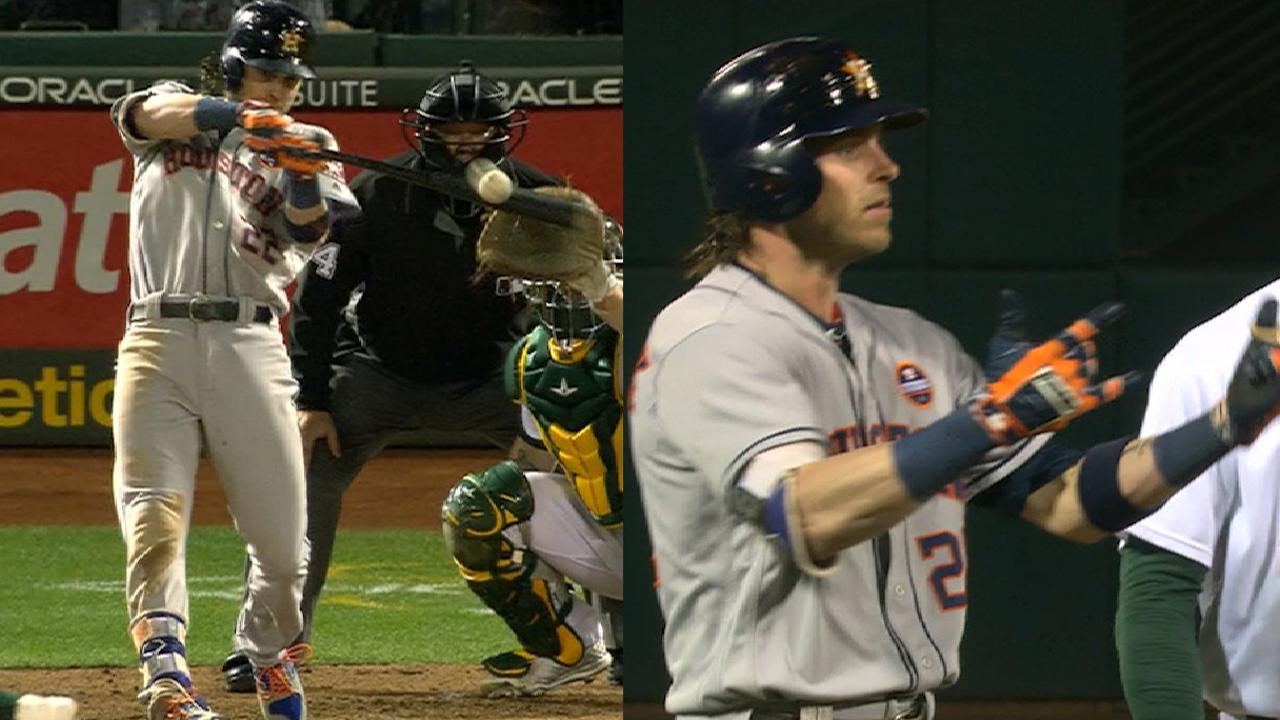 What made the homer even more special was that it came off of A's starter Jharel Cotton, the key player that the A's traded Reddick for last July when he was sent to the Dodgers. Reddick admitted he was thinking about wanting to do well against Cotton.
"I think I'd be lying if I didn't say yes," Reddick said. "It's one of those things where you want to do well against the guy you got traded for. Wasn't really trying to go deep, was just trying to get base hits. I've had pretty good success off of him this whole year, so I was just trying to continue that. Just got lucky and got on top of it."
Reddick nearly gave the Astros a game-winning hit in the ninth, when he came up with George Springer on first and the game tied, 7-7. Reddick got a slider from A's reliever Blake Treinen and roped a double down the right-field line, giving Springer just enough time to race home ahead of the relay and the Astros the lead, something Reddick said made him "very, very emotional."
"Coming back here is always more extreme for me, considering the circumstances," Reddick said. "To give the team the lead in the ninth off of a guy I haven't really faced a whole lot and a guy that's pretty nasty was a good feeling."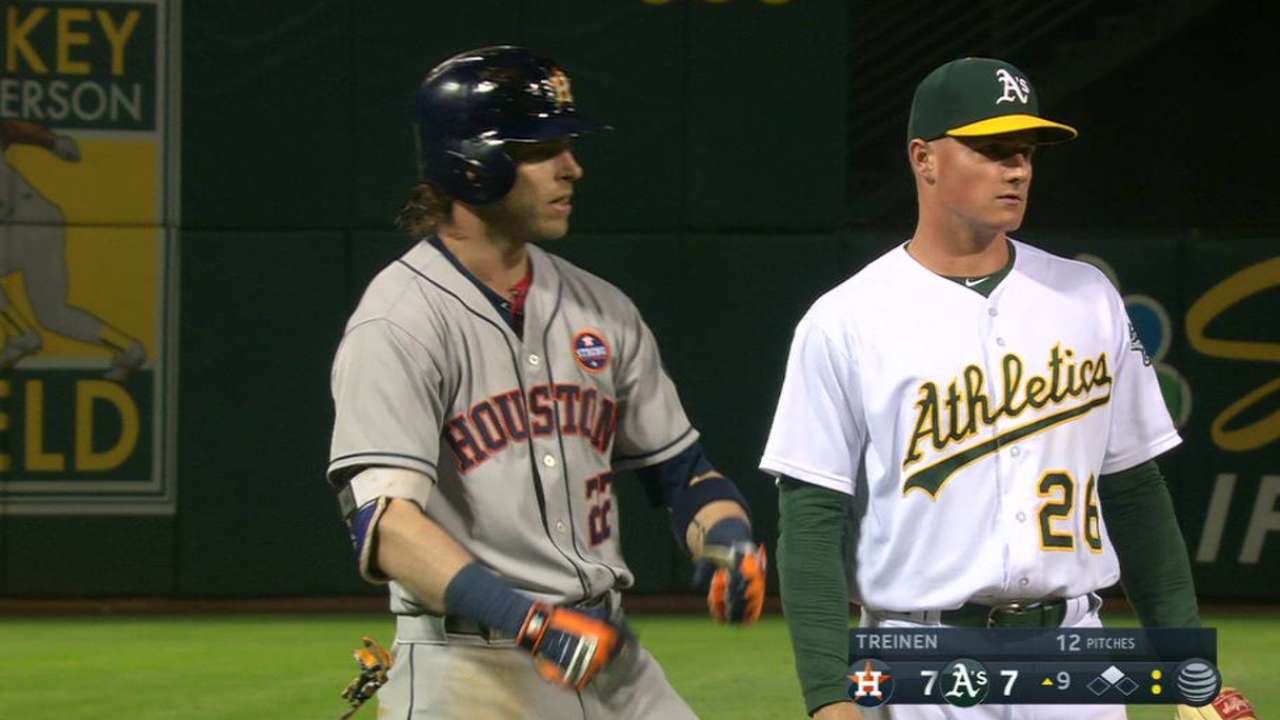 After spending close to five years with the A's, Reddick has gone 8-for-17 in five games at the Coliseum since the trade. On the season, he's batting .419 (18-for-43) against Oakland with four doubles, a triple, two homers and 10 RBIs.
Reddick's batting average (.317), on-base percentage (.363) and slugging percentage (.490) would all be career-highs for him for a single season. But he's been even hotter in the past three weeks, batting .491 (26-for-53) with 18 RBIs and as many walks as strikeouts (four).
"He's been exceptional," Astros manager A.J. Hinch said. "He's one of the best competitors we have, he puts up really quality at-bats virtually every night. He knows the strike zone and he does a lot of damage. Obviously, he loves hitting here. He's been under the radar and an underappreciated, huge part of our team."
Alex Simon is a reporter for MLB.com based in the Bay Area. Follow him on Twitter at @alexsimon99. This story was not subject to the approval of Major League Baseball or its clubs.