Astros eye return of Gattis (wrist) on Sunday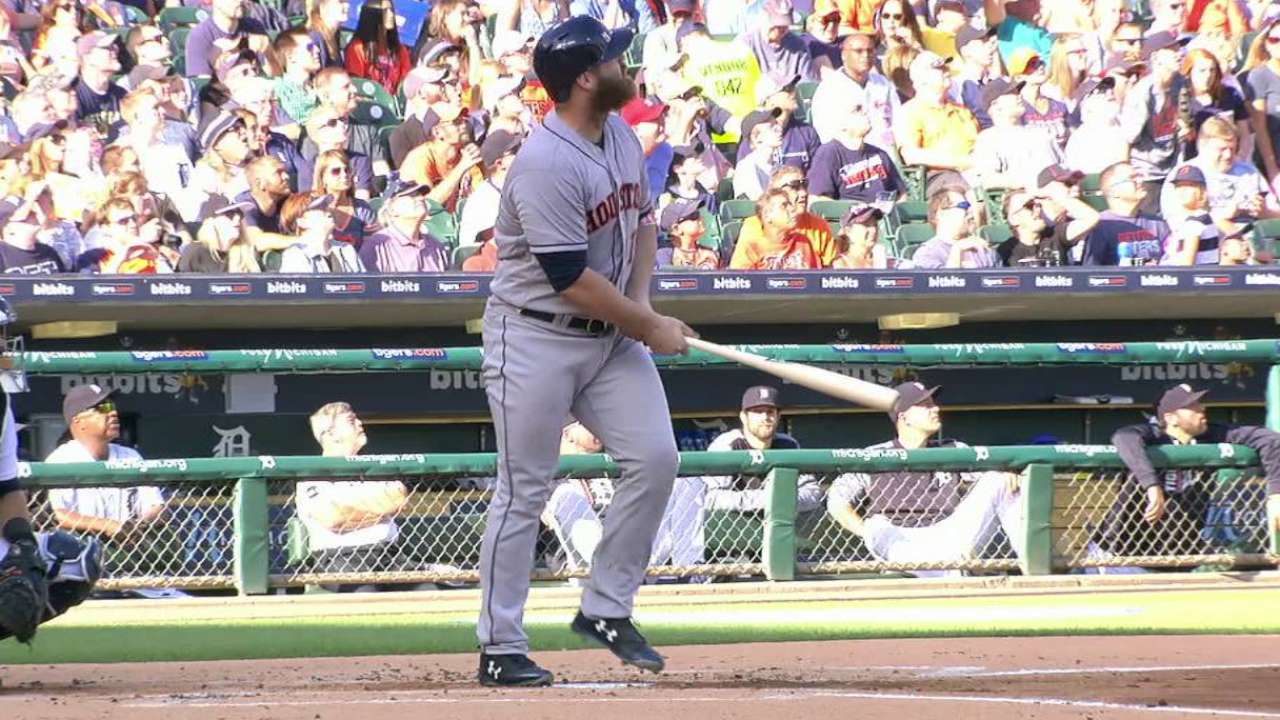 OAKLAND -- If all stays according to plan, the Astros will be get closer to full strength when Evan Gattis returns to the team Sunday.
Gattis was placed on the disabled list Aug. 30 with right wrist soreness and has played in three rehab games with Class A Quad Cities, including one Friday night. Manager A.J. Hinch said he'll fly to Oakland Saturday and is expected to be activated Sunday, when he's eligible to return.
"He feels really good, which is a good sign," Hinch said, adding that he's planning on having Gattis start at designated hitter on Sunday. "All signs are pointing in the right direction."
Gattis has only played in three games since suffering a concussion on Aug. 3. He returned Aug. 25 in Anaheim, but he took a ball off the wrist while catching against the Angels and was placed on the disabled list during the next series.
His injuries were part of a rough start to the second half for the Astros, who have had numerous players hit the DL since the All-Star break. When he's activated, the only player that will still be on the 10-day disabled list is Colin Moran
"We went through a lot this season with some injuries and missed a lot of key guys for a long time," Hinch said. "We've been able to maintain ourselves pretty well and endure the rigors of it. Once we get back to full strength, it'll be a fun exercise every day on who to use and who to play and how everybody fits in the big puzzle."
Worth noting
• Reliever Michael Feliz was activated before Friday's game after missing more than a month with right shoulder discomfort. The right-hander becomes the 19th pitcher on the active roster, but Hinch said it's nice to have Feliz back.
"We have a lot of relievers right now," Hinch said. "It's hard to get them all work and all innings, but we haven't forgotten what Michael's done when he's right. He can miss a lot of bats and provide a lot of innings. It'll be important for us to get him in the mix and pitching again."
• Gattis' return will give the Astros 37 players on the active roster. While Hinch enjoys having so many players available to use, he thinks the expanded rosters are "pretty excessive," especially after the Angels used an American League-record 12 pitchers in a game in Oakland on Monday.
"One day, I hope September rosters are maybe curtailed a little bit, to maybe where it's a little bit more of a regular season game as opposed to a game where you can use so many players," Hinch said. "Obviously it's nice to have all these guys at our disposal, but it's a completely different game in September. To be able to use 12 relievers and to be able to use that many matchups feels a little wrong."
Alex Simon is a reporter for MLB.com based in the Bay Area. Follow him on Twitter at @alexsimon99. This story was not subject to the approval of Major League Baseball or its clubs.