Morton, Peacock lead Astros in twin bill vs. A's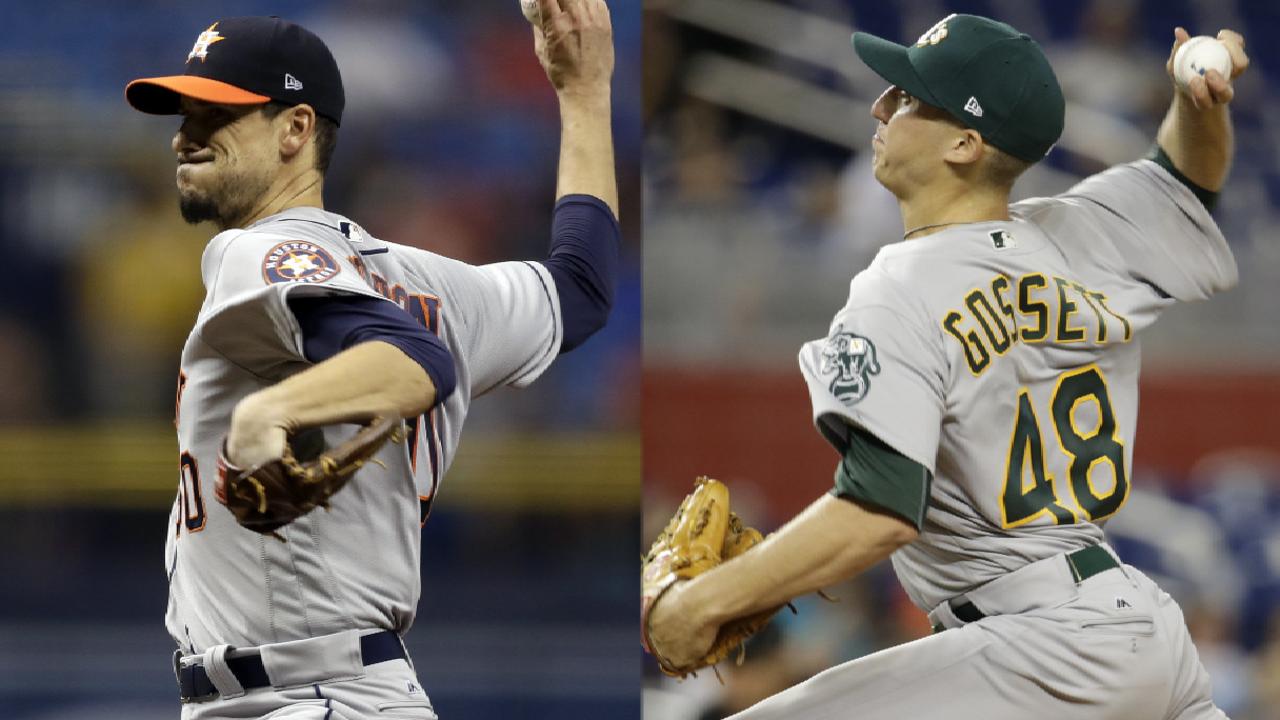 The Astros and the A's will play two on Saturday in Oakland, with a single-admission doubleheader starting in the afternoon and the second game beginning approximately 30 minutes after the conclusion of the first.
The doubleheader was needed after a rainout in Oakland on April 16. The Astros will send right-hander Charlie Morton out for the first game and right-hander Brad Peacock for the second game, the second straight doubleheader that these two will pitch in that order.
Morton, who is 11-6 with a 3.87 ERA, allowed two runs in five innings against the Mets to get the win in the first game of a doubleheader on Sept. 2. Peacock followed that by allowing one run in 5 1/3 innings in the second game for a no-decision.
Peacock's been solid for the Astros, going 10-2 with a 3.05 ERA. But because Houston acquired Justin Verlander, the Astros will bump a starter out of the rotation after the weekend, and Peacock has pitched in 13 games as a reliever this year.
"He's a good pitcher, he can do a lot of different things," Astros manager A.J. Hinch said of Peacock. "His slider has been a difference-maker this year for him. He can get right-handed hitters and left-handed hitters out."
Meanwhile, the A's will counter with right-hander Daniel Gossett, followed by Daniel Mengden in the second game.
Gossett is 3-8 with a 5.32 ERA in his first Major League campaign. The rookie has a 5.40 ERA in two starts against the Astros.
Mengden will make his first start with the A's since June 3 after allowing nine runs over eight innings in his first two starts this season. Mengden is 0-2 with a 7.63 ERA in three career starts against Houston.
Things to watch for in these games
• The Astros have played two doubleheaders this season, splitting a May 14 twin bill at the Yankees and sweeping the Mets on Sept. 2.
• The A's split their only other doubleheader this season (June 10 at the Rays). Saturday will be the first doubleheader between the A's and Astros.
• The last time Oakland swept a doubleheader was on Aug. 22, 1998, against the Tigers.
Alex Simon is a reporter for MLB.com based in the Bay Area. Follow him on Twitter at @alexsimon99. This story was not subject to the approval of Major League Baseball or its clubs.