Fisher's MLB journey a Lone Star tale
Rookie showcasing talent in front of team that originally drafted him in Silver Boot Series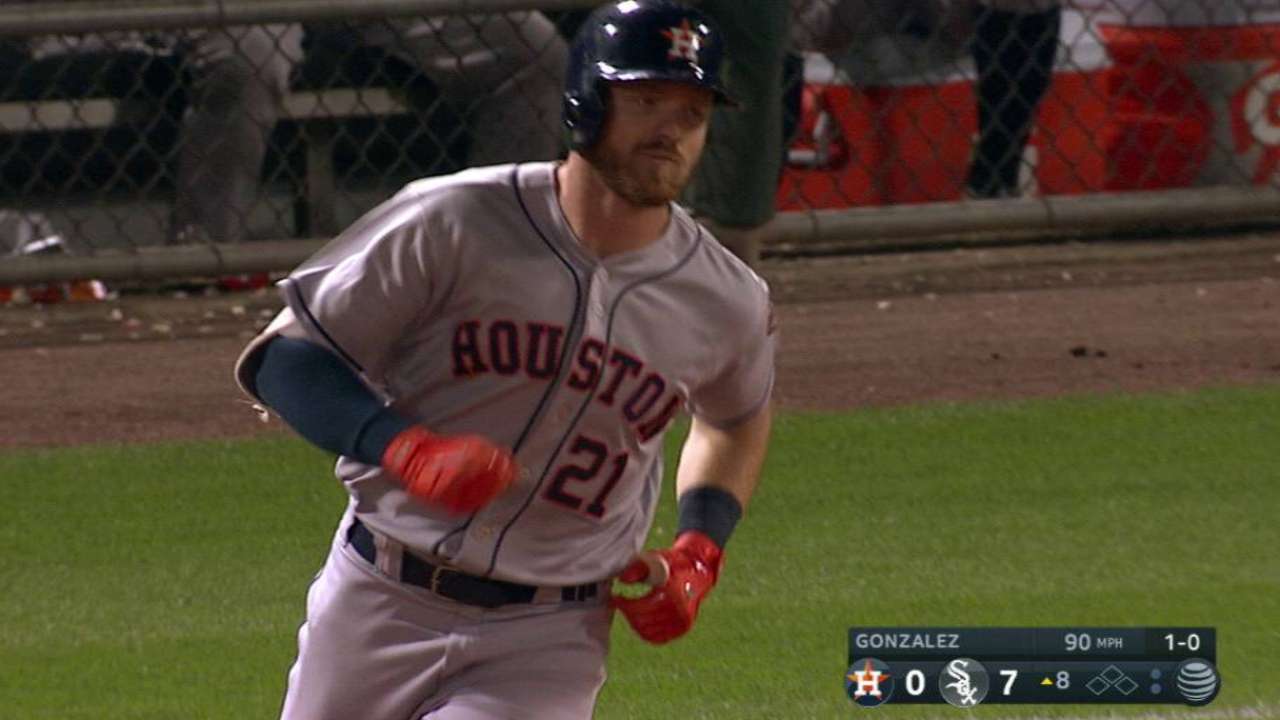 ARLINGTON -- Astros rookie Derek Fisher is playing in Globe Life Park for the first time this weekend. But had things gone in a different direction a few years ago, it could've been his home stadium.
Fisher was originally drafted by the Rangers out of Cedar Crest High School in Lebanon, Pa., in the sixth round of the 2011 Draft, but didn't sign. Fisher instead enrolled at the University of Virginia, where he starred for the Cavaliers for three years.
"I was going to the University of Virginia, and I wasn't set on signing [with an MLB team] -- and I obviously wasn't set on going to school. But I was just kind of going to give myself the opportunity to make a decision," Fisher said. "I had summer school, so basically I kept my options open and weighed them both out. And you could say I'm happy with the decision that I made."
The decision didn't really come down to the potential heftiness of a signing bonus or the promise of an expedited path through the Minor Leagues. Instead, Fisher elected to go to school because he simply felt he wasn't ready for the big leagues coming out of high school.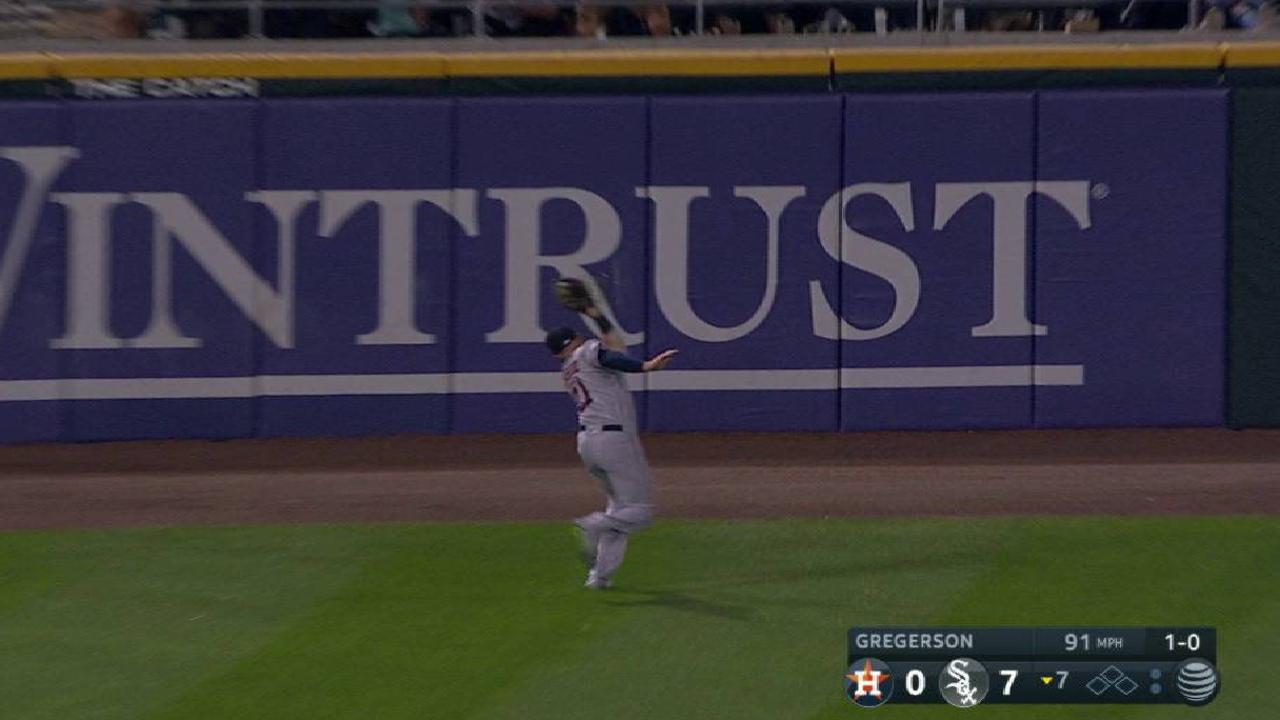 "I think a lot of it had to do with, honestly, as it got closer to feeling like I was going to be in professional baseball, I felt like I wasn't really ready for it as a person," said Fisher. "Obviously, I can't tell you that I knew all those answers, because [I didn't]. But I was 17, and I wouldn't have gotten here without going to college."
Unlike a lot of high schoolers, the decision ultimately rested on Fisher's shoulders alone. He talked with his parents, but they didn't push him to decide one way or another.
He declined to make the immediate leap to the pros, and it paid off down the road. The Astros selected Fisher with the 37th overall pick in the 2014 Draft, presenting him with another decision to make.
This time, he made the jump and joined the Astros.
"It's a little different when you're in college," Fisher said, regarding his decision to sign with the Astros after his junior year at Virginia. "When you're in high school, you have a little bit of leverage. You can do what I did. You can go to college and take that experience in or get into pro ball early. I think it was a little bit more set in stone when you come out of college. But no, I know going there was the reason -- and is the reason -- why I'm here."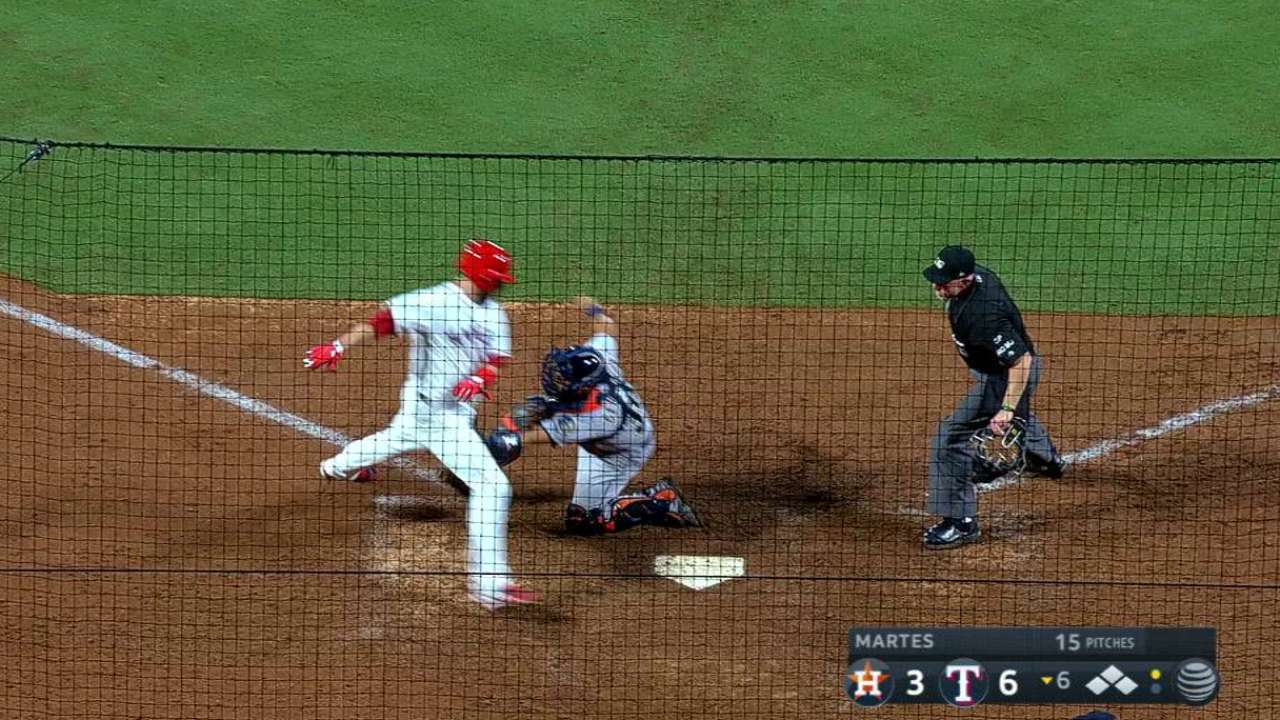 Fisher was nearly traded to the Phillies in December 2015 as part of a package of prospects for closer Ken Giles. But Philadelphia voiced concerns about the health of Vince Velasquez and the teams had to rework their deal, leaving Fisher out of it in the end.
That kept him in Houston -- and after an impressive spring, Fisher's path to the Majors accelerated. He entered Sunday hitting .257 with four homers and 10 RBIs through 74 at-bats this season. His first career homer came against the team that first drafted him out of high school back on June 14 in his Major League debut.
It might be easy to assume there's an inherent animosity to the Silver Boot Series for Fisher, given that he was nearly a member of the Astros' in-state rival. But he insists there is none and he's just happy with where he is now.
"The way that whole thing went in high school, there was no bad blood at all," Fisher said. "I really like the way that [the Rangers] went about it, and the people that I met and the time that I spent with the people that were within the organization -- with the area scouts and so on and so forth. I have nothing but good things to say about them."
Sam Butler is a reporter for MLB.com based in Texas. This story was not subject to the approval of Major League Baseball or its clubs.