McHugh looks to stay fresh vs. White Sox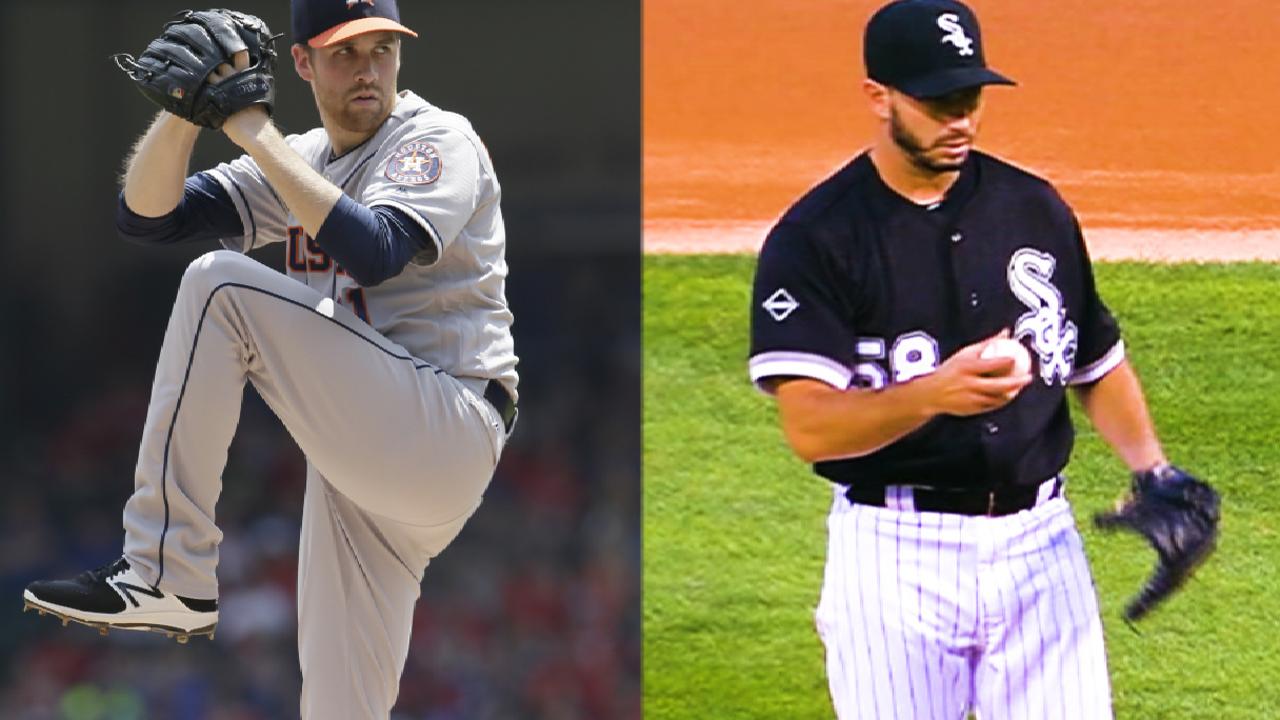 The Astros surprised some when they didn't go get a starting pitcher before last week's non-waiver Trade Deadline, but they may have essentially the same thing in right-hander Collin McHugh.
McHugh (0-0, 3.24 ERA) will make his fourth start of the season Wednesday night, against Miguel Gonzalez (5-10, 5.15) and the Chicago White Sox in the second meeting of a three-game series at Guaranteed Rate Field. McHugh missed most of 2017 with a posterior impingement of his right elbow and didn't make his season debut until July 22 at Baltimore. Since then, he's put together back-to-back quality starts.
He allowed two runs (one earned) over six innings while picking up a no-decision against the Rays in his last start, and his progress has encouraged Astros manager A.J. Hinch.
"He's fresh," Hinch said. "He feels like it's April, and most of us don't. It's good that we were able to inject him [into our rotation]. I think it's actually gone underappreciated what he's done for our team over the last couple years with innings, quality. He pitched two games in a Division Series two years ago. He's a really good starting pitcher."
Hinch added that McHugh's addition of a new slider and some of the rest from early in the season will be critical to the team's rotation down the stretch and into the postseason.
"He's always prepared, he can pitch to game plans," Hinch said. "I think he's often forgotten in what we needed out of the rotation. He's pretty reliable, and he's come up with the new pitch in his slider, which has been pretty effective so far."
McHugh has posted a 20-percent ground-ball rate, the lowest among all starters who have generated at least 40 batted balls in 2017. Of the 13 hits he has given up, 11 have come on balls hit in the air.
Three things to know about the game
• Gonzalez had been pretty good after the All-Star break up until his last outing in Boston. He reeled off three consecutive quality starts after dealing with A/C joint inflammation in his right shoulder, but couldn't get out of the second inning at Fenway Park en route to giving up seven runs.
• The Astros are great away from Minute Maid Park this year, with their 38-15 road record entering Tuesday being the best in baseball and the third-best winning percentage on the road in Major League history. The Astros are also averaging an MLB-best 6.89 runs per game on the road.
• The White Sox offense is struggling, particularly in key situations. Entering Tuesday, Chicago was hitting .165 with runners in scoring position over its past 20 games.
Fabian Ardaya is a reporter for MLB.com based in Chicago. This story was not subject to the approval of Major League Baseball or its clubs.