Paulino gets confidence boost in 1st MLB win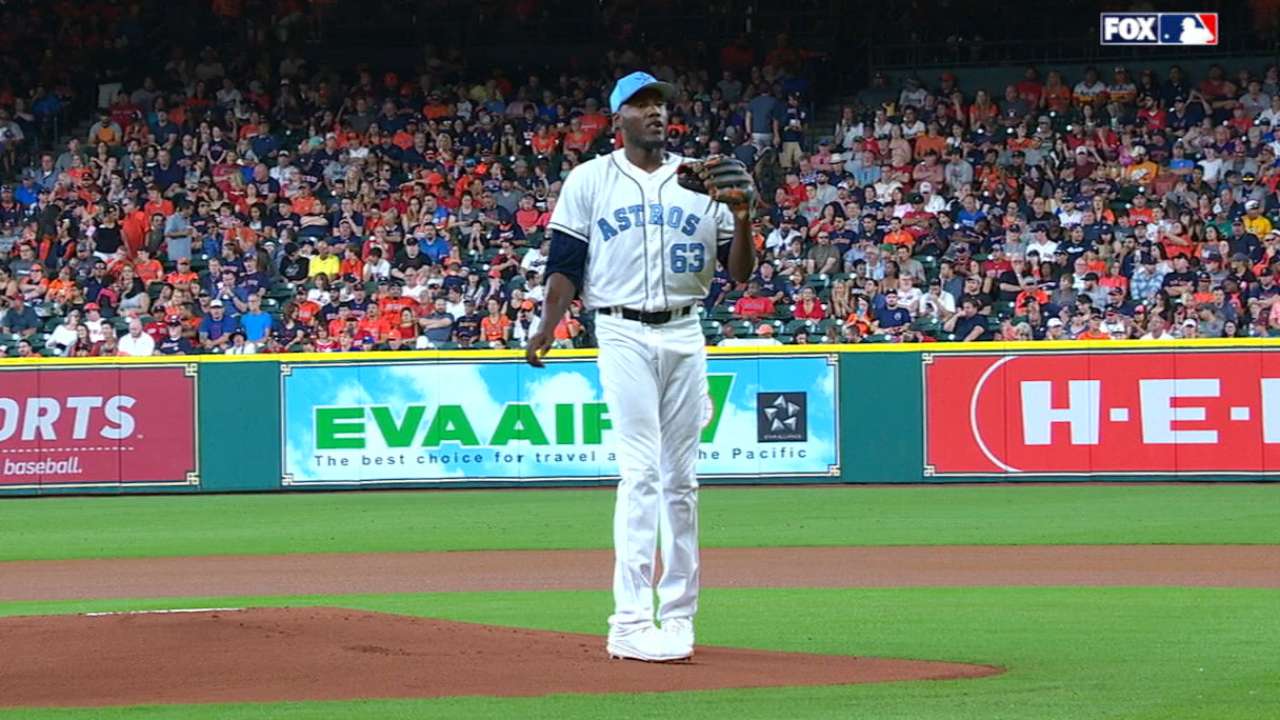 HOUSTON -- He got a dugout handshake from manager A.J. Hinch, a hug from catcher Brian McCann and later received the game ball. Not a bad day of work for Astros rookie right-hander David Paulino, who beat reigning American League Cy Young winner Rick Porcello and the Red Sox, 7-1, on Saturday night for his first big league win.
Paulino, who was called up from Triple-A Fresno when Joe Musgrove went on the disabled list in late May, allowed one run and three hits in six innings in his fifth career start. With help from McCann, Paulino was in control in throwing 81 pitches (46 strikes) through six innings.
"I feel really blessed," the 6-foot-7 Dominican said. "I have to thank my teammates because they helped me out to get this win, and I'm really happy about it."
Hinch said he loved Paulino's demeanor and focus the entire day.
"He was getting them to mishit some balls," he said. "He stayed very calm in his approach. I thought B-Mac did a great job with him, just navigating through a pretty tough lineup, and he made pitches. Especially at the end."
Paulino got Red Sox shortstop Xander Bogaerts to hit into a 5-4-3 double play to end the sixth on his final pitch. The only hits he allowed were singles by Dustin Pedroia in the fourth and Mookie Betts in the sixth, and a homer by Chris Young in the fifth.
"All in all, I think his ability to throw both breaking balls for strikes, mix in his fastball here and there, and just control his emotions and excitement and his demeanor on the mound was the most impressive it's been since he's been up there," Hinch said.
McCann said Paulino's curveball "falls out of the sky," and praised his changeup and a plus sider.
"He threw extremely well today," he said.
With four starters on the disabled list at one point, the Astros have had to test their starting rotation depth in the last month with Paulino, Brad Peacock and Francis Martes making starts while Dallas Keuchel, Lance McCullers Jr., and Charlie Morton are on the mend.
"From the beginning of the season, for him in particular, we look up and we rattled off 10 or 11 names that were going to be considered in our starting rotation or that we thought we were going to need during the season," Hinch said. "As a young pitcher, it's hard to believe that or to know that or feel the love, so to speak, of being in the mix.
"You look up and a couple of months in the season and we have four guys on the DL and he's called on to be good. So I think for him, confidence in himself is one thing, confidence as a big leaguer is another, and these games like this are steps in the right direction to feel pretty good about himself."
Brian McTaggart has covered the Astros since 2004, and for MLB.com since 2009. Follow @brianmctaggart on Twitter and listen to his podcast. This story was not subject to the approval of Major League Baseball or its clubs.