Making fourth start, Paulino eyes first win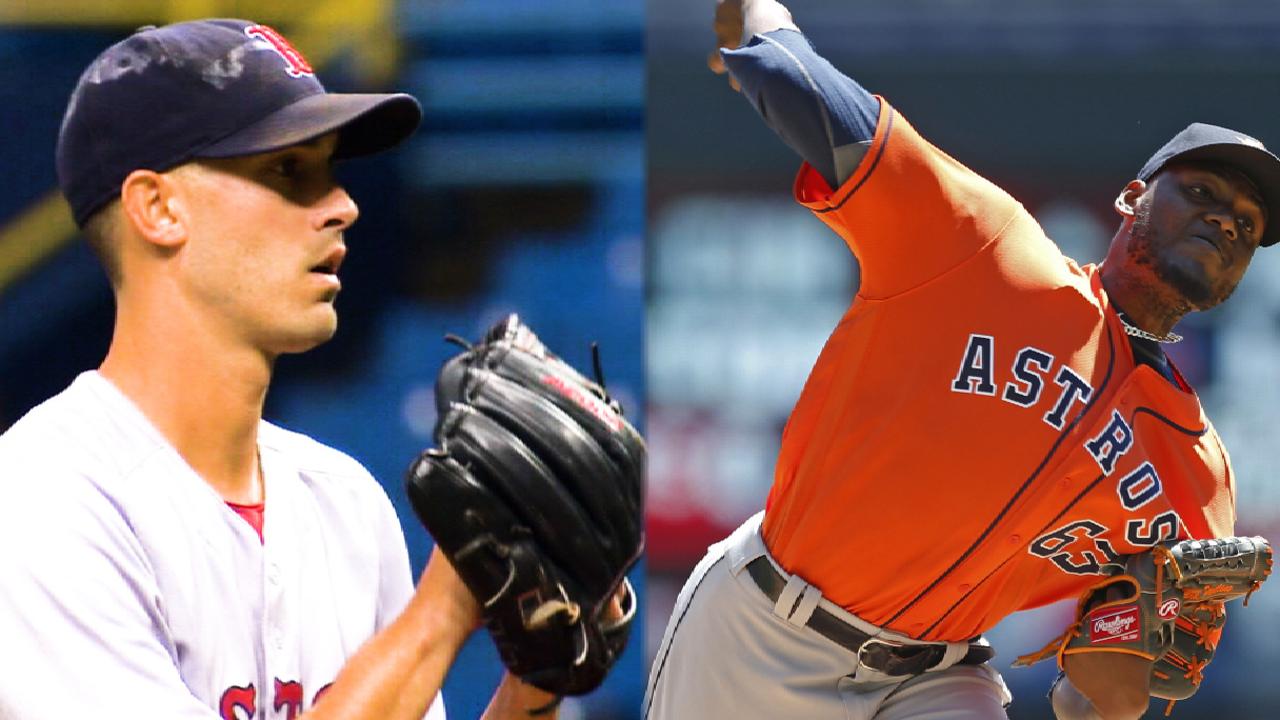 Prior to Game 2 of the weekend's three-game series in Houston, the Red Sox and Astros -- teams who both hold one of three best records in the American League -- have mutual respect for each other, their managers said.
"They're a good team and they do a lot of things well," Astros manager A.J. Hinch said of Boston. "They've got an electrifying back end of the bullpen, they've got a ton of contact throughout their order, they don't strike out and have tough at-bats. They do a lot do things well that produce wins for them. They have a tough lineup and have a number of ways to beat you, so we've got to play well to beat them."
"They're a good team," Red Sox manager John Farrell added about the Astros. "Their record speaks for itself. They've gone through a number of injuries themselves and have been able to withstand them. This should be a good series. We're looking forward to it, as we have every series. But more importantly, it's how we execute from the mound. That's what will determine this series."
Neither starting pitcher for Saturday's game has won a decision since May 23, when Red Sox righty Rick Porcello (3-8, 4.67 ERA) won his last decision in 14 starts this season.
Porcello, who's allowed an average of 4.3 earned runs in three June starts, will face the Astros' David Paulino. The rookie right-hander will make his fourth start this season Saturday and has yet to earn a decision.
Porcello is 1-0 in his career in two starts vs. the Astros with a 3.29 ERA. In his last five starts, Porcello (1-3) has a 5.46 ERA and has allowed 19 earned runs on 47 hits in 31 1/3 innings.
In three starts, Paulino (6.59 ERA) has surrendered a home run in each, and 10 earned runs in 13 1/3 innings.
Three things to know about this game
• Porcello has pitched six or more innings in each of his last 19 road starts, marking the longest active streak in the majors (8-4, 3.30 ERA). Porcello last made a start against Houston on May 7, 2014.
• This season, the Astros are 8-3 against the AL East while the Red Sox are 7-4 vs. the AL West.
• Red Sox closer Craig Kimbrel notched his AL-leading 19th save with a 1-2-3 ninth in Friday's series opener. Right-handed hitters are just 2-for-59 (.034) against Kimbrel this season.
Christian Boutwell is a reporter for MLB.com based in Houston and covered the Red Sox on Friday. This story was not subject to the approval of Major League Baseball or its clubs.