Altuve has #ASGWorthy comeback vs. Marlins
Astros star left Sunday's game with foot discomfort, HBP in first inning Monday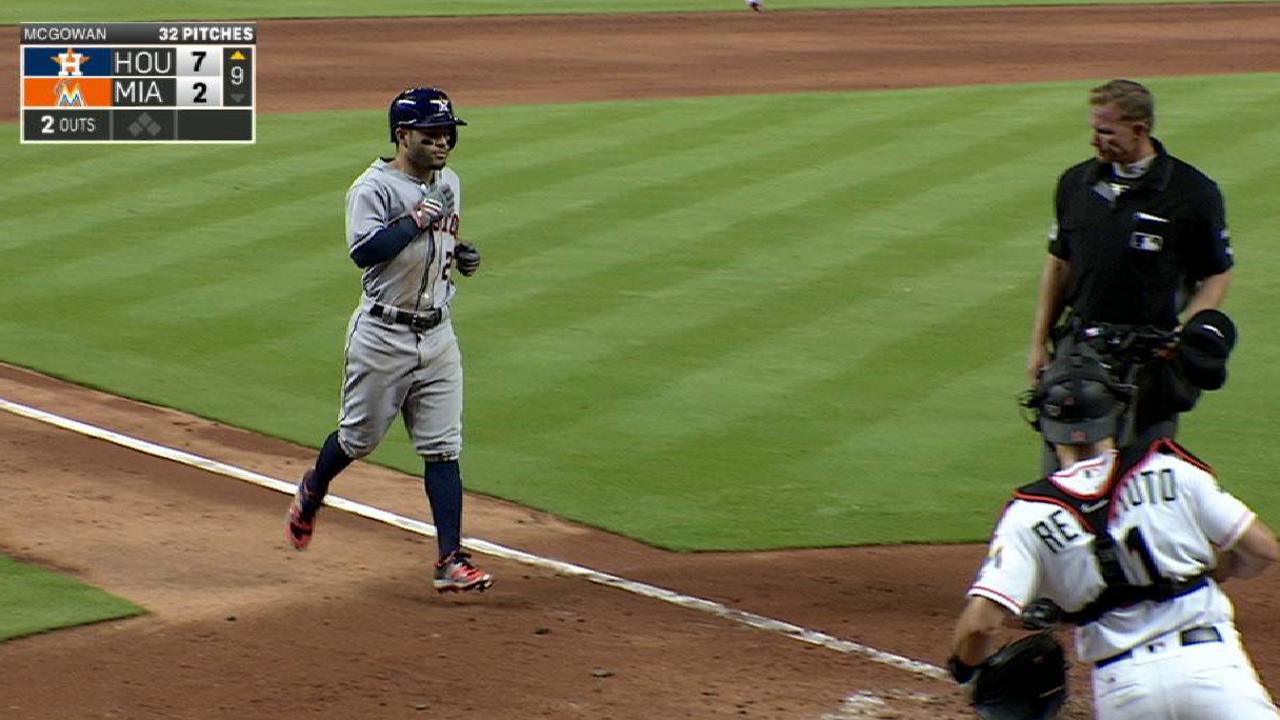 MIAMI -- Jose Altuve returned to the lineup in a big way during the Astros' 7-2 win against the Marlins, one game after exiting in the ninth inning Sunday with discomfort in his left foot.
The second baseman said there were no lingering effects from Sunday's issue, but encountered another problem almost immediately during Monday's game when he was hit on the left hand by a pitch from Marlins starter Dan Straily in the first inning. Straily's 91.8 mph fastball rode up and in on Altuve, who shook it off and remained in the game.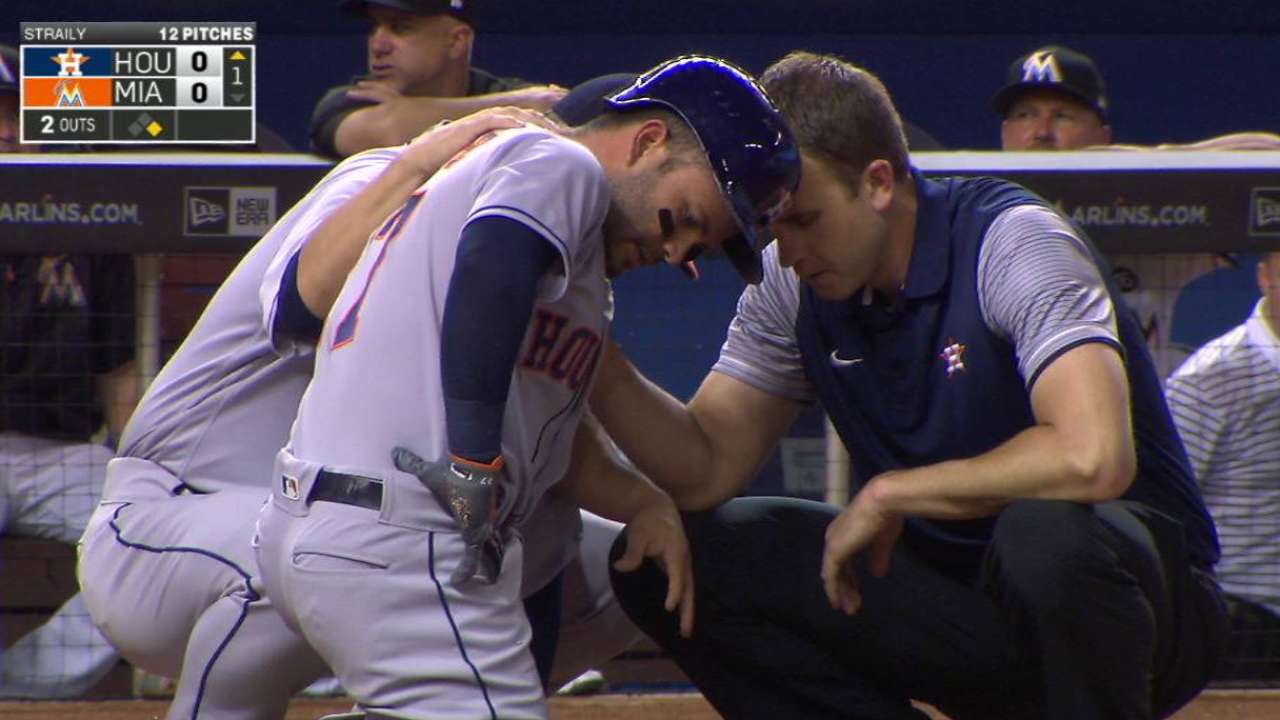 "[I was] just trying to tie him up a little bit," Straily said. "I made two pitches real similar, and he got out of the way of the first one. I'm trying to stay in there on the white line, if you will. These guys, they swing at that pitch.
"That one right there, you never want to injure anyone. The way he went down, I thought maybe it got his hand. I don't know exactly where it hit him. Friend or not friend, it doesn't matter. You still don't want to injure anyone. I asked him if he was OK. He said it was. That was it right there."
• Cast your Esurance All-Star ballot for Altuve and other #ASGWorthy players
"At the moment, I felt it, but then [the pain] went away and I was able to swing the bat," Altuve said.
Swing it he did. Altuve delivered a two-run single in the seventh and blasted a solo homer in the ninth that traveled a projected 425 feet, and had an exit velocity of 103 mph and launch angle of 32 degrees, according to Statcast™. The towering blast hit the lower part of the Marlins' home run sculpture in center field.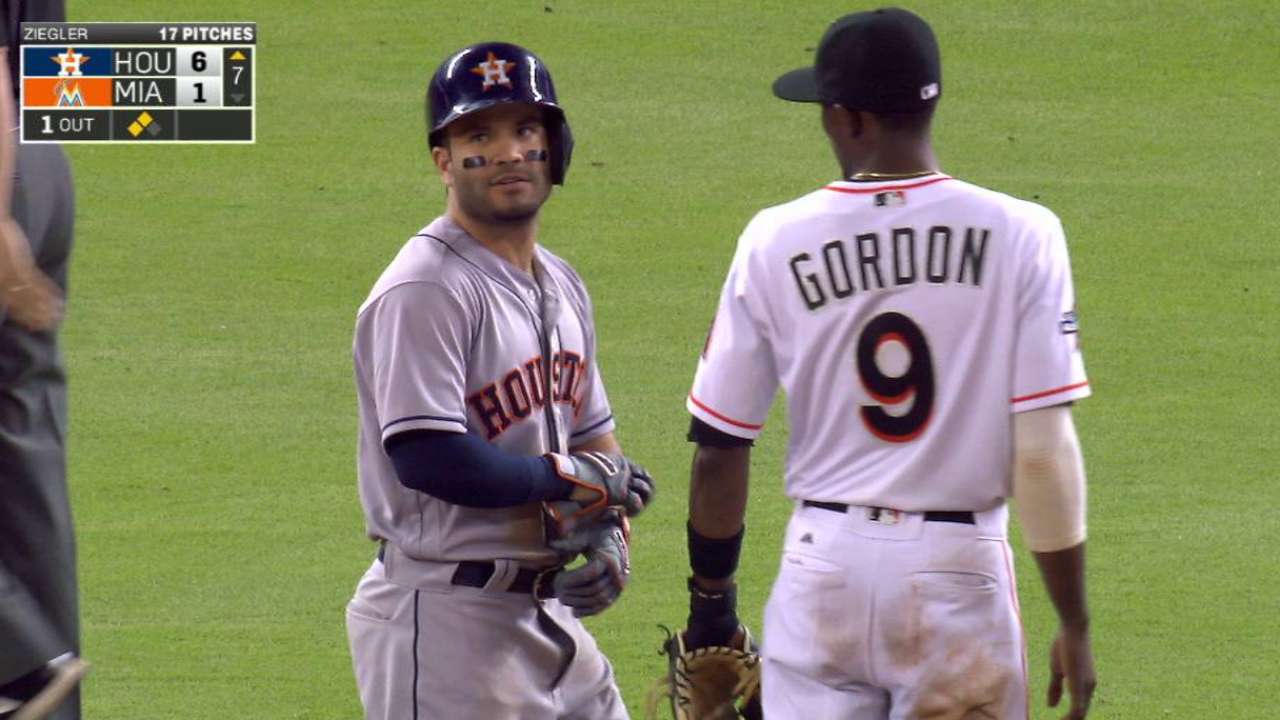 "I think it was a fastball up and in," Altuve said. "I hit it pretty good. You have to hit a ball good to hit it out of this park."
On Sunday, Altuve learned a valuable lesson: Sometimes, it takes a little while to break in a new pair of shoes.
Altuve had some difficulty getting used to the new pink cleats he wore in honor of Mother's Day, an issue that eventually forced him from action late in the nightcap of the doubleheader.
"I went from being really worried about it, to shaking my head a little bit," Astros manager A.J. Hinch said Monday. "When he got to first base, he looked uncomfortable. Turned out to be his pink shoes. They were a little too tight, making his foot fall asleep and not feel very good on the outside [of the foot]."
Altuve said he felt something rounding, and then returning, to first base in the ninth inning.
"I had a little, I wouldn't say cramp, in my foot," he said. "I don't know if I twisted it; it was something weird that I did that didn't let me run."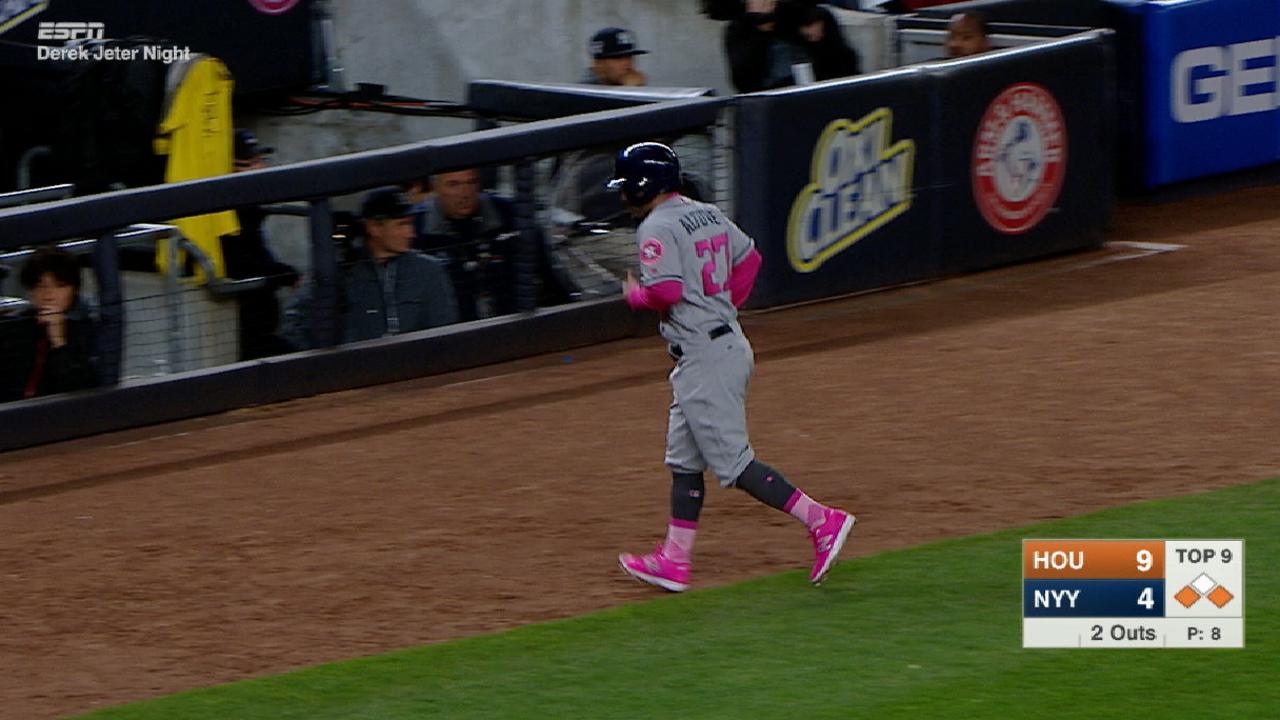 Hinch initially left Altuve in the game, but subbed for him once Altuve reached third base.
"When he went first to third and he was hobbling, I thought I'd left him in too long," Hinch said. "I put Marwin [Gonzalez] in right away. And as soon as [Altuve] got to the bench he was sort of dumbfounded as to why I took him out. He said all it was is that his shoes were too tight.
"I was glad it wasn't a calf or a hamstring or a quad, or anything like that."
Glenn Sattell is a contributor to MLB.com based in Miami. This story was not subject to the approval of Major League Baseball or its clubs.