Musgrove opens Interleague set in Miami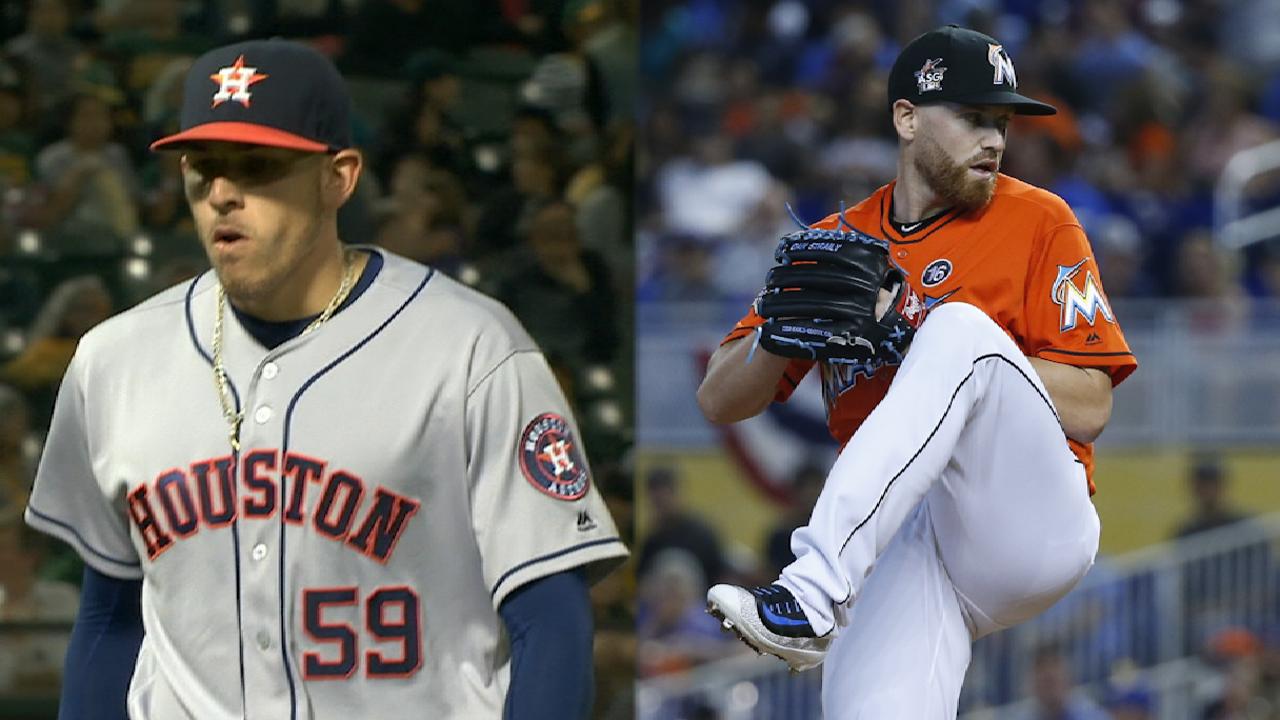 The Astros, who at 26-12 have the best record in baseball, feature one of the most potent offenses in the Majors, and on Monday night, they will face a Marlins starter who hasn't yielded many hits.
Dan Straily gets the nod for Miami in the series opener at 7:10 p.m. ET at Marlins Park in Houston's first visit to Miami since 2012. In his last six starts, Straily has not allowed more than four hits in any of them. The right-hander's WHIP is 1.08, and his K/9 rate is 8.8. What has troubled Straily, however, are walks. He averages 4.3 per nine innings.
This year, Straily has shown the ability to miss bats, ranking 44th among all Major League pitchers in swinging strikes. Of the right-hander's 631 total pitches, he has gotten 70 swinging strikes. Straily's swinging-strike percentage of 11.09 ranks 36th among pitchers who have thrown at least 400 pitches.
The Astros counter with Joe Musgrove, the 24-year-old right-hander who makes his eighth start.
Musgrove has 99 2/3 innings in the big leagues, including 37 2/3 this year. In two road starts, he's 1-0 with a 5.56 ERA, giving up seven earned runs in 11 1/3 innings with six strikeouts.
For the first time this season, Astros pitchers will hit with the game being played in a National League Park.
"Working on bunts has been the main priority," Musgrove said. "The swings we've taken have been real mellow off the tee, a few front flips - I haven't even seen any live pitching over the top. For me, the main thing is to make sure my body is ready to swing. Not taking those hacks or those repetitions with those certain muscles, it's real easy to pull something and stuff. I've been trying to get the muscles engaged and activated."
Things to know about this game:
• Miami experimented with several different batting orders, including having Dee Gordon bat ninth, the two-time All-Star second baseman was back in the leadoff spot for Miami on Sunday in the series finale with the Braves. The Marlins have hit Derek Dietrich or J.T. Realmuto in the leadoff spot with Gordon slotted ninth.
• The Astros don't have a lot of history against Straily, who appeared in four games for Houston in 2015. Jose Altuve, who is 2-for-9 in his career with an RBI and two strikeouts, has the most plate appearances versus Straily of any Houston batter.
• Astros outfielder George Springer extended his hitting streak to 13 games by hitting homers in his first two at-bats of Sunday's second game of a doubleheader at Yankee Stadium. He leads the Majors with five leadoff homers this year.
Joe Frisaro has covered the Marlins for MLB.com since 2002. Follow him on Twitter @JoeFrisaro and listen to his podcast. This story was not subject to the approval of Major League Baseball or its clubs.