MLB.com Columnist
Matthew Leach
Thor, Aroldis, McCullers embrace change
Statcast helps illustrate effectiveness of changeup for trio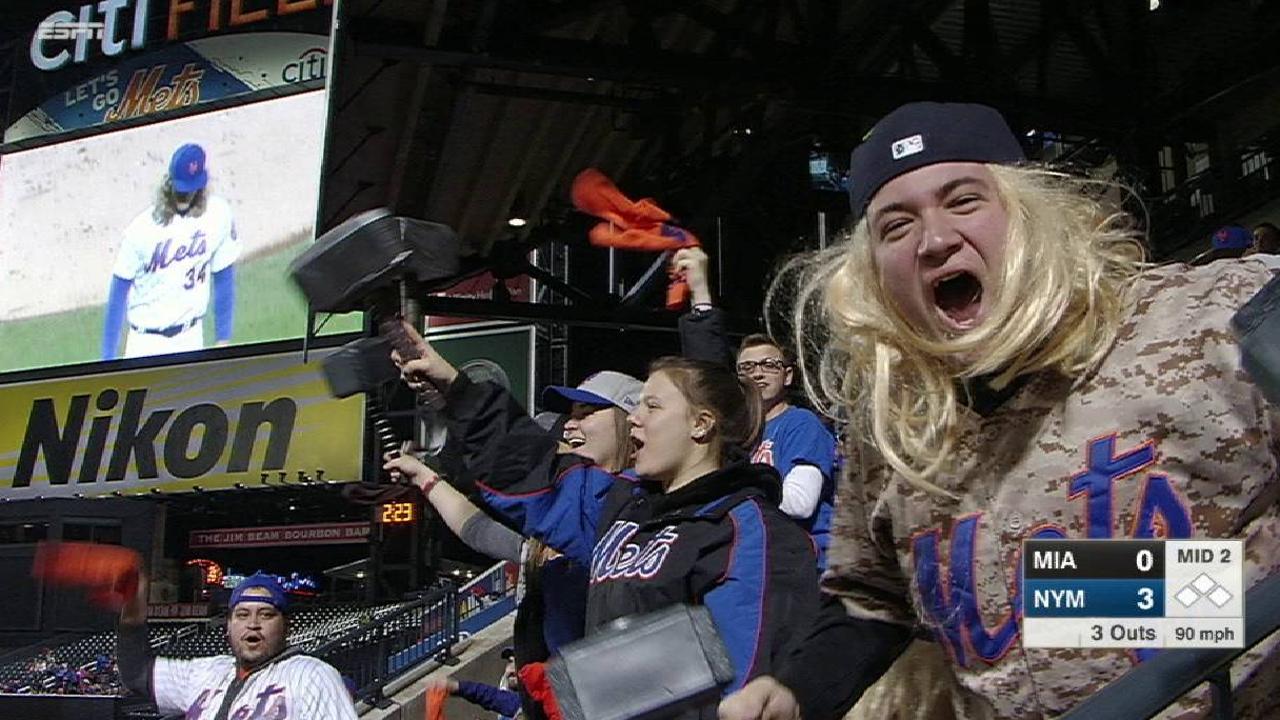 It's nearly as common a Spring Training refrain as the ubiquitous "best shape of my life," though it usually starts being uttered a couple of weeks later.
"I'm working on my changeup this year."
Sure, sure. And every hitter is going to be more selective about his strike zone this year, too.
This year, though? It seems a few of those guys really meant it. Some of the Majors' best pitchers are newly committed to throwing the cambio, and it's working out quite nicely. Here's a look at what Statcast™ can tell us about three of those refined and newly prominent offerings.
Noah Syndergaard
So this really isn't fair. Syndergaard, he of the 100-mph sinker, throws a 90-mph changeup. And it's just evil.
Naturally, Syndergaard throws the pitch harder than anyone else (90.1 mph on average, to be exact, with Stephen Strasburg next at 89.0). Now he's throwing it more often, as well. A year ago, Syndergaard threw changeups 11.1 percent of the time. In 2017, he's thrown 72 changeups out of 385 pitches -- 18.7 percent.
That makes sense, since Syndergaard is also throwing his sinker much more often. The two pitches go hand in hand. Goodness, do they. He has a 36-percent whiff rate on his change so far this year. That is, out of 72 times Syndergaard has thrown the pitch, batters have swung and missed 26 times. That's up from a solid but less-spectacular 22 percent last year, and it's the highest rate for any pitcher who has thrown at least 50 changeups in 2017.
The spin rate on the pitch is down a bit from last year (1,741 rpm vs 1,767), which is a good thing for a changeup, but it's also not a big change. The bigger difference is in location. Syndergaard is getting the pitch down out of the zone more than ever. In 2016, 23.5 percent of his changeups were in the bottom third of the strike zone, and 54.3 percent were down out of the zone. This year, 13.7 percent are in the bottom third of the zone, and a 69.9 percent are down out of the zone -- the second-highest percentage of any pitcher who has thrown at least 50 changes.
Syndergaard's changeup often serves as a chase pitch, a ball that starts in the strike zone and dives out of it. And hitters are chasing.
Aroldis Chapman
Long known fairly as a two-pitch pitcher, Chapman is working on changing that this year. In 2016, he threw 31 changeups all year, per Statcast™ -- about 3.2 percent of all pitches. In 2017, Chapman has already thrown 16, for 14.3 percent of all of his pitches. That, in itself, is newsworthy -- he's already halfway to his total from last year.
But unsurprisingly, it's also been good. Chapman's change is unusual. It's one of the fastest-spinning changeups in the game, which generally is not good news. But he uses it as an effective foil to his 100-plus-mph heat.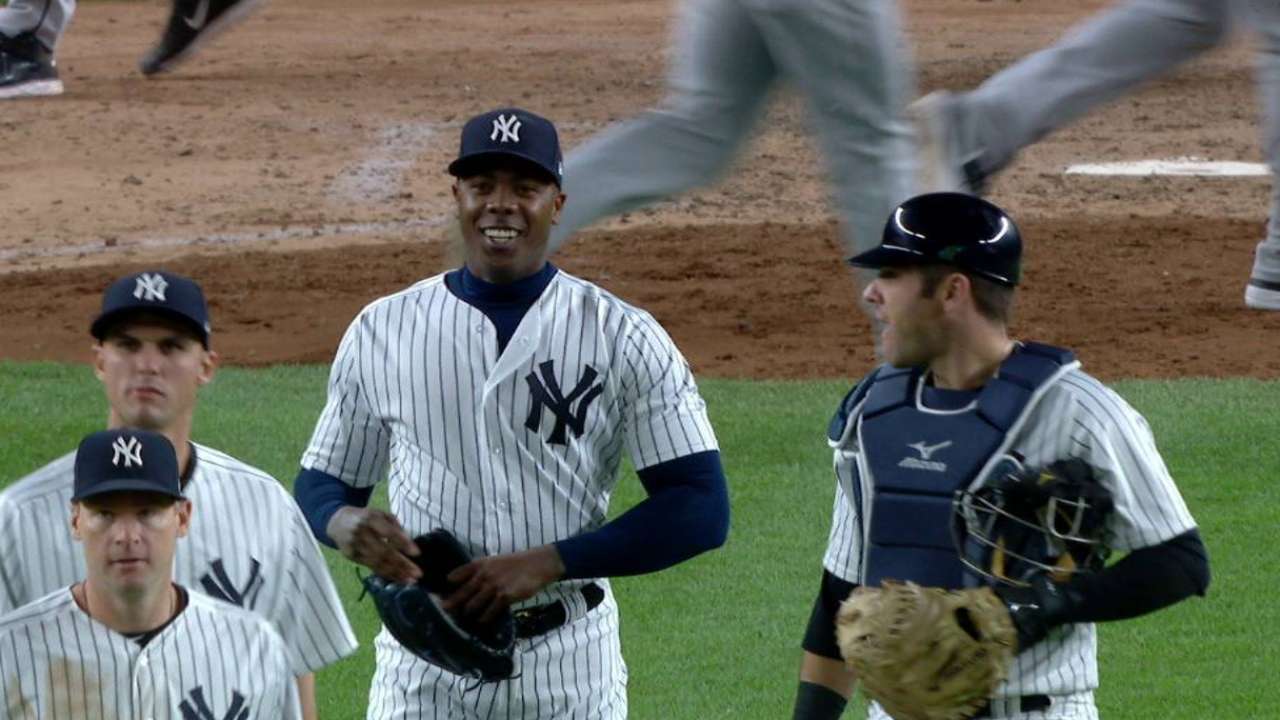 Unlike Syndergaard, Chapman has succeeded partly by getting his changeup back in the strike zone. Last year he was pretty conventional with it, throwing about half of his changeups down out of the strike zone. This year, 10 of them (62.5 percent) have been in the middle or bottom third of the zone.
And of those 10? Six have been called strikes. If you're geared up for the fastball or the slider, that change can be baffling. Last year, Chapman got three called strikes on changeups all year. This year, he's gotten seven.
Lance McCullers Jr.
McCullers also has turned to the change more, and with more success, though it hasn't been a swing-and-miss pitch. The bigger change for him is the result when the ball is put in play.
A year ago, opposing hitters throttled McCullers' change. They put it in play 20 percent of the time (24 out of 120) and hit .458 against it, slugging .958. This year, they're once again putting it in play just about 20 percent of the time (six out of 31), but the results are night and day. They're batting .167 and slugging .167, too. One measly single.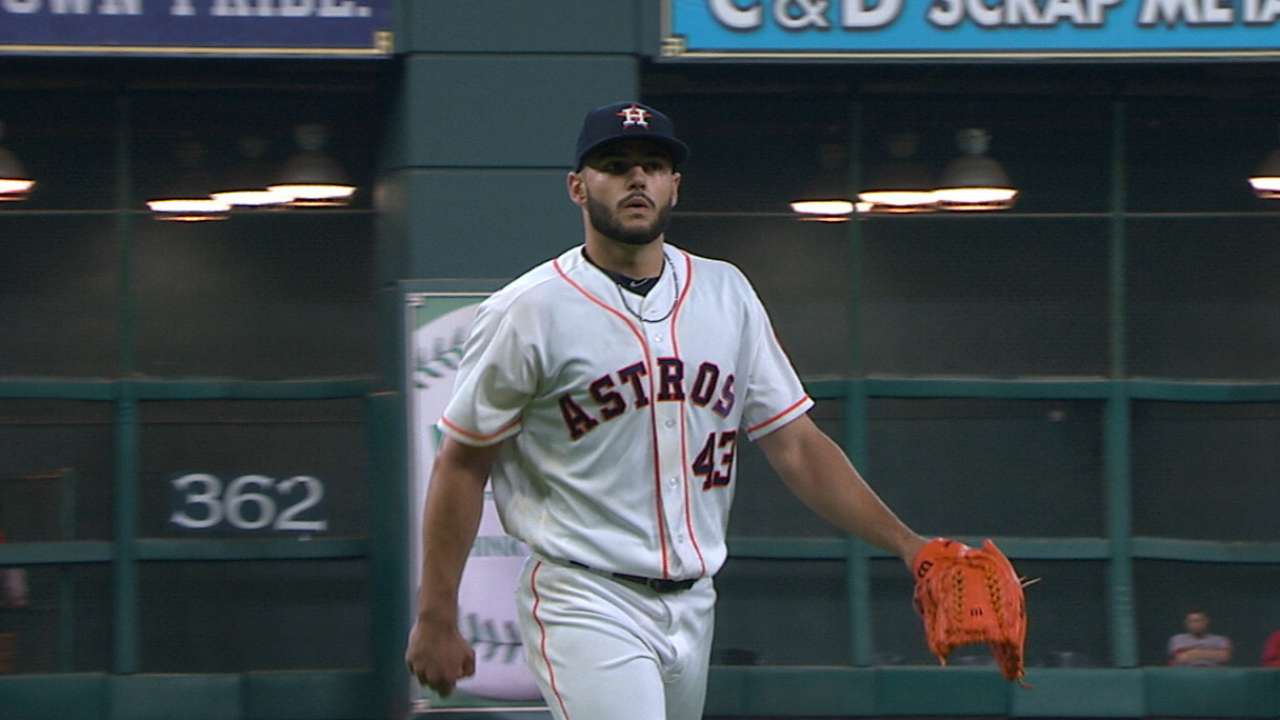 Like Syndergaard, McCullers is getting the pitch to dive out of the zone. He's gone from 53.8 percent of his changeups being out of the zone low last year to 67.9 percent this year. But where that's led to whiffs for Syndergaard, it's led to takes for McCullers. For a third pitch, that's fine. It can help get hitters off of his fastball, give a third look to go along with his fastball and curve, and make it harder for hitters to sit on those changeups that are in the zone.
Matthew Leach is an executive editor for MLB.com. Follow him on Twitter and read his columns. This story was not subject to the approval of Major League Baseball or its clubs.