Marisnick's work coming to fruition at plate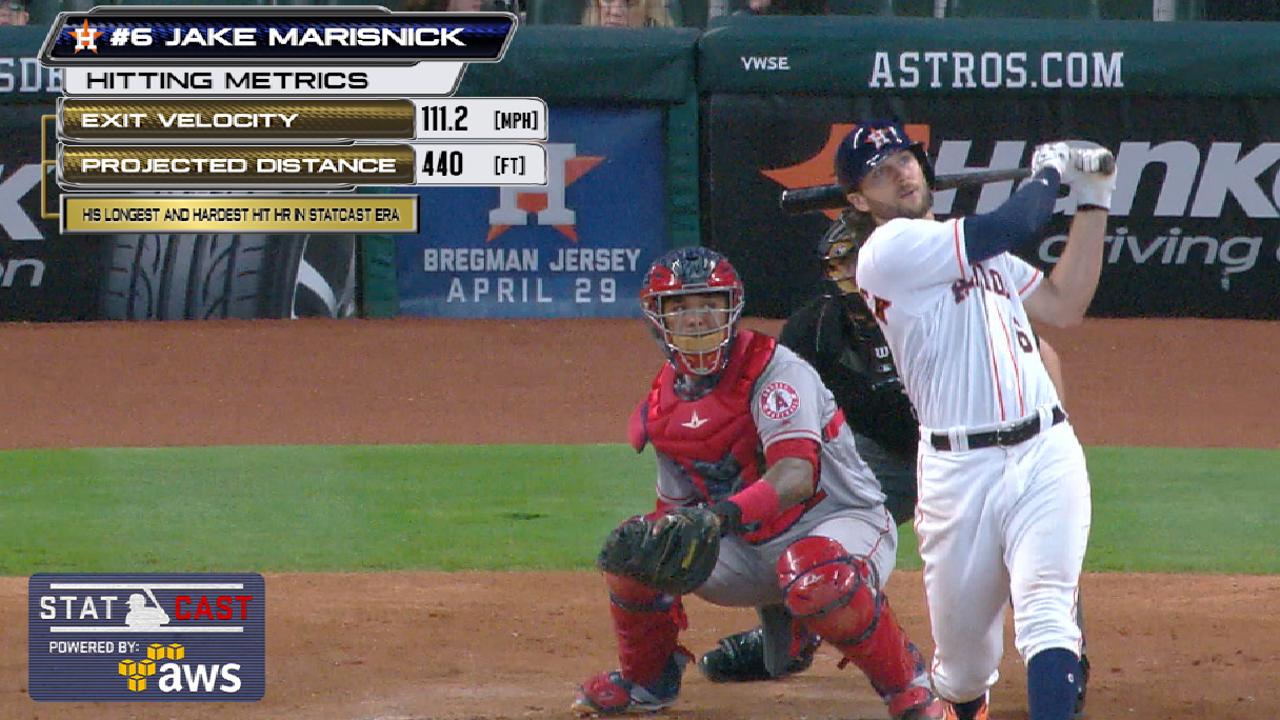 HOUSTON -- Jake Marisnick has played in all but two of the Astros games this season, though much of his action has been as a defensive replacement. One of the premier defensive outfielders in baseball, Marisnick worked hard in the offseason and spring to have the bat to match.
Marisnick's second home run of the season -- a solo blast in the fifth inning off Matt Shoemaker -- was the difference in the Astros' 2-1 win over the Angels on Thursday afternoon at Minute Maid Park, and Marisnick hopes it's the start of something bigger. He is hitting .313 with a .450 on-base percentage in 20 plate appearances this year.
"The biggest thing is staying ready," Marisnick said. "Not getting everyday at-bats, I'm finding a way to be ready and help the team when I get in there. I feel like I'm doing a good job with that, and it's a fun one to be a part of right there."
Marisnick put a mighty swing on Shoemaker's pitch, sending it 440 feet at 111.2 mph off the bat, according to Statcast™. That's the farthest and hardest homer by him in the Statcast™ era. His previous high for exit velocity was 106.7 mph on April 12, 2015. It was a stark contrast from his first homer of the season, a 331-foot shot to left field on April 9.
"He's just taking cleaner paths at the ball," Astros manager A.J. Hinch said. "His swing has been better, he's been on time a little bit more, his zone control has gotten a little bit better. He's taken every advantage of the opportunities that I provide him with. Everybody gets excited when it's Jake Day. There's an energy level to him, and he finds a way to be in the middle of it."
Marisnick didn't get the results he wanted at the plate in Spring Training, which was both disappointing and frustrating considering the work he put in.
"You get into Spring Training with a plan and what I worked on all offseason," he said. "You've got to understand it's not going to show up right away. You've got to stick with it and go through the struggles. I've tried to do it before, but I never really stuck with it, but to have an opportunity to stick with it all spring and not change, I feel really comfortable up there right now."
Whether it's his mental approach or mechanical adjustments, Marisnick will take the results.
"There's so much that I worked on and it's starting to come to fruition," he said. "It's starting to feel pretty good."
Brian McTaggart has covered the Astros since 2004, and for MLB.com since 2009. Follow @brianmctaggart on Twitter and listen to his podcast. This story was not subject to the approval of Major League Baseball or its clubs.