McCullers looks to bounce back vs. Halos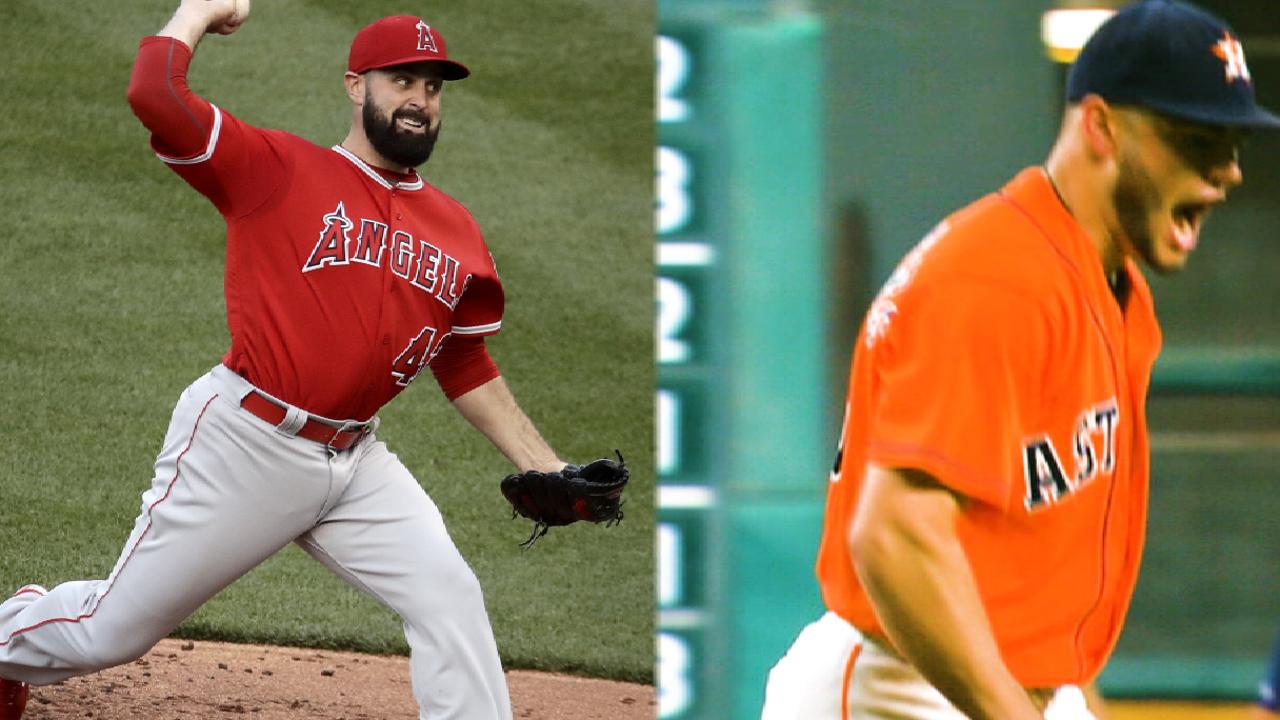 The Astros and Angels will close out their four-game series on Thursday afternoon, with right-handers Lance McCullers Jr. and Matt Shoemaker taking the mound in the finale at Minute Maid Park.
McCullers (1-0, 4.67 ERA) has 23 strikeouts in 17 1/3 innings in three starts for the Astros this year. He dominated the Angels last year, going 1-0 with a 1.32 ERA in two starts with 16 strikeouts in 13 2/3 innings.
McCullers lasted only 4 1/3 innings in his last start Friday in Oakland, allowing eight hits and five runs in 4 1/3 innings.
"His second start this year was really impressive, using all his pitches and fastball command; he pitched pretty efficiently," Astros manager A.J. Hinch said. "He struggled last outing with all his pitches and had to gut his way through half a game. His fastball command is a tick better than last year, and his curveball is always going to be there for the most part. We've seen vintage Lance. When he's locked in and pitching ahead, the hitters are very defensive. They don't have a comfortable at-bat against him. When he's spraying the ball a bit, they can pick their poison on what they want to hit."
Shoemaker has logged a 6.14 ERA over his first three starts of 2017. He took a no-decision in his most recent outing after allowing two runs on five hits over 5 1/3 innings against the Royals on Saturday.
"He's throwing the ball a lot better than some things were indicating," Angels manager Mike Scioscia said. "He's not that far off. I think he's working on his release. He's sensitive to command, and at times he hasn't had that command early. But he showed it as the game went on in his last start."
In nine career games against Houston, including seven starts, Shoemaker is 2-3 with a 3.59 ERA.
Three things to know about this game
• Astros shortstop Carlos Correa said he expects to be in the lineup Thursday. Correa missed his third consecutive game Wednesday with a bruised right hand, suffered when he was hit by a pitch Saturday. Correa said he took 25 swings in the batting cage earlier Wednesday -- both off a tee and from flips -- and noticed marked improvement with the hand.
• McCullers couldn't keep the ball on the ground in his last outing, with 11 of the 15 batted balls against him being either a line drive or a fly ball, according to Statcast. That 73.3 percent rate is the righty's highest in a single game in his career (a minimum 10 batted balls).
• One matchup worth watching Thursday will be Shoemaker versus Astros second baseman Jose Altuve, who has batted .400 (8-for-20) with a double, two home runs, two RBIs and two walks in 23 career plate appearances against Shoemaker.
Maria Guardado covers the Angels for MLB.com. This story was not subject to the approval of Major League Baseball or its clubs.