Reddick returns to Oakland for series opener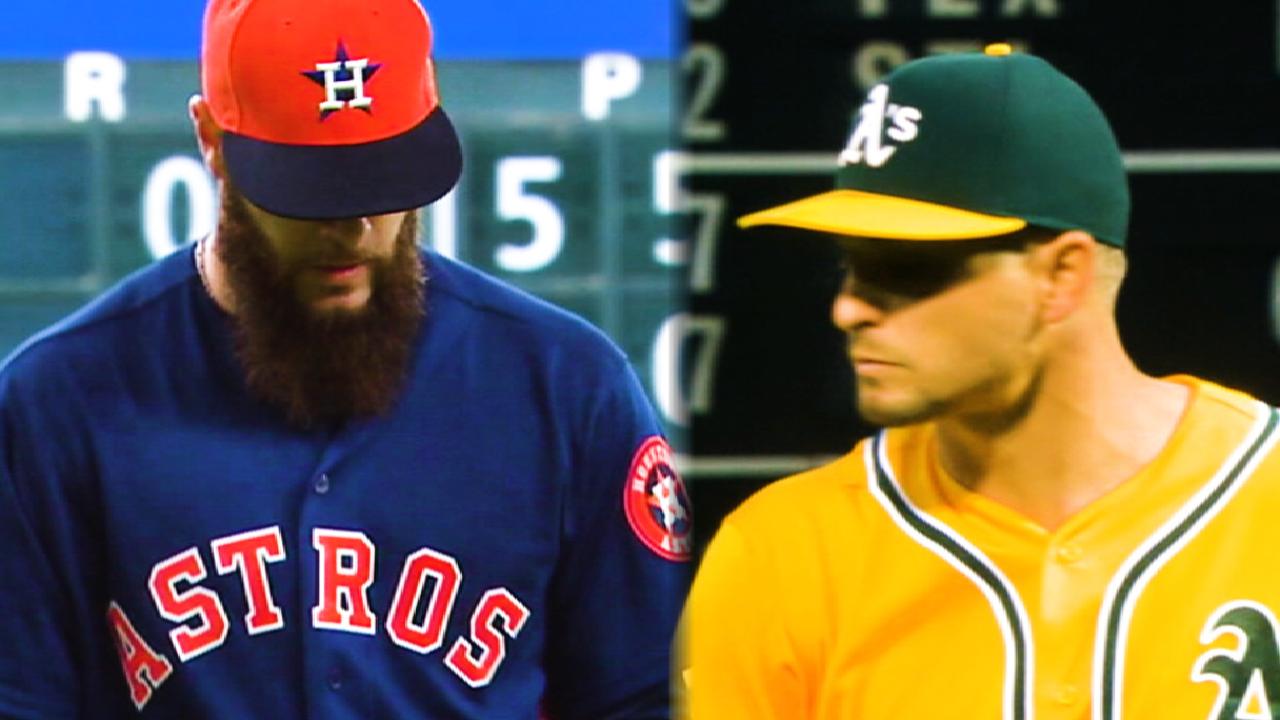 Astros outfielder Josh Reddick makes his much-anticipated return to the Coliseum on Friday for the start of a three-game series against his former A's club. On the mound, Houston lefty Dallas Keuchel will oppose Kendall Graveman in a matchup of aces.
It will mark Reddick's first time back in Oakland since being traded with starter Rich Hill to the Dodgers last summer, with the A's acquiring pitchers Jharel Cotton, Frankie Montas and Grant Holmes in return. Reddick, who signed a four-year, $52 million deal with Houston in the winter, was a mainstay in right field for the A's since 2012.
"It'll be a little different," A's manager Bob Melvin said. "Other than his short time in Boston, I've never seen him in a different uniform than ours, so it'll be interesting to see him in those colors. It's going to take a little while for it to sink in, but next thing you know, we play 19 games against them, so it won't take too long to get accustomed to seeing him in that uniform."
The longtime A's fan favorite takes a .333 average into the series opener, which has no shortage of storylines.
Keuchel (1-0, 0.64 ERA) has two terrific starts under his belt, becoming the fourth pitcher in Major League history to go at least seven innings and allow two hits or fewer in each of his first two games of a season, joining Nolan Ryan (1979), Tom Phoebus (1970) and Lon Warneke (1934).
Graveman (2-0, 2.08 ERA) has been no slouch either. He held the Angels to two runs and six hits in six innings on April 3 and was better against the Rangers on Saturday, allowing one run and two hits in seven innings.
"They've gotten off to a nice start," Astros manager A.J. Hinch said. "Graveman's always pitched well against us (3-2, 4.46 ERA). ... We're facing what looks like their three best [starters] and they're going to match up against our top three in the rotation."
Things to know about this game
• Keuchel is 2-3 with a 2.78 ERA in 14 games (12 starts) in his career against the A's, including a complete game in 2014.
• Astros second baseman Jose Altuve is a career .324 hitter against the A's, but he batted .288 against them last year with a .350 on-base percentage.
• The A's will play 23 of their first 26 games (the month of April) against American League West competition. They went 3-4 against division clubs (Angels, Rangers) to start the season before a three-game set in Kansas City prior to coming home to face the Astros.
Jane Lee has covered the A's for MLB.com since 2010.

Brian McTaggart has covered the Astros since 2004, and for MLB.com since 2009. Follow @brianmctaggart on Twitter and listen to his podcast

This story was not subject to the approval of Major League Baseball or its clubs.