Laureano soaking up big league experience
Astros, Hinch taking note of prospect's enthusiasm, drive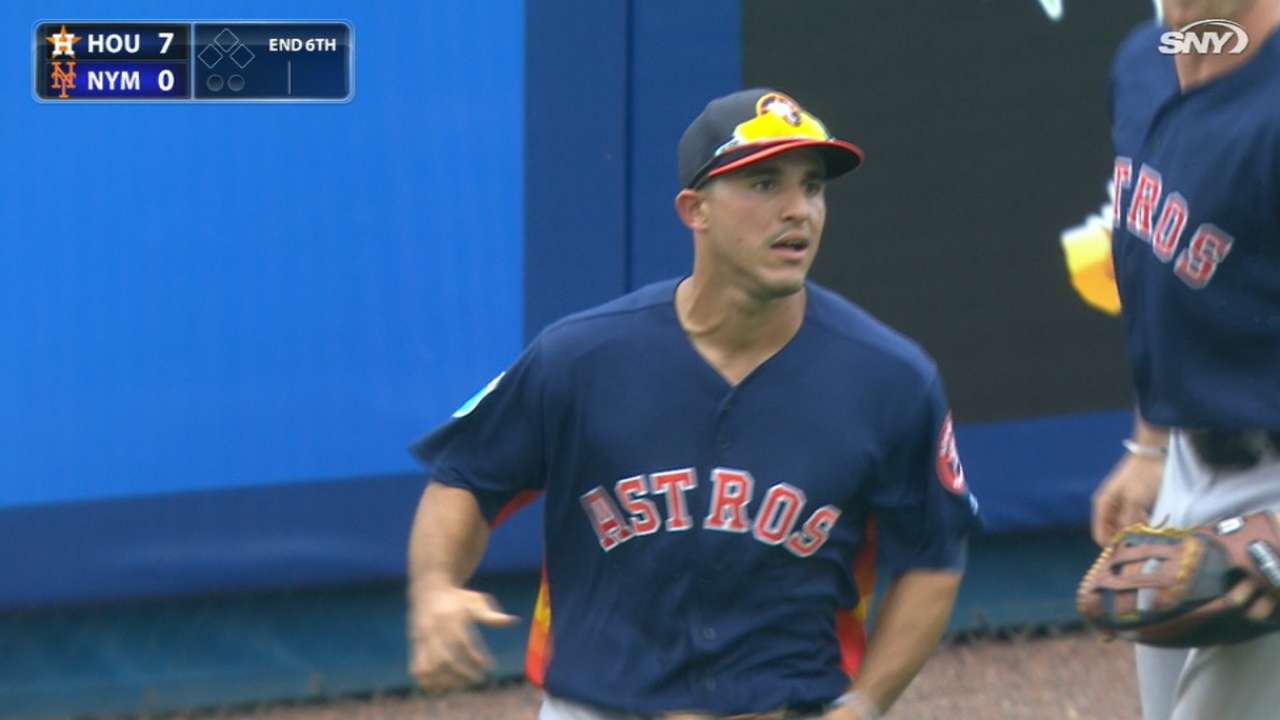 WEST PALM BEACH, Fla. -- Ramon Laureano wasn't a known prospect as a teenager in the Dominican Republic, which meant he had to carve his own unique path to the United States.
That meant entering Reviving Baseball in Inner Cities (RBI), a Major League Baseball youth outreach program designed to increase participation and interest in baseball among underserved kids. That meant leaving his family behind and taking a scholarship to attend a high school on Long Island. And that meant playing junior college baseball at Northeastern Oklahoma A&M, where he finally began to turn some heads.
The Astros drafted the outfielder in the 16th round of the 2014 MLB Draft. He had a breakout season this past year, hitting a combined .319 with 28 doubles, seven triples, 15 homers, 73 RBIs and a .428 on-base percentage at Class A Advanced Lancaster and Double-A Corpus Christi. After a good showing at the Arizona Fall League, the No. 8 Astros prospect earned an invite to big league camp as a non-roster player.
• Spring: Info | Tickets | Schedule | Gear
"I learned a lot about myself last year," Laureano said. "For me, it's over. That was last year. This year, I've got new goals, new things to take care of. Just try to do better than last year."
Laureano, 22, is keeping those goals close to the vest, but they're driving him. While growing up in the D.R., Laureano didn't pour himself into baseball like some kids did. His parents wanted him to focus on his studies. He took English lessons after school, and he now speaks the language confidently.
"I had to leave school and practice in the morning and the afternoon, but I was not going to do that," Laureano said. "My parents wouldn't let me. I wasn't going to do that anyway. I wanted to get a scholarship, and when I set that goal when I was 14 or 15, two months later that came up -- that scholarship to come to the United States."
While the top players in the D.R. were competing in team's academies as teenagers and on the verge of signing with teams, Laureano was playing for the RBI program. During his time there, he got word through his travel-team coach that Upper Rim Christian High School in Dix Hills, N.Y., was in need of a shortstop that could play the outfield.
"I was the guy," Laureano said.
He arrived in the U.S. in February of his sophomore year, and he lived with seven different host families over the course of his final 2 1/2 years of high school. He admits he hated it, but looking back, it's an experience that helped shape him.
"I just learned from it and grew from it," Laureano said.
And Laureano is still learning. On a recent morning, he was sitting at two-time batting champion Jose Altuve's locker, talking about hitting. He's picked the brains of Carlos Correa and Carlos Beltran, and he recently took a trip to the beach with Altuve, Jake Marisnick, Alex Bregman and Marwin Gonzalez.
"I have it in my mind [that] I'm trying to be the best I can be," Laureano said. "That's all I'm thinking right now. That's my focus, and I'm never going to lose that focus. I'm thinking about my goal in my head, just come every day and work hard and smart at the same time."
Astros manager A.J. Hinch has noticed.
"He's a sponge when it comes to wanting to find little ways," Hinch said. "He's always talking to older players, always talking to coaches, always listening, always watching the game. There's a burn inside of him that he's very driven. ... He's very talented and fun to have around."
Brian McTaggart has covered the Astros since 2004, and for MLB.com since 2009. Follow @brianmctaggart on Twitter and listen to his podcast. This story was not subject to the approval of Major League Baseball or its clubs.