Humbled Bagwell lauded by teammates, fans
Hall of Fame electee celebrated at Minute Maid Park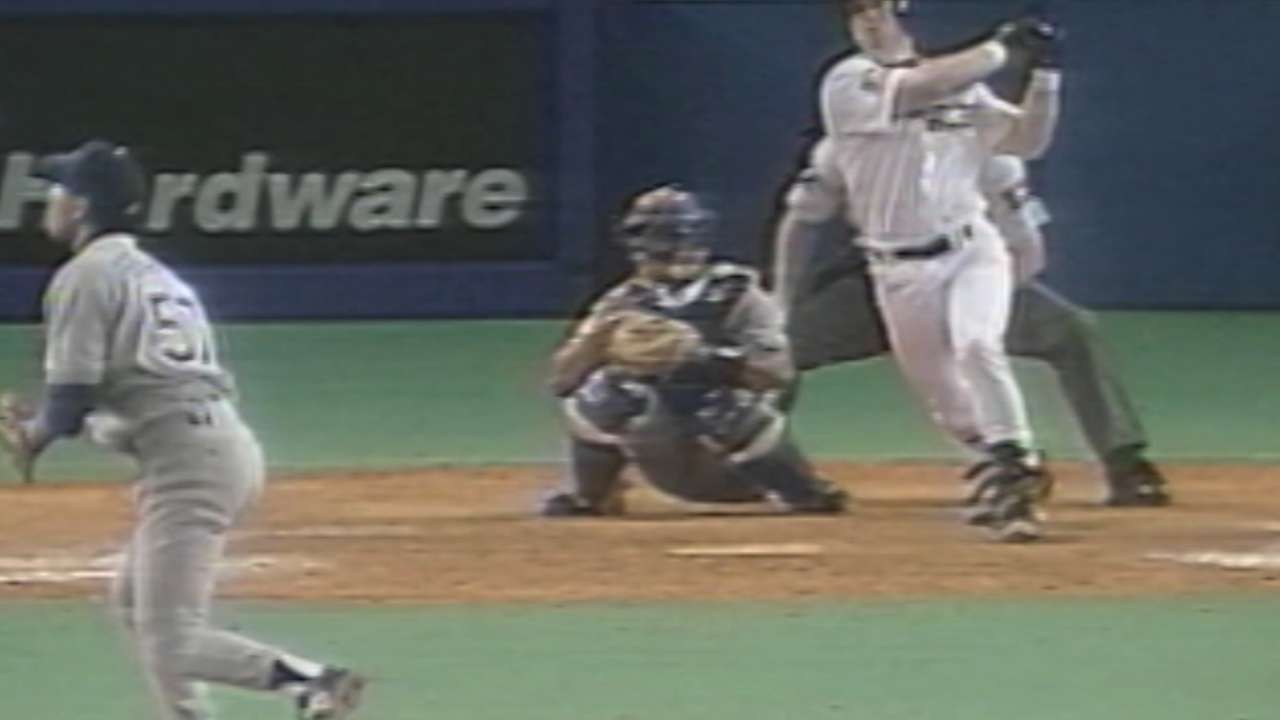 HOUSTON -- Being elected into the Hall of Fame still hasn't sunk in for Astros slugger Jeff Bagwell. That much was clear on Monday afternoon when he addressed the media at Minute Maid Park prior to a pep rally in which former teammates and managers took turns praising him on stage.
A few hundred Astros fans packed Union Station to hear Bagwell talk, but not before former Astros players Craig Biggio, Brad Ausmus and Lance Berkman and former manager Phil Garner got behind the microphone to swap Bagwell stories. Former teammates Andy Pettitte and Brandon Backe were also there, along with his first big league manager -- Art Howe.
"To Jeff," said Biggio, who was inducted into the Hall of Fame in 2015. "Welcome to the club, happy to be your teammate for eternity."
While his former teammate struck the right chord, Bagwell is still trying to find the right words to put it all in perspective. Bagwell did take time when the announcement was made on Wednesday to recall climbing onto the roof of his house with his dad as a kid growing up in Connecticut so they could get better reception to watch the Red Sox play.
He idolized Red Sox slugger Carl Yastrzemski, and said Monday he's lobbying for Yastrzemski to make a rare appearance in Cooperstown, N.Y., when Bagwell gets inducted on July 30 along with Tim Raines, Ivan Rodriguez, former executive John Schuerholz and former Commissioner Bud Selig.
What a special night. #BagwellHOF pic.twitter.com/v5XXMdsy3E

— Houston Astros (@astros) January 24, 2017
Bagwell's 89-year-old father, Robert, was a huge Ted Williams fan, so they lived and died with the Red Sox.
"My father got to meet him and hang out a little bit with him, and for me it was the same with Yaz," he said. "And I got the same opportunity. That's all we talked about in my house. It was Red Sox, and that's it. You root for the Yankees? You wanted no part of those people. That's just the way it is on the East Coast. Certainly, I didn't have any clue what the Houston Astros were, except for one dude. Everybody knew who Nolan Ryan was."
It's the memories of fathers and sons that strike Bagwell nowadays. He wonders whether families in Houston perhaps have similar stories of watching him play for the Astros.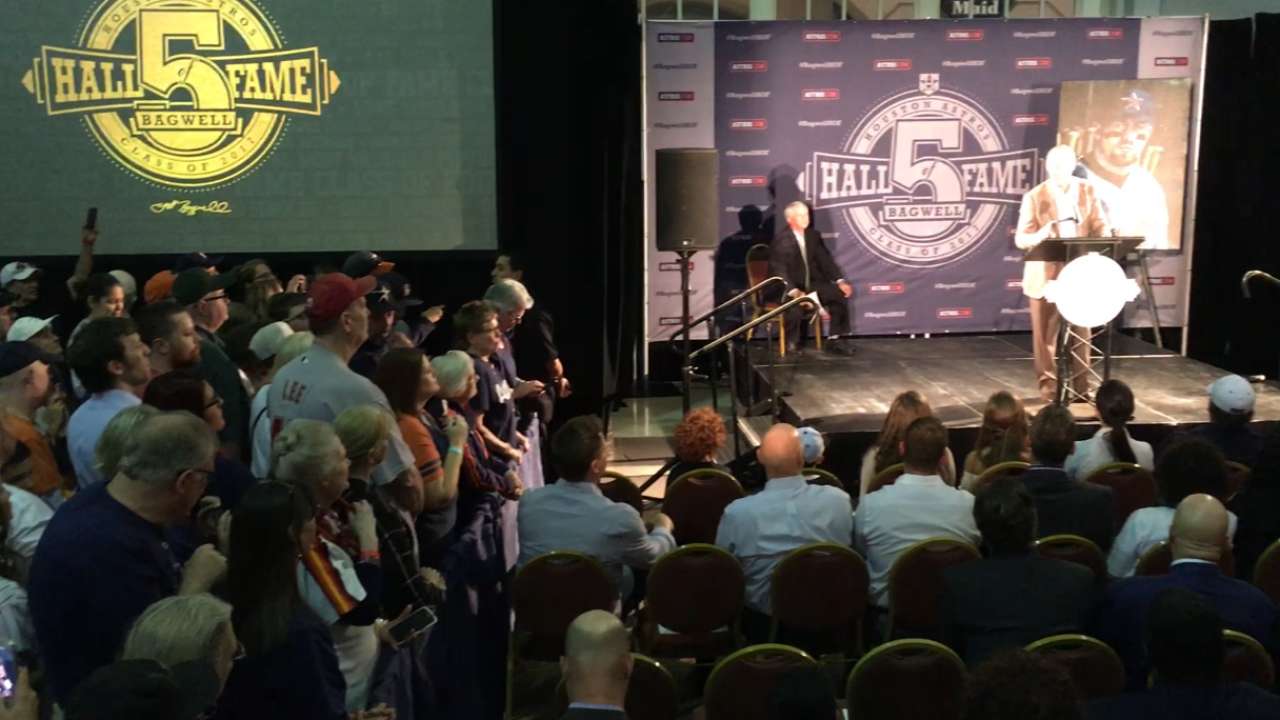 "What I've learned through this process is maybe we did some things here that were pretty good that kept families hanging out at 7:05 just watching us play," he said. "Sometimes we don't appreciate it. With all the stuff that's gone on the last few weeks, and especially the last four days, it's just something I treasure and I really didn't think that much about myself or whatever. I just played baseball."
Bagwell did that very well, hitting .297 with 2,314 hits, 449 homers, 1,529 RBIs, 1,517 runs scored and a .408 on-base percentage in 15 seasons (1991-2005) with the Astros. He just returned from a whirlwind trip to New York and will now see his life settle down for a few months.
"I'm really cool with that," he said. "It's been crazy, but I'm excited. Shoot, we've been traveling all day, so it's just fun to be here."
Jeff Bagwell, Hall of Famer. #BagwellHOF pic.twitter.com/bZsB14GBZq

— Houston Astros (@astros) January 23, 2017
At the podium on Monday, teammates heaped Bagwell with praise. Politicians presented him proclamations and gifts -- putting Bagwell in the kind of spotlight with which he's not comfortable.
"To be honest with you, I'm overwhelmed," he said.
Fans chanted Bagwell's name loudly on several occasions, showering him with adoration.
"You guys are my family," he told them. "Nothing but straight class, and I could not be more proud to wear this hat."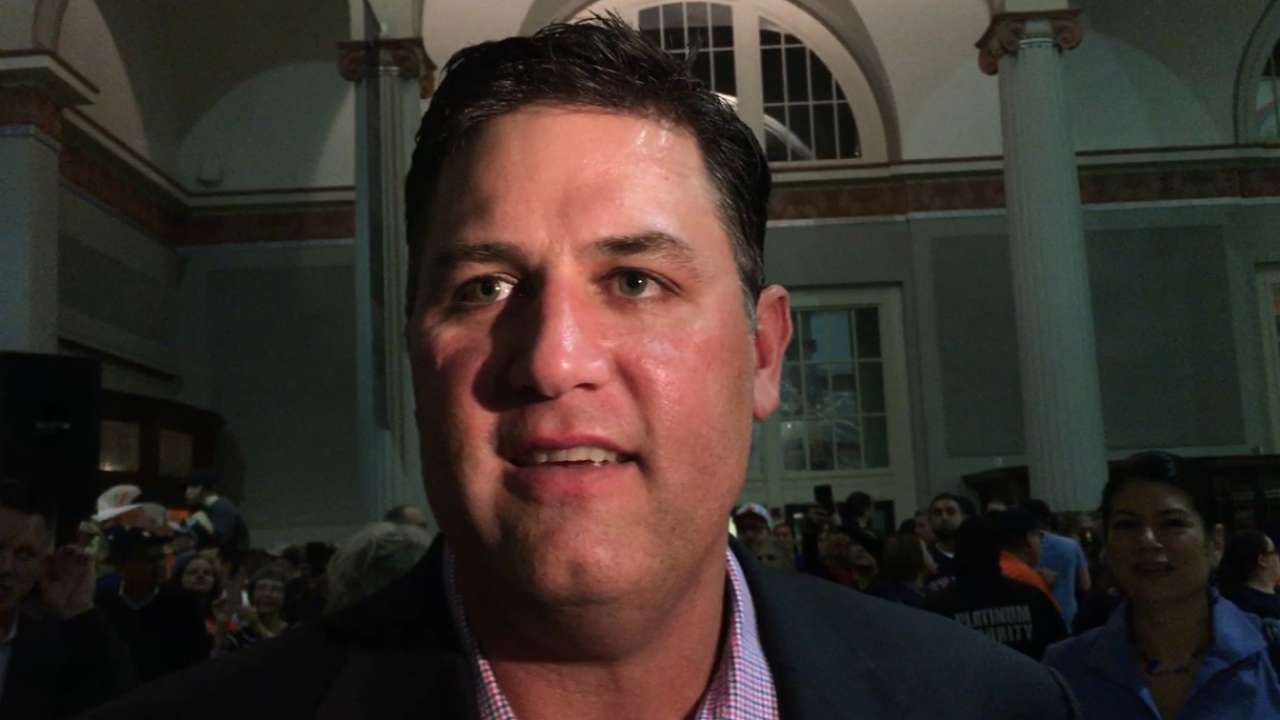 Garner praised Bagwell as a leader on and off the field. Berkman told the story of how a young Bagwell showed him the right way to play the game. Ausmus, now the Tigers' manager, said that Bagwell was the complete player.
"I hope you enjoy that hot summer day in Cooperstown," Ausmus said.
Brian McTaggart has covered the Astros since 2004, and for MLB.com since 2009. Follow @brianmctaggart on Twitter and listen to his podcast. This story was not subject to the approval of Major League Baseball or its clubs.