Ryan's Astros deal reverberated across MLB
Strikeout king's arrival in Houston was crucial benchmark for club, players
Before bidding adieu to the Hot Stove season, we asked our 30 beat reporters to look back at their club's past and answer the following question: Who is the best free-agent signing in the team's history?
We narrowed the choices with the following parameters: The signings had to be multiyear contracts, to exclude fluky one-year deals and to focus on players who got real commitments. And contract extensions don't count. Only instances when every team in the league had a chance to bid on the player were allowed, including international free agents who received Major League contracts.
HOUSTON -- When Nolan Ryan signed a four-year, $4.5 million contact with the Astros before the 1980 season -- making him the first player in MLB history to earn more than $1 million in one year -- it sent shockwaves through the baseball world.
Ryan's signing opened the door for rising salaries throughout the 1980s, and his tenure in Houston was a rousing success on the field and at the ticket office, making him the No. 1 free-agent signing in Astros history.
The Hall of Famer played nine of his 27 seasons with the Astros, going 106-94 with a 3.13 ERA in 282 starts while anchoring the rotation of Houston's first two playoff teams in 1980 and '86. Along the way, he threw his record-breaking fifth no-hitter with the Astros, broke Walter Johnson's all-time strikeout record and won League ERA titles in '81 and '87.
Ryan pitched five seasons -- and tossed a pair of no-hitters -- with the Rangers after his Astros career ended in 1998, but he cemented himself as a franchise legend during his time in Houston.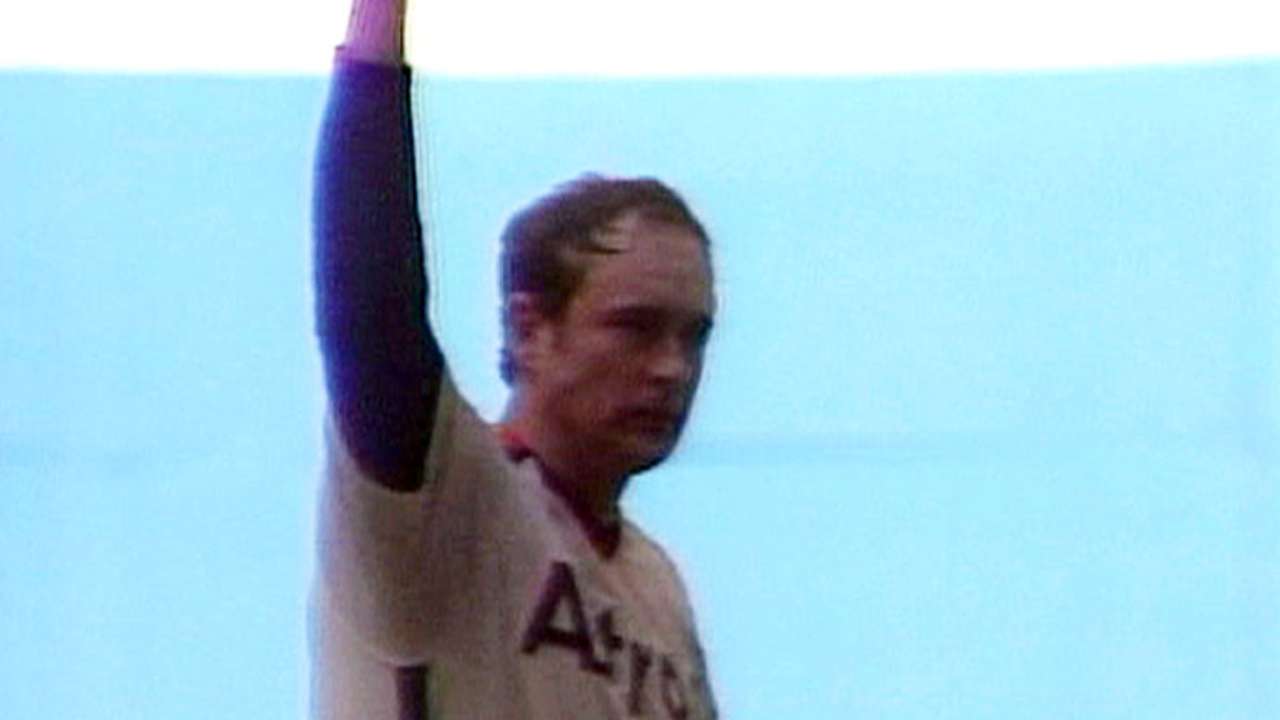 "Obviously, it meant a great deal to the club from the standpoint of Nolan's subsequent performance and also from a standpoint of interest and fan appeal," said Tal Smith, who was the Astros' general manager when Ryan was signed in November 1979. "I think he had great value, plus his overall charisma, his leadership in the clubhouse and obviously his superb pitching ability. From that standpoint, it was an instrumental and very important even in the history of the club."
Smith said Houston was a desirable landing spot for the native-Texan in free agency because his hometown of Alvin is 25 miles to the south. Ryan's agent, Dick Moss, reached out to former owner John McMullen in an effort to work out a deal, setting a benchmark.
"We had a new owner in John McMullen and Dick Moss, who had been Marvin Miller's No. 2 guy in the Players' Association and a very adept agent," Smith said. "I think Houston was one of Nolan's preferences as a landing spot with the hometown aspect of it, and Moss cultivated a relationship with John McMullen, and I think obviously to his advantage and Nolan's advantage."
Smith had just signed ace pitcher J.R. Richard to a $200,000 deal, so Ryan's deal ruffled the feathers of Richard and his agent, Tom Reich. The Astros renegotiated Richard's deal to include vesting performances bonuses, but Richard suffered a stroke halfway through the 1980 season and didn't pitch again.
Honorable mentions
• Jeff Kent: The 2000 NL Most Valuable Player signed a two-year, $17.5-million deal prior to the '03 season, moving future Hall of Famer Craig Biggio temporarily away from second base. Kent batted .293 with 49 homers and 200 RBIs in two years in Houston, and he hit a walk-off homer in Game 5 of the 2004 NL Championship Series to put the Astros within a game of the World Series.
• Andy Pettitte: The lefty signed a three-year, $31.5-million deal with Houston prior to the 2004 season, setting the stage for close friend and former Yankees teammate Roger Clemens to come out of retirement and join him in H-town. Pettitte had season-ending surgery late in '04, but he helped anchor the Astros' World Series rotation a year later.
• Carlos Lee: Say what you will about the six-year, $100-million deal -- still the largest contract in Astros history -- the burly slugger signed prior to the 2007 season, but he produced. He hit .286 with 133 homers and 533 RBIs in 815 games in Houston, driving in at least 100 in each of his first three years. Still, the large contract handcuffed the Astros financially for years to come.
Brian McTaggart has covered the Astros since 2004, and for MLB.com since 2009. Follow @brianmctaggart on Twitter and listen to his podcast. This story was not subject to the approval of Major League Baseball or its clubs.