Astros, Cuban lefty Perez agree to revised deal
After $5.15 million contract voided in October, elite prospect signs for $2 million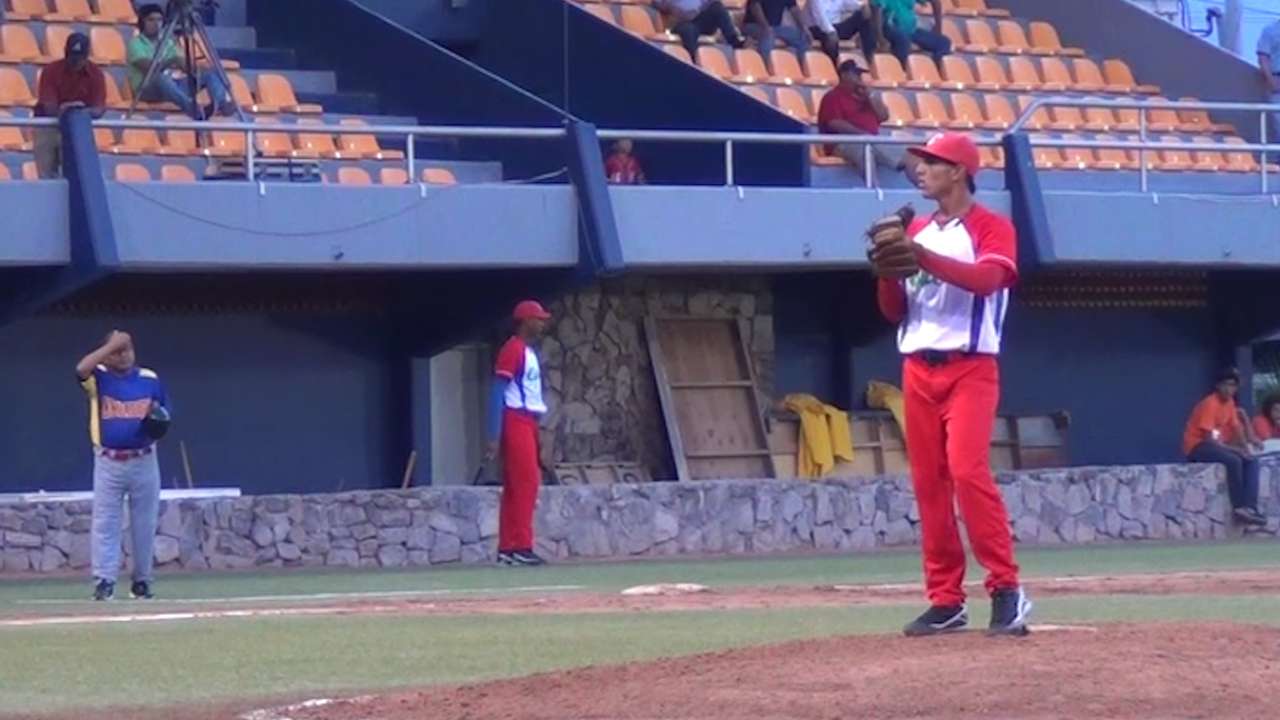 Cionel Perez once again has a deal with the Astros.
The Astros announced the signing Friday afternoon almost two months after Houston voided a deal with Perez worth $5.15 million -- the largest contract awarded to an international amateur prospect under the international signing guidelines in franchise history -- because of concerns with his physical. Earlier in the day Perez's agent issued a statement on his behalf in which he expressed frustration with the international free-agent process and MLB. The statement said Perez's contract is for $2 million.
"We are very excited to bring Cionel into the Houston Astros organization after scouting him for a number of years," Astros director, international Oz Ocampo said. "He is a very talented, young lefty with the baseball ability and fortitude to have a very successful Major League career."
In 2014, the Astros went through a similar situation when they drafted San Diego-area high school lefty Brady Aiken with the No. 1 overall pick. Aiken and the team had agreed to terms on a $6.5 million signing bonus that would have been the Draft record for a high school pitcher, but a routine physical gave the Astros enough concern over Aiken's elbow to withdraw the original deal.
The Astros subsequently reduced their offer to $3,168,840, which equals the minimum 40 percent of his assigned pick value ($7,922,100) required to receive the No. 2 overall choice in 2015 as compensation for Aiken not signing, and he didn't agree to the reworked deal. Aiken underwent Tommy John surgery the next year and was taken as the No. 17 overall pick in 2015 by the Indians and signed for $2,513,280. The Astros took Alex Bregman with the No. 2 overall pick in 2015.
• Top 30 International Prospects list
Perez ranked No. 4 on MLB.com's Top 30 International Prospects list and entered the Astros' Top 30 list at No. 13 when he signed with Houston after being declared a free agent in September. His fastball sits between 92-95 mph, and some project he could eventually hover between 94-97. He also throws a slider and changeup. He has the projected ceiling of a mid-rotation starter and floor of a hard-throwing reliever.
"Cionel has had a very successful career to date, performing well in both the Cuban National Series (Serie Nacional) and in International tournament play. Most importantly, we are confident that Cionel has the work ethic, competitive fire, intelligence, and aptitude to succeed at the highest levels."
The Astros have been very busy since the international signing period began on July 2. Including Perez, the club has spent an estimated $8.8 million dollars on international prospects and are subject to the maximum penalty because they have exceeded their pool total -- $2,197,000 -- by more than 15 percent. The club will have to pay a 100-percent tax on the overage and will not be able to sign an international prospect under the international signing guidelines for more than $300,000 during the next two signing periods, 2017 and '18.
According to the statement from Perez, he is signing with the Astros now because he has a responsibility to provide for his family, and it would be irresponsible for him to put his family at further risk while "waiting for the conflicting language of the [Collective Bargaining Agreement] to be clarified between the players union and MLB."
Perez said that he has no discomfort or current injury that led to the $3.15 million reduction in his deal, and that he had more lucrative offers from other clubs, specifically the Padres and Orioles. The statement correctly notes that the Astros are required to subject him to the Rule 5 Draft if the club does not put him on the 40-man roster after signing him for the second time. In the end, the likelihood of getting a spot on Houston's 40-man tipped the scales toward the Astros.
An MLB official said a player cannot use the aforementioned rule as a way to get out of the international bonus pool eligibility. According to the Collective Bargaining Agreement, international signing guidelines do not apply to players who previously signed a contract with a Major or Minor League club, nor do they apply to players who are least 23 years old and have played as a professional in a league recognized by the Commissioner's Office for a minimum of five seasons. Cuban players who are at least 23 and have played in a Cuban professional league for five or more seasons are also exempt.
Jesse Sanchez is a national reporter for MLB.com based in Phoenix. Follow him on Twitter @JesseSanchezMLB and Facebook. This story was not subject to the approval of Major League Baseball or its clubs.