Astros focusing rest of Winter Meetings on arms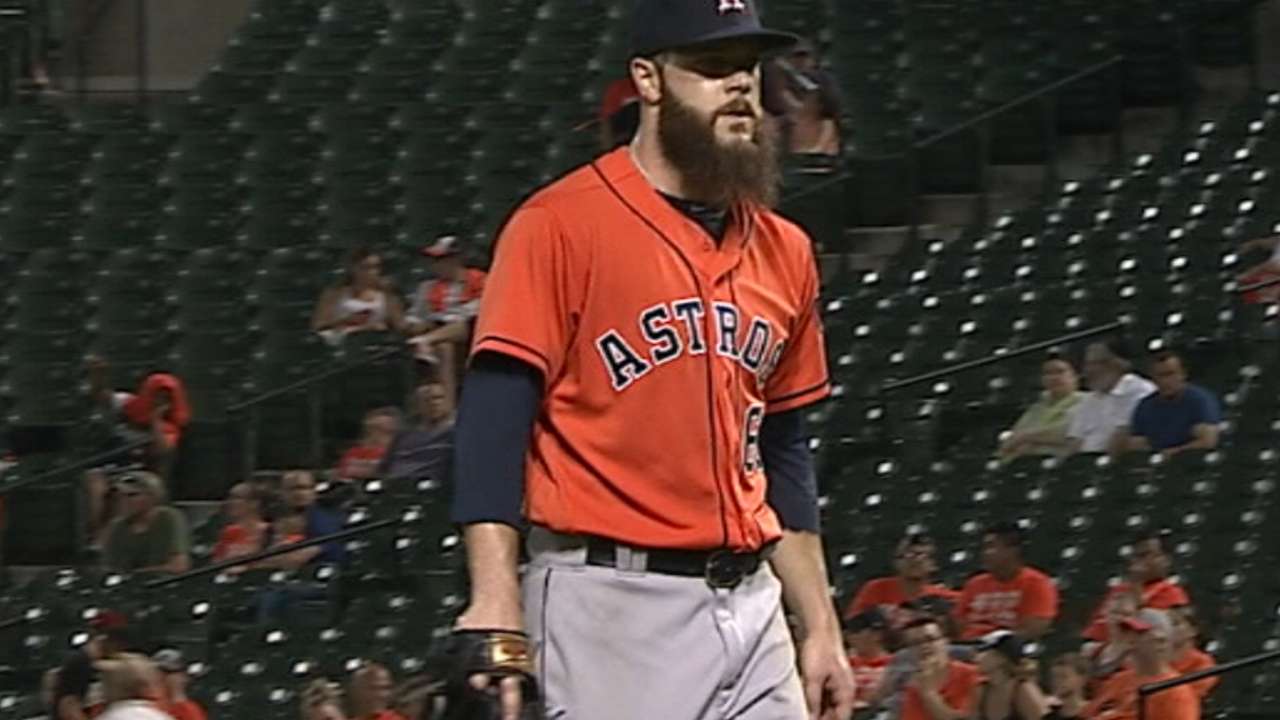 NATIONAL HARBOR, Md. -- Having acquired key offensive pieces in Carlos Beltran, Josh Reddick and Brian McCann within the past few weeks, the Astros are spending the remainder of the Winter Meetings trying to land another starting pitcher to bolster the rotation.
Left-hander Chris Sale, one of the biggest names available on the trade market, was dealt to Boston on Tuesday, though it's believed the Astros were never seriously in the mix. Quality arms are still available, though, and the Astros are more likely to target a middle-of-the-rotation hurler than they are someone who could be considered an ace, such as Chris Archer of the Rays.
At this point, such names as Jake Odorizzi, Sonny Gray and Drew Pomeranz are more likely to be on the Astros' radar to perhaps add to a rotation that features Dallas Keuchel, Collin McHugh, Lance McCullers, Charlie Morton, Joe Musgrove and Mike Fiers.
"There's going to be some deal flow of starting pitchers. Whether you consider them twos or fives, there's going to be some," general manager Jeff Luhnow said on Tuesday from the Gaylord National Resort & Convention Center. "We're going to be involved in that."
The Astros, who signed Morton last month, have rotation depth, but they are banking on a bounce-back and healthy season from former Cy Young Award winner Keuchel as well as a healthy McCullers, which is why they're still searching for arms. Nothing appears imminent, though, and Luhnow could leave the Winter Meetings without doing anything else.
"We came in these meetings feeling very good about what we accomplished this offseason," he said. "Right now, anything we do needs to be complementary to anything we've already done. We're continuing to look at pitching possibilities, both relievers and starters, primarily through the trade market, but we're looking at other options as well.
"Don't feel like we have to do anything this week necessarily, and it could be if we have any moves left, it's going to happen after the Winter Meetings. We're certainly active in finding out what's available and how much it would cost us."
Luhnow maintained that core hitters Jose Altuve, George Springer, Carlos Correa and Alex Bregman are key components of the club and won't be included in any trades.
"There are exceptions to every rule, of course," he said. "I don't want to say never, but we really want those guys to be the engine of our team next year. Beyond that, all options are open to us."
That being said, the Astros have a "win now" mentality. The Red Sox acquired Sale on Tuesday to add to their former and current Cy Young winners in David Price and Rick Porcello, giving them the best rotation in the American League. The Astros perhaps have the best lineup, and would be willing to part with prospects to land another arm.
"We're halfway through the offseason at this point," Luhnow said. "We've got until we show up at Spring Training in February, and a lot of deals happen after the Winter Meetings and even in January or February. I don't feel like we have to land a quote-unquote 'No. 1' or 'No. 2' to accomplish our goals this year, so I don't want to set that as an expectation. Having said that, we're going to continue to look for upgrades wherever we can."
Brian McTaggart has covered the Astros since 2004, and for MLB.com since 2009. Follow @brianmctaggart on Twitter and listen to his podcast. This story was not subject to the approval of Major League Baseball or its clubs.