Altuve has strong case for AL MVP Award
Astros second baseman enjoyed career year at plate in 2016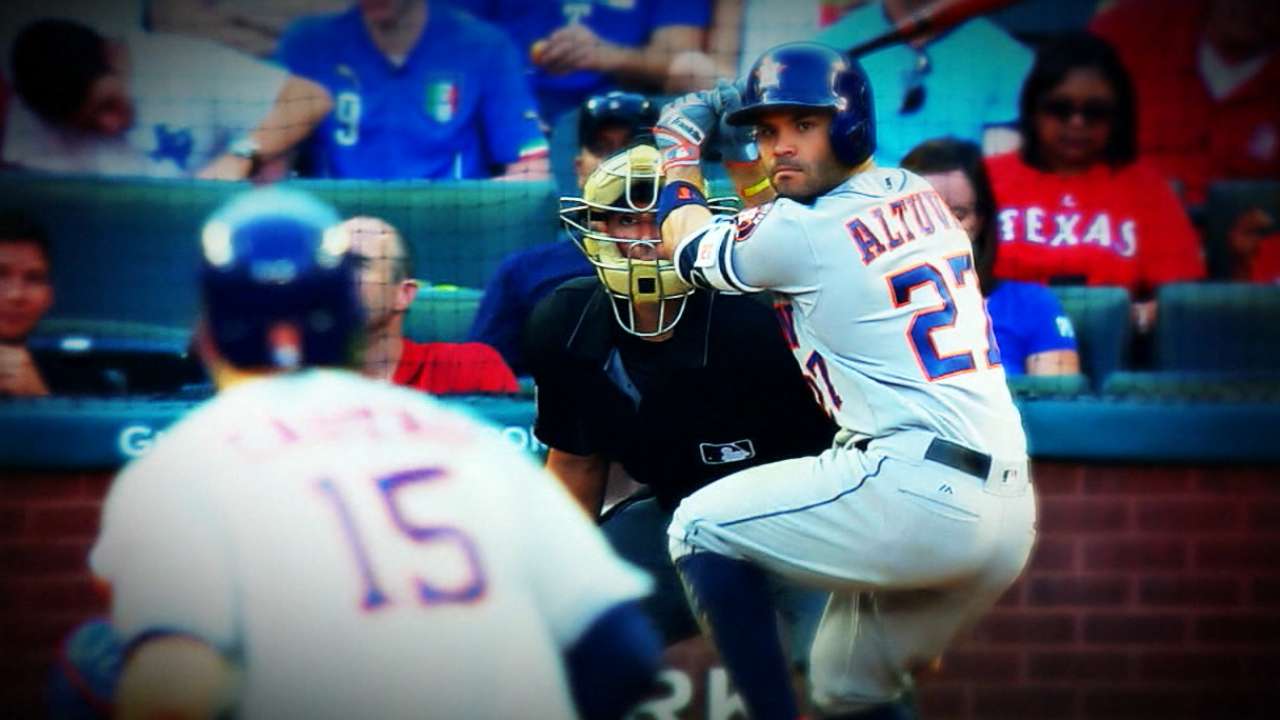 HOUSTON -- Perhaps no stat indicates how much All-Star second baseman Jose Altuve meant to the Astros more than the split in his batting average when the club won last season (.388) vs. when it lost (.281). He was clearly the player who meant more to the club than anyone else, but was he the Most Valuable Player in the American League?
Altuve joins Mike Trout of the Angels and Mookie Betts of the Red Sox as the three finalists for the AL MVP Award, which will be revealed on Thursday at 5 p.m. CT on MLB Network. The Baseball Writers' Association of America voted on the Award at the conclusion of the regular season.
• Complete 2016 Awards coverage
The MLB Awards -- following league-specific recognition by BBWAA voters, whose ballots are based on regular-season play -- include candidates from both leagues (with postseason performance taken into consideration). MLB Awards are based on votes by retired players, broadcasters/reporters, team executives, Society of American Baseball Research members and fans, with each group accounting for 20 percent of the process. Esurance MLB Awards week concludes Friday on MLB Network and MLB.com at 7 p.m. CT. MLB Awards categories include Best Major Leaguer, Hitter, Pitcher, Rookie, Executive and Manager.
Altuve had the best season of his career in 2016, setting career highs in homers, RBIs, slugging percentage, total bases and OPS, while maintaining a strikeout rate that was the best in the AL. He added power numbers (24 homers and 96 RBIs) to his resume this year while playing in all but one game. Altuve led the AL in hits for the second time in three years and won his second AL batting title in that span by hitting .338.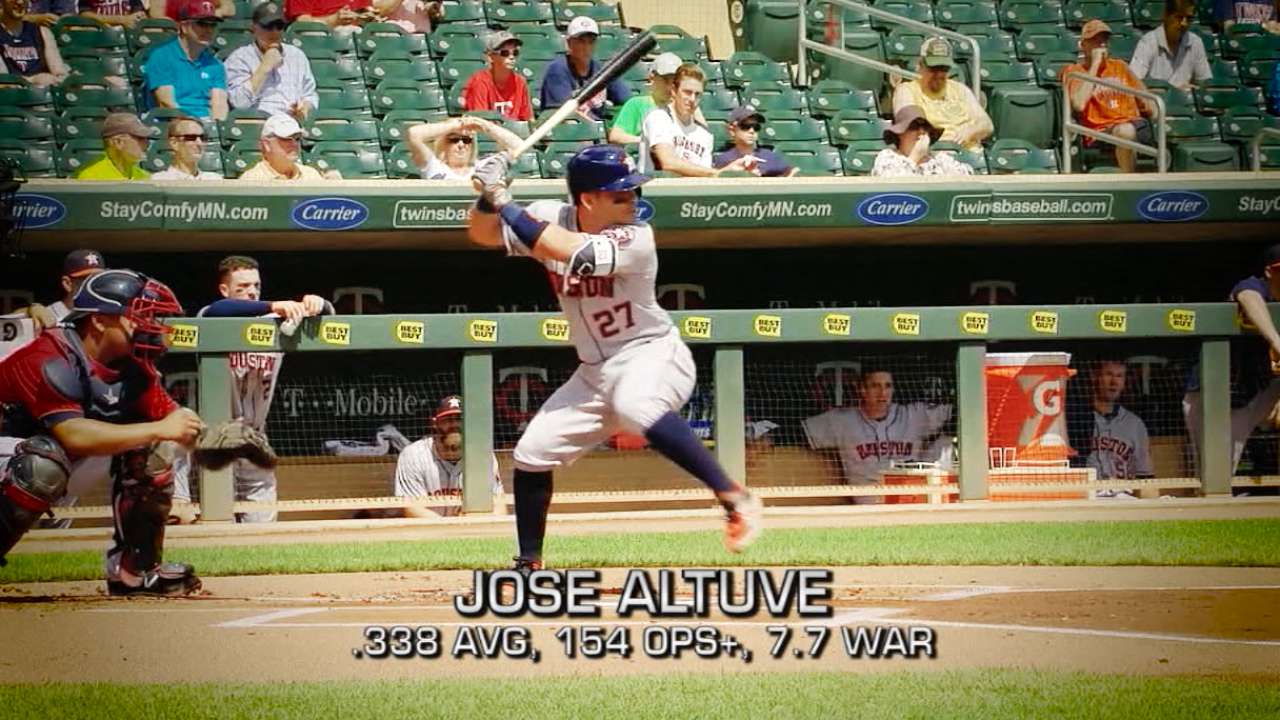 Altuve's peers voted him as the winner of the Players Choice Award as this season's Player of the Year, as well as the Outstanding Player in the AL after becoming the first second baseman to reach 100 runs, 200 hits, 40 doubles, 20 homers, 95 RBIs and 30 steals in a single season. He's just the sixth player in Major League history to reach all of those marks, regardless of position.
Altuve, who started at second base for the AL in the All-Star Game presented by MasterCard, led the league in batting average, hits (216) and four-hit games (eight). He was tied for first in three-hit games (23), ranked second in multi-hit games (63), tied for second in stolen bases (30), tied for third in doubles (42) and Wins Above Replacement (7.6), and he was fourth in on-base percentage (.396) and total bases (340), while ranking fifth in OPS (.928) and seventh in runs (108).
• Previous AL MVP Award winners
No, Altuve's terrific bat wasn't enough to get the Astros to the postseason, but he was a huge reason they were in the hunt until the final week of the regular season. While the team sputtered at the start and faltered at the end, Altuve was the model of consistency.
Altuve hit .341 in the first half (a whopping .420 in June), and .333 in the second half. He hit .348 against right-handers and .306 against lefties. He batted .330 in the leadoff spot, .342 in the No. 2 hole and .341 in the three-hole, where he spent most of the season. Altuve batted .372 with runners in scoring position, including .327 with two outs.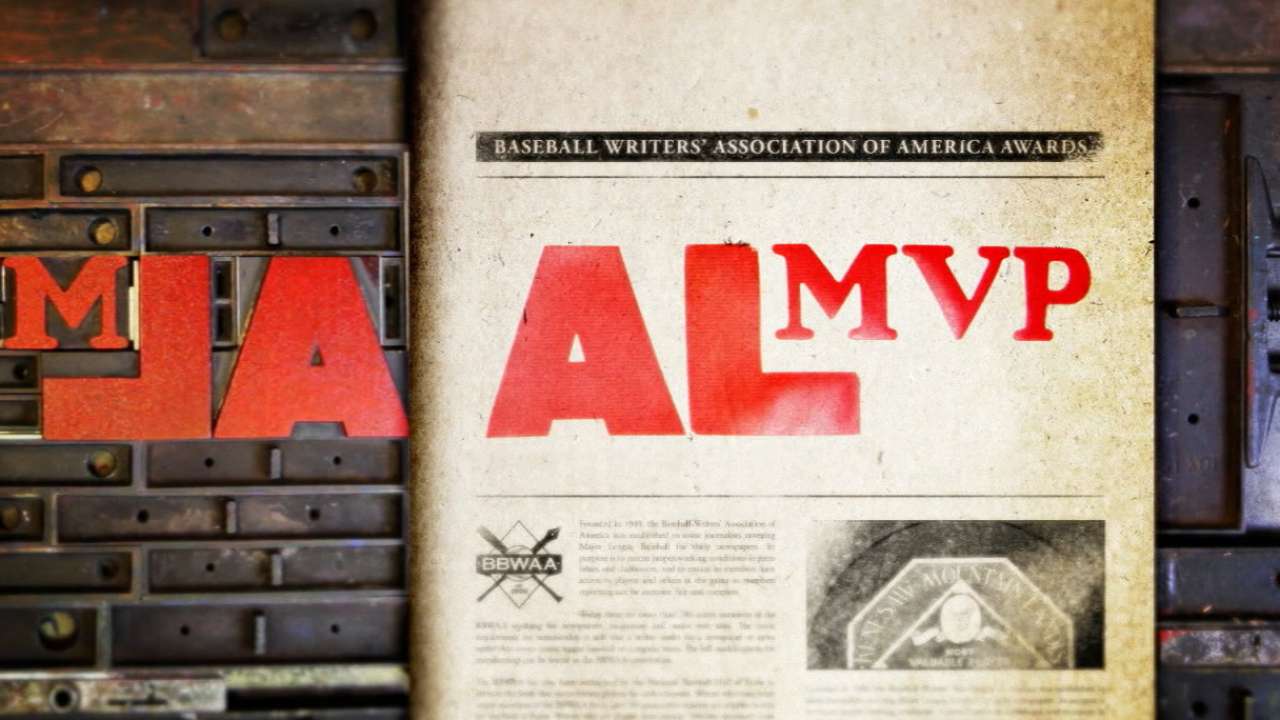 One of the reasons the Astros performed so well on the road this year was Altuve. His .376 road batting average led the Majors and was the highest of any hitter since Ichiro Suzuki hit .405 in 2004.
Now let's compare Altuve to the last second baseman to win the AL MVP: Dustin Pedroia in 2008. Pedroia hit .326 with 213 hits, 17 homers, 83 RBIs, 50 walks, 20 stolen bases, a .376 on-base percentage and an .869 OPS that season for Boston, all of which are numbers Altuve eclipsed this year.
Granted, Altuve isn't competing against Pedroia. He's competing against Trout and Betts, both of whom have extremely strong arguments. Those who saw Altuve play on an everyday basis will argue he should take a backseat to neither.
Brian McTaggart has covered the Astros since 2004, and for MLB.com since 2009. Follow @brianmctaggart on Twitter and listen to his podcast. This story was not subject to the approval of Major League Baseball or its clubs.