Altuve takes home 3rd straight Silver Slugger Award
Second baseman becomes first Astros player to accomplish feat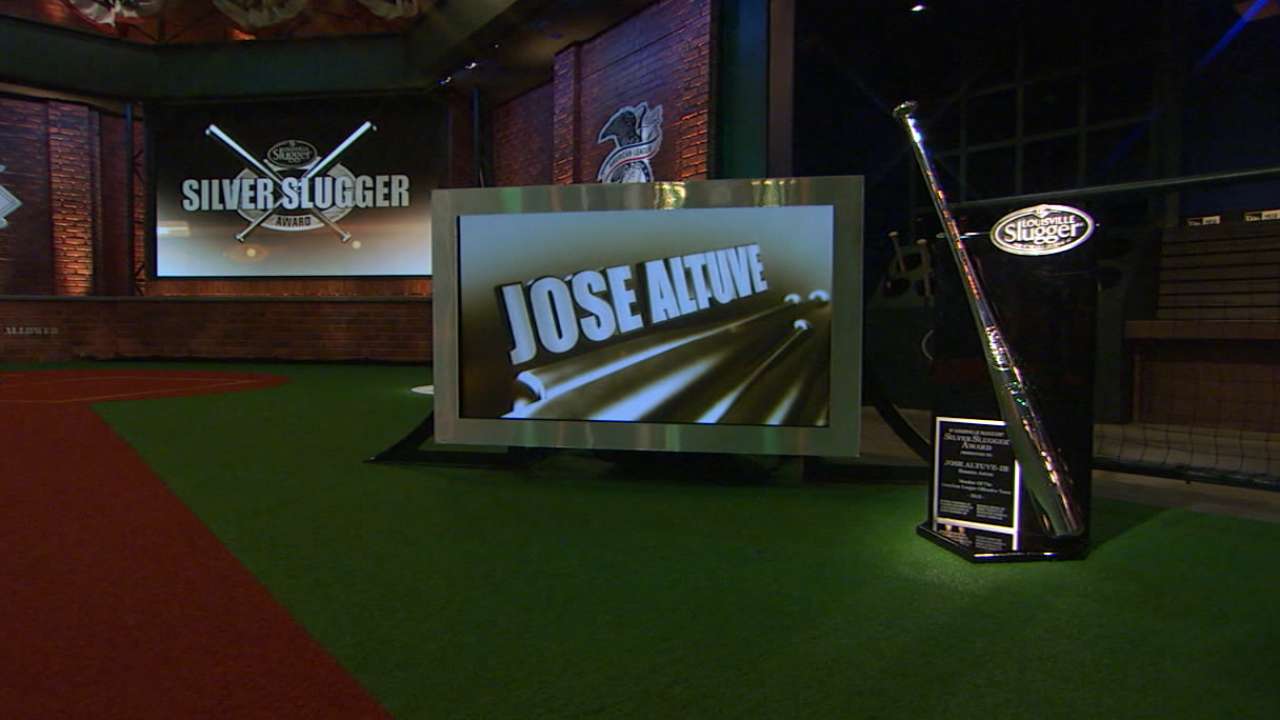 HOUSTON -- Another day means another award for Astros second baseman Jose Altuve.
One day after winning the Players Choice Award as the 2016 Player of the Year and the Outstanding Player in the American League, Altuve on Thursday won his third consecutive Louisville Slugger Silver Slugger Award at second base in the AL. He's the first Astros player to win three consecutive Silver Sluggers.
Altuve, who also won the 2016 Majestic "Always Game" award on Wednesday, was named the Sporting News' MLB Player of the Year last month. He's a finalist for the AL Most Valuable Player Award, as voted upon by members of the Baseball Writers' Association of America. It will be announced Nov. 17. Mookie Betts of the Red Sox and Mike Trout of the Angels join Altuve as finalists for the MVP Award.
• VOTE for MLB Awards: Best Hitter
The only other Astros to win at least three career Silver Sluggers are Hall of Famer Craig Biggio (1989, '94-95, '97-98) and Jeff Bagwell ('94, '97, '99).
Altuve is coming off the best season of his career. He won his second AL batting title in three years, hitting .338 with career highs in homers (24) and RBIs (96) to go along with 30 steals, 42 doubles, a .928 OPS and a 7.6 WAR. He led the AL in hits for the third year in a row, and he was named to his fourth All-Star team.
.@astros Jose Altuve's base hit spray chart this year... #SilverSlugger pic.twitter.com/dGOvdwRd3B

— Daren Willman (@darenw) November 10, 2016
Altuve is the first second baseman to reach 100 runs, 200 hits, 40 doubles, 20 homers, 95 RBIs and 30 steals in a single season. He's just the fifth player in Major League history to reach all of those marks, regardless of position. By winning the batting title for the second time in three seasons, Altuve became the first second baseman to win multiple batting titles since Rod Carew won five between the 1969-75 seasons.
There have been 10 Astros who have won a Silver Slugger Award: Altuve (2014-16), outfielder Carlos Lee ('07), third baseman Morgan Ensberg ('05), left-handed pitcher Mike Hampton (1999), outfielder Moises Alou ('98), Bagwell (first base in '94, '97, '99), Biggio (catcher in '89, second baseman in '94-95, '97-98), first baseman Glenn Davis ('86), outfielder Jose Cruz ('83-84) and shortstop Dickie Thon ('83).
Managers and coaches of all 30 Major League teams vote for the players they believe are the best offensive producers at each position in both the AL and National League. The Silver Slugger Award was established in 1980.
Brian McTaggart has covered the Astros since 2004, and for MLB.com since 2009. Follow @brianmctaggart on Twitter and listen to his podcast. This story was not subject to the approval of Major League Baseball or its clubs.