Astros in AFL: Martes, Paulino prepping for Majors
MLB Pipeline checks in on Houston's prospects in the Arizona Fall League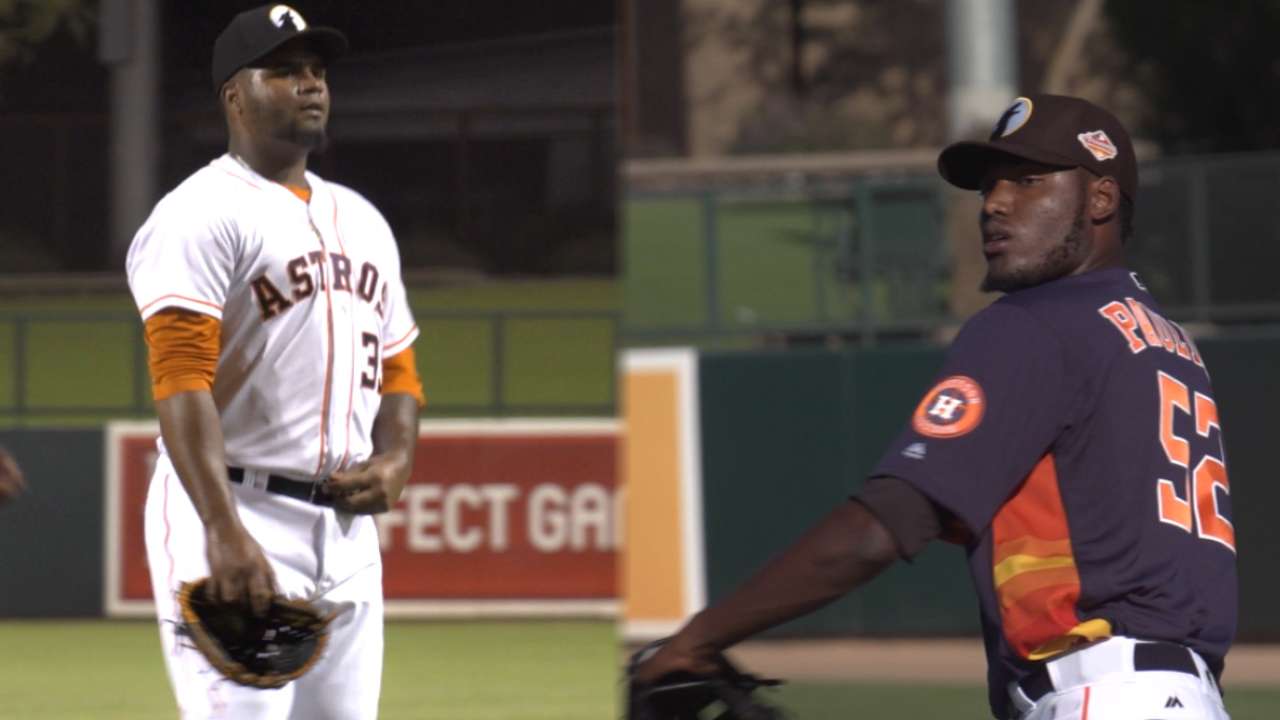 GLENDALE, Ariz. -- The Astros used their farm system to shore up the left side of the infield in recent years, calling up then-top prospects Carlos Correa and Alex Bregman. In 2017, the club may rely on the farm system once again, this time looking for help on the mound.
Astros top prospect Francis Martes (No. 29 overall) and the club's No. 4 prospect David Paulino, who made one start and three Major League appearances in 2016, are two candidates to help the Astros at some point in 2017 and are both working toward that goal in the Arizona Fall League.
"Being here is good because you learn from other prospects," Martes said. "It certainly helps your career to battle with prospects from higher levels than yourself and more experience than yourself, that way you can learn more about baseball."
Martes went 9-6 with a 3.30 ERA and 131 strikeouts in 25 games (22 starts) with Double-A Corpus Christi during the regular season and got off to a bit of a slow start in the AFL.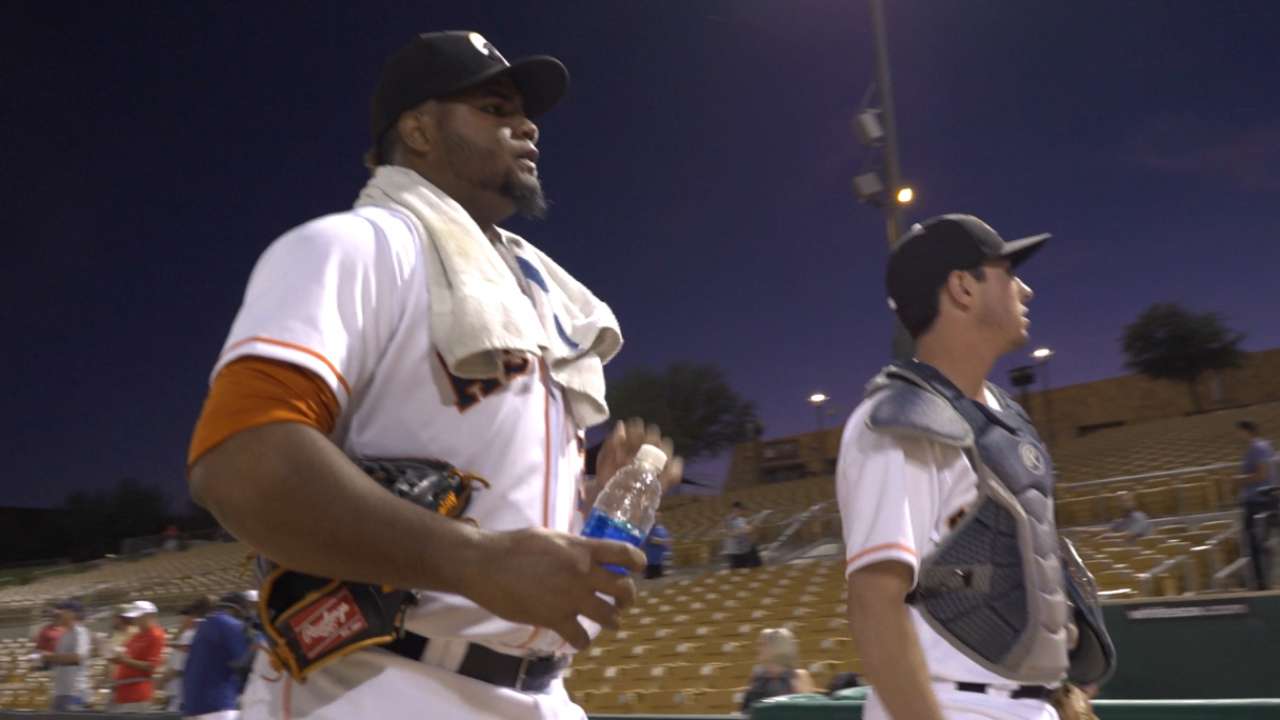 However, the right-hander came to Arizona to work on his secondary pitches, and when he has full control of his changeup -- as he did during Monday's seven-strikeout performance -- it's easy to see the potential.
"Next season, my goal is to continue to work to start in the Major Leagues, but if it is their decision to start me in Triple-A, [I'll] try to establish myself there [then go to] the Major Leagues," Martes said.
Like Martes, Paulino also hopes to spend the bulk of the 2017 season in Houston.
"My goal for next year is to start in the big leagues and finish there," Paulino said.
The right-hander totaled 97 innings across multiple levels in 2016, but spent the bulk of the season with Corpus Christi, where he went 5-2 with a 1.83 ERA in 14 games (nine starts).
The 22-year-old was acquired via a trade with the Tigers in 2013 and missed the entire 2014 season recovering from Tommy John surgery. Although it's been a long road, Paulino got a taste of the Majors in 2016 and now knows that with perseverance, he can be back.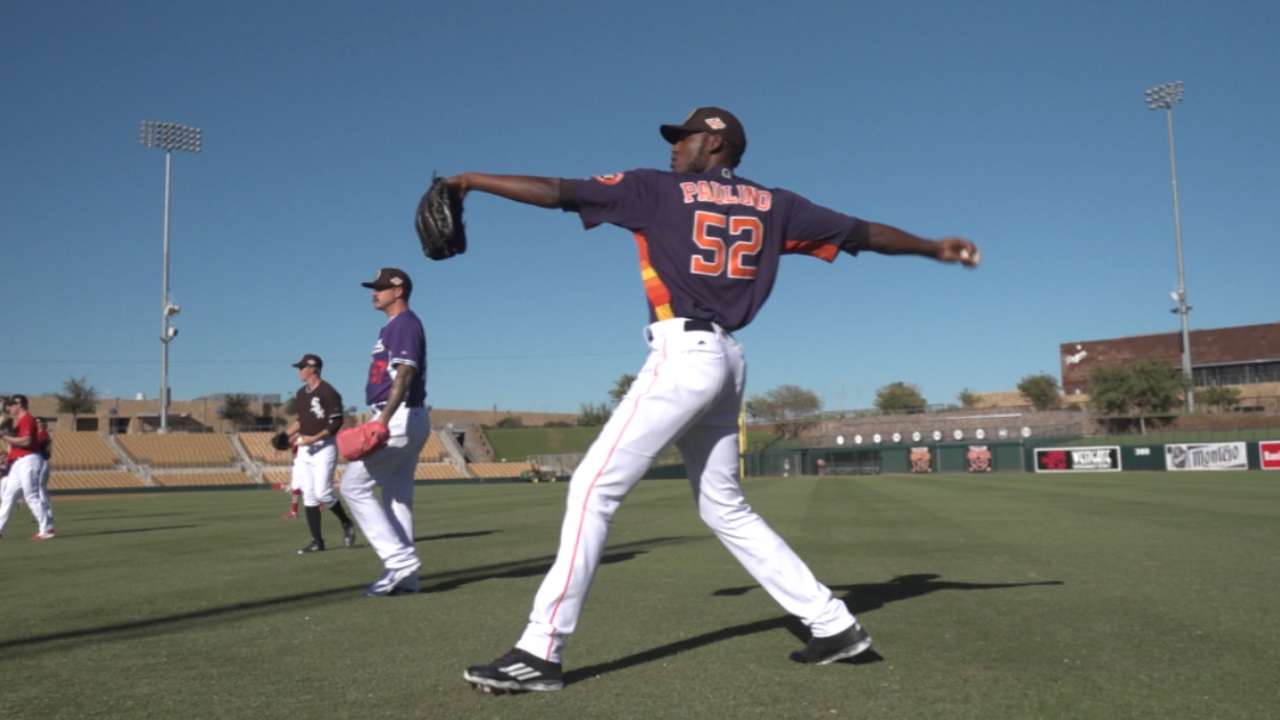 "It was a very difficult and long process," Paulino said. "I felt frustrated many times, especially when I was traded to another team. I thought that my career was going to finish soon. But later on, when I returned, and I started throwing bullpens and continued in my recuperation, I saw that I could still compete and that it could be done."
Astros hitter in the Fall League
Ramon Laureano, LF
Jason Martin, CF
Garrett Stubbs, C
Nick Tanielu, 2B
Laureano, the Astros' No. 28 prospect, continues to make strides offensively. The outfielder has improved his batting average in each season since he was selected in the 16th round of the 2014 Draft. Laureano hit .189 in 2014, .265 in '15 and .319 in '16, while also leading all full season players with a .428 on-base percentage in 116 games split between Class A Advanced Lancaster and Double-A Corpus Christi. Laureano was named the Fall League's Player of the week in the opening week and is hitting .295 through 12 games.
Martin, the Astros' No. 29 prospect, is off to a scorching start in Arizona. The outfielder is hitting .313 through six games after batting .270 in 110 games with Lancaster during the regular season.
Although Stubbs is struggling to hit in Arizona, he showed his offensive ability with a .304 average in 86 games with Lancaster and Corpus Christi. After hitting .291 with Lancaster, Stubbs was bumped up to Double-A, where he hit .325 in 31 games.
• Complete Arizona Fall League coverage
Tanielu came up as a second baseman and played there primarily (82 games) in 2016 but has also shown the Astros some versatility. The 24-year-old spent the bulk of the 2015 season (91 games) at third base and manned the hot corner for 44 games in 2015. He has also played first base 12 times since he was selected out of Washington State in 2014. Tanielu hit .285 in 130 games this season.
Astros pitchers in the Fall League
Rogelio Armenteros, RHP
Jacob Dorris, RHP
Armenteros pitched across three levels in 2016 and ultimately found himself in Double-A. The 22-year-old right-hander threw well in a limited sample size against the increased competition, going 2-0 with a 1.93 ERA in three starts. Armenteros, however, hasn't been able to repeat those results in Arizona, where he's struggling to get outs.
Dorris struck out 87 and walked 27 in 59 1/3 total innings this season. The right-hander worked his way from Class A Quad Cities up to Corpus Christi, where he posted a 1.86 ERA in eight games. Dorris has carried that momentum over and been impressive in Arizona. Dorris has made five AFL appearances and has yet to allow an earned run with 11 strikeouts in 5 1/3 innings.
William Boor is a reporter for MLB.com. Follow him on Twitter at @wboor. This story was not subject to the approval of Major League Baseball or its clubs.