Hinch observes top Astros prospects in AFL
Righty Martes, No. 1 in Houston system, has 'ingredients to be big leaguer'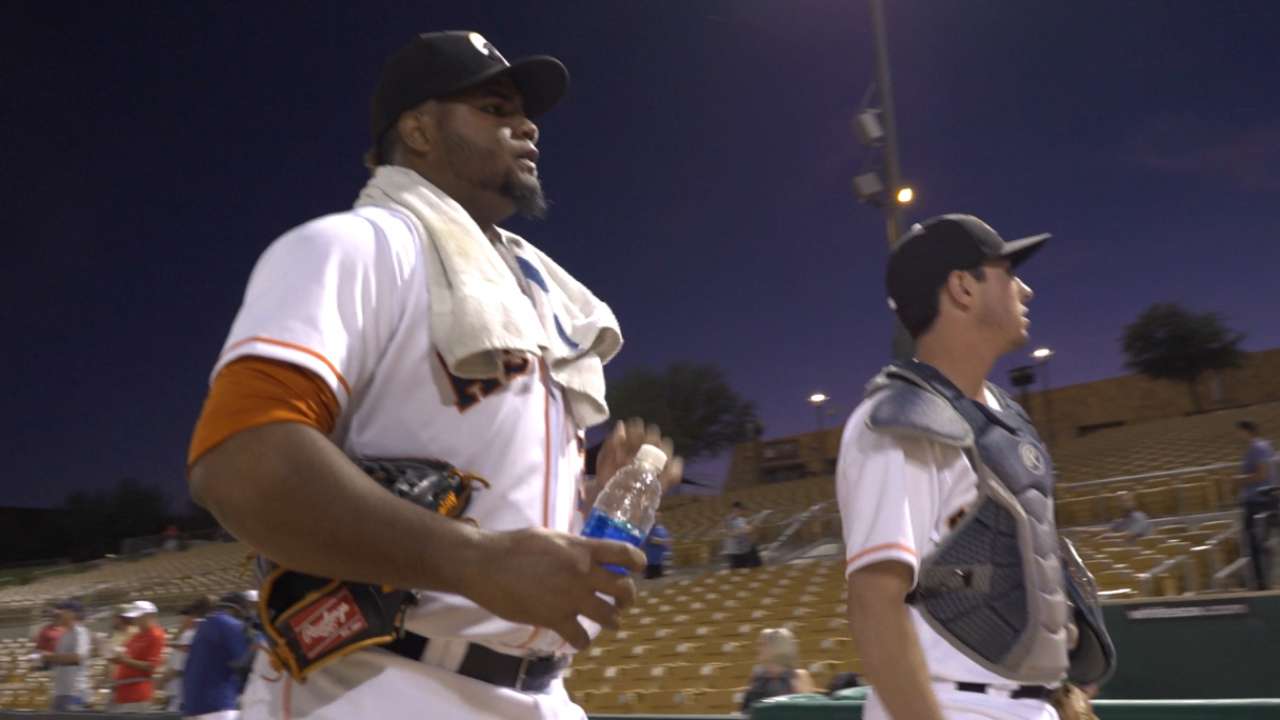 HOUSTON -- Francis Martes, the hard-throwing 20-year-old Dominican right-hander who's the Astros' top prospect as ranked by MLBPipeline.com, could be knocking on the door of the Major Leagues next year, which is one of the reasons why manager A.J. Hinch spent a few days this week taking in the Arizona Fall League.
Martes, who was 9-6 with a 3.30 ERA and 131 strikeouts in 125 1/3 innings last season at Double-A Corpus Christi, figures to open next season in the rotation at Triple-A Fresno. He worked four innings Tuesday for Glendale in his third Arizona Fall League start and allowed three walks, five hits and three runs in four innings, with Hinch watching.
Hinch said there's a lot to like about Martes, who sits in the mid-90s with his fastball and has a good curveball. Like all young pitchers, he's battled pitch execution at times, Hinch said. It was the first time Hinch had seen Martes pitch in a game.
"He's got a good breaking ball, pretty decent changeup and good arm strength," Hinch said. "That's why he's one of our best pitching prospects. He started off the game a little rough and settled in nicely and made one mistake for a home run, but the ingredients are all there for him to be a big leaguer and a very young age. It's hard to believe how young he is, yet he's got a lot of Double-A experience to draw from as he develops."
Hinch also got a chance to see some other players for the first time, including outfielder Ramon Laureano. He talked to all of the club's prospects in Arizona to get to know them better during his trip because some of them will be in big league camp next year for the first time. He also saw Cuban right-hander Rogelio Armenteros for the first time and checked in on David Paulino (ranked No. 4 in the system), who made his big league debut this year and has thrown only one inning in Arizona while he irons out some issues in the bullpen.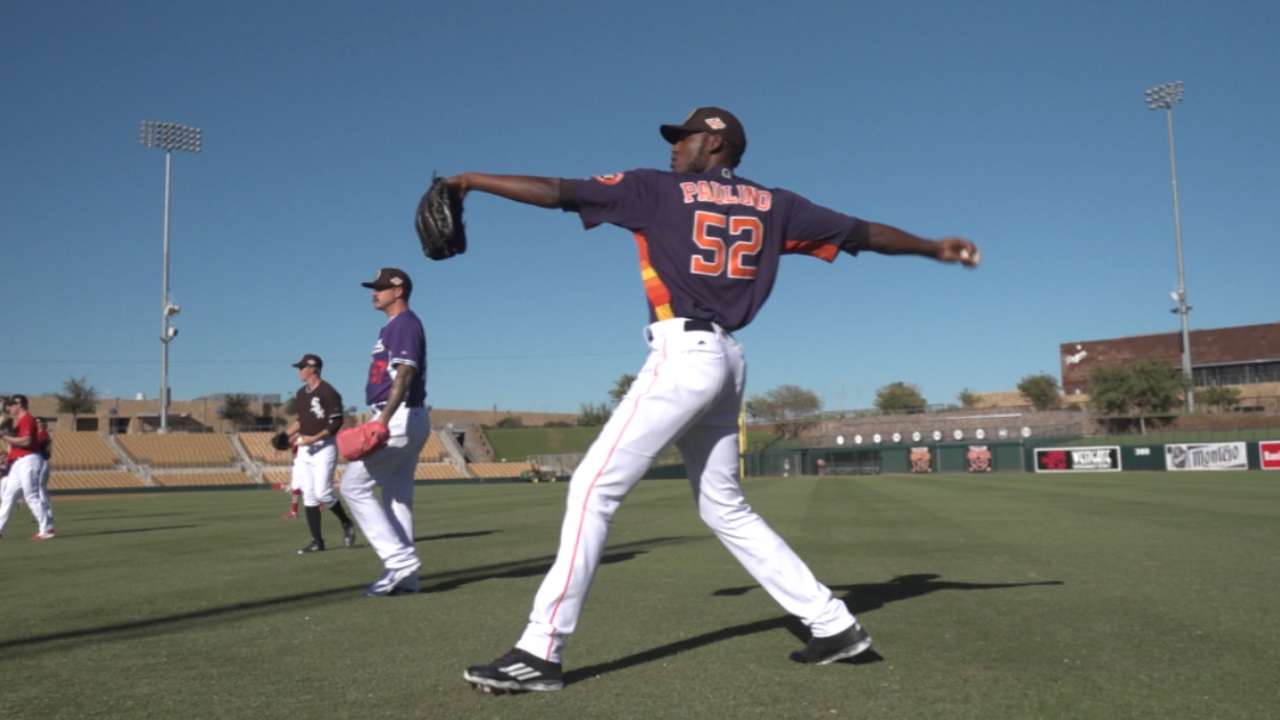 "We've got some good arms down there," Hinch said.
The Astros lack catching depth at the upper levels of the Minor Leagues, which means there's opportunity for Garrett Stubbs, a smaller-frame catcher who hits left-handed. Stubbs, who's on the Glendale roster, split last season between Class A Advanced Lancaster and Corpus Christi and hit .304 with 10 homers and 54 RBIs.
"He's definitely got potential to be a big leaguer," said Hinch, a former big league catcher. "A lot it is learning the position at the pro level. He handles a lot of things naturally behind the plate. He's got good hands, he's got a good arm, he's very quick. He's agile behind the plate. He's got all sorts of good attributes.
"He swung the bat very well from the left side, which is always a good advantage to have a left-handed-hitting catcher. The arrow is pointing in the right direction. We'll see if he can get a little bit stronger and get a little bit more comfortable handling upper-level pitching. He's never been above Double-A. He's put himself in position to be looked at down the road."
Infielder Nick Tanielu arrived late in Arizona after cutting a hand and had only appeared in two games prior to Friday.
Brian McTaggart has covered the Astros since 2004, and for MLB.com since 2009. Follow @brianmctaggart on Twitter and listen to his podcast. This story was not subject to the approval of Major League Baseball or its clubs.