Keuchel, Rasmus, Springer up for Gold Gloves
HOUSTON -- Astros pitcher Dallas Keuchel, left fielder Colby Rasmus and right fielder George Springer are one of three finalists at their position in the American League for the Rawlings Gold Glove Award, given annually to be best defensive players in each league.
Major League managers and coaches, voting only within their league and unable to vote for players on their own teams, account for 75 percent of the selection process. The other 25 percent goes to the sabermetrics community. The winners will be revealed Nov. 8 on ESPN.
"I hope all three of them would be able to bring home some hardware, but they all three manned their position very, very well, which is why they got recognition," Astros manager A.J. Hinch said. "[Center fielder Jake] Marisnick didn't play enough to get consideration, but our outfield defense was extremely strong. And Dallas up the middle, nobody is more dynamic in the league. It's probably going to matter whether or not he stayed healthy long enough to go back to back [to back] with the award. I'm proud of our defense. It's one of our under-the-radar strengths."
Second baseman Jose Altuve, who won a Gold Glove last year at second base, wasn't a finalist this year.
Keuchel, the only pitcher in franchise history to win a Gold Glove, didn't commit an error in 32 chances last season after committing one last year in 72 chances. His ground-ball percentage slipped this year and he didn't pitch nearly as many innings, leading to fewer chances. Still, he was tied for the AL lead with Masahiro Tanaka with seven defensive runs saved, according to Fangraphs.
R.A. Dickey of the Blue Jays and the Tigers' Justin Verlander join Keuchel as finalists at pitcher for the award.
Only two outfielders have won a Gold Glove Award in Astros history (Michael Bourn in 2009-10 and Cesar Cedeno in 1972-76), both of whom were center fielders.
Rasmus didn't commit an error in 186 chances and finished in a tie for third in the AL in outfield assists with 13, including 11 in left field. He led AL left fielders in defensive runs saved with 14, according to Fangraphs. Springer made two errors in 322 chances and had 12 outfield assists, which ranked third among AL right fielders.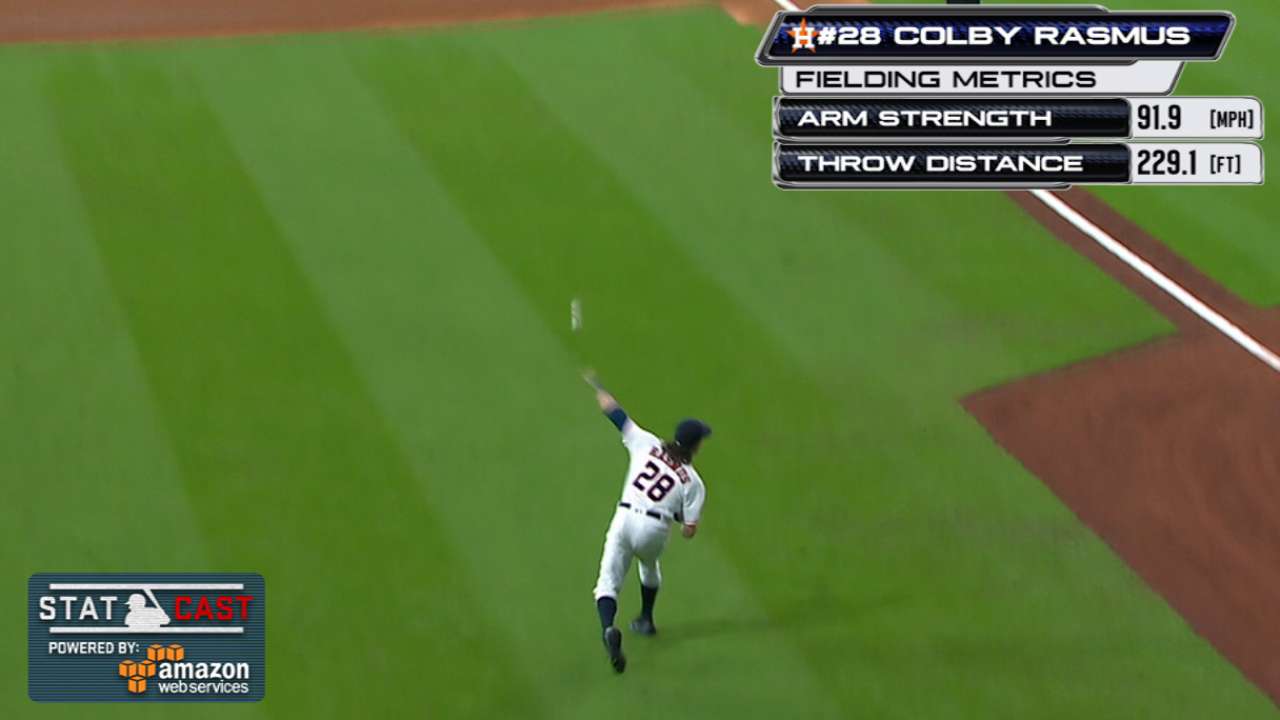 Springer, a terrific athlete who made several tremendous catches during the year, had five defensive runs saved. Mookie Betts (32 defensive runs saved) and Adam Eaton (22) are the other two finalists in right field. Brett Gardner of the Yankees and Alex Gordon of the Royals are the other two finalists in left field.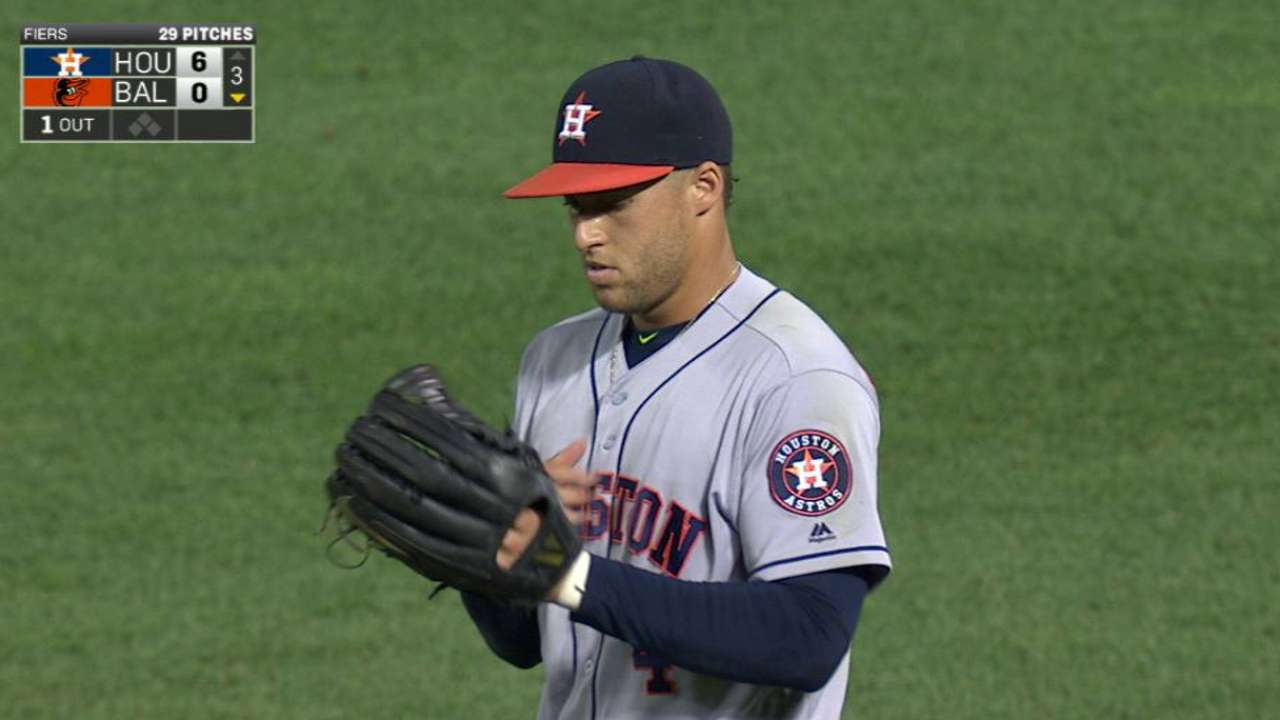 The Rawlings Gold Glove Award was created in 1957, and since then the award has served as the highest symbol of defensive excellence in Major League Baseball. The winners, which will be announced on Tuesday, Nov. 8, are determined by combining votes from Major League managers and coaches with a sabermetric component.
Brian McTaggart has covered the Astros since 2004, and for MLB.com since 2009. Follow @brianmctaggart on Twitter and listen to his podcast. This story was not subject to the approval of Major League Baseball or its clubs.