Hillman to manage in Korea Baseball Organization
Astros bench coach will be first to take over pro teams in three countries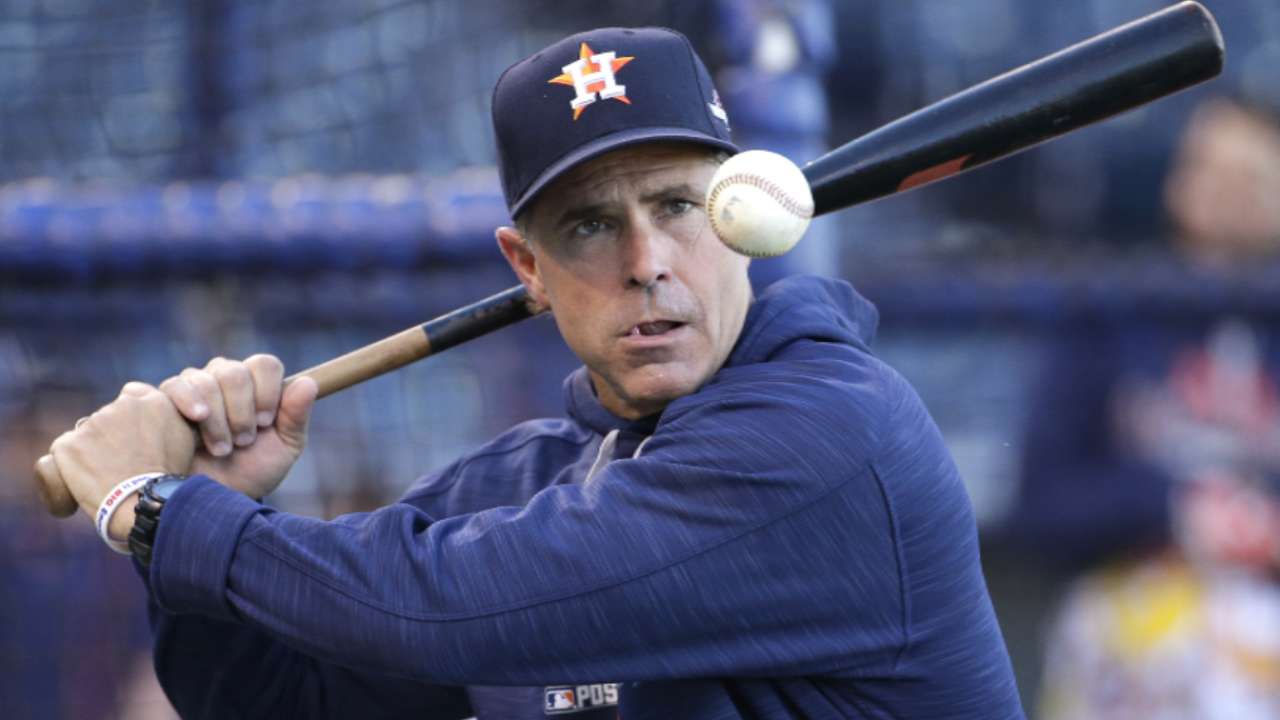 HOUSTON -- The Astros are searching for a new bench coach after Trey Hillman accepted a position to become the manager of SK Wyverns in the Korea Baseball Organization. According to Naver Sports, Hillman will get a two-year deal worth $1.6 million.
Hillman, who completed his second season as bench coach under manager A.J. Hinch, will become the first person to manage a professional team in three countries.
"First off, I'm happy for him because the opportunities in our game, either internationally or here, are hard to come by," Hinch said. "He offered a lot and did a lot and was a part of my original staff here, so you're always indebted to guys that work for you and also excited for him that he's on to a real big challenge, not only in the game but in a different country."
Hinch said there are a few different ways the Astros could look to fill the position, both internally and externally.
"Even on my staff, looking at how responsibilities can be divvied up," he said. "I'm not really sure how we really want to go about it other than being on a Major League staff is very interesting to a lot of different people. We'll have to navigate through a lot of different candidates, but also a lot of different skillsets."
The club confirmed Hillman's departure in a statement.
"We thank Trey for his contributions to the Astros' success over the past two seasons and wish him the very best," the club said.
Hillman, 53, was a special assistant in Major and Minor League operations for the Yankees in 2014 after spending the previous 11 years ('03-13) as a manager and bench coach, both in the big leagues and Japan. He managed the Hokkaido Nippon-Ham Fighters in Japan from '03-07, leading them to a championship in '06 and two other postseason appearances.
The Amarillo, Texas, native managed the Royals from 2008-09 and part of '10, compiling a 152-207 record. He served the Dodgers' bench coach for three years ('11-13) before working for the Yankees and eventually joining Hinch in Houston.
Brian McTaggart has covered the Astros since 2004, and for MLB.com since 2009. Follow @brianmctaggart on Twitter and listen to his podcast. This story was not subject to the approval of Major League Baseball or its clubs.