Altuve wins Sporting News' MLB Player of the Year
Astros second baseman led AL with .338 average, adding 24 HRs and 94 RBIs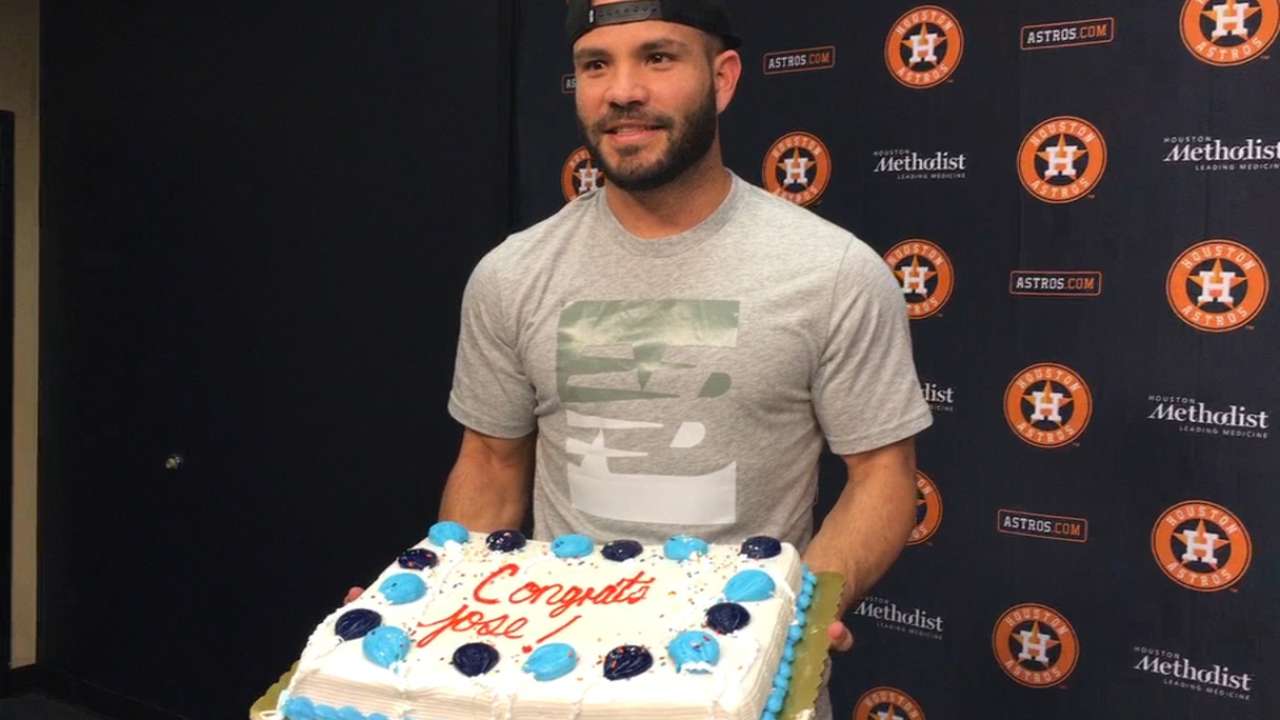 HOUSTON -- The offseason hardware has begun to roll in for Astros second baseman Jose Altuve.
Coming off the best season of his career at 26 years old, Altuve on Thursday was named the Sporting News' MLB Player of the Year, joining Jeff Bagwell (1994) as the only Astros players to win the honor. The award, which originated in 1936, is voted upon by the players.
"It is great, especially when you get voted by the players," Altuve said. "I really appreciate that from my teammates and players on other teams. These are the kind of things that make you keep getting better. You wake up every morning and realize you won this award by the players, and you want to keep getting better. Not only for the team, but for the fans and for everybody that's been [helping] you."
The 2016 season was the best of Altuve's career. He won his second American League batting title in three years, hitting .338 with career highs in homers (24) and RBIs (96) to go along with 30 steals and a .928 OPS. He led the AL in hits for the third year in a row and was named to his fourth All-Star team.
"I think it's one of the greatest signs of respect is when the players around the league bestow this kind of award on him," Astros manager A.J. Hinch said. "He's earned it. He's certainly had one of the best seasons imaginable, but still left room to get better. And so, I think the fact his peers recognize that should make him feel good, and rightfully so."
Altuve is also up for Best Major Leaguer in the MLB Esurance Awards. Voting ends on Nov. 11 at 1 p.m. CT.
Each of the last 10 winners of the Sporting News Player of the Year have wound up winning the Most Valuable Player award in his league, and Altuve figures to be among the finalists in the AL, with Mike Trout of the Angels and Mookie Betts of the Red Sox. When asked about his chances of joining Bagwell as the only Astros to win an MVP as voted upon by the Baseball Writers' Association of America, Altuve admitted it will be hard.
"If I win it's going to be great, if not I'm going to feel proud because I feel like I did what I had to do to help my team and I don't want to stop here," Altuve said. "Like I said before and will say 100 times, I want to keep getting better."
And that's what drives Altuve each year. He's added another dimension to his game every year, putting up career-best power numbers this year. Altuve doesn't focus on numbers, though, but did admit he'd like to hit 30 homers and steal 30 bases in the same season. He was six homers shy this year.
"That's like a dream, something that you want to do," he said. "When I was signed by the Astros when I was 16, if you told me I was going to be 20-20, everybody would be like, 'Nope.' I still doubt about myself I could be 30-30, but you never know. It could happen."
Then Altuve smiled: "Maybe we go to a couple of places and the wind is blowing out and I hit a couple of homers. You never know. I'll need six more inside-the-park homers, plus the 24 regular homers."
Altuve is the first second baseman to reach 100 runs, 200 hits, 40 doubles, 20 homers, 95 RBIs and 30 steals in a single season. He's just the sixth player in Major League history to reach all of those marks, regardless of position. By winning the batting title for the second time in the last three seasons, Altuve became the first second baseman to win multiple batting titles since Rod Carew won five between the 1969-75 seasons.
"He's achieved a level that not many have achieved in their career and he's already thinking about this offseason and how he's going to improve for next year," general manager Jeff Luhnow said. "That's what drives him is getting better every year. That would be a great outcome for us next year, that plus the World Series."
Brian McTaggart has covered the Astros since 2004, and for MLB.com since 2009. Follow @brianmctaggart on Twitter and listen to his podcast. This story was not subject to the approval of Major League Baseball or its clubs.