MLB.com Columnist
Jim Callis
2016 Arizona Fall League could be best one yet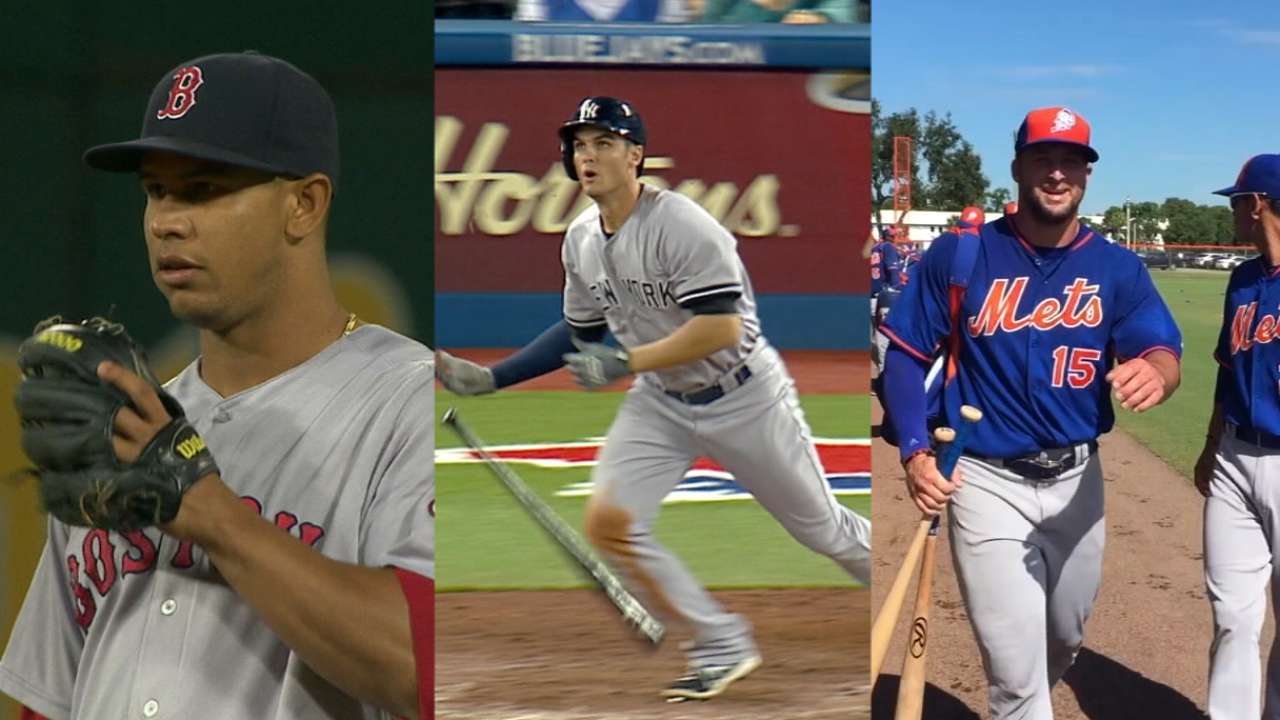 The spotlight may shine on the Arizona Fall League more than ever in the prospect circuit's 25th season. Usually packed with phenoms, the league has even more blue-chip prospects than usual. And, as you may have heard, a certain Heisman Trophy winner will take the next step in his baseball development with the Scottsdale Scorpions.
Since the AFL opened play in 1992, roughly 60 percent of its participants have graduated to the big leagues -- more than 2,500 players, including 247 All-Stars, 15 MVPs, six Cy Young Award winners and 26 Rookies of the Year. Alumni include future Hall of Famers such as Derek Jeter and Albert Pujols, as well as five of the six major award winners from 2015 in Jake Arrieta, Kris Bryant, Josh Donaldson, Bryce Harper and Dallas Keuchel.
Each of MLB's 30 organizations sends a contingent of at least six players to Arizona, where they play six games per week during a 32-game regular season that runs from Oct. 11 through Nov. 17. The two division winners will meet Nov. 19 in a one-game playoff for the championship, which MLB Network will broadcast live. MLB Network also will carry the Nov. 5 Fall Stars Game and some regular-season games to be announced.
2016 Arizona Fall League rosters
Click on the AFL team name to see complete roster.

| AFL club | MLB clubs |
| --- | --- |
| Glendale | CWS, HOU, LA, STL, WSH |
| Peoria | BAL, CIN, SD, SEA, TB |
| Salt River | ARI, ATL, COL, DET, MIL |
| Surprise | BOS, KC, MIN, PIT, TEX |
| Scottsdale | LAA, NYM, NYY, PHI, SF |
| Mesa | CHC, CLE, MIA, OAK, TOR |
Twenty-one members of MLBPipeline.com's Top 100 Prospects list will play in the AFL this fall, up from 12 a year ago. That group includes the best prospect in baseball, Surprise Saguaros infielder Yoan Moncada (Red Sox). The Mesa Solar Sox feature three of the game's top 25 prospects in second baseman Ian Happ (Cubs) and outfielders Eloy Jimenez (Cubs) and Bradley Zimmer (Indians).
Yet none of those prospects is nearly as well known as Tim Tebow, arguably the second-most famous player in league history after Michael Jordan, a 1994 Scorpion. Tebow signed with the Mets for $100,000 as a non-drafted free agent on Sept. 8 and began his professional baseball career 10 days later in the club's instructional league program. The 29-year-old former NFL quarterback has intriguing raw power and speed, though he hasn't played baseball since he was a junior at Nease High (Ponte Vedra, Fla.) in 2005.
The AFL not only gives prospects another six weeks to develop their skills against stiff competition, but it also allows players to make up for time lost to injury. Scottsdale first baseman Greg Bird (Yankees) will take advantage of that opportunity after missing the entire season with a torn labrum in his right shoulder. Bird led the AFL with six homers and won league MVP honors in 2014, then slammed 11 homers in his 46-game big league debut the following summer.
Top 100 Prospects
The Glendale Desert Dogs have a league-high seven Top 100 prospects, including the top-rated pitcher in right-hander Francis Martes (Astros). The Dodgers lead all organizations with three Top 100 prospects in Arizona -- first baseman/outfielder Cody Bellinger, outfielder Alex Verdugo and second baseman Willie Calhoun.
The complete list of Top 100 guys in the AFL:
Moncada, 2B/3B, Surprise/Red Sox (No. 1 on Top 100)
Gleyber Torres, SS, Scottsdale/Yankees (No. 17)
Happ, 2B, Mesa/Cubs (No. 21)
Jimenez, OF, Mesa/Cubs (No. 23)
Zimmer, OF, Mesa/Indians (No. 25)
Francis Martes, RHP, Glendale/Astros (No. 29)
Bellinger, 1B/OF, Glendale/Dodgers (No. 31)
Brent Honeywell, RHP, Peoria/Rays (No. 39)
Franklin Barreto, SS/2B, Mesa/Athletics (No. 42)
Verdugo, OF, Glendale/Dodgers (No. 45)
Nick Gordon, SS, Surprise/Twins (No. 47)
Tyler O'Neill, OF, Peoria/Mariners (No. 59)
Brett Phillips, OF, Salt River/Brewers (No. 62)
Michael Kopech, RHP, Surprise/Red Sox (No. 67)
David Paulino, RHP, Glendale/Astros (No. 70)
Zack Collins, C, Glendale/White Sox (No. 80)
Harrison Bader, OF, Glendale/Cardinals (No. 82)
Stephen Gonsalves, LHP, Surprise/Twins (No. 85)
Anthony Alford, OF, Mesa/Blue Jays (No. 86)
Calhoun, 2B, Glendale/Dodgers (No. 87)
Isan Diaz, SS/2B, Salt River/Brewers (No. 96)
Top Organization Prospects
Below is each organization's top-rated AFL prospect, according to MLBPipeline's rankings:
Angels: Taylor Ward, C, Scottsdale (No. 3 on organization Top 30)
Astros: Martes (No. 1)
Athletics: Barreto (No. 1)
Blue Jays: Alford (No. 3)
Braves: Travis Demeritte, 2B, Salt River (No. 9)
Brewers: Phillips (No. 7)
Cardinals: Bader (No. 3)
Cubs: Happ (No. 1)
Diamondbacks: Dawel Lugo, 3B/SS, Salt River (No. 11)
Dodgers: Bellinger (No. 1)
Giants: Aramis Garcia, C, Scottsdale (No. 6)
Indians: Zimmer (No. 1)
Mariners: O'Neill (No. 2)
Marlins: Jarlin Garcia, LHP, Mesa (No. 3)
Mets: Gavin Cecchini, SS, Scottsdale (No. 3)
Nationals: Andrew Stevenson, OF, Glendale (No. 8)
Orioles: Tanner Scott, LHP, Peoria (No. 10)
Padres: Michael Gettys, OF, Peoria (No. 10)
Phillies: Scott Kingery, 2B, Scottsdale (No. 13)
Pirates: Edgar Santana, RHP, Surprise (No. 29)
Rangers: Andy Ibanez, 2B, Surprise (No. 2)
Rays: Honeywell (No. 2)
Red Sox: Moncada (No. 1)
Reds: no players from organization Top 30 in AFL
Rockies: Ryan McMahon, 3B/1B, Salt River (No. 6)
Royals: Ryan O'Hearn, 1B/OF, Surprise (No. 7)
Tigers: Christin Stewart, OF, Salt River (No. 3)
Twins: Gordon (No. 2)
White Sox: Collins (No. 2)
Yankees: Torres (No. 2)
Jim Callis is a reporter for MLB.com. Follow @jimcallisMLB on Twitter and listen to him on the weekly Pipeline Podcast. This story was not subject to the approval of Major League Baseball or its clubs.