Astros finish short of their own expectations
Hinch discusses team's high standards; Luhnow eager to shape '17 club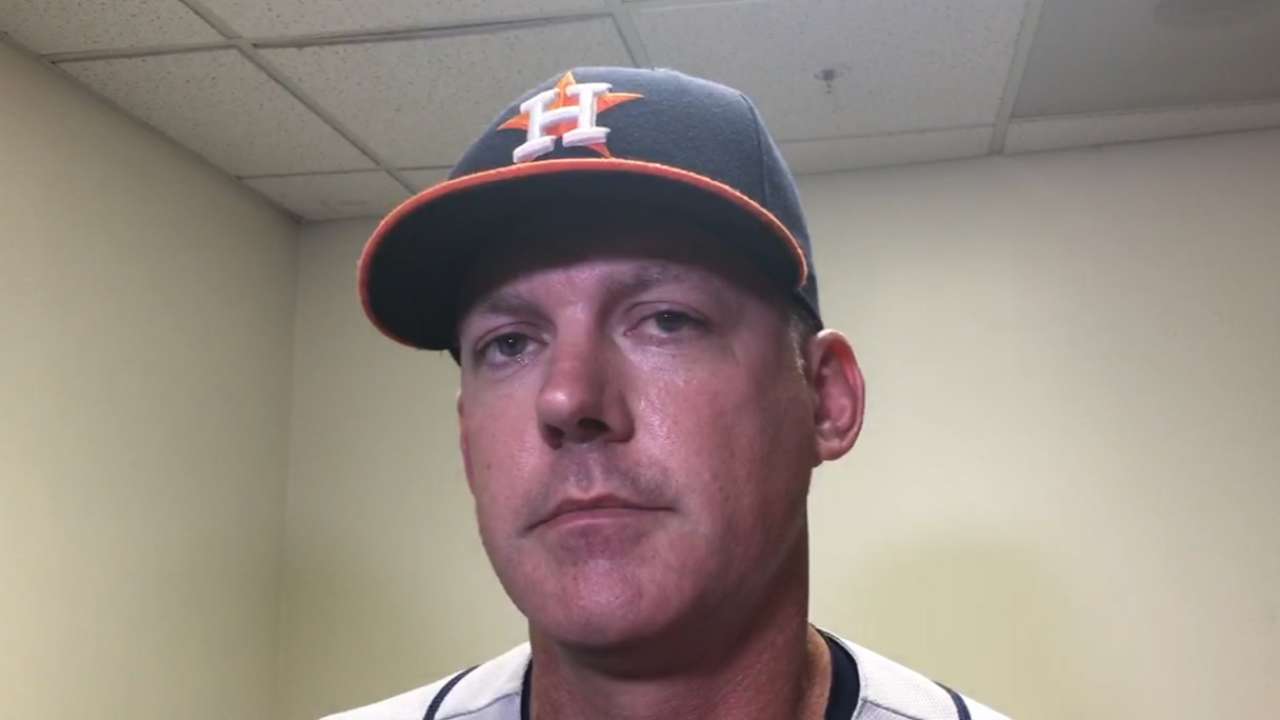 HOUSTON -- Though their 2016 campaign was filled with plenty of moments to be proud of, the Astros made it clear at Monday's end-of-season news conference that an 84-78 record simply isn't good enough any more.
"I'm not handling it very well at all, to be honest," manager A.J. Hinch said. "I hate losing. I don't like being here and having this meeting when I know there's a game being played tomorrow, but I'm proud of the fact that 84 wins isn't good enough. I'm proud of the fact where the standards have been raised in two years since I've been here to have those emotions."
The Astros rebounded from a 7-17 record during the month of April and put together winning records in May (17-12), June (18-8), July (13-12) and August (16-13). But the club went 13-16 in September and October to miss the postseason.
"We are as motivated as we ever have been," general manager Jeff Luhnow said. "The work doesn't just start today -- it's already started -- but we're anxious. The tough part right now is we have to be patient because other teams are still playing and we want to start talking about deals and we want to start putting the team together."
Taking the next step starts by adding complementary pieces around the young core of Alex Bregman, Jose Altuve, George Springer and Carlos Correa.
"There's more quality free agents in this class than are being given credit for," Luhnow said. "At this point, there's going to be some really good signings, so we want to make sure we participate in those."
With first baseman Luis Valbuena, outfielder Colby Rasmus, catcher Jason Castro and pitcher Doug Fister all potential free agents this offseason, Luhnow specifically mentioned their positions as potential holes to fill.
"We're sort of open for business across all areas, with the exception of our middle infield, which is in pretty good shape at this point," Luhnow said. "… Other than that, we're going to be looking at every opportunity that can present itself."
The 2017 Astros should also be bolstered by the return of rotation mainstays in Dallas Keuchel and Lance McCullers, who were both unavailable by season's end due to injury.
"We're a dangerous team when we're at our best," Hinch said. "We weren't full healthy at the end. We weren't fully working in all cylinders, and there are areas we need to improve on as a team to play winning baseball … but we are absolutely as close as you could expect. We didn't build this team to win 84 games.
"A winning season is a success in its own right, but that doesn't get you anything. Our mentality and our will to win is exceptional. Our core is exceptional. There's always ways to improve the team, internally or externally, but there's not a team around that I would back down from. We can compete with anybody."
Jordan Ray is a reporter for MLB.com based in Houston. This story was not subject to the approval of Major League Baseball or its clubs.