Musgrove, HRs carry Astros over Halos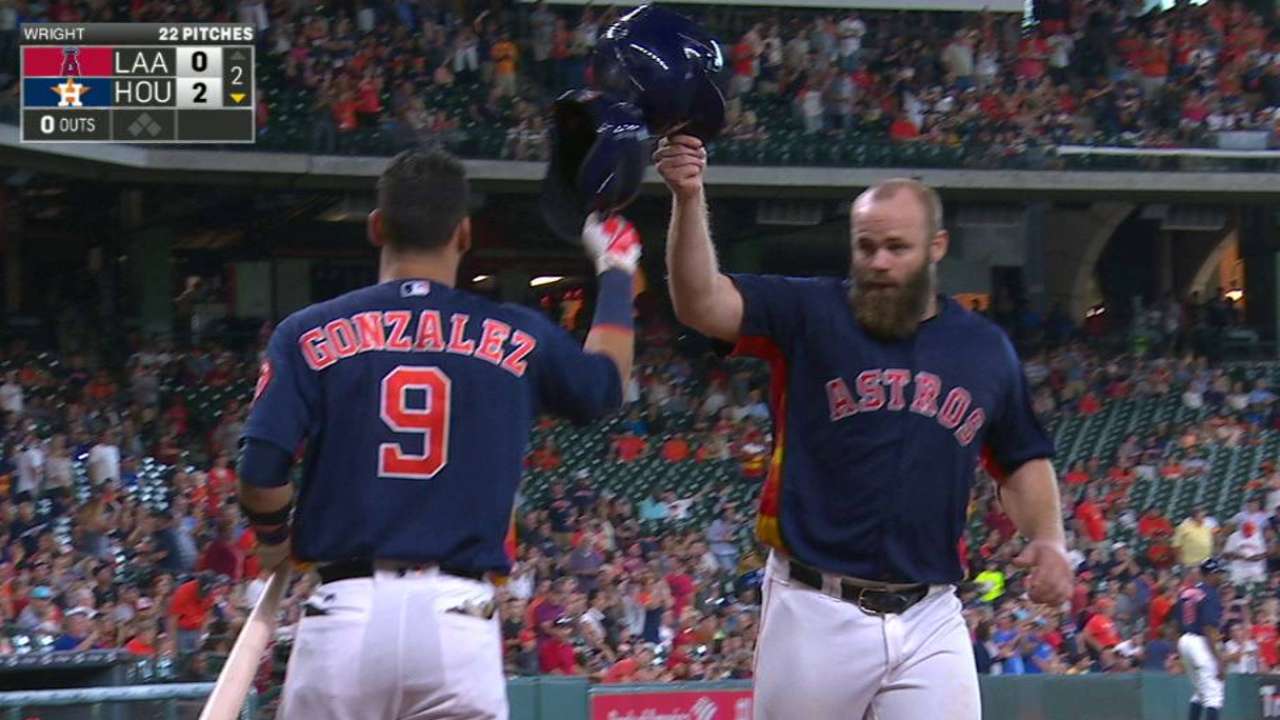 HOUSTON -- The Astros need a strong finishing kick -- as well as a lot of help -- to reach the playoffs, but they took care of business Sunday afternoon at Minute Maid Park.
Rookie starter Joe Musgrove held the Angels to one run and seven hits without walking a batter in seven innings, and the Astros got solo homers from Evan Gattis, Tony Kemp and Tyler White to snap a three-game losing streak against the Angels with a 4-1 win.
"I worked more on getting the rhythm back and the flow back in the bullpens this week and a lot of work on flat-ground stuff and kind of finding a comfortable rhythm to be in," Musgrove said. "This is a real good team with some advanced, older hitters, so I wanted to challenge them today and make them earn their hits, and I did that."
With six games remaining, the Astros are three games behind the Orioles for the second Wild Card spot in the American League heading into a crucial three-games series beginning Monday against the Mariners, who began the day one-half game ahead of them in the standings. More >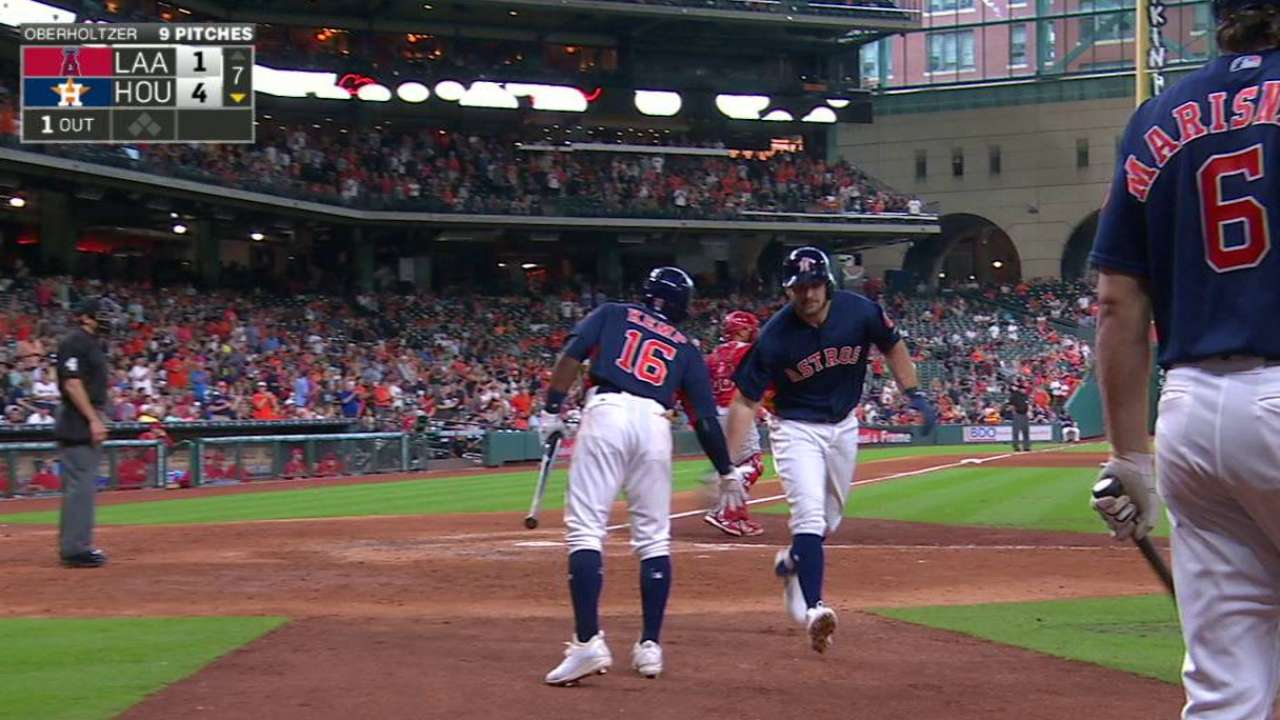 "We have no room for error so we've got to win as many games as we can," Astros manager A.J. Hinch said.
Angels starter Daniel Wright (0-5) pitched well in defeat, allowing three runs and seven hits in six innings. The only run the Angels managed came in the fourth when C.J. Cron doubled and scored on a Rafael Ortega single.
"Outside of a couple pitches, (he) pitched a strong game," Angels manager Mike Scioscia said. "Defensively, we played a very good game. On the offensive side, just couldn't get any momentum. Hit a couple balls hard with guys in scoring position, (but) not a lot to show for it, and just couldn't pressure them enough."
MOMENTS THAT MATTERED
Musgrove works deep:The Astros' beleaguered starting rotation got a lift Sunday when Musgrove pitched seven innings, becoming only the second Houston starter to work that deep into a game since Aug. 27. He threw 72 of 98 pitches for strikes and improved to 3-1 with a 2.55 ERA in his last four starts, lowering his home ERA to 1.75.
"He does a good job competing, and he had a tremendous game today at a time when we needed it," Hinch said. "Getting through seven strong, strong innings is such a good way to get into the game and hand the ball to Harris and Giles. The compete button is never off for Musgrove, and I appreciate the way he goes about it."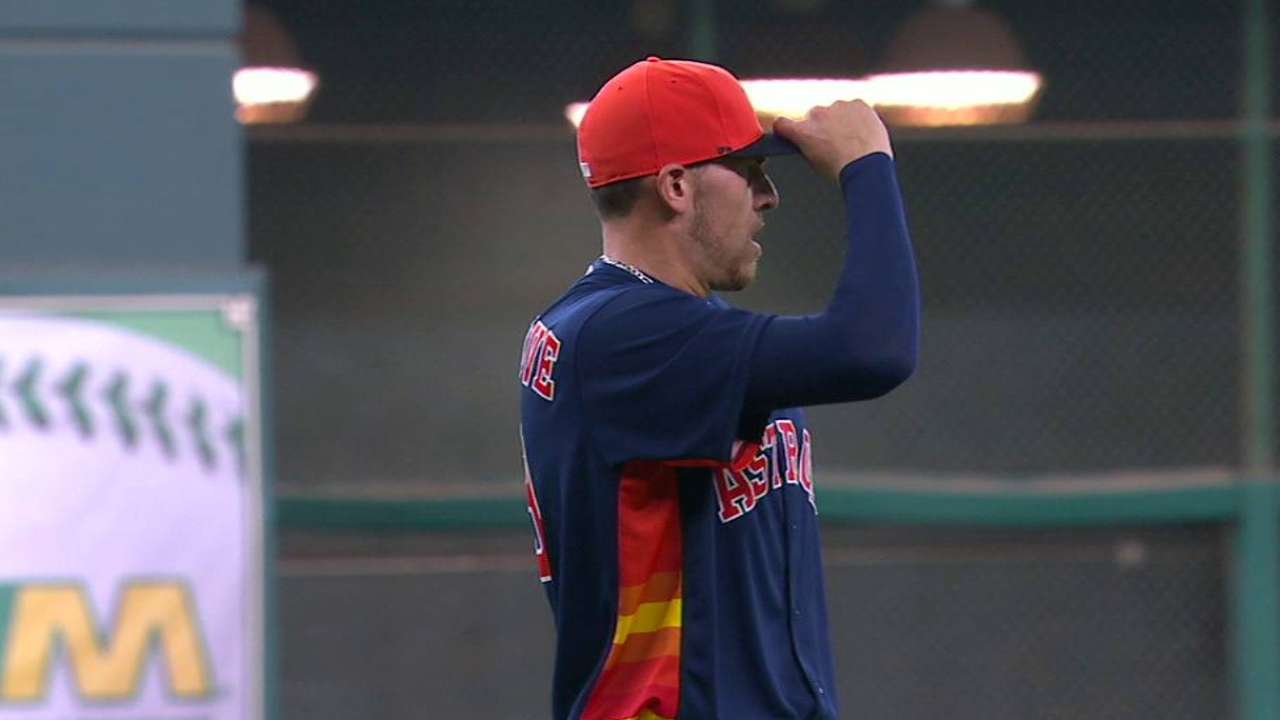 Quadruple double: The hits came early and often for the Astros, but the Angels managed to limit the damage with a quartet of double plays -- all off the bat of Yulieski Gurriel -- in the first, third, fifth and eighth innings. Arguably the biggest and most impressive was in the bottom of the fifth when Carlos Perez picked up Gurriel's slow dribbler and fired it to first base quickly enough for Cron to throw George Springer out at third.
"I might've done it when I played, but outside of that, I don't know," Scioscia said when asked if he had ever seen a player hit into four double plays. "That doesn't happen very often, obviously."
Kemp connects: Kemp, the rookie who's gotten increased playing time in the absence of Colby Rasmus, connected in the fifth inning for his first big league homer, sending a pitch from Daniel Wright just over the wall in right field. The homer came in Kemp's 103 big-league at-bat. He has only 15 homers in 1,522 career at-bats.
"It felt really good, but I think I was more excited we had the lead at that point," said Kemp, who is hitting .375 (6-for-16) in his last nine games. "You can't say enough about what the bullpen did as well. It feels good to get the win."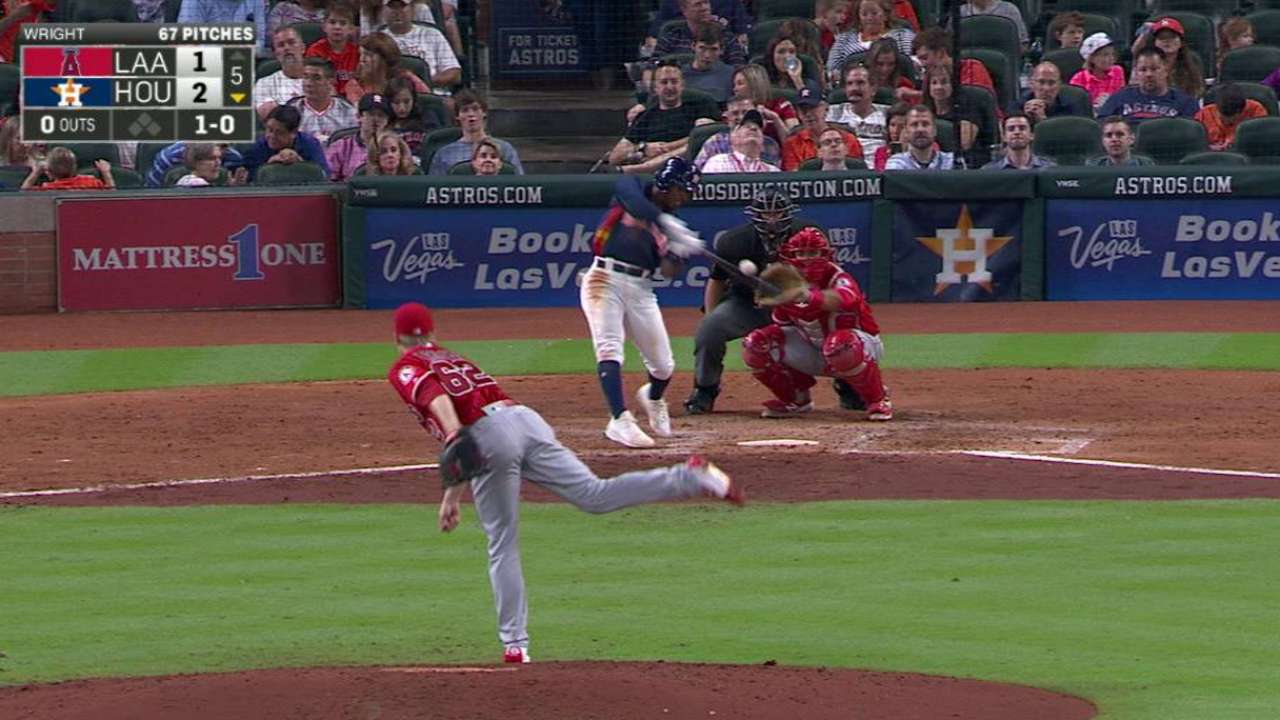 The Wright stuff: Wright's short career has been a rocky one so far -- he had a 0-4 record and 7.48 ERA entering Sunday -- but the rookie right-hander put together arguably his best game in the Majors, even if it didn't result in a win, surrendering only three runs on seven hits in six innings. The outing was Wright's longest of his career as well his first-ever quality start.
"Each time I go out, I get more comfortable," Wright said. "Just going into the first inning of today, I felt very relaxed out there and was able to execute my game. The past couple starts, it's been a little nerve-wracking out there, so getting that experience is definitely key." More >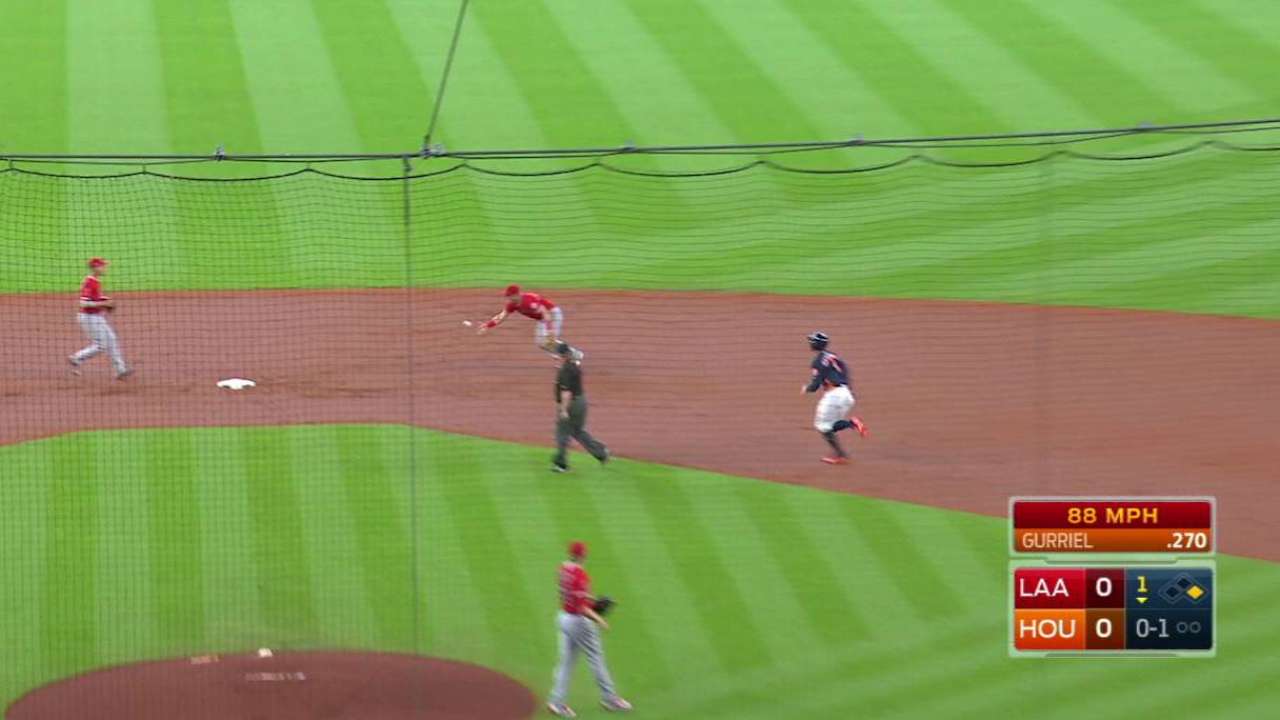 QUOTABLE
"I felt comfortable out there. This is what you work all your life for is to get up here. So you get up here you have to enjoy every second of it because like stuff that happened last night, you never know when your last day is going to be." -- Musgrove on pitching on the day Marlins pitcher Jose Fernandez died
"You don't always expect those (double plays) to be made, but you're always grateful when they do get made." -- Wright
SOUND SMART WITH YOUR FRIENDS
By grounding into three double plays, Gurriel tied a club record for the most in a single game, previously set by Miguel Tejada against the Braves on Sept. 10, 2009. He also became the first player in Major League history to hit into four double plays since Victor Martinez of the Tigers did so in 2011.
WHAT'S NEXT
Angels: With their final road series in the books, the Angels return home for their last six games of the 2016 campaign, starting Monday night at 7:05 p.m. PT from Angel Stadium. Right-hander Jered Weaver (12-12, 5.20 ERA) will make his 31st start of the season for Los Angeles.
Astros: Right-hander Collin McHugh (12-10, 4.61 ERA) will start against the Mariners for the second game in a row at 7:10 p.m. CT Monday at Minute Maid Park. McHugh as dominated the Mariners in his career, going 9-3 with a 3.96 ERA, including 4-0 with a 1.08 ERA in four starts this year. McHugh is 5-0 with a 4.25 ERA in his last seven starts.
Watch every out-of-market regular-season game live on MLB.TV.
Brian McTaggart has covered the Astros since 2004, and for MLB.com since 2009.

Jordan Ray is a reporter for MLB.com based in Houston. This story was not subject to the approval of Major League Baseball or its clubs.